JUDY NIEMACK & DAN TEPFER: "LISTENING TO YOU" (Sunnyside 1471)
On her new CD, "Listening to You", vocalist Judy Niemack pays tribute to Lee Konitz  and by extension, her first jazz teacher, Warne Marsh. Pianist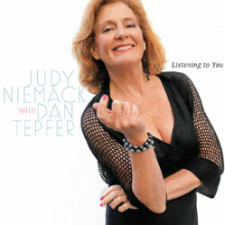 Dan Tepfer, who accompanies Niemack with understated intensity, met Niemack through a gig with Konitz, and he challenges the singer with insistent motive-driven backgrounds which sometimes clash with the standard harmonies. However, Niemack's sure sense of pitch and advanced knowledge of harmony allows her to thrive in this environment, where lesser singers might flounder. She has a light, flexible voice, impeccable diction, and great sensitivity to lyrics. Her scat singing is abstract, but always harmonically astute—most notably on her jaw-dropping version of "Epistrophy". The tracklist includes several of Konitz' favorite vehicles, including "There Will Never Be Another You", "All the Things You Are" and "Body and Soul". In addition, two of the tracks were co-written by Konitz and Niemack, the first being the title track, which is a heavily disguised contrafact of "All the Things", and "When Chick Came Around", a salute to Chick Corea. Like Konitz' music, some of these renditions play to the intellect rather than the heart (how many vocalese lyrics include the word diaphanous?). Yet, Niemack keeps the album from becoming an academic exercise as she applies her innate expressivity to the music's advantage—there were moments in her version of "Body and Soul" where I thought I was listening to Sheila Jordan, and that is a compliment to both singers. As the album progresses, Tepfer shows the breadth of his style, expanding from the tense harmonic and rhythmic palette he uses through "Another You" and "When Chick Came Around" to a free romanticism for "Like a Butterfly", "You're My Thrill" and the Niemack original "You've Taken Things Too Far". Both Niemack and Tepfer are remarkable musicians, and their collaboration on "Listening to You" is a thoughtful and sincere tribute to a living jazz legend.
VARIOUS ARTISTS: "THE PASSION OF CHARLIE PARKER" (Impulse 44167)
"The Passion of Charlie Parker" is not a typical tribute to Bird. Producer Larry Klein and lyricist David Baerwald have fashioned a 50-minute musical play which combines Parker's biography and music, with an all-star cast of jazz vocalists and instrumentalists. Madeleine Peyroux opens the album with "Meet Charlie Parker", a new version of "Ornithology" which describes the emotions of Parker's last wife, Chan, upon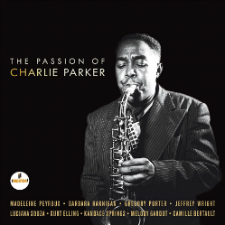 her first encounter with the saxophonist. Barbara Hannigan's electronically manipulated "Epitaph" (aka "Visa") and Gregory Porter's rhythmically loose interpretation of "Yardbird Suite" leave plenty of space for the album's featured saxophone soloist, Donny McCaslin. The presence of McCaslin—one of the most progressive tenor saxophonists on the jazz scene today—along with members of his band, Craig Taborn (keyboards), Ben Monder (guitar), Scott Colley and Larry Grenadier (sharing duties on bass), Eric Harland and Mark Guiliana (alternating on drums), show a commitment to keeping Parker's music contemporary. Klein lets the musicians perform in their own styles without forcing the ghost of Bird upon the music. Even actor Jeffrey Wright, who portrays Bird on three tracks, avoids the cadence and timbre of Parker's mellifluous voice. The tracks featuring Luciana Souza ("Every Little Thing"/"Bloomdido") and Kurt Elling ("Los Angeles"/"Moose the Mooche") come closest to the classic bebop sound, but the inquiring solos by McCaslin and the intertwining lines of Monder and Taborn keep the style edgy and progressive. Kandace Springs' light bossa version of "Like My Love for You"/"My Little Suede Shoes" may seem out of place, but it offers a temporary repose from a primarily dark scenario.  "Fifty Dollars"/"Segment" is the album's emotional peak, as Wright's foreboding vocal and McCaslin's harrowing solo transform the bop line into a disturbing vision. Melody Gardot's optimistic vocal on "The King of 52nd Street"/"Scrapple from the Apple" brightens the mood for the finale, which depicts Parker's triumphant voyage to Paris. Camille Bertault gets the final spot with her French vocalese on "Après Vous"/"Au Privave". Unfortunately, none of the words (or in the case of Bertault's track, an English translation) are included. While all the singers have superb diction, having the libretto available online might enhance the dramatic impact of this most impressive album.
SWINGADELIC: "MERCERVILLE" (Zoho 201703)
Compared to the Charlie Parker tribute above, Swingadelic's salute to Johnny Mercer, "Mercerville", is unrelentingly energetic. Swingadelic is a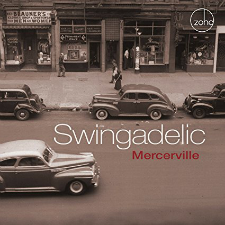 10-piece swing band based in New York led by bassist Dave Post and featuring pianist/singer John Bauers and up-and-coming vocalist Vanessa Perea. The concept for this tribute came from Bauers, who shares the same birthday as Mercer, and who has thoroughly researched the life and music of the Georgia-born composer/lyricist. Bauers sings most of the songs with earnest conviction, fine diction and somewhat reliable pitch,  and on "That Old Black Magic", he turns in a reasonable impression of Louis Prima. Perea's vocals here are significantly different from her bop-influenced performances on her debut CD, "Soulful Days" but she makes a great duet partner for Bauers, and she sings a wistful rendition of "Moon River" over a surprisingly leaden waltz pattern from the rhythm section. The mash-up of the Paul McCartney and Johnny Mercer songs titled "P.S. I Love You" doesn't work too well, and on the closing "One for My Baby", Bauers overplays the drunken element. At 39 minutes, this CD is rather skimpy, and with no shortage of great Mercer songs, I wonder why more of his pieces weren't included—for starters, I would love to hear Perea sing "Come Rain or Come Shine" and I truly wish that someone would cover Mercer's sly, seductive "Talk to Me, Baby". Most of what's here is very good, with entertaining vocals, and exceptional backup from the band. But as Mercer tributes are fairly rare, it would have been good to have a few more samples on this recording.
MARK WINKLER: "THE COMPANY I KEEP" (Café Pacific 45135)
With a bevy of well-known guest artists, Mark Winkler's latest recording, "The Company I Keep" might seem to be a collaboration album, but it also acts as a tribute to Winkler's husband, Richard Del Belso, an acclaimed film researcher who passed away in 2016. Winkler says that his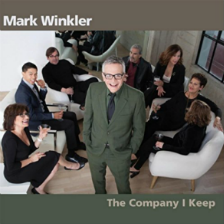 strength comes from writing and performing music, and so the album is far less about grieving than the simple act of moving forward. There are several songs of remembrance, including a vocalese tribute to Mark Murphy sung by Winkler and guest Claire Martin, "The Sum" which sounds like a elegy for Del Belso, and an emotionally overwhelming "Here's to Life", officially dedicated to the daughter of composer Phyllis Molinary, but likely a tribute to all who suffer after the death of a loved one. Most of the album alternates between wistful and light-hearted moods. Winkler's duet with Jackie Ryan is a fun rendition of Donald Fagen's "Walk Between the Raindrops", which is followed by a stunning transformation of Prince's "Strollin'" which features Cheryl Bentyne and includes delightful (and highly appropriate) lines about the joy of living and making a joyful noise. Later in the album, Winkler pairs up with Sara Gazarek for the poignant original "Rainproof", which uses rain as an allegory for a wounded but strong relationship. Winkler's expertise as a lyricist deserves special attention. He paints verbal pictures like few others, telling of an aging singer—real or imagined—in "That Afternoon in Harlem", and creating a masterful vista of 1920s Paris artists in "Midnight in Paris" (I'm not sure if Winkler was inspired by the Woody Allen film, but I certainly picture those images when listening to this song). Winkler's accompanists are among the finest musicians presently working in LA, and they play at the top of their form, especially clarinetist Don Shelton and violinist Paul Cartwright (both on "Midnight in Paris"), bassist John Clayton ("Love Comes Quietly") and pianist Eric Reed, trombonist Bob McChesney and drummer Jeff Hamilton (who create an evocative background to "That Afternoon in Harlem"). This powerful album is a monument to human resilience, and its message should be heard far and wide.