LIBBY YORK: "DREAMLAND" (OA2 22208)
"DreamLand" is an intimate recital, with two-thirds of the program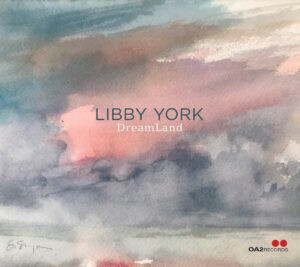 sung by Libby York with only the guitar of Randy Napoleon and the bass of Rodney Whitaker in accompaniment. "Hit the Road to Dreamland", a song usually used as a closer, appears first to set the understated mood. York's deep but tender voice comforts and soothes over the gently intersecting lines of the accompaniment. "This Happy Madness" was one of Tom Jobim's finest love songs, and York's sotto voce delivery compresses the melody's wide range and turns the lyric into an intimate confession. In the coda, she quotes "What the World Needs Now" and it's hard to imagine a better match to Jobim's song. York includes the witty verse to "Mountain Greenery" before kicking into a swinging version of the melody. Whitaker's walking bass provides plenty of rhythm for the trio, inspiring an extra chorus of vocals and an intricately-constructed guitar solo. "Cloudy Morning" has an exquisite lyric that suggests a bigger story in very few words. It has appeared on albums by Tony Bennett, Julie London, and Carmen McRae, but it is still surprisingly obscure. York captures the song's delicate mood and makes us want to hear the song again. Abbey Lincoln's philosophical "Throw It Away" receives a glowing interpretation by York and the newly expanded trio. The subtle entrance of drummer Keith Hall might be missed by inattentive listeners. The sometimes-faulty geography of "Rhode Island is Famous for You" only adds to its charm, and York has a lot of fun with the puns in the second chorus. Another obscurity, Bill Mumy's "Still on the Road" continues the travelogue with the tales of a touring musician. The Barry Manilow/Johnny Mercer collaboration "When October Goes" links to the two previous songs through its distinct feeling of nostalgia. It also has a seasonal tie with the next track, the haunting "Moon Ray" with a lyric that includes images of magic spells and enchantment. York spices up the proceedings with the suggestive "An Occasional Man", and in another inspired juxtaposition, she spends some time at the nearby bar for "Something Cool". With only Napoleon's guitar for support, York inhabits the world of the lyrics, sounding weary and a little tipsy in an awkward attempt at seduction. The album ends with a carefree take on Leonard Bernstein's "It's Love", a song that York once sang at a party with the composer at the piano. York's breezy delivery makes it easy to imagine her remembering that long-past collaboration. The warmth of that memory is conveyed through York's voice and continues long after the CD has concluded.
JANE IRVING: "DON'T QUIT NOW" (self-released)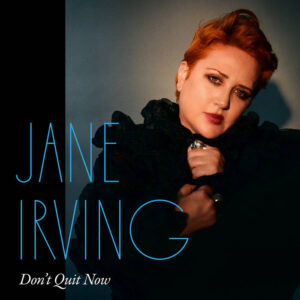 If anything, Jane Irving's album "Don't Quit Now" is even more intimate than York's disc. She coos through Johnny Mercer's sensuous lyrics to "Baby, Don't You Quit Now" and freshens the dated references along the way. "Spring Song" is an exuberant celebration, but Irving communicates the message quietly, without losing the intensity of her delivery. That intensity plays into Jay Leonhart's reflective ode to parenthood, "Let the Flower Grow", as Irving raises her voice for the enlightening message of the final chorus. Irving's interpretation of Ivan Lins' "Love Dance" features great rhythmic flexibility under the mask of relaxed intimacy. By comparing Irving's vocal to drummer Kayvon Gordon's ticking quarter notes, we can hear her placing notes further and further away from the ground beat. Later in the track, Irving takes the opposite approach as she locks in with the rhythm section's pulse. Irving displays her jazz chops through hip original lyrics and harmonically astute scat on Dizzy Gillespie's "A Night in Tunisia". John Richman's piano solo builds gradually both in complexity and volume, and the piece ends with a surprisingly protracted coda. Irving accompanies herself on the twisted love song "Someone's Been Sending Me Flowers", and she delivers the cynical (and very funny) lyrics with exquisite timing. "Alice in Wonderland" sounds suspended in time as Irving fragments the melody, emulating speech patterns without losing track of the tune. "Blossom" was written for one of Irving's most prominent influences, and her delivery of the lyric is quite conversational as if she were giving advice to the gentle Ms. Dearie. From there, it's not a big step to the oblique world of Dave Frishberg, and Irving treats us to a double helping of the late songwriter. "The Underdog", is a sad-sack tale about a gambler—and as it was written in first-person, it's a little hard to accept the debonair Irving as the main character—but "Snowbound" is much better overall, with Irving capturing the feeling of sitting next to a warm fireplace as a winter storm rages outside. Irving plays piano on this track, and Kevin Hailey adds an excellent bass solo between the vocal choruses. A speedy take of "Lover" ends the program with a rhythmically sure theme from Irving, an expressive solo by Richman, and daring melodic variations on the out-chorus. This album is a fine introduction to Ms. Irving and should garner her many more fans.
MARY FOSTER CONKLIN: "THESE PRECIOUS DAYS" (self-released)
Mary Foster Conklin's disc "These Precious Days" begins with the song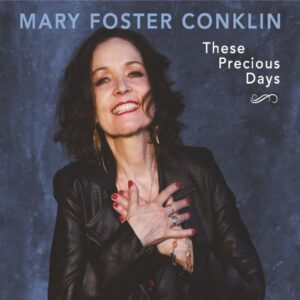 "Summertime", but it may not be the tune you expect. The lyrics of the lesser-known Leonard Cohen song express a longing for warmer climates and an escape from romantic entanglements. "Some Cats Know" was one of the better songs that Peggy Lee performed in her later years. Conklin takes the weight out of her voice and captures the song's seductive allure. "Just a Little Lovin'" picks up the same story the next morning. Conklin's interpretation recalls Dusty Springfield's classic recording, but this version adds a graceful dance between Conklin's voice and Sara Caswell's violin. That essential combination makes this recording unique and special. The Melissa Manchester/Carole Bayer Sager collaboration "Come in From the Rain" was one of the best pop songs of its day, and I'm very glad that Conklin included it on this disc. She sings the tender words with great sensitivity, using subtle rhythmic delays to bring out the lyric's undertones of forgiveness and vulnerability. Caswell soars as she solos in her middle register, and as the emotions rise in the final chorus, the interplay between Conklin and Caswell raises the intensity of the entire performance. Under the sustaining background of rhythm section members pianist John DiMartino, guitarist Guilherme Monteiro, bassist Ed Howard, drummer Vince Cherico, and percussionist Samuel Torres, Conklin opens the next track with Fran Landesman's poem "The Past is a Foreign Country", which speaks of the persistence and unreliability of memory. It is an appropriate prelude to Landesman's harrowing song, "Scars". The song tells of the physical and emotional scars we gather throughout our lives, and how we can accept our fates and overcome the pain. Conklin sings this challenging piece with a lack of artifice and an abundance of empathy. It is simply unforgettable. The André and Dory Previn song "Just for Now" continues the album's message with a heartfelt plea for love that is "not forever, but for now". "A Little White Ship" is a fascinating song by Jerry Lieber and Mike Stoller, with an enigmatic lyric that connects lovemaking with sailing. Conklin displays the depths of her interpretive skills, as she discovers a middle ground that allows her to evoke both acts. "Heart's Desire" features Conklin, Caswell, and DiMartino as a trio. Conklin sings Dave Frishberg's delicate lyrics with deep emotion over the complementing (and sometimes intersecting) background lines. The Melba Liston/Abbey Lincoln collaboration "Rainbow" inspires a hopeful vocal, intense piano, and passionate violin, and Buffy Sainte-Marie's "Until It's Time for You to Go" touches the heart with its poetic lyrics and intimate message. Conklin, Caswell, and DiMartino find the perfect ways to convey emotions without overstatement. The trio returns for the final track, a slow, thoughtful performance of "September Song" recorded as a memorial to Conklin's father. The intensity of this music can be heard in the slight throb in Conklin's voice and through the passion running through the solos of Caswell and DiMartino. This album is loaded with emotion, and it will touch the hearts of all who listen.