For the first p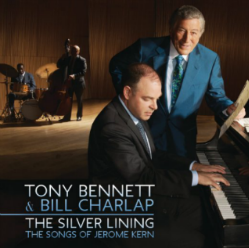 ortion of his professional career, Tony Bennett "pushed" his voice, singing with an unnatural forcefulness. He smoked cigarettes for many years and in a recent biography, he admitted that he abused drugs. So it's amazing that at the age of 89, Tony Bennett still has a singing voice. In recent years, he's learned how to use his instrument correctly, and while age has taken a certain toll, Bennett is still at the top of his game. Indeed, Bennett's new album of Jerome Kern songs, "The Silver Lining", may be the best album he's recorded since his mid-1970s duets with Bill Evans.
The opening track, "All the Things You Are", is a virtual master class. Without an introduction, Bennett starts with the rarely-heard verse, sung at a comfortable medium volume. When he gets to the line touching your hand, my heart beats the faster, he brings his voice down in volume to increase the intimacy of the phrase. He maintains that quiet presence for the next line all that I want in all of this world is you, which effectively contrasts the personal nature of the line to the purple language which follows it. With a quick modulation and back at his original volume, Bennett launches into the familiar chorus. He and his pianist/co-leader Bill Charlap keep the tempo rubato but fluid, letting Bennett slow down to bring out rich verbal images like the breathless hush of evening. Charlap plays a flowing solo, and Bennett's final half-chorus features his most dramatic singing with a towering melodic invention on the return of the words you are the angel glow that lights a star. Bennett treats the closing line, When all the things you are, are mine as a triumph, but instead of ending the piece on a big major chord, Charlap's coda is a sustained unresolved chord, questioning the certainty of that victory.
As might be expected, many of Bennett's interpretations are autumnal, but the wisdom he brings to these songs gives them a depth that could well be lost on younger singers. How many other vocalists have flown through the words Won't you please arrange it 'cause I love you in "The Way You Look Tonight"? Bennett recognizes the importance of those three little words, and he isolates I love you in a way that is so simple, so elegant and so touching that I wonder why anyone would sing it in any other manner. While the title denies it, "I Won't Dance" is a song about the desire to dance. In a graceful waltz setting, Bennett and Charlap find the delicate balance between text and subtext. It's nearly impossible to listen to this track without swaying to and fro, and Bennett sounds like he could start dancing at any moment. Yet the characterization within his reading reveals that hesitation which keeps him from taking those first steps. "Make-Believe" was originally the first love duet in "Show Boat", and in that show, the message of the song has a devastating effect on the characters as the story progresses. As there's no opportunity to explore those developments when the song is sung on its own, Bennett's decision to take the words only at face value was ultimately the best choice.
Charlap plays a key role in the album's success. From years of experience working with great singers (including his mother, Sandy Stewart) Charlap knows how to imperceptibly switch between leading and following when playing for Bennett. With his impeccable harmonic sense and his finely-tuned sense of understatement, Charlap provides excellent support throughout the album. Bennett and Charlap are a splendid duo on three tracks already discussed ("All the Things You Are", "The Way You Look Tonight" and "Make-Believe"). On four further tracks, Charlap and his wife, the equally sensitive Renee Rosnes, provide beautifully integrated four-hand backdrops. The two pianos are so well voiced on "The Last Time I Saw Paris" that it sounds like Charlap and Rosnes are playing on the same instrument. For the remaining seven tracks, Charlap brings along his trio (with the un-related bass and drum team of Peter Washington and Kenny Washington). While "Pick Yourself Up" includes solo spots for all three musicians, the group's basic duty is as accompanists, and they perform that role with supreme taste and professionalism. That is as it should be, for this album is truly a showcase for Bennett and his remarkable interpretive skills. "The Silver Lining" shows that when a great singer is at the helm, age is not a barrier, but an invaluable asset.