BUSELLI/WALLARAB JAZZ ORCHESTRA: "GENNETT SUITE" (Patois 29)

For the past 29 years, the Bloomington-based Mark Buselli/Brent Wallarab Jazz Orchestra has celebrated Indiana's jazz roots. In its magnificent new album, "The Gennett Suite", the band pays tribute to a legendary record label that captured some of the greatest jazz of the 1920s. Gennett Records' offices were located in Richmond—on Indiana's eastern border. Back then, it wasn't easy for the company's talent scout Fred Wiggins to convince young jazz musicians to take a long dusty train ride across the Hoosier State just to record in a hot and stuffy room that barely qualified as a studio. Louis Armstrong, Bix Beiderbecke, Jelly Roll Morton, and the New Orleans Rhythm Kings all made that trip from Chicago on multiple occasions, while Hoagy Carmichael made the trek from his hometown of Bloomington. The records issued on Gennett had a host of technical problems, but the music contained within the grooves was timeless. In creating his original 80-minute big band suite, Brent Wallarab drew from the original music recorded in Richmond nearly a century before. Not satisfied to reprise the old compositions in their original settings, Wallarab abstracts the themes within his suite, changing tempos and phrasing to allow listeners to re-evaluate these works. For example, his setting of "Chimes Blues" incorporates Louis Armstrong's first recorded solo. Originally, the solo was a simple, written passage that developed a basic motive in predictable ways. Armstrong's approach and sound provide the only clues of his potential. Wallarab takes this simple material, slows it down, alters the phrasing, and harmonizes it for the band's saxophone section. It takes a few bars before the listener catches on to this tactic, and by then, Wallarab has added countermelodies for the brass to play against the original line. This layered approach also highlights a stunning arrangement of "Stardust", with multiple lines of counterpoint surrounding alto saxophonist Greg Ward's thoughtful interpretation of the melody. The sole recreation of early styles comes in the opening choruses of Beiderbecke's "Davenport Blues" as trumpeter/co-leader Mark Buselli and pianist Luke Gillespie play a charming duet on the theme. The orchestra's soloists offer a rich palette of styles and timbres. Ned Boyd's gruff baritone sax brings Pepper Adams to mind, while Scott Belck's trumpet refashions traditionalism through the prism of Wynton Marsalis. Amanda Gardier produces a deep, throaty tone from her alto saxophone, and her solo on "Jazz Me Blues" masterfully navigates a gradual increase in tempo. Pianist Luke Gillespie, bassist Jeremy Allen, and drummer Sean Dobbin make a strong and resilient rhythm section, and the fourteen horns wail, stomp, and jump with overwhelming spirit, abundant swing, and precise ensemble. "The Gennett Suite" surprises and delights as it rejoices in the wonders of this music. HIGHLY RECOMMENDED! For more on the history of Gennett Records, watch this splendid 90-minute documentary produced by Indiana University's PBS station: It is available for streaming or purchase.
CHUCK OWEN/WDR BIG BAND: "RENDERINGS" (MAMA 1060)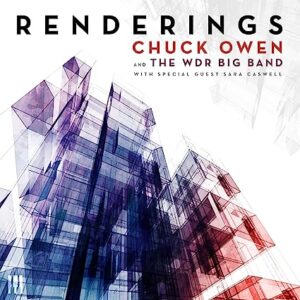 The word "rendering" carries two distinct definitions: "a depiction, interpretation, or perspective" and "the act or instance of performing a piece of music". Chuck Owen chose "Renderings" as the title of his collaboration with Germany's WDR Big Band to reflect the album's playlist featuring three Owen originals and five arrangements. Owen leads his own big band in Florida, the Jazz Surge, and from its ranks, he brought violinist Sara Caswell along to the first recording sessions which took place in Cologne during the early days of July 2019. It would be nearly two years before the project resumed. In his liner notes, Owen writes that the extended layoff allowed him the time to focus on arranging—specifically the three compositions by members of the WDR band. The album opens with Owen's newest original, "Knife's Edge" and in keeping with the inspiration of a dangerous mountain trail, the WDR plays the chart with tightly-wound intensity and precisely placed ensemble figures. Even the solo exchanges between Paul Heller's tenor and Andy Haderer's trumpet are hair-raising! "…And Your Point Is?" is much more relaxed with the band grooving over a New Orleans parade beat. Billy Test's organ adds color to the balance, and the solos by trombonist Andy Hunter and tenor saxophonist Gabor Bolla provide drama over the laid-back rhythm section. Near the end of the chart, Owen re-establishes the groove from the bottom up with a duet between tubist Mattis Cederberg and drummer Hans Dekker. Karolina Strassmayer's composition "Of Mystery and Beauty" was the initial inspiration for this album, and Owen's masterful setting adds ethereal crystal glasses to the opening section, and a tone row to the harmonic vocabulary. Strassmayer's alto sax and Caswell's low-register violin create a perfect blend on the melody, and both are given extended space to develop their solos over Owen's finely-crafted backgrounds. "This Love of Mine" is in a different realm than originally presented by its co-composer and best-known interpreter, Frank Sinatra. Paul Heller's reading of the theme sounds almost polytonal over Owen's unique voicings, and the solos by Heller and trumpeter Ruud Breuls open up new possibilities in the harmony. I'm not sure what John Goldsby's piece "Fall Calls" sounded like in its original version, but Owen's setting sounds like a tone poem with its vivid instrumental colors and rhythmic tranquility. Guitarist Philipp Brämswig joins Strassmeyer and Hunter in an elegant three-way improvisation that enriches the haunting mood. Caswell returns for an extended treatment of Chick Corea's "Arabian Nights". An atmospheric introduction spiced with Caswell's virtuoso runs leads to a stark contemporary setting with several exotic elements added to the blend. Brämswig's thrashing guitar shifts the overall timbre, and Johan Hörlén causes another jolt with an alto solo played over dramatic band shouts and broken rhythm patterns. In the final chorus, Owen's setting unites the three disparate solo voices. "A Ridge Away" was originally part of an orchestral concerto, and the WDR Band brings out the deep colors of the score in support of Breul's passionate trumpet solo. Composer/lead alto saxophonist Hörlén leads off the reflective "Canoe" with an understated theme statement and an expressive solo. Trombonist Ludwig Nuss' trombone ushers in a loosely swinging episode, and then Owen offers a double treat: a delicate passage for flutes followed by an all-stops-out shout chorus. In the album's closing minutes, Owen ties all of the elements together with a subtle and understated coda.
BOBBY SANABRIA'S MULTIVERSE BIG BAND: "VOX HUMANA" (Jazzheads 1266)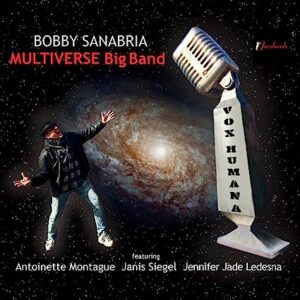 Fresh off their thrilling recasting of Leonard Bernstein's "West Side Story", Bobby Sanabria's Multiverse Big Band returns to Dizzy's (Jazz at Lincoln Center) for another energetic live album. As the title indicates, "Vox Humana" focuses on the human voice, specifically those of Janis Siegel, Antoinette Montague, and Jennifer Jade Ledesna. However, it is Sanabria's voice we hear at the very beginning of the album as he encourages the audience to clap and chant with the band in a heart-pounding remake of "Caravan". Sanabria also arranged the chart, and the enticing rhythmic groove combined with the horn's overwhelming power makes us believe that we are in a street parade in a diverse neighborhood in New York City. Although she is not introduced at the beginning of the next track, Ledesna is featured on "Capullito du Aleli", with her sensuous interpretation of the song in Spanish framing an emotional central passage by the ensemble. Congista Oresta Abrantes leads the assembled vocal forces on Eddie Palmieri's "Puerto Rico", and contributes a passionate improvisation over a vamp by voices and horns. The improvisations that follow match Matt Hilgenberg's trumpet against the four trombones of Chris Washburne, Armando Vergara, Noah Bless, and Dave Miller. Sanabria, Abrantes, and bongo specialist Matthew Gonzalez square off before the coda. (The solo sequences can be found here). Ledesna takes a dramatic tone for "Partido Alto" with Jeff Lederer adding a wild tenor sax solo. Ledesna picks up on Lederer's spirit in a scat solo notable for unique syllables and adventurous note choices. To the strains of Quincy Jones' chart for Ray Charles, Montague enters with a cover of "Let the Good Times Roll". Montague is no Brother Ray—who could be?—but she sings with great energy and she gets the audience and band involved in a call-and-response. A slinky "Who Taught You That" juxtaposes Montague's soulful delivery with the band's straight-ahead swing. Danny Rivera's beefy bari sax and Neesley's growly trumpet surround a well-played shout chorus. The first disc closes with a slowly churning arrangement of "I Loves You, Porgy". There is some artistic license at play here as Montague's confident delivery is at odds with the submissive lyrics, but when taken on its own terms, it is a very powerful performance and certainly Montague's best feature on the album. Could a Multiverse remake of "Porgy and Bess" be forthcoming? Siegel launches the second half with a deeply swinging arrangement of "Genie in a Bottle". Siegel teases us with a little scat in the opening chorus, but after a trumpet solo by Jonathan Challoner, she scats the lead part of the sax soli and jumps right into a pervasive improvisation. Christina Aguilera only wishes she could swing like this! Next, Siegel sings João Donato's "Amazonas" in crisp, precise Portuguese, followed by expressive solos from flutist Gabrielle Garo, violinist Ben Sutin, alto saxophonist David DeJesus and Siegel. "Spooky" is good, sexy fun with Siegel's enticing vocal surrounded by steaming horns and a danceable Latin groove. The solos by Garo and tenor saxophonist Peter Brainin add to the heat. Siegel's warm ballad style on "To Be with You" makes me look forward to the music she will make in her post-Manhattan Transfer years. Steely Dan's "Do It Again" gives all three of the featured vocalists another chance to lead, before Abrantes and Ledesna reunite for a closing extended jam on "Mi Congo". After a burning statement by Sutin, the entire sax section (DeJesus, Andrew Gould, Brainin, Lederer, and Rivera) lets loose in an exciting solo exchange. The powerhouse trumpet of Max Darché leads to an astounding solo from the leader. The power and passion heard throughout this double CD makes me anxious to hear this band live. LET'S PARTY!
ERICA SEGUINE/SHON BAKER ORCHESTRA: "NEW DAY BENDS LIGHT" (self-released)
In addition to her impressive catalog of original music, part of Maria Schneider's legacy must be her unfailing encouragement to young musicians who wish to write and conduct original music for big bands. Schneider introduced me to Erica Seguine after a concert, and I was taken by her passion for the music and her dedication to releasing a CD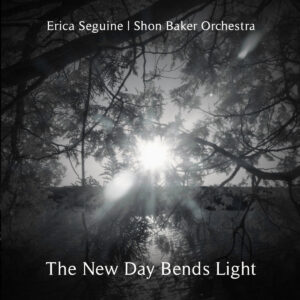 of music she recorded with another young composer, Shon Baker. "The New Day Bends Light" was self-released a few months ago, and it is an impressive showcase for both of these emerging artists. The program opens with a true surprise: not many jazz records open with an Irish reel, and even fewer composers have tried to pair this folk form with straight-ahead jazz. Seguine's score—simply titled "Reel"—features an impressive transition from the folk dance to the big band, and soloists Eric Burns (guitar) and Meg Okura (violin) effectively mix elements of both styles into their solos. Near the end, Seguine bounces back and forth between the two forms and combines them in the coda. Baker's "States" is a meditative work with exposed writing for flute and piano leading into a surging melody from the ensemble. A series of quiet episodes follow with spots for the woodwinds, brass, and a duet for wordless voice (Tammy Scheffer) and piano (Carmen Staaf). The full rhythm section enters for Staaf's improvisation and before she ends, the ensemble returns with a variation of the earlier melody. Paolo Cantarella's drum solo leads to a well-constructed recap of the different episodes. Ben Kono's rough-around-the-edges alto opens Seguine's "Tangoing with Delusion", a wry excursion into Argentinian tango. The music takes many odd turns as it explores what Seguine describes as "the very thin line between real and imaginary". Kono and trumpeter John Lake improvise together, giving and releasing control until the dance gradually comes to a stop. The closing chorus evokes the dizzying feeling after tired feet and abundant alcohol have taken their toll. "In Dreams" is Baker's interpretation of a conversation that was only possible while asleep. In the liner notes, Baker writes that the dramatic section preceding the tenor sax solo of Quinsin Nachoff recreates the dream as it occurred, and the music following is an attempt to let the dream run its course. Nick Grinder's trombone solo offers a calming ending to this intensely personal work. Seguine digs into her Jewish roots for an arrangement of "Ose Shalom". Scheffer's initial reading of the traditional Hebrew melody is set in a standard big band voicing (again, who else does this? No one I've heard.) After the vocal, the mood darkens as trombonist Kalia Vandever improvises over a long, sustained chord as a chant. A return to the standard big band sound gradually moves into Scheffer's free interpretation of the melody. The third section slowly introduces a chorus of voices with Scheffer and Okura adding atmospheric lines on top. Seguine's final work on the disc "…and the Tire Swing Keeps Spinning" was inspired by a playground game where the person on the swing would eventually get dizzy and lose contact with the real world. Seguine uses a tone-row and slow-moving backgrounds to evoke the sense of vertigo under Nathan Eklund's flugelhorn solo. Cantarella's drum solo adds tension and anxiety, enhanced by Seguine's spine-chilling orchestration. Thankfully, everything calms down near the end, but Seguine gives us a "Twilight Zone" ending: how long will it be before someone jumps back into that tire swing? The title composition by Baker closes the album with a vivid portrayal of a personal crisis. The calm but foreboding opening soon turns dark with an ominous bass pedal point and a martial snare drum beat. An energized section raises hopes for a few moments, a few setbacks occur, but strength eventually comes back in the form of a Scott Reeves solo on alto flugelhorn. The following section brings hope and veiled optimism with soaring lyric lines for the brass and reeds. Staaf's piano interlude segues into Scheffer's breathy intonation of Baker's original poem which was inspired by this incident. I don't recall hearing another recording with as much raw emotion as this one. It's not always easy to listen to this music, but the manner in which Erica Seguine and Shon Baker have translated their feelings into music is truly remarkable. I am sure that we will hear much more from these two gifted composers.