When Jazz History Online moved from Denver, Colorado to Wilmington, Delaware in 2020, I wanted to review concerts in the major cities of the East Coast: Boston, New York, Philadelphia, Baltimore, and Washington, DC. The Amtrak connections here in Wilmington make it easy to travel between these cities. I had not planned on covering cities in the Midwest until Howard Reich, former music critic of the Chicago Tribune, recommended that I take a week to explore the music of Chicago. I eagerly accepted the idea, as Chicago has long stood as my favorite American city. I was born in Kankakee, some 60 miles southwest of the Windy City, and for many years, a beloved aunt and uncle lived in Homewood, one of Chicago's southern suburbs. In the years since I moved from Illinois, I have visited Chicago several times for both personal and professional engagements. I set this trip for the first week of September 2021, and while in town, I attended six separate events. The music ranged from an impromptu rendition of Scott Joplin's "Maple Leaf Rag" to a Herbie Hancock ensemble that mixed and contrasted various genres.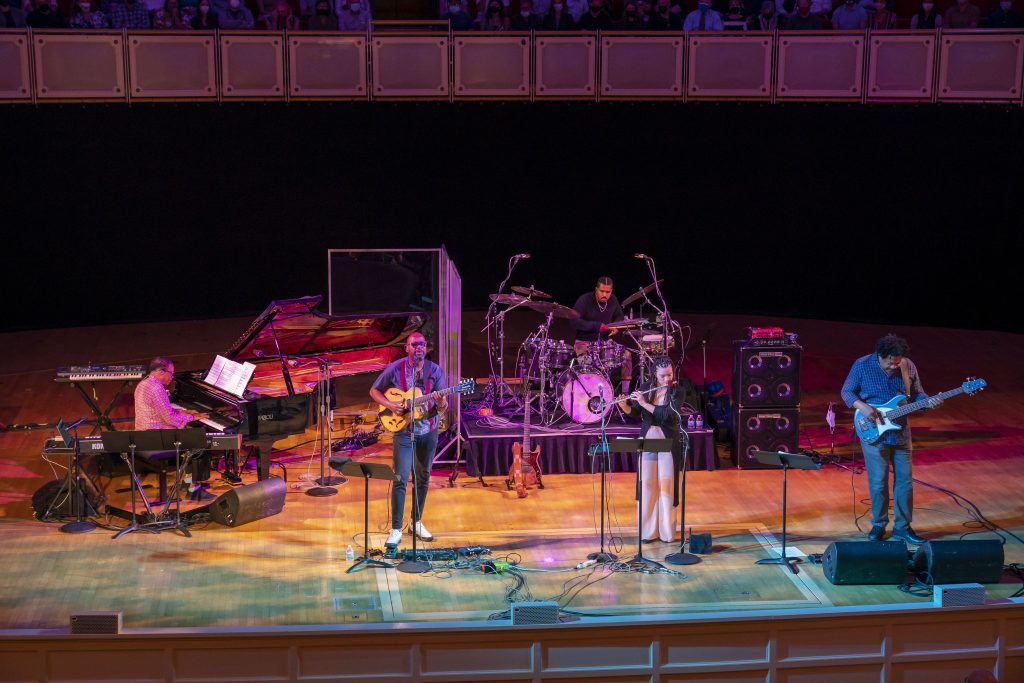 Hancock performed before a large and very enthusiastic audience at Orchestra Hall on September 2. The band featured Hancock—who was surrounded by a grand piano, two electronic keyboards, and his rather infamous "key-tar", a keyboard built into an oversized guitar body and held to the performer with a massive strap—plus African guitar virtuoso Lionel Loueke, the young and extremely talented flutist/vocalist Elena Pinderhughes, veteran electric bassist James Genus, and emerging drummer Justin Tyson. Tyson's elaborate drum kit, and the amplifiers and switch boxes for Genus and Loueke were further evidence that this would not be a standard jazz concert. To be sure, there was jazz played at this concert, but it was part of a hybrid mix. For example, the opening 20 minutes started with an otherworldly intro that could have come from a fantasy film. Tyson switched to a thundering funk beat which eventually settled down beneath Pinderhughes' supremely lyrical flute. The flute improvisation appeared to play over a chord sequence, but Hancock's ensuing acoustic piano solo was entirely free. An abrupt segue led to Loueke singing an original African melody in native dialect (complete with click tongue sounds) and set in mixed meter. It seemed apparent that we were hearing group jams, along with compositions by both Hancock and Loueke, but the promised stage announcements of song titles never really happened: Hancock named a few titles midway through the concert but it was like "well, somewhere in there, we did a song I co-wrote with Brian Eno, and there was another tune in there that we haven't found a title for yet…" Tyson's kit was set on a platform, but it provided little sonic isolation as his powerful drumming made the stage floor roar. The resulting overtones nearly made Genus' bass inaudible, but thankfully, Genus had an unaccompanied solo later in the show, which allowed the audience to appreciate his talent. Pinderhughes sang with the same delicate grace that she used when playing her flute. Hancock backed her up in one instance with tasty string sounds from one of his synthesizers. Loueke produced a multitude of sounds from his guitar synth and electronic setup, but as Hancock joked, none of the sounds were particularly guitar-like! When the concert ended—at nearly 2 hours, sans intermission—the Hancock classics "Canteloube Island" and "Chameleon" were the closers, but even on these chestnuts, the group found numerous ways (beat changes, unusual harmonic changes) to make them their own. The band was assembled in Chicago less than a week earlier, and I suspect that they had not yet found their sound. That will doubtlessly change over the course of their nationwide tour. Those who hear this group at other venues may have a completely different experience than I had. We can only expect that from such a group of talented musicians.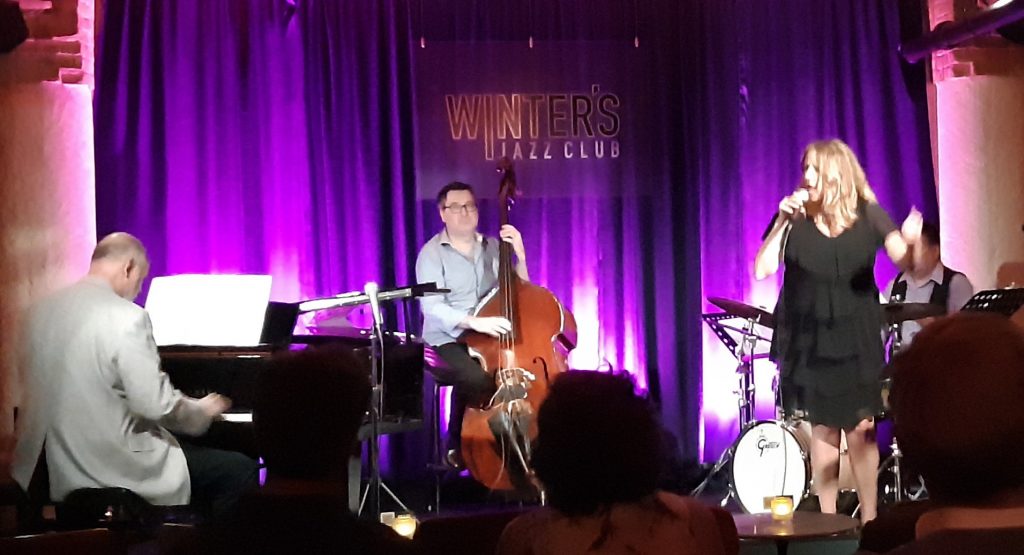 Due to COVID and the Delta variant, there were no opportunities to meet with Hancock or the band, so after the concert, I went uptown to Winter's Jazz Club to hear vocalist Elaine Dame. Dame is one of Chicago's prominent jazz voice coaches, and several of her students were in the audience at Winter's. For the second show, Dame challenged herself and her rhythm section of Jeremy Kahn (piano), Larry Kohut (bass), and Darren Scorza (drums) by openly asking for requests. My suggestion of "Willow Weep for Me" was answered with a sassy medium-tempo arrangement and Dame's edgy melodic variations. Dame is an old-fashioned entertainer as she cracks jokes from the stage, but she can be very progressive when she improvises through a melody. She reminds me of another no-nonsense singer, Nancy Kelly, who lets the notes fall where they may when singing a standard. Dame had great fun with the catalog lyrics of "Comes Love" and "I Love Being Here with You", and displayed great tenderness on the unfairly neglected ballad "It Amazes Me" and the somewhat better-known "A Nightingale Sang in Berkeley Square". Her two selections from the Jobim songbook, "No More Blues" and "Dreamer" were sung in inferior English translations instead of the original Portuguese. Still, this set was an easy-going contrast to the Hancock concert and a good way to end my first night in town.
The three-day Chicago Jazz Festival usually takes place over Labor Day weekend at Millennium Park, but since COVID caused the cancellation of all Chicago music festivals in the past 18 months, the city created the Chicago InTune festival, which featured one night each of blues, house, jazz, and gospel. The jazz festival, which took place on Saturday, September 4, featured sets by tenor saxophonist Ari Brown, trumpeter Marquis Hill, and vocalist Lizz Wright. While the event was necessarily limited in scope, the three groups offered a varied program for the

thousands in attendance. Brown, a former member of the free jazz collective AACM, led his working band of Kirk Brown (piano), Yosef Ben-Israel (bass), Avreeayl Ra (drums), and Dr. Coz (percussion) through a straight-ahead set of three tunes, the originals "St. Vitus' Dance" and "For V", followed by an emotional setting of "Nobody Knows the Trouble I've Seen". On the latter, Ari Brown played his mournful tenor over Ra's slow funk groove, with brother Kirk following up with a dramatic improvisation on piano. Ari returned with powerful epiphanies as the piece found its dramatic peak. The piece deserved an encore, but there was no time for that: each band was allotted a 45-minute set. As the stage crew set up Marquis Hill's band, staff members of the Jazz Institute of Chicago (including president Heather Ireland Robinson) introduced the audience to two young jazz musicians who had each won 10 lessons each from a professional Chicago jazz musician of their choice. The mentoring program that sponsors these students was set up by Penny Tyler, a name that resonated throughout this weekend (more on Penny below).

Fittingly, Hill's band included two members who had also benefitted from Tyler's mentoring program, pianist Jahari Stampley and drummer Makaya McCraven. McCraven was a rhythmic marvel as he set and developed complex beat patterns combing jazz, hip-hop, and funk styles. Stampley was an impressive soloist with abundant technique, and vivid imagination. Hill's trumpet—with a tone so dark that it sounded like a flugelhorn—imbued his progressive originals with strikingly poignant lines. Junius Paul provided a solid foundation on electric bass, and the occasional appearance of vibraphonist Joel Ross added a welcome change of texture. Apparently, all of the music was from an album Hill recorded nearly a decade ago. Unfortunately, he never mentioned the name of the album, nor the titles of any of the pieces the band performed! For the record, it was an impressive set, and I'm sure many people in the audience would have bought the recording—had they known the name of it. It was with this sense of frustration that I went to the Jazz Institute of Chicago's festival tent in an attempt to get a list of the musicians and set lists of the groups. The combined efforts of Ms. Robinson and JIC program director Adriana Prieto sent me the musician rosters cited above, but I worked on securing contacts through the first half of Lizz Wright's set. I wasn't terribly impressed with Ms. Wright anyway—there are plenty of worthy vocalists in Chicago (two of which are discussed below) who could have offered much more jazz content and more compelling music. Wright combined Nina Simone-flavored ballads with gospel (and country) flavored traditional music. Her closing take on "Precious Lord" was very effective, but wouldn't it have been more so at the gospel concerts held the night before? I will give ample credit to the Chicago audiences, though: they are committed to their artists and they support the music, regardless of genre or style.
Conveniently, that subject brings us back to Penny Tyler. A past president of the JIC, Tyler developed the Chicago Jazz Festival over many years, booked acts into Andy's Jazz Club downtown, was the point person for jazz with the Chicago Department of Cultural Affairs and Special Events, consulted Ravinia's "Jazz in June" and the Chicago Symphony's jazz program, and—as mentioned above—created a valuable mentor program for young musicians. Although Tyler retired in 2001 and moved to New Orleans, she is still fondly remembered in Chicago, and her death last May prompted many tributes across the city. Several of Tyler's friends gathered at Andy's on Sunday afternoon for a memorial and jam session. Although I only knew Tyler by reputation, I felt that I knew her better from the memories and anecdotes shared by her friends and colleagues. There was a steady stream of music throughout the 4-hour celebration, performed by a rotating group of local musicians including saxophonists Eric Schneider and Pat Mallinger, bassist Josh Ramos, drummer Ernie Adams, and, subbing on piano, bassist Richie Pardo. At the end of the event, everyone was invited to grab and open colored umbrellas to "second-line" Penny home. It was the perfect capper in tribute to a wonderful lady.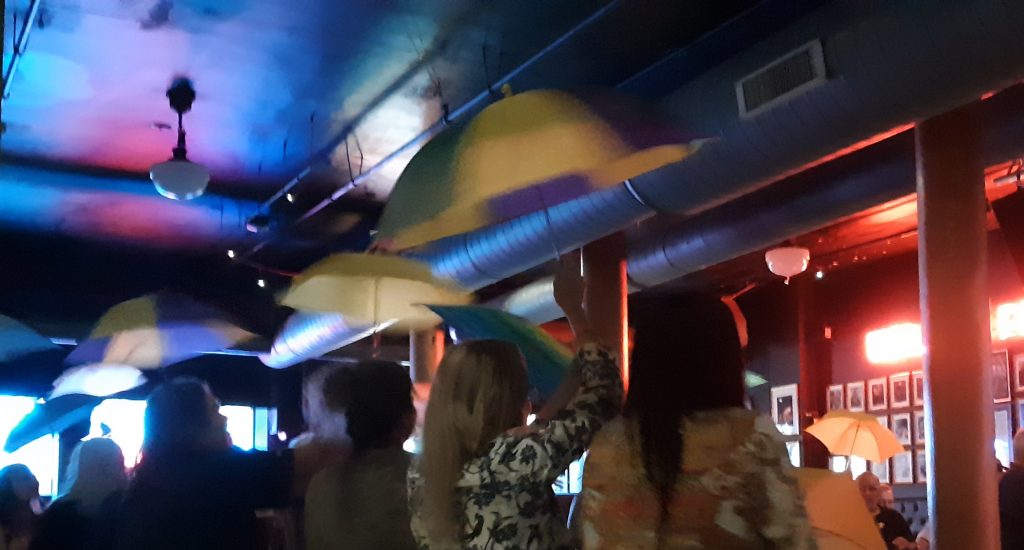 Chicago jazz musicians and fans have a deep feeling for their roots. The three record stores I visited—Dusty Groove, Bob's Blues and Jazz Mart, and Reckless Records—all carried a substantial inventory of historic jazz recordings, and just in the periods of my visits, I saw that those albums sold to listeners of all ages. I witnessed a similar age range in the audiences of two tribute concerts over the weekend: Abigail Riccards' salute to Etta James and Etta Jones, and Alyssa Allgood's track-by-track interpretation of Shirley Horn's final album, "May the Music Never End".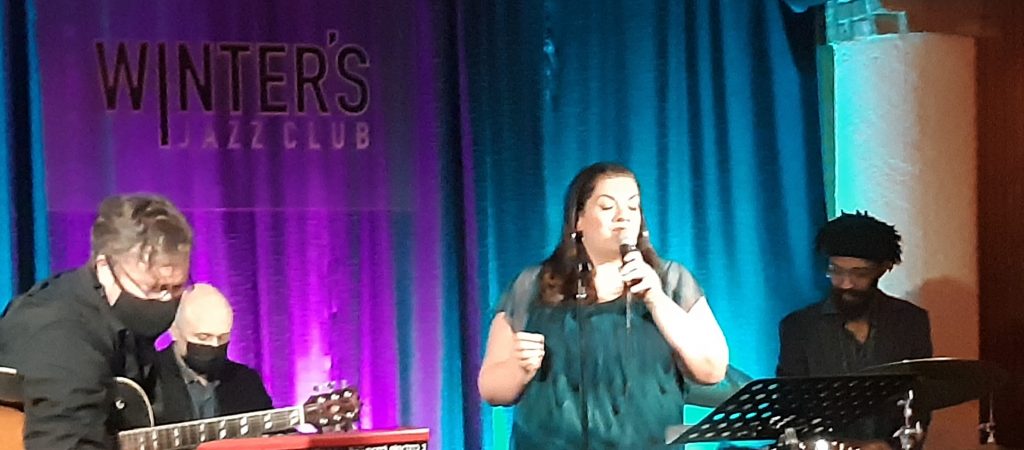 I caught Riccards at Winter's after the jazz festival on Saturday night. Even on the second set, the room was near capacity, and the audience paid close attention to Riccards' fine interpretations. The band was billed as her "organ trio" but keyboardist Tom Vaitsas actually pulled double duty, playing organ riffs with his right hand, and walking bass on electric piano with his left. Tim Fitzgerald was an inventive soloist and impressive accompanist throughout, and Clif Wallace lifted the bandstand with swinging percussion. I suspect that most of the James/Jones material was sung on the first set (I was anxious to hear Riccards' take on Jones' "Don't Go to Strangers", but all we got was James' version of "At Last") but the treatment was of the standards was top-notch. I was quite impressed with Riccards' astounding melodic transformations in the samba arrangement of "Where or When" and her breathtaking reading of "I Got it Bad". "Love is Here to Stay" received an easy two-beat framework, while the swinging "Almost Like Being in Love" was a fine upbeat closer. Riccards left the stage immediately after the last number and remained sequestered in her dressing room until the audience had left. There was no explanation, but again COVID worries may be the answer.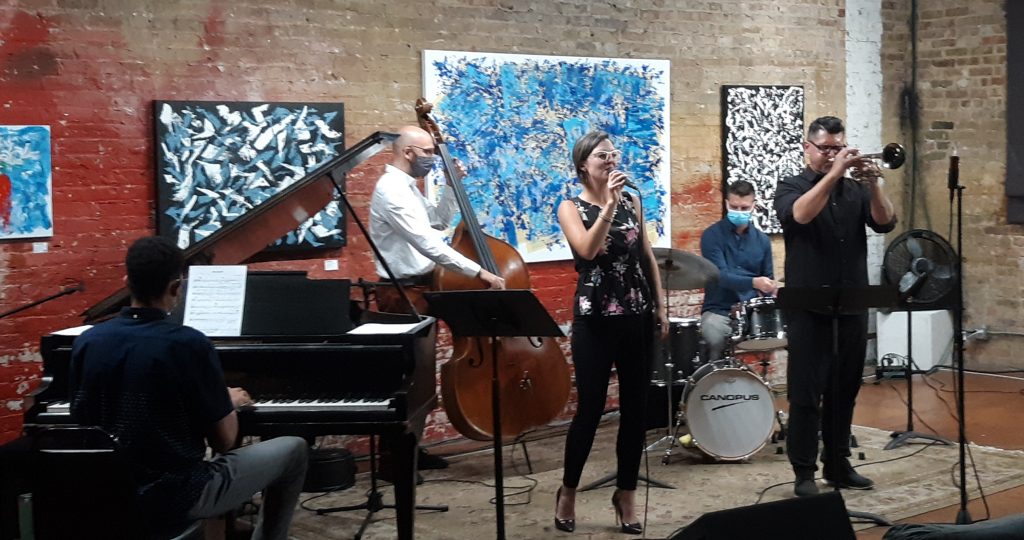 Alyssa Allgood's performance was part of the Jazz Record Art Collective, a program that invites local musicians to choose, transcribe and perform an entire album by one of their favorite artists. Allgood has performed several of these concerts, but her choice of the Shirley Horn disc "May the Music Never End" was particularly audacious. I caught Horn live at Iridium in New York in February 2003, less than a week after she completed this album. She was in a wheelchair and her right foot had been amputated. Because Horn could not operate the sustain pedal, George Mesterhazy played piano behind her, using specific voicings Horn provided. She was clearly close to death—even though the end would not come for two-and-a-half years—and many of the songs on this final recording were focused on that subject. So, it was a unique experience to hear Allgood—a singer less than half of Horn's age—sing autumnal songs like "Maybe September", "This Is All I Ask", "Everything Must Change" and the Artie Butler-penned title track. Yet, Allgood accomplished this feat and triumphed with it. Drawing on the deep losses we have all felt through the pandemic, Algood focused on the message of each lyric, and attached herself to Horn's quiet intensity and measured dynamics. Through it all, Allgood never let Horn's identity override her own unique personality. Perhaps she will revisit this material three decades hence: I expect that her interpretations will be even more stunning than they were on this September night of 2021. Special kudos to Allgood's spectacular accompanists: Julius Tucker (piano); Ethan Philion (bass); Jon Deitemyer (drums) and Eric Jacobson (trumpet)—the latter filling the large shoes left by Roy Hargrove!
Obviously, this was far from a complete survey of Chicago jazz. There were many artists I was unable to hear, and I didn't go to either the Green Mill or Jazz Showcase. Even Howard Reich, who inspired this trip, was unavailable to meet me. But I never expected to cover everything in the first place. After all, Chicago is still there and open for future visits, and, thanks to mentoring programs like the one established by Penny Tyler, great musicians still live and play there. The supporting, accepting spirit of the Chicago audiences ensures that jazz will continue for many generations in the Windy City.
Thanks to Heather Ireland Robinson, Adriana Prieto, Eileen Chambers, Scott Stegman, Chris Anderson, Paul Baker, Neil Tesser, and Howard Reich. Special thanks to the spirit of Penny Tyler for inspiring so many Chicago musicians (and writers) through the years.