ELIANE ELIAS (with CHICK COREA & CHUCHO VALDÉS): "MIRROR, MIRROR" (Candid 30042)
When I first heard Eliane Elias play, she was the new pianist in the supergroup Steps Ahead. She was painfully shy and barely able to speak English, but her talent was already quite evident. Although her star had not risen to the heights of bandmates Michael Brecker, Mike Mainieri, Eddie Gomez or Peter Erskine, she was playing at their high level, while displaying her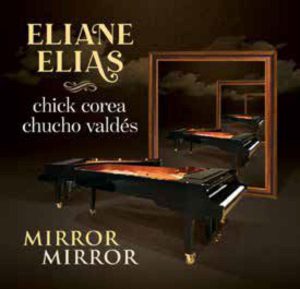 nuanced touch and distinctive style. Since then, Elias has become one of jazz's finest pianists with a busy touring schedule to prove it. In the liner notes to her new CD, "Mirror, Mirror", she refers to the recording as "a dream come true", and that sentiment is entirely appropriate for this series of duets with Chick Corea and Chucho Valdés. Elias relates that she has known both pianists for several years, but that the chance to record duets with each one only happened after years of managing conflicting schedules. And as with Steps Ahead, she is on equal footing with these masters. The duets with Corea were recorded without a pre-session discussion; they just sat down and played. That fact will amaze any seasoned listener, especially as the arrangements seem to form out of nowhere. ("Blue Bossa" has several moments where Corea and Elias seem to read each other's minds!) Their interplay on "Armando's Rhumba" is delightful and fascinating as the lead passes rapidly between the two pianists. The title track contains a brilliant series of exchanges where the lines intersect as if they were written out. The Valdés arrangements were worked out in advance, and overall, they are less interactive and more lyrical than the Corea tracks. The warmth that Elias and Valdés bring to "Esta Toda Vi Llover" reveals their great respect for the music and each other. "Corazón Partio", the longest track on the album, boasts a gorgeous melody and an elegant harmonic background. Elias introduces the piece with a passionate statement and solo, followed by Valdés, who has a great deal of fun re-working the material. About halfway through the track, it sounds like they wrapping up, but a vamp inspires both players to keep things going for a few more minutes. "Sabor a Mi" starts off like Bill Evans' "Peace Piece" before segueing into its own chord sequence. Again, Elias and Valdés elevate the song with passionate theme and solo statements. While neither Elias nor Candid Records discloses the exact recording dates, Elias notes that the duets on "Mirror, Mirror" were among the last recordings made by Corea before his sudden passing earlier this year. Hearing Corea play with so much energy makes it all the more difficult to believe that he is gone. We are fortunate that these recordings occurred. It is a dream come true for us as well.
JOEL FRAHM: "THE BRIGHT SIDE" (Anzic 68)
Last summer, tenor saxophonist Joel Frahm packed up his New York apartment and moved to Nashville. I'm not sure what opportunities are available for him there, but perhaps he is looking for more musicians like the ones who grace his new CD "The Bright Side". On the inside cover of the package, Frahm praises the individual spirits and collective expression of bassist Dan Loomis and drummer Ernesto Cervini.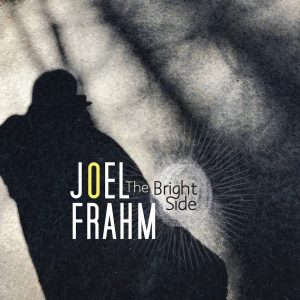 He flatly states that "I am stronger because of my experiences with Ernesto and Dan". The evidence is apparent in the CD which features 10 original compositions all played in an attractive loose ensemble style. Like the greatest ensembles in jazz—up to and including Duke Ellington's orchestra—Frahm's group sound derives from the unique tones of its members. I love Frahm's gritty sound, which contains elements of tenor men from Ike Quebec to Michael Brecker but sounds like no one but him. Frahm knows that being progressive does not require a million notes per minute, but the right notes at the proper time. Loomis always sounds sure of his direction, even when it is clear that he could change that direction at any time. He has precise articulation and distinct note placement which draws the listener's attention to the harmonic motion in relationship to the soloist. Cervini is a master percussionist, equally skilled at setting a swinging pace as he is at creating an entire cushion of varied drums and cymbals. Most of the compositions here are pure jazz originals, in that they are not memorable tunes, but sketches for improvisation in various styles. What is memorable is the extraordinary creativity of these musicians, and their flexibility in improvising over, and maintaining a consistent group sound around the various styles. Indeed, this is music that might be best experienced as a series of fresh auditory experiences. Hearing each idea as it is played and developed seems to have a better effect on me than trying to isolate a particular moment on a particular track. This remarkable trio has the ability to generate this rush of ideas, and the best recommendation I can make is for readers to buy this album, put on a pair of headphones, and marvel at the tremendous flow of creativity. I sincerely hope that Frahm finds more kindred spirits to help him further develop this extraordinary level of invention. Whether that happens or not, he should reunite with Loomis and Cervini on a regular basis.
RENEE ROSNES: "KINDS OF LOVE" (Smoke Sessions 2104)
I have followed the career of Renee Rosnes for 25 years, collecting her recordings and absorbing the exquisite lyricism of her compositions and her piano. That said, I was happily surprised when I put Rosnes'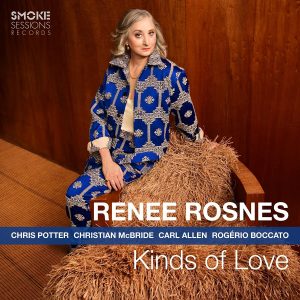 new album, "Kinds of Love" into the CD player and was greeted with the most energetic new music I had heard in weeks. Unlike most of the music composed during the pandemic, Rosnes' new scores are full of life, and the energy unleashed in the album's opener, "Silk" (dedicated to pianist Donald Brown) rarely lets up over the course of the album. One contributing element is Rosnes' reunion with tenor saxophonist Chris Potter. Not only does Potter contribute a brilliant solo, but the electric transfer of the solo spotlight also lights a fire under Rosnes, resulting in one of her most exuberant improvisations. The title track is a ballad, but it overflows with passion as if the immediacy of the situation could not possibly be controlled. Rosnes, with Christian McBride (bass) and Carl Allen (drums) build this piece to a tremendous level as a trio, saving Potter—now on soprano sax—to raise the intensity to a higher level. Percussionist Rogério Boccato joins the group for "In Time Like Air", an original based on a bird song—which features an impressive level of overdubbing: Potter is heard simultaneously on flute and tenor, while Rosnes can be heard on vocal, acoustic piano, and Fender Rhodes. The multiple layers of sound are essential for this composition, and I wonder how it will sound in concert. "The Golden Triangle" alternates between funk and swing during a dual improvisation by Potter and Rosnes. Swing wins out with Rosnes' note-gobbling solo, followed by a well-constructed statement by McBride, and an explosion of ideas from Potter (fueled by Allen's thundering drums). "Evermore", based on a Sarabande from Bach's "English Suites" is a profound work that encompasses loneliness, nobility, and passion in ways rarely expressed in jazz. Everyone in the group contributes to the overall emotion, with McBride's arco solo adding the crowning touch. "Passing Jupiter", regarding travels to our resident giant planet, is less serious than the tracks that surround it, but it's a fun ride, with fine solos throughout. The hypnotic groove which opens "Life Does Not Wait" leads into an intricate line for flute and piano. Again, thanks to overdubbing, Potter can be in two places at once, starting his tenor solo as he releases the last note of the melody on flute. The rhythm (with Boccato back in) grooves effortlessly under Rosnes and the ensuing percussion solo. Ordinarily, a bright swinger like "Swoop" would be the ideal closer for an album, and indeed, the track features great solos and outstanding interplay by the quartet. However, Rosnes had a different ending in mind: the haunting "Blessings in a Year of Exile". It is unsettling rather than soothing, and it is a very accurate reflection of our troubled times. Yet this music will live far beyond our present troubles. This album is a classic. To quote the title of one of its songs, may it last "evermore".
HELEN SUNG (with HARLEM QUARTET): "QUARTET +" (Sunnyside 1624)
Following on the strength of her previous album, "Sung with Words", pianist/composer Helen Sung has taken on an ambitious project and realized it with great skill and artistry. As its title implies, "Quartet +" is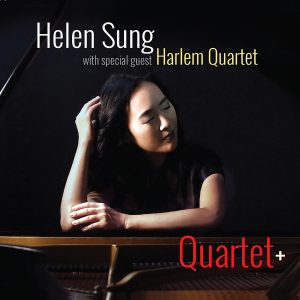 actually a double quartet, with Sung's jazz group (featuring saxophonist John Ellis, bassist David Wong, and drummer Kendrick Scott) paired with the Harlem (String) Quartet (violinists Ilmar Gavilan and Melissa White, violist Jamie Amador, and cellist Felix Umansky). The program alternates Sung's evocative originals with music by great women jazz composers—with one notable ringer. Geri Allen's "Feed the Fire" was arranged by Allen on several occasions, and Sung's use of the piece as an opener offers us an immediate appreciation for her gifts as an arranger and pianist. Ellis' tenor sax carries the intensity of Sung's urgent piano, followed by a concise statement by Scott. Mary Lou Williams receives a lovely tribute with an ethereal arrangement of "Mary's Waltz", for strings, flute, and rhythm. Williams was truly gifted as a composer and arranger, but a score like Sung's represents a level of writing that Williams could only dream about. Sung's "Coquette" opens with writing reminiscent of 19th-century string quartets, then segues into a bright samba, with the strings playing a counter-melody to Ellis' flute. The mix of classical and jazz styles is further explored in Sung's two-movement composition, "Temporality". There are moments in the first movement where the combination is complete—as in the elusive "Third Stream" sought after by Gunther Schuller and his followers—but at other times, the lack of a predominant style makes the composition lose focus. Overall, the second movement works better, but that is probably due to the strong jazz feeling throughout. Next comes the notable ringer: Billy Taylor, a tireless supporter of female jazz musicians, whose composition "A Grand Night for Swinging" was a favorite of Marian McPartland and Mary Lou Williams. The piece appears twice, first in an abbreviated version which sounds like part of an alternate take, and then in an abstract arrangement as the album's finale. Sung's arrangement of Toshiko Akiyoshi's "Long Yellow Road" retains the fanfare and off-beat accents of the original, and uses the string quartet for occasional comments behind the improvised solos. Carla Bley's "Wrong Note Donkey" is loaded with hilarious non-sequiturs and fast-paced solo exchanges between the jazz and string quartets. McPartland is represented by a medley of "Melancholy Mood" (co-composed by Jimmy McPartland) and "Kaleidoscope", her theme song for "Piano Jazz". The strings play the first piece, but are interrupted and eventually are overtaken by the jazz combo's repeated strains of the second piece. Sung reprises her "Lament for Kalief Browder" from "Sung with Words" in an instrumental version that moves from mourning to anger and triumph before reverting to sadness. Sung saves the best work for last, with the hip tango "Sungbird". The Argentinian beat easily transforms into swing, and the combination sounds comfortable from all performers. Perhaps the Third Stream flowed from the Paraná River?