Lara Solnicki is an adventurous vocalist, composer, and poet. She has built upon the strengths of her previous albums, "A Meadow in December" and "Whose Shadow?"(listed in Jazz History Online's Best Vocal Jazz releases of 2015) to create an exciting new project which combines progressive jazz, poetry, art song, and symbolism.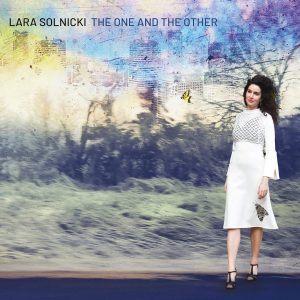 "The One and the Other", released March 12, 2021, on Outside in Music, consists of striking original compositions which challenge typical expectations for a vocal jazz album with its tightly mixed pairing of words and music. A promotional video is available here. I spoke by phone with the Toronto-born artist about the concept and realization of this album. Excerpts are presented below.
Thomas Cunniffe: Is this a concept album?
Lara Solnicki: Yes, you could say that. "The One and the Other" is the result of an experimental project intended as a challenge that I set for myself. I strived to maintain the integrity of a particular group of original poems, keeping these poems at the center while creating music that responded and changed from line to line. At times, the music takes off independently from a line of poetry to become an "illustrated, guided free improvisation section" like an extreme form of "word painting" (belonging to the classical music tradition). This project has a relationship to the classical art song tradition. "Bit Her Sweet Christopher Street", the song that opens the album, is a nod to Debussy, and his cycle Cinq Poèmes de Baudelaire. The poetry is primarily inspired by Charles Baudelaire, the symbolist, decadent, and surrealist movements as well as René Char and Octavio Paz.
TC: This album has a lot of different styles. It almost morphs around. Is this part of the response to the poetry?
LS: I don't hear that many styles really. I hear a few. It's a contemporary art song project that crosses into ECM and Norma Winstone territory, most especially on my pieces, "The Embrace" and "Idée Fixe". The rock guitar and drums solo/duet section that appears to come out of the blue in "Bit Her Sweet Christopher Street" is a nod to the post-punk and decadent movements, which is referenced in the poetry, for example, the prickly rose poking through a gothic fence. At other times the album has a spacious base of electronics, with acoustic performances recorded on top of it that serves as a textured canvas. The album was recorded in layers in a way similar to how film music is created. Album producer Jonathan Goldsmith works a lot in film. Instead of a linear story with coherent characters and dialogue, however, the texts are contemporary poetry with its inherent fragmentation and ambiguities.
TC: What is the relationship between "The One and the Other", your past albums, and your career as a straight-ahead jazz singer?
LS: Well, in my mind everything is a continuation from everything else. Over the past few years, I've been focusing a lot on my own writing, which was going to inevitably involve my poetry. Integrating my poetry was certainly not going to fit with music in the Great American Songbook style. It would be largely angular music following the fluctuating non-rhyming phrases, as well as spacious music, given the density of the imagery needing to ring out. Regardless of what I'm singing, I always aim to allow the phrases to be iterated naturally, which is actually quite close to the spontaneous phrasing of Nancy Wilson and other jazz singers who have influenced me. Jazz singing—particularly ballad singing—is best when it sounds spontaneous, unrushed, and authentic to the speaker. I can say the same thing about my live poetry readings.
TC: Are there any recurring themes?
LS: The style with "The One and the Other" is to present strong imagery without overtly emotionalizing it. In other words, the images speak for themselves. There are some repeated images. For example, there is the image of the moth in "Pass a Glass" that returns in "Awe of the Sea". The theme of water is used many times in many ways throughout the three-movement "One and the Other" suite. It keeps evolving. There is a flatness to the imagery also which is consistent with the Symbolist movement. Every line functions as a hologram without instructing one outcome or one interpretation only. There is an inherent power struggle between music and text where one comes forward and the other must take a subordinate role. I used this tension to create much of the music. For example, "Pass a Glass," part 1 of "The One and the Other" suite, opens with a prologue that foreshadows the whole story:
Pass a glass O flesh deceived,
was he, was I, one we.
The words "Pass a Glass O flesh deceived" say "let's put on glasses and look closely at something blurry" while also suggesting an opening drinking scene where a character is looking back in time while socializing. That same (deliberately ambiguous) line changes meaning based on where I take a breath as a performer, and by which point of view the listener adopts. Was the speaker deceived? Was the lover deceived? Were they both? The album works largely in this way. The music may be responding, coloring, contrasting, or further illustrating/developing a line of poetry.
TC: How does the final product compare to your original conception?
LS: I wasn't too concerned about the sound of the end result. I just wanted to stay connected with the inspirations and focus, trusting that my training in classical music, jazz, free improvisation, and poetry would all be there. This music aims also to communicate experience, not unlike improvisation, and forcing an end result would actually hinder creativity. I chose to essentially write through-composed music with guided free improv sections functioning either as a kind of expansive release or to provide sudden striking contrasts to deepen dramatic tension. On "Furling Leaf, Retrocede", I wrote symbolic musical motifs which are in dialogue with the metaphors in the poem. Electric violinist and photographer Hugh Marsh made a beautiful video for it that was released on August 4. Two more videos for the album are in the works.
TC: The instrumental performances are wonderful, as is the recording quality. I know that you have been spending a lot of time in New York the past few years leading up to the Covid19 pandemic. Is this a Canadian team?
LS: The project was made in Toronto, Canada, and made possible thanks to grants from the Canada Council for the Arts, The Foundation Supporting Canadian Talent on Recordings (FACTOR), The Ontario Arts Council, and The Toronto Arts Council. The band members are Lara Solnicki, compositions, vocals, texts; Jonathan Goldsmith, producer, piano and keyboards, electronics, electric bass and guitar; Hugh Marsh, electric violin; Peter Lutek, alto saxophone, electro-acoustic clarinet and bassoon; Rob Piltch, acoustic and electric guitar; Scott Peterson, acoustic and electric bass; Rich Brown, electric bass; and Davide Di Renzo, drums. Jeff Wolpert recorded, mixed, and mastered the CD at Desert Fish Studios. He also created an immersive audio Dolby Atmos version of the album.
TC: Thanks for enlightening us on this very special project!
LS: Thank you Tom, it was very challenging on every level, as well as fun!