In 1939, when vocalist Lee Wiley recorded a collection of eight Gershwin songs for the Liberty Music Shop label, she became the first artist to release a concept album. At first, the underlying themes of these albums were easy to discover: songs by a particular composer, or a suite of thematically related materials (as in Duke Ellington's "Black, Brown and Beige"). Mel Tormé recorded his original "California Suite" in 1949 for Capitol, and when Frank Sinatra joined that label's roster a few years later, he created a series of concept albums that were linked by mood ("In the Wee Small Hours"), style ("Songs for Swingin' Lovers"), theme ("Come Fly with Me") or tempo ("Come Dance with Me"). Concept albums enjoyed great popularity for several decades ("Sgt. Pepper's", "The Wall" and "Tommy" being notable rock concept albums) before falling out of style. However, jazz vocalists never seemed to lose their love for this format, even if it meant making changes to the traditional approach.
Chicago pianist/composer/vocalist Patricia Barber takes delight in destructing and reconstructing old formats. Her newest release, "Clique" (Impex 8323), has been promoted as a standards album, but—as usual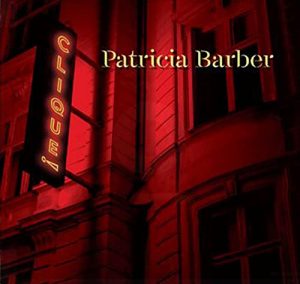 with Barber—it all depends on definitions. The opening song, "This Town" was composed by the late country/pop singer, Lee Hazlewood. Barber's intense performance transforms the song into a viable jazz vehicle. So, do we define a song by its history or by what the artist creates from it? That question pervades this album, which includes songs by composers as distant from each other as Alec Wilder, Thelonious Monk, and Stevie Wonder. Barber has a highly-developed musical persona that initially sounds detached but is actually loaded with emotion (Her version of "All is Fair in Love" will break your heart). She lets the listener discover the layers of her performances, sometimes only allowing the slightest path to a deeper meaning. For example, Barber's rendition of "I Could Have Danced All Night" has a completely different feel than the original version from "My Fair Lady". The shifting broken time contributes to the feel, but does Barber's subtle gender switch ("I only know when she began to dance with me") tell us why this dance is different? Sometimes, the meaning is less elusive, as in Barber's original instrumental, "Mashup", which may be here to allow the band to stretch out and to give listeners a sample of the trio's sound in a number of different styles (While we're on the subject, the other members of the trio are bassist Patrick Mulcahy and drummer Jon Deitemyer; Guitarist Neal Alger and tenor saxophonist Jim Gailloreto make guest appearances later on the album). The album was recorded by the renowned engineer Jim Anderson and is presently available on a hybrid SACD with surround options and higher-resolution sound for those with compatible players. Even on a standard CD player, this album sounds incredible.
Stacey Kent has spent most of her career touring across the world, but like all other performing artists, those tours came to a sudden halt with COVID-19. Being at home for an indefinite period was a shock to the system, and Kent's new CD "Songs from Other Places" (Token 2101) acts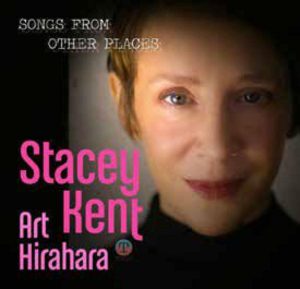 as a catharsis with its travel-themed program. When I heard Kent perform this music live in New York's Birdland (with Art Hirahara on piano and Jim Tomlinson on flute and tenor sax), she told the audience that her top requested song on social media was "I Wish I Could Go Traveling Again". That song, with lyrics by Nobel-prize winning author Kazuo Ishiguro and music by Tomlinson, was a highlight of Kent's Blue Note CD, "Breakfast on the Morning Tram", and is also the opening track on the new disc. Unlike the Birdland performance with all three musicians closely gathered onstage, the CD was recorded remotely with Hirahara recording his parts in New York, and Kent adding her parts in Aspen. Tomlinson makes only one appearance on the album—although he was producer, engineer, and arranger behind the scenes—and his near-absence makes the CD a very different experience from the live concert. However, as a duet album, "Songs from Other Places" is an extraordinary effort, with countless examples of the vocalist and accompanist seemingly reading each other's minds. Throughout this album, the rubato tempos ebb and flow with gentle regularity, yet there are no mistimed entrances or any other clues that the parts were recorded at different times and locations. The album boasts two new Ishiguro/Tomlinson originals, the melancholic "Craggie Burn" and the witty "Tango in Macao". Kent, a born storyteller, performs the songs with the same respect she gives to classics from the Great American Songbook, Jobim ballads, or delicate French chansons: displaying impeccable diction and intonation, with the slightest touch of wistfulness. And assuming that the listener can be separated from memories of the original versions, Kent inhabits latter-day classics like "Blackbird", "Landslide" and "American Tune" with deep sensitivity and strong emotions. Hirahara is a revelation throughout, always playing the perfect backgrounds and instinctively sensing the places where Kent would stretch or compress the time. Kent told the Birdland audience that there were several other duets that would be released at a later date. That will be a welcome addition to this fine recital.
Kate McGarry's intensely personal album, "What to Wear in the Dark" (Resiliance—no #) reflects a turbulent period in 2010 where she lost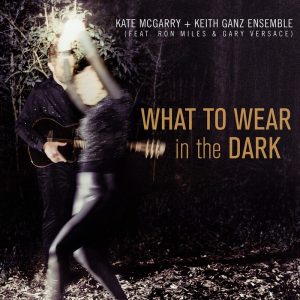 both parents, her father-in-law, and a teacher, all while moving to a new city. She also injured her voice around this time, which could have meant the end of her professional career. The album also reflects the election and administration of Donald Trump, as well as the resulting aftermath. Significantly, the music stems from three separate sessions, ranging from 2017-2021. The earliest tracks use the same core musicians from McGarry's previous album, "The Subject Tonight is Love"—Keith Ganz (guitar and bass) and Gary Versace (keyboards and accordion) with Ron Miles (cornet) and Obed Calvaire (drums)—and thankfully, McGarry's voice sounds fully recovered. The opening version of "Dancing in the Dark" is a great showcase as she covers a range of emotions starting with desolation, moving through confidence, and closing in triumph. In a daring step, she portrays the opposite of her personal views through the chilling, racist lyrics of Steely Dan's "Barrytown". "Both Sides Now" presents a different challenge, as McGarry stretches Joni Mitchell's lyric phrases by several beats. The arrangement McGarry and Ganz created for this interpretation gives the song an airy open feel. (The outstanding accompanists on these two tracks and the final two tracks consists of Ganz, Versace, bassist Sean Smith, and drummer Clarence Penn). The 2017 band returns for a mystical reading of "God Moves on the City", and a tender "Desperado". In between is a truly unique take on Paul Simon's "Feelin' Groovy". It opens with McGarry reading an excerpt from the memoir of jazz pianist Hal Galper. Everything seems fine as Galper's text relates the different experience levels of jazz musicians, but when he goes into the commercial side of the business—specifically an artist's "marquee value"—McGarry's reading grows fast and agitated, building to an intense climax which is broken by Simon's first line. "Slow down, you move too fast" indeed! Miles contributes a sardonic improvisation that draws inspiration from the song and the wild introduction. "On the Road to Find Out" features a virtual choir background by Erin Bentlage, Becca Stevens, and Michelle Willis, all recorded remotely, and accompanied by Ganz (bass), Christian Euman (drums) and James Shipp (percussion). McGarry leads through the opening section, and leaves room for brief solos by each singer. The final track by the 2017 group is a dramatic arrangement of Leonard Cohen's "Anthem" with Calvaire's drums echoing the flow of the lyrics. "Here Comes the Sun" brings an optimistic glow which is further developed in the glorious original, "It Happens All the Time in Heaven". The white-haired McGarry pictured on the cover and in the booklet looks happy, strong, and confident. In other words, she is a survivor…and an inspiration. May she be so for many years to come.
Roseanna Vitro's "Sing a Song of Bird" (Skyline 2101) is another project that has been in the works for several years. In celebrating the music of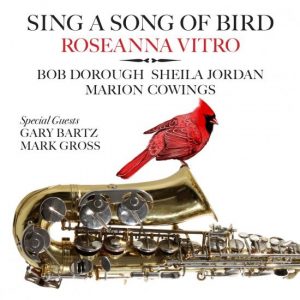 Charlie Parker, Vitro shares the microphone with Parker's greatest living disciple Sheila Jordan, the neglected master Marion Cowlings, and jazz legend Bob Dorough. The album features new (and greatly improved) lyrics to Parker's famous compositions. When Vitro discovered that Dorough was in failing health and had written new lyrics for "Red Cross" and "Bluebird", she organized a session to allow both Dorough and Jordan to record their music for posterity. Dorough died less than six months later. The album remained incomplete until the late spring of 2021, when a follow-up session took place with Vitro, Cowings, alto saxophonist Gary Bartz, pianist Alan Broadbent, bassist Dean Johnson, and drummer Alvester Garnett. Because the focus is on the words, the tempos are kept at a medium swing so to keep the lyrics intelligible. Vitro opens the album with Paul Wickliffe's words to "Steeplechase", then plays backup singer and duet partner to Dorough for "Red Cross". The shared scat chorus is a delight with both vocalists creating inventive, swinging lines. Jordan draws on her personal history with Parker in her lyrics to "Relaxin' at Camarillo", followed by Cowings, who reinterprets King Pleasure's classic words to "Parker's Mood" with dramatic reaches into his upper register. "Scrapple from the Apple", once thought to be a tribute to Manhattan, here becomes—in Wickliffe's words and Vitro's interpretation—a samba that celebrates leaving New York City! Dorough takes the personage of John James Audubon for his hilarious setting of "Bluebird". Even at the end of his life, Dorough never lost the wild sense of humor that marked his long career. A slow funky setting of "Cheryl" now pays tribute to Sheila Jordan, with Vitro singing most of the lyrics, and Jordan contributing a soulful improvisation before the two vocalists trade scat passages. (The tracks with Jordan and Dorough feature Mark Gross on alto sax, Jason Teborek on piano, Dean Johnson on bass, and Bill Goodwin on drums, with guest performances by guitarist Paul Myers and percussionist Mino Cinelu). Jordan has recorded her autobiographical words to "Quasimodo" before, but the present version includes an opening chorus with references to Clint Eastwood's biopic, "Bird", and an especially well-constructed scat solo (a good choice, as Parker wrote the original line over the changes to "Embraceable You"). Cowings sings Jon Hendricks' words to "Now's the Time" which covers the melody, plus the solos of Charlie Parker and Miles Davis. Bartz's ensuing solo reflects on Bird's influence without copying the master's style. Vitro goes back to the source, singing Parker's rarely-heard lyrics for "Yardbird Suite" (originally called "What Price Love?") over a grooving 12/8 rhythm. Rather than launching into a scat solo, she sings the words on a second chorus while improvising a new melody—a technique she has included in her own music and has taught to many students. Before the album finale, Bartz and the rhythm section have a workout on "KoKo", and while Bartz doesn't replicate Parker's virtuosic solo note-for-note, there's enough there to show the outlines. Vitro, Dorough, and Jordan close the album with a touching collaboration on "These Foolish Things". It's not really a Parker tune (although he did record it) but this song of nostalgia and memories makes the perfect ending for an album that memorializes Charlie Parker, and as it turned out, Bob Dorough. This album features stellar performances by all of the musicians involved, and we can thank the team of Roseanna Vitro and Paul Wickliffe for making it happen.