In discovering a unique repertoire, jazz musicians (both instrumentalists and vocalists) must search to find their own proper combination of standard and original material. If the two are not balanced, a musician can be unfairly labeled as either a cover artist or too esoteric. Each of the four vocalists spotlighted below display an enhanced repertoire on their latest albums, including original songs, music from other genres and classic standards. These recordings may not represent each artist's definitive version of the right combination, but all four of these self-released discs show these singers are in search of that elusive formula.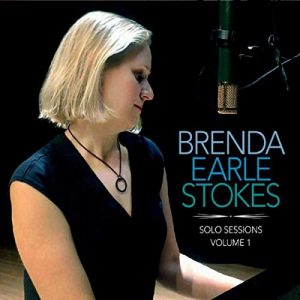 The promotional material for Brenda Earle Stokes' new CD "Solo Sessions, Volume 1" presents an impressive list of accomplishments: classical vocalist, choral composer, church organist, music educator, and acclaimed jazz sideperson and leader. Following up on a 2014 studio album, "Right About Now", "Solo Sessions, Volume 1" presents Stokes as simultaneous soloist and accompanist. The opening track, "If You Never Come to Me" (aka "Useless Landscape") shows that Stokes is significantly talented as both a jazz vocalist and pianist. Her time is impeccable, her diction and phrasing are equally admirable, and she improvises very well instrumentally and vocally. On the next track, "Standing", she proves to be a fine composer as well, with a highly developed sense of harmony and melody. She opens her arrangement of "Weaver of Dreams" with a sly walking bass line, and retains it as a background for her motivically-inspired piano solo. The final vocal chorus is highlighted by Stokes' imaginative melodic variations. A driving intensity powers Stokes' earnest readings of k.d. lang's "The Consequences of Falling" and Leroy Carr's "How Long Has That Evening Train Been Gone". I'm not as convinced of her portrayal of a social climber in "Ladies in Mercedes", but the problem might be due to a high tonality and over-recorded accompaniment rather than Stokes' reading of the lyric. Stokes returns to the jazz repertoire with a sprightly arrangement of Dave Brubeck's "Strange Meadowlark". To my ears, this song is a particularly good fit for Stokes' light soprano voice. While the previous track, Michael McDonald's "I Can Let Go Now", shows that Stokes can add emotional heft to her voice when necessary, the light-hearted nature of "Strange Meadowlark" represents a song which Stokes can convey with seemingly little effort. I'm not advocating a complete withdrawal of heavier material, but songs with a lighter touch might be more appropriate for Stokes than her cover of Huey Lewis' "The Power of Love".  The album closes with "The Waltz" (featuring stunning lyrics by Stokes) and an exquisite version of "East of the Sun" with fine scat and piano solos.
For years, Audrey Silver focused her repertoire on the Great American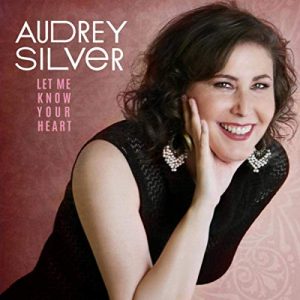 Songbook. Her devotion to standards has not changed, but through the inspiration of her young son, she has branched out into original songwriting. Silver's new CD, "Let Me Know Your Heart" offers a rich mix of standards and originals. Composed in collaboration with flutist/composer Dominique Gagne, Silver's songs feature sophisticated lyrics which reveal a mature attitude towards love and romance, coupled with attractive melodies and interesting harmony. Silver's voice wraps the listener in rich tones, and she has admirable flexibility as she teases out understated melodic variations. Whether singing her own "When I Look in Your Eyes", the classic standard "Comes Love", Mose Allison's sardonic "Ever Since the World Ended" or the French chanson "Plus Je T'Embrasse", there is a consistency in Silver's delivery which makes each song sound relevant and contemporary. Equal credit should go to the album's producer and arranger, Steven Santoro as well as the superb backup ensemble: Marcus Printup (trumpet); Tom Beckham (vibes); Bruce Barth (piano & organ); Marc Ciprut (guitar); Paul Beaudry (bass) and Anthony Pinciotti (drums). In addition to the above mentioned tracks, accolades are due for the exquisite arrangement of Irving Berlin's "How Deep is the Ocean" which seems to float in midair; the delightful and swinging original "Giraffe Song"; Silver's fine scat solo on Freddie Hubbard's "Up Jumped Spring", and an unusual setting of the Fran Landesman/Bob Dorough tune "Small Day Tomorrow" which successfully combines a lounge-style backdrop, a seductive Silver vocal, and eerie background vocals. With its fine production, intriguing arrangements and outstanding vocals, "Let Me Know Your Heart" may be the gateway for new fans to know more about Audrey Silver.
Canadian vocalist Karin Plato describes the original songs on her new album "This Could Be the One" as "characters [which] many of us meet in our life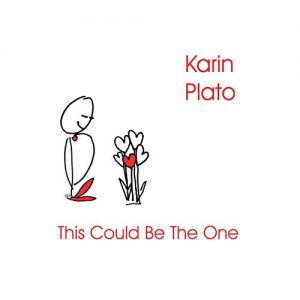 journey". While that quote might lead a potential listener to think that the resulting album is filled with maudlin, navel-gazing soliloquies, the actual CD overflows with joy. Starting with her count-off to the title track, Plato's sinewy voice soars, and her quartet digs in with propulsive swing. She treats the Beatles' "I've Just Seen a Face" to a bouncy samba treatment that reflects the ecstasy of new-found love. The peaceful bliss of Plato's original "Sweet Summer" is paired with an unorthodox chord sequence. Plato's delivery of the angular melody is flawless, as is clarinetist James Danderfer's improvisation on the changes. "July" is a natural continuation of the themes of "Sweet Summer" and Chris Gestrin's spare piano chords evoke the stagnant heat of that month. Later in the track, the deliberate plodding of bassist Laurence Mollerup and drummer Joe Poole add to the effect. The lyrics of "Take Time" could have easily become a brow-beating lecture (despite the value of their content); however, the combination of the soft-shoe tempo and Plato's light but earnest delivery make the track a comfortable and enlightening experience. Hank Williams' "I'm So Lonesome I Could Cry" is a seldom-covered American classic (although it also appears in Michelle Lordi's album reviewed below!) Plato sings the plaintive ballad in a way which merely hints at a deeper sorrow. Unfortunately, I can't generate much enthusiasm for the duet between Plato and blues singer Jim Byrnes on "What Came Before". The rough quality (and barely controlled vibrato) of Byrnes' voice seems to be a poor match for Plato's finely controlled vocal instrument. After the funky "Life is a Beautiful Game" which yields fine solos from Danderfer and guest trombonist Rod Murray, Plato moves into a perceptive song called "Insomnia" which echoes the experiences of anyone who has endured a sleepless night. Plato doubles on piano for a stunning duet with Danderfer which gives new life to the much-abused "Heart and Soul". The closer is an original called "Sorrow". It is another vocal duet, this time with Rebecca Shoichet, and thankfully, the voices blend better this time, allowing the song's message to come through with clarity. This fine group of "characters" has enabled a welcome return to recording for a superb vocalist.
Regular readers of this website have followed the development of Philadelphia vocalist Michelle Lordi. However, her latest recording may surprise her most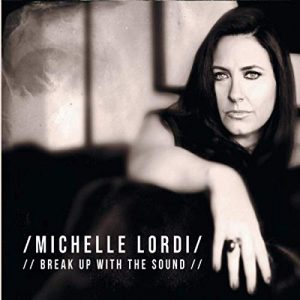 dedicated fans. "Break up with the Sound" is a dramatic shift from Lordi's previous recordings, but while Lordi embraces contemporary repertoire, she never loses the sensitivity that made her such a remarkable interpreter of standards. On the opening original "Poor Bird", Lordi juxtaposes her cool but pointed vocals against some of New York's most progressive musicians, including tenor saxophonist Donny McCaslin, guitarist Tim Motzer, bassist/arranger Matthew Parrish and drummer Rudy Royston. The resulting sound is adventurous and edgy, but the deep musicianship by Lordi and the instrumentalists is the track's most obvious quality. Lordi's expressive version of "Wayward Wind" is a standout track, with its other-worldly arrangement and Motzer's wailing electric guitar moving the song far from Gogi Grant's original recording. Another Lordi original, "Before", is a deeply personal song that expresses the wish for new and uncharted experiences. Lordi's understated vocal reflects the sincerity of the message, and Motzer's guitar solo matches Lordi's exquisite delivery. Parrish's funky bass line and a expansive Moyzer solo enriches Lordi's moody cover of the Rolling Stones' "No Expectations", while a surprisingly active medium-tempo arrangement offers a fresh approach to "Lover Man" with Lordi providing a confident and breezy reading of the standard, and McCaslin offering another innovative tenor solo. Lordi and her family lost many of their possessions in a devastating house fire on December 26, 2017. That tragedy may have inspired the idyllic  "Red House Blues", as the lyrics  describe a home that may only exist in the imagination, but could also be rooted in their lost dwelling. The album closes with Lordi's interpretation of "I'm So Lonesome I Could Cry", in an edgier version than Plato's, with the emotions appearing closer to the surface. While it is significantly different from Lordi's previous albums, "Break up with the Sound" is likely to please both hard-core jazz aficionados and pop/rock fans.  It is the perfect gift for your friends who claim they don't understand progressive jazz.