WALTER FISCHBACHER: "MOMENTS" (LoFish 98)
In a promotional video for this album, Walter Fischbacher notes that the title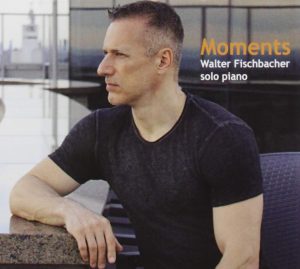 "Moments" is a reminder to cherish every moment of life, but he also states that each recording is only a snapshot of a particular time and place. It is an interesting dichotomy, but it fits within the philosophy that musicians never stop exploring and learning. The opening track of the disc, "New Days", embodies this concept as Fischbacher moves through varied episodes, all of which seem to be inspired by motives that he discovers through his developing improvisation. Still, the perfectly executed return of the original theme shows that Fischbacher had a fairly clear idea of the piece's direction before the recording started. The title composition finds the pianist/composer spinning gorgeous variations on his original theme over fluid and ever-changing ostinati. Fischbacher also finds creative ways to approach the compositions of others. His version of Paul Desmond's "Take Five" opens with a free fantasy (with a snippet of the theme appearing about one minute into the track). He replaces the original vamp with a complex invention of his own, and instead of following the usual chord sequence, he develops the minor key section over and over before utilizing the major section as tonal relief. For those who prefer traditional jazz solos over the chord sequences, Fischbacher offers a finely crafted exploration of Henry Mancini's "The Days of Wine and Roses" as well as delightful two-minute romps through Dave Brubeck's "In Your Own Sweet Way" and Bronislaw Kaper's "Green Dolphin Street". Fischbacher simultaneously reaches to his classical and jazz roots in a version of "All the Things You Are" which uses Richie Beirach's glorious reharmonization. Over the past few years, I've heard Fischbacher in several different settings, and while I can honestly state that I am quite impressed by this solo recital, I will respect his artistic philosophy and note that Fischbacher appears to be moving in a very positive direction.
ROBERTA PIKET: "DOMESTIC HARMONY—PIKET PLAYS MINTZ" (13th Note 12)
Originally conceived as a private birthday gift for her husband Billy Mintz,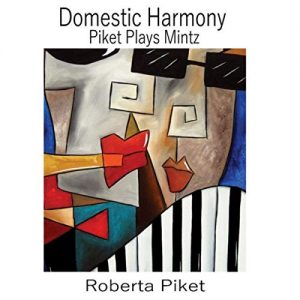 Roberta Piket's "Domestic Harmony" collects ten of Mintz' original compositions in beautifully realized solo piano arrangements. In the liner notes, Piket writes Billy's compositions have an open quality which gives the performer freedom to put forth her own viewpoint. Yet, in every piece, I hear Billy's distinctive voice and vision. It's a voice free of grandiosity, music pared down to its essence without unnecessary elaboration. Piket's elegant description is only matched by her sensitive approach to the music. Her elastic approach to rhythm is particularly welcome in the opening piece, "Ghost Sanctuary" where the vamp is hypnotic, but not monotonous. That same rhythmic fluidity informs Piket's interpretation of "Beautiful You", which gradually moves from a delicate, opening to a dark coda. The arrangement is all the more effective because we don't anticipate the tonal shifts of the performance. "Looking Down at the Stars" is a stunning composition, and a perfect example of music that is pared down to its essence. I don't know how much Piket added in her arrangement, but there isn't an extraneous note in this recording. "Shmear" offers Piket the opportunity to solo in a free-bop setting; her always intriguing lines remind me of Lennie Tristano's astounding solo improvisations.  "Flight" features increasingly complex melodic lines over single note bass figures, and incorporates a series of deliberate tempo accelerations encouraged by the composer. "Destiny", which includes an understated Piket vocal, shares a few melodic elements with the old movie theme "Wild is the Wind" but it succeeds as a composition when it moves into its own direction. Piket notes that "Your Touch" is not part of Mintz' repertoire; hopefully, Piket's fine version of this attractive tune will change her husband's mind! "Blinds Eye" is a whimsical mix of a Monkish main phrase and a bridge derived from Clifford Brown's "Daahoud". Somehow, Piket finds the right formula to blend these two dissimilar parts into a unified whole. Inspired by an old Piket arrangement of Jimmy Webb's "Up, Up and Away", Mintz composed the rhythmically and harmonically shifting piece "Ugly Beautiful". Piket writes that the original Webb tune and her arrangement are almost undetectable in this version, but I can't fathom how it all fit together in the first place! The album closes in fine fashion with a soulful blues, "Cannonball" We are indeed fortunate that Mintz agreed with Piket that this music should be released to the general public. It proves that the greatest gifts are those that we share.
DENNY ZEITLIN: "REMEMBERING MILES" (Sunnyside 1553)
For several years, Denny Zeitlin has played solo recitals at Oakland's Piedmont Piano Company, with each concert focused on a single artist. His 2016 performance, newly issued on "Remembering Miles", is a fascinating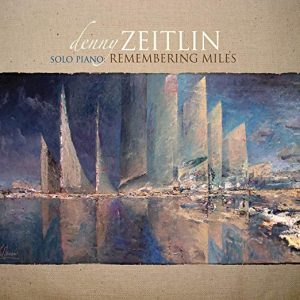 exploration of music associated with —if not necessarily composed by—Miles Davis. While Davis' musical legacy is the unifying factor for this concert, it is Zeitlin's fearless approach to the material that makes this album so memorable. He stretches the form and harmony of "Solar" like a ball of Silly Putty, pulling it this way and that to create his own astonishing interpretation. The traditional Swedish song "Dear Old Stockholm" receives a thorough examination, both through straight-ahead improvisation and the intriguing detours which Zeitlin adds between phrases. In its original form, "Flamenco Sketches" was little more than a series of scales. Davis' opening trumpet solo has been used as a de facto melody, but Zeitlin strips that element away, spending a fascinating eight-and-a-half minutes delving into the harmonic implications of the original scales. After a surprisingly aggressive treatment of Benny Golson's "Stablemates", Zeitlin moves to the latter part of Davis' career with "Tomaas", a selection from the album "Tutu". His interpretation draws upon free jazz and avant-garde classical techniques before moving into a lean funk style for the main improvisation. Both the 1947 and 1958 tunes called "Milestones" appear here in back-to-back versions.  The 1958 modal tune features thick reharmonizations over a brisk tempo, while the boppish 1947 piece elicits a medium-tempo groove for the opening melody statement and a free tempo solo episode featuring a fine dialogue between Zeitlin's left and right hands. "Circle" and "So Near, So Far" are samples from Davis' mid-1960s quintet. As Zeitlin was just starting to achieve national recognition around the same period, it is not surprising that he has a natural affinity for this part of Davis' career. He transforms "Circle" into an introspective study, and lets "So Near" bloom with expression every few bars. Cyndi Lauper's "Time after Time" becomes a completely new song in Zeitlin's hands, and the pianist discovered fresh approaches to "Lament" and "The Theme" by comparing several different recordings of each piece. The final piece is "Weirdo", which has a ridiculously complex recording history ("Weirdo" was recorded for Blue Note; it sounds a lot like "Walkin'", which was recorded for Prestige and it was later recorded as "Sid's Ahead" on Columbia). Zeitlin certainly captures the tune's weirdness, as he creates wild and unpredictable lines spanning the entire keyboard. A superb tribute to an American icon.