Of all popular music genres, the love song may be the most venerable. In his book, "Love Songs: The Hidden History", Ted Gioia notes the different ways in which love songs are performed: The love song sometimes comes to us embedded in ritual and ceremony, or broadcast through the airwaves, and through cyberspace, but it can also flourish when hidden from view during a private moment or clandestine rendezvous. Whether a jazz concert can be defined as "ritual" or "ceremony" is debatable, but live performances might be one of the few places where Gioia's varied strains unite, for there can be little argument that sensitive vocalists can evoke a love song's most intimate sentiments, even when presenting them in a public venue.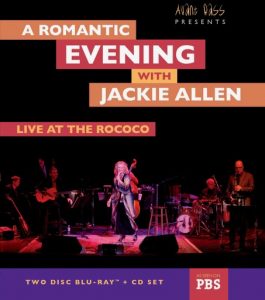 Consider the new Blu-Ray/CD "A Romantic Evening with Jackie Allen" (AvantBass), and particularly her stunning reading of "This Girl's in Love with You". The Burt Bacharach/Hal David pop standard has been performed many times since its composition in the late 1960s, but Allen brings in an enhanced level of thought and understanding. As in other arrangements of this song, it is built on a gradual crescendo of volume and emotions. Starting with the sole accompaniment of John Moulder's acoustic guitar, Allen understates the opening stanza, which tells of a general unspoken attraction. When the rest of the rhythm section enters on the next stanza, the narrative speaks of rumors that the attraction is mutual. There is a slight buildup on the refrain I need your love/I want your love, but the key is the final line If not, I'll just die. A lesser singer might over-sing that line, making it sound like an adenoidal teenager's threat of suicide, but Allen underplays the lyric, adding a little volume while creating a subtle melodic variation, which is just enough to convey desire and longing, but stopping short of overstating the case. This understated approach to AM radio pop was used by Nancy Wilson and Shirley Horn, but I am intrigued by Allen's revisions, notably the way she uses melodic variations both as a way to make us re-think our conception of these familiar pieces, and as a method to emphasize important lyrics.
Allen's arrangements also help us reconsider classic songs, as in her versions of "You Are So Beautiful", "My Funny Valentine" and "Lazy Afternoon". The former tune is set as a sassy retro funk number, with organ (Ben Lewis) and tenor sax (Bob Sheppard) improvisations over the soulful backbeat of bass (Hans Sturm) and drums (Dane Richeson). Allen disguises the melody at the outset, and adds an extra verse which was omitted from Joe Cocker's famous recording. Of the hundreds of arrangements of "Valentine", Allen's may be the first one set as a samba. Sheppard and Allen start with a melancholy line based on a fragment of the original melody, and the breezy tempo allows Allen and the soloists the necessary freedom to escape the song's usual bathos. "Lazy Afternoon" opens with the exotic pairing of RIcheson's thumb piano and Sheppard's flute. Sturm's gentle pulse on bass and Moulder's light guitar fills usher in Allen's peaceful approach to the lyric. While the beat is clearly stated by the instrumentalists, the flexible rhythms of Allen's vocal lines give the song a timeless feeling.
Virtually every recording of "What a Little Moonlight Can Do" is tied to a definite source—the highly influential Billie Holiday/Teddy Wilson 1935 recording. Put simply, Holiday's 54-second vocal chorus turned the jazz world on its head, and no singer after her has ever been able to shed that initial—and overwhelming—influence. Allen is no exception, but her version of this song has an interesting twist: it has unmistakable similarities to Holiday's efficient melodic reduction, but Allen's lyric reading is virtually devoid of Holiday's cynicism, veering closer to the song's original message about the magical qualities of moonlight, and adding a subtext of awestruck wonder. "Everything I've Got" is another well-worn standard on which Allen adds a distinctive touch. In her spoken intro, she notes that most of us have had several lovers before finding our ideal partners, and that the Rodgers and Hart song is really about those past affairs. Over a sassy funk bass ostinato, Allen sings Larry Hart's caustic lyrics with a sweet-and-sour delivery that gets the message through while masking the pain and heartache of the subtext.
This marvelous concert was recorded in February 2016 at the Rococo Theatre in Lincoln, Nebraska. Filmed in high definition video, the video program includes several brief interview segments with Allen, and a marvelous group discussion by the band concerning jazz and creativity. The multi-camera videography is quite good, although I was disappointed that none of the cameras caught a close-up of Richeson accompanying "Day Dream" using only his hands on his drum kit.  The Dolby 5.1 Surround audio track creates an immersive effect (i.e. within the band) while the 2-channel stereo mix on the Blu-Ray and CD offer a subjective (audience) mix.  A 30-minute version of this program has recently aired on local PBS stations, but the Blu-Ray/CD combo pack is a worthy investment for the additional songs, and for the bonus track, a gorgeously shot music video for Allen's original, "Call Me Winter". If you are either newly acquainted with Jackie Allen's music, or are a long-time fan, "A Romantic Evening with Jackie Allen" is a fine addition to your vocal jazz library.
Note that there is no planned release for this concert on standard DVD (the listing on CD Baby is quite misleading). A CD-only version of the concert has been produced, but I have been unable to find a purchase link for this version on the internet. This review will be updated as required.