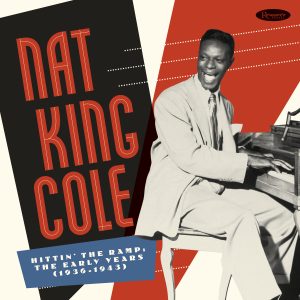 In addition to being one of the world's greatest popular vocalists, Nat King Cole was also an important jazz pianist in the years between swing and bebop. Cole was the pianist for the first concert of Jazz at the Philharmonic, and he played on classic recording sessions led by Lionel Hampton, Lester Young and Dexter Gordon. Cole also enjoyed phenomenal success with his own group, the King Cole Trio. But the popularity of Cole's solo vocal recordings soon eclipsed his jazz work, and just as bebop was starting to take hold of the jazz community, Cole shifted his attention to singing. Ever since then, jazz fans have considered Cole as "the one that got away". However, a new comprehensive set of Cole's early recordings, "Hittin' the Ramp" (Resonance 2042) offers compelling evidence that Cole's departure from the jazz scene may have been a foregone conclusion.
The Resonance set captures 183 Cole recordings made between 1936 and 1943. With the exception of Cole's debut session (led by Cole's brother Eddie) and the aforementioned Young and Gordon sets, all of the music on this 7-CD/10-LP box features the King Cole Trio, which—along the Three Keys—was one of the first established piano trios. Cole borrowed a few elements of the Keys for his own group (notably the piano/guitar/bass instrumentation and the group vocals) but the Cole trio soon found its own audience through its superb musicianship and entertaining arrangements. The first set of King Cole Trio recordings includes a wonderful version of "The Sheik of Araby" complete with key changes for every solo, and a very effective slow-tempoed section in the final chorus. An adaptation of Johann Strauss' "Blue Danube Waltz" is equally fascinating with elements of waltz and swing time colliding with brilliant results. This first session also includes several novelty songs with chanted group vocals, which would become a regular part of the trio's repertoire. Despite the fact that this was the group's first recording, they sound completely relaxed in the studio. They were obviously well-rehearsed unit and they played their complex arrangements with confidence.
Unfortunately, we can't be sure of how many people actually heard these sides. These recordings, along with over half of these sides in the Resonance set, were made solely for the use of radio stations. They were issued on transcription discs, which looked and acted like standard records except that they were 16" in diameter—too large for most home turntables—and played at 33 1/3 rpm, instead of the industry standard 78 rpm. Radio stations had the opportunity to subscribe to a service that would provide these discs on a monthly basis. The music on these discs were unique to the transcription service, and in nearly all cases, the recordings could not be purchased in stores. The King Cole Trio recorded for several transcription companies, but did not have a commercial recording contract until they signed with Decca in late 1940. Thus, the only way listeners could hear Cole and his trio before then was to hear their performances live or in pre-recorded transcriptions on the air. The Resonance set includes one instance of a radio host playing an isolated track from a transcription disc on the air, but for the most part, the audience could only hear these recordings on their initial (and sometimes, only) airing.
Today, these transcription recordings are quite valuable as historical recordings. Modern audiences  can hear stylistic developments and artistic breakthroughs that the original audience probably missed. A transcription session from May 1939 starts with a gorgeous arrangement of "Moon Song" and later features an early arrangement of "Sweet Lorraine". In recordings from later in 1939, we can hear Cole experimenting with bebop ideas on tracks such as "Scategoria" and "Rhythm Serenade". A session from May 1940 offers Oscar Moore's first recordings with the Trio on electric guitar, and a truly avant-garde composition called "Off the Beam". Before hearing the classic Decca recording of Cole's hit, "Gone with the Draft", we hear a transcription version of the same song made just a month earlier. I am especially glad to see that Resonance was able to license the 20 Decca tracks from Universal Music (they have even uncovered a few valuable unissued alternate takes!); however, I feel the need to mention one important omission that listeners will need to fill: the two Victor sessions led by Lionel Hampton are not included in the Resonance set (probably due to rights issues); the first session is quite rambunctious and doesn't tell us much about the developing King Cole trio, but the second—especially the track "Dough-Rey-Me"—is an important piece of the Cole discography. These tracks can be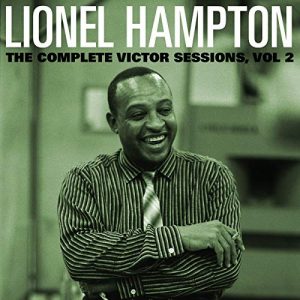 found on a Bluebird digital set called "The Complete Lionel Hampton Victor Sessions, Volume 2", available on most streaming services and on Amazon. Start with "House of Morgan" and listen through "Ghost of a Chance". Skip the alternate of "Dinah" and catch the alternate of "Dough-Rey-Me".
The transcription sides end in February 1941, and the remainder of the box features a mixture of commercial recordings and live radio spots. Due to a recording strike by the Musician's Union, there are very few recordings between August 1942 and November 1943. However, if the recording dates for some of the Cole sessions are correct, there were several instances where Cole recorded in defiance of the ban! One of the earliest of these "illegal" sides offers Cole singing a solo version of a song called "All for You". His compelling reading of the lyrics, sung in a hushed, intimate tone transforms this unremarkable tune into a timeless performance. The recording was eventually licensed for release on Capitol, and it is abundantly clear that Cole's voice—rather than his piano—would be the instrument that would speak to millions of fans worldwide. Meanwhile, the 1943 recordings and radio appearances (with Johnny Miller replacing original bassist Wesley Price) show that Cole had incorporated much of the new bebop language into his keyboard technique (Cole had also learned quite a bit of the hipster lingo, too, and Resonance has included a few humorous examples of Nat's spoken announcements).
As usual for Resonance, the audio quality is first-rate, with restoration engineer Matthew Lutthans pulling miraculously clear sound from well-worn discs. Will Friedwald's booklet notes are combined with a brief appreciation of Oscar Moore by guitarist Nick Rossi, interviews and comments by Johnny Mathis, Tony Bennett, Harry Belafonte, Dick Hyman, Michael Feinstein and John Pizzarelli. While this music has been available in bootleg versions for years, Zev Feldman and the Resonance team deserve credit for issuing this important chronicle legitimately for the first time. Get yourself a copy!