Blue Note Records stood apart from nearly every other American label for its dedication to artistic freedom and its disinterest in creating hit records. The company founders, Alfred Lion and Francis Wolff, shared a deep love for jazz, despite possessing little technical knowledge of the music. After immigrating to the US from Nazi Germany, they formed Blue Note for the sole intention of recording the music they loved. Many of the classic Blue Note recordings featured artists who were either underrated or considered past their prime. But Lion and Wolff didn't care about such labels, and they understood that artists had a deep need to express themselves on record without the interference of company executives. The label's first recordings featured boogie pianists Albert Ammons and Meade Lux Lewis, but before long, swing and traditional musicians like Sidney Bechet, Art Hodes, Frankie Newton, James P. Johnson and Edmond Hall appeared on Blue Note. For years, Lion and Wolff lived hand-to-mouth, but the occasional hits—starting with Bechet's 1939 recording of "Summertime"—helped fund Blue Note during lean years.  After World War II, Blue Note embraced bebop, presenting classic dates by Thelonious Monk and Bud Powell. Tadd Dameron, Fats Navarro, Howard McGhee and James Moody also recorded for Blue Note during the forties, and the fifties brought outstanding recordings by Miles Davis, Art Blakey, Horace Silver, Hank Mobley,  Clifford Brown, Sonny Clark, Lee Morgan, Jimmy Smith, Cannonball Adderley and—most notably—John Coltrane. Before Lion and Wolff sold Blue Note in 1966, the label explored both the funky soul of Stanley Turrentine and Baby Face Willette, as well as cutting edge music from Herbie Hancock, Wayne Shorter, Eric Dolphy, Andrew Hill, Ornette Coleman, Don Cherry and Cecil Taylor.
Such stories inspire films, and Blue Note is the subject of two fine documentaries, Julian Benedikt's 1996 "Blue Note: A Story of Modern Jazz"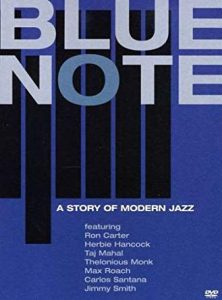 (EuroArts) and Sophie Huber's new film "Blue Note: Beyond the Notes" (EagleVision). Despite the two-decade gap between their production dates, these documentaries amplify and inform each other. The most obvious example is how Huber's film follows the Blue Note story to the present day, with the revitalized label, now headed by Don Was, embracing music far beyond traditional jazz styles. Benedikt discusses the use of break beats and samples from Blue Note albums, which were enlivening acid jazz clubs on both sides of the Atlantic, but Huber takes the story several steps further with a crystal-clear discussion of how hip-hop is related to jazz (for both social reasons and musical influences) and how the two styles share common artistic goals of freedom, collaboration and political discourse. Benedick's film, which offers a basic—if somewhat disjointed—history of Blue Note's classic era, emphasizes how Lion encouraged artists to write original compositions and to record their own musical visions. To that end, Blue Note was the only jazz label to pay for rehearsals, which allowed the musicians to prepare the music before going before Rudy Van Gelder's microphones. In Huber's film, current Blue Note artists Norah Jones and Robert Glasper comment on how Was (and before him, Bruce Lundvall) gave them the freedom to create music free of commercial considerations. Perhaps the most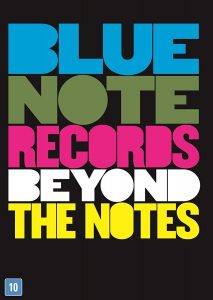 interesting communication between the two films regards Blue Note's "accidental hits": Lee Morgan's "The Sidewinder" and Horace Silver's "Song for My Father". Benedikt's film points out their importance and reception, but it is in Huber's film where we learn that distributors placed economic pressure on Blue Note to produce more hit records. Basically, the slowing of payments to the company by the distributors resulted in cash-flow issues for the label. Despite creating hundreds of classic albums—and only a handful of transient hit singles—the money issues made it difficult for Lion and Wolff to continue creating the excellent recordings that had made their reputation. Essentially, Blue Note's commercial success was the root of its ultimate failure.
If Benedikt's film has any advantage, it is that he was able to interview many Blue Note artists from the classic era—many of whom are no longer with us: Johnny Griffin, Tommy Turrentine, Freddie Hubbard, Gil Mellé, J.J. Johnson, Horace Silver and Max Roach. Along with interviews by Bob Belden, Ruth Lion and Lorraine Gordon (also all now deceased), Benedikt presents an anecdotal but historically accurate narrative of the label's greatest years. There are plenty of performance clips, including live recordings of Dexter Gordon, Cassandra Wilson, and the then-current edition of the Blue Note All-Stars (including Tim Hagens and Javon Jackson). Herbie Hancock, Lou Donaldson, Michael Cuscuna and Rudy Van Gelder appear in both films, and Huber lets the new Blue Note All-Stars (with Ambrose Akinmusire, Marcus Strickland, Lionel Loueke, Robert Glasper, Derrick Hodge and Kendrick Scott) give their knowledgeable and respectful opinions of the Blue Note legacy. One of the objects of their admiration also appears here: Wayne Shorter, who contributed a new setting of "Masqualero", performed by Shorter, Hancock and the All-Stars. Huber takes a different approach regarding the label's history. She focuses on a few of the major Blue Note artists—Monk, Powell, Davis, Brownie, Blakey, Silver, Hancock, Shorter and Joe Henderson—and allows her interviewees to discuss the music in their choice of general or aesthetic terms. Loueke used the term "beyond the notes" to describe Hancock and Shorter, and soon after, we hear Herbie and Wayne themselves discussing how their music functions at a higher level.
Naturally, both films use copious examples of Frank Wolff's session photographs. The stark black-and-white images do not always line up with the soundtrack, and that can be a jarring experience for those jazz aficionados who can recognize the musicians from the original photos. Reid Miles' stunning graphic designs for the Blue Note album covers are also covered in both films. There are a few flaws in these films: Benedikt includes some strange music editing, including a bizarre insert of Dexter Gordon's samba recording of "Mañha de Carnival" in the middle of Grant Green's slow and meditative "Idle Moments" and Huber's fascination with the DJs and rappers might turn off older viewers. While neither film is perfect—I would have loved to see a little more focus on the early recordings (like Hall's "Profoundly Blue" session) and the progressive late-sixties recordings (where is the discussion of Andrew Hill, who only appears as a solo pianist at the end of the Benedikt film?)—these two films should be seen together to provide viewers with a broad understanding of Blue Note Records.