PETER ELDRIDGE/KENNY WERNER: "SOMEWHERE" (self-released)
One of the most eagerly-anticipated albums of the year, "Somewhere" combines the vocals of Peter Eldridge with the piano and arrangements of Kenny Werner. The idea for the album developed from a Werner studio session from approximately ten years ago, where Eldridge was surprised to find himself accompanied by a 40-piece orchestra. With Eldridge and Werner both faculty members at the Berklee College of Music, they were able to utilize several members of the faculty (including conductor and cellist Eugene Friesen, percussionist Yoron Israel, and guest saxophonist George Garzone), students (members of the Berklee World Strings) and the school's outstanding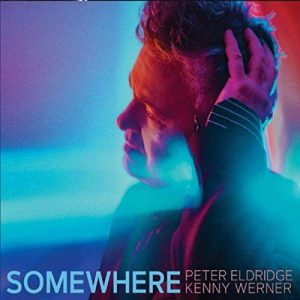 recording studios to create a wondrous album of ballads for voice, rhythm section and string orchestra. On the opening track, Eddie Arnold's "You Don't Know Me", Eldridge's fragile vocal is enveloped by the strings. But while Werner's score offers a level of counterpoint, the true dialogue comes between Eldridge's voice and Werner's light piano obbligati. Both Eldridge and Werner are prolific composers, so while the mood of "Somewhere" brings memories of classic vocal ballad albums, much of the material is original. Werner's "I'm So Glad That You're Mine" (lyrics by Donnie Demers) has all of the hallmarks of a classic pop song: deeply emotional lyrics, rich harmonies and a memorable tune. Eldridge's "That Which Can't Be Explained" and the attractive Eldridge/Werner collaboration, "Autumn in Three" move the subject matter to different areas, but the presentations of the songs—both in rendition and score—maintain a consistent mood with the rest of the program. The latter track also presents fine solo opportunities for Werner and bassist Matt Aronoff. "Minds of Their Own" (lyrics by Eldridge, music by Ivan Lins) and "Less than Lovers" (lyrics by Douglas Worth, music by Eldridge) offer scenes from the beginning and end of a relationship, while the oddly unpredictable melody of "Difficult" (music and lyrics by Eldridge) marks the uncertainty of love—enhanced on this track by Friesen's intricate score and Eldridge's piano accompaniment. Worth also supplied the impressionistic lyric for "Ballad for Trane", where Garzone evokes the ballad style of John Coltrane in between the vocal choruses. The related themes of the title tune and "A Time for Love" are juxtaposed in a fine medley, with subtly contrasting accompaniments for the two songs. The album closes with Werner's lovely "Untitled Lament" and the tender Eldridge/Mitchell Proctor collaboration "Day is Done (Prayer for Diego)"—the latter featuring an outstanding cello solo by Friesen and an uplifting piano improvisation by Werner. As an album, "Somewhere" is a unified whole, weaving together songs of various subjects with a lingering sense of melancholy. I'm sure it will make several return trips to my CD player.
SARA GAZAREK: "THIRSTY GHOST" (self-released)
With her new album "Thirsty Ghost", Sara Gazarek opens a new chapter in her musical autobiography. The powerful opening track of the album, "Lonely Hours" finds her singing with a new emotional intensity, performing the opening riff with fierce energy, and maintaining a constant simmer throughout the first chorus. But the track's best moment comes after arranger/alto saxophonist Josh Johnson's solo, where Gazarek and bassist Alex Boneham are suddenly cast as a duo, and Gazarek—with the gradual addition of Johnson and the rhythm section—builds the performance back to the original emotional level. Gazarek has stated that this album is the result of a tumultuous period in her personal life, and it's easy to hear how she translates her emotions into music.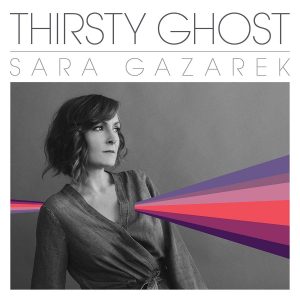 The nervous setting of  "Never Will I Marry" by Gazarek and pianist Stu Mindeman is a little surprising, considering that Gazarek is once again a newlywed. Yet, the shifting rhythms and meters of the arrangement reflect the trepidation of someone entering a new relationship. Gazarek reverts to the innocent sound of her earlier recordings on "I'm Not the Only One", which makes the tale of infidelity all the more heart-breaking. Gazarek's swinging version of "Easy Love" offers a welcome change-of-pace with a carefree solo by Mindeman and soulful commentary from organist Larry Goldings (who composed the song with Gazarek). A setting filled with  halting rhythms—along with Gazarek's understated delivery—reveal the uncertainty behind the bravado in Hoagy Carmichael's "I Get Along Without You Very Well" (don't miss Christian Euman's sensitive drumming, which enhances the hesitant atmosphere). The increasing levels of confidence expressed in Gazarek's cover of Stevie Wonder's "I Believe When I Fall in Love" are contrasted with the powerful emotions of Gazarek's re-imagined version of Dolly Parton's "Jolene". On the latter track, the menacing piano figure and the churning bass and drum interaction fuel Gazarek's building anger toward this ruthless man-stealer. "Gaslight District" features a brilliant Gazarek lyric and an outstanding arrangement by Mindeman, Alan Ferber and Erin Bentlage, which captures a shifting landscape—and mental state—which moves between fantasy and reality. Nick Drake's iconic "River Man" is prefaced with a Josh Nelson setting of Sara Teasdale's poem "The River", revealing similar approaches to symbolism and mysticism. Björk's "Cocoon" acts as a catharsis for the wounded heart, with Gazarek and Johnson engaging in a tenuous dialogue, accompanied by atmospheric backgrounds from Mindeman, Boneham and Euman. The closing track "Distant Storm" pairs Gazarek's lyric with a Brad Mehldau instrumental. As Gazarek sings the opening chorus, a familiar voice appears in the background. It is Kurt Elling, who comes to the foreground midway through the track to sing an original Gazarek poem which echoes advice that Elling gave her years before. Gazarek took those words to heart and she has added more of her personal experiences into her music. "Thirsty Ghost" points to what will certainly be an exciting period in her personal and professional odyssey.
MAGGIE HERRON: "RENDITIONS" (self-released)
On her fifth album, "Renditions", pianist and vocalist Maggie Herron turns her attention to a collection of standards spanning most of the 20th century and the first decade of the 21st. Herron's voice bears traces of Dusty Springfield and Cleo Laine. Despite the inherent huskiness of her voice, she retains the flexibility to sing intricate wordless passages, as she does on the opening track, "Centerpiece" (aka "Keester Parade"). "Ain't Misbehavin'" reveals all of the earnestness found in Andy Razaf's lyric, and Herron's piano solo is simply charming. She performs "All of Me" as a rubato ballad in the first chorus, then Dean Taba  adds a walking bass pattern to accommodate the solos of guitarist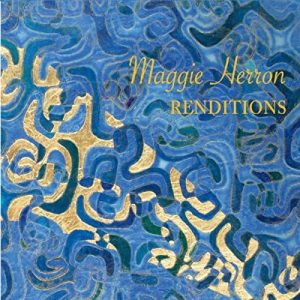 Larry Koonse and alto saxophonist Rocky Holmes. The final vocal chorus offers a compromise between the two approaches, with Oles breaking up the pattern without losing the basic pulse as Herron sings the final chorus and vamp. "Perhaps, Perhaps, Perhaps" is a Cuban song, but Herron, Oles and drummer Ray Brinker convincingly transform it into an Argentinean tango. Herron's voice is a perfect match to this song, with its extra weight adding to the emotional heft. She is equally convincing on Duke Ellington's "I'm Beginning to See the Light", and after a fine vocal chorus, she follows a sparkling Bob Sheppard flute solo with a scampering piano improvisation. Herron's treatments of the songs reveal her deep understanding of their nature and scope. For example, her version of the Beatles' "I Will" retains all of the song's simplicity but makes room for a few gentle melodic variations, while the more robust Cole Porter standard "Just One of Those Things" is kept at a comfortable tempo to emphasize the wistful lyrics. The innocence and purity of Norah Jones' "Come Away with Me" is perfectly captured in a lean duet setting with Herron and Oles. Koonse, Taba and drummer Noel Okimoto join Herron for a finely-crafted rendition of "I'll Be Seeing You", and the Oles/Brinker rhythm team return for a sassy tune by Madeleine Peyroux, "Don't Wait Too Long". The album closes with two more duets between Herron and Oles, a loping "I Thought About You" and a soulful "Gee Baby, Ain't I Good to You". On the latter track, Herron treats us to an opening chorus of stride piano and a full chorus improvisation. In the liner notes, she states that her late sister, Patricia, always said that Maggie didn't play enough piano on her albums. Somewhere, Patricia must be listening…and smiling.
NEW YORK VOICES: "REMINISCING IN TEMPO" (Origin 82784)
Still swinging in their fourth decade together, the New York Voices continue to define the highest standard for vocal jazz groups. Their recordings are  appearing at fairly regular intervals these days, and their latest disc, "Reminiscing in Tempo" includes a fine selection of jazz standards and originals. The album opens with a dynamic arrangement of Dave Brubeck's "Blue Rondo á la Turk" with Lauren Kinhan's vocalese lyrics augmenting the older words by Al Jarreau. Kim Nazarian sings the original Paul Desmond solo with great style, and the latter part of Brubeck's solo is sung by the ensemble. The quartet moves to another piano icon with Chick Corea's "Open Your Eyes,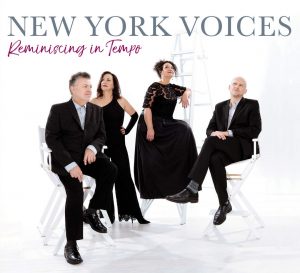 You Can Fly" featuring a brief ensemble chorus surrounding a fine guitar solo by Jesse Lewis. Kinhan soars over the group in the final chorus. "Answered Prayers" uses Peter Eldridge's English lyrics to Ivan Lins' melody. The attractive samba arrangement is enhanced by Nazarian's sweet lead vocal, Darmon Meader's edgy tenor sax solos, and a tight six-piece horn ensemble. Eldridge is featured on Fred Hersch's "A Dance for Me", and the vocal chart devised by Meader and Eldridge pairs off the voices in striking combinations. Eldridge's uniquely muffled scat solo evokes the sound of a laid-back trombone. The group shows off its classical chops with a pair of wordless selections by Ignacio Cervantes, "Los Tres Golpes" and "Invitación". It's a little strange to hear this group sing with pronounced vibrato, but the effect is always under control, and the track displays another side of this group's remarkable flexibility. Meader's "Moments in a Mirror" reflects contemporary vocal trends. It is an a cappella track with impressive beatboxing by Gabriel Hahn (especially since the arrangement uses plenty of mixed meter passages!). The Voices return to a straight-ahead swing style for an up-tempo romp on Cole Porter's "It's All Right with Me" with superb melodic variations by the singers, and Meader improvising on both voice and saxophone. The title track is a vintage 1935 Duke Ellington composition here set to lyrics by Mel Tormé. Ellington wrote the 12-minute piece as a memorial to his mother, but Tormé's lyrics sound like a typical love song. The Voices (with Nazarian again in the lead) sing the piece with great sensitivity, but I wish they would have created a new set of lyrics closer to the spirit of Ellington's original. A New York Voices album wouldn't be complete without a new original by Kinhan and Eldridge, and "The Forecast is Sunny" is a fine new addition to their works. Kinhan's arrangement opens a magical array of vocal and instrumental colors which offers constant surprises to the listener. "Avalon", a piece that has appeared in various guises in the group's solo and collective discography, is here presented as a retro swinger, adapted by Meader from a setting by Ray Charles. Closing with a tender unaccompanied version of the Beatles' "In My Life", "Reminiscing in Tempo" stands as one of the New York Voices' strongest albums to date. Happy 30th anniversary—may you create harmony for many more years!