ANAT COHEN TENTET: "TRIPLE HELIX" (Anzic 65)
For its sophomore release, "Triple Helix", the Anat Cohen Tentet presents a repertoire as stylistically diverse as its personnel. Cohen and the Tentet's musical director Oded Lev-Ari have collected music from the worlds of big band jazz, tango, classical, funk, rock and more—all played with sensitivity and precision by some of New York's finest jazz musicians. While Cohen's clarinet is a constant and welcome presence, Lev-Ari's arrangements allow solo time for each member of the Tentet. The opening track, Astor Piazzolla's hypnotic "Milonga del Angel" has a beautifully developed clarinet solo as its centerpiece, but includes important supporting parts for Nick Finzer (trombone), Owen Broder (baritone sax), and Christopher Hoffman (cello), as well as subtle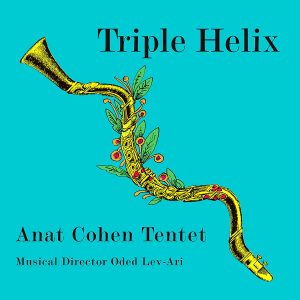 ensemble lead for Nadje Noordhuis' trumpet. Even the title piece, a three-movement clarinet concerto, was not conceived as a strict solo feature. Instead, it leaves room for interaction between Cohen and the ensemble. The first movement contains a fascinating episode where Cohen, Noordhuis, Finzer, Broder, pianist Vitor Gonçalves, vibraphonist James Shipp and guitarist Sheryl Bailey all contribute to a brilliant ensemble crescendo. When that crescendo develops into a guitar solo, Cohen improvises alongside Bailey as the band surges once again. Anthony Pinciotti follows with a drum solo which alternates with brief ensemble passages, before bassist Tal Mashiach leads the group into a distinctly Middle Eastern feel, complete with exotic percussion, handclaps and—oddly enough—a brief accordion spot by Gonçalves! The delicate second movement has traces of atmospheric film music and impressionistic chamber music, while the third movement opens with a sarcastic march theme which sounds a little like Prokofieff, which is then juxtaposed against a Brazilian motive. The movement also includes a lovely trio passage for clarinet, vibraphone and drums, which expands into a full ensemble passage reminiscent of the opening movement, followed by a combined restatement of the martial and Brazilian themes. Following the concerto are two Cohen originals, the lushly romantic "Miri" and the deeply funky "Footsteps and Smiles". Cohen is the primary soloist on the former, but the latter is opened up for solos by Shipp, Cohen and Gonçalves before a joyous collective improvisation closes the track. ""La Llorona" is truly a feature for Lev-Ari, who creates a Gil Evans-like texture with masterful combinations of instrumental timbres. Yet, this piece is more than an exercise in orchestration; Cohen and the Tentet bring this Spanish dirge to a high emotional climax that cries out with the power of human tears. "Lonesome Train" is an imaginative resurrection of a Gene Roland chart originally written for the Stan Kenton Orchestra. Suffice to say that the otherworldly sounds created by the Tentet are far removed from the Kenton vocabulary! The album concludes with Cohen's "Morning Melody", which brings many of the featured soloists back for brief spots before joining for an understated coda. For all of their diversity, the one thing I miss from the Anat Cohen Tentet is a sense of sonic unity. Many classic groups of this size or larger had their own unique sound, especially when—as with the Tentet—they were playing charts by one or two arrangers. Perhaps the Tentet's diversity is their sonic attribute, but is mere diversity enough to make this ensemble unique?
TOM HARRELL: "INFINITY" (High Note 7321)
In addition to being one of jazz's finest trumpeters, Tom Harrell is also a prodigious composer. He has nearly 200 original pieces listed on SESAC, and the list does not appear to be complete. As per his usual practice, his latest HighNote album, "Infinity", consists of ten Harrell originals. These works are not just dashed-off blues lines or "I Got Rhythm" contrafacts; for years, Harrell has drawn inspiration from the extended form compositions of Duke Ellington, Billy Strayhorn and Charles Mingus. As quoted in the liner notes to the present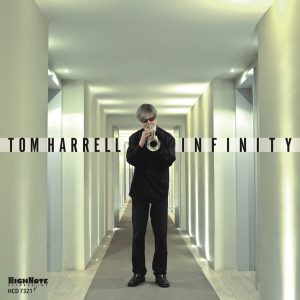 album, Harrell says I'm attracted to fresh sounds and unusual structures that move away from the stereotype. Fronting a new quintet featuring Mark Turner (tenor sax), Charles Altura (guitar), Ben Street (bass) and Johnathan Blake (drums), Harrell's playlist reflects music written for this group as well as for earlier ensembles. In the notes, Michael J. West writes that "The Fast" has to do with Harrell's daily meditation. However, the first thing I noticed about the piece was its fast tempo. While the piece has an insistent bass figure and relentless force from the drums, neither the melody nor the solos by Harrell, Altura and Turner feel rushed; indeed, with their firm control of the tempo, they create fine inventions with a considerable amount of motivic development. "Dublin" is a multi-faceted composition with interconnecting thematic sections and different moods for each soloist: an agitated vamp for Turner, and smooth background chords for Harrell. Percussionist Adam Cruz joins the group for the multi-tempoed composition "Hope". On this track and a later piece, "The Isle" Harrell uses a Harmon mute on his opening solo, and in the three decades that I've listened to his records, it's the closest I've ever heard him sound like Miles Davis. In contrast, the pulsating "Coronation"—inspired by Dizzy Gillespie's comment to Roy Eldridge that Harrell was a link to the music of Clifford Brown—has a few (perhaps self-conscious) Brownie-like quotes, but there is no question that Harrell has completely absorbed his influences, and that any such quotes are simply a tribute from one great player to another. Some of Harrell's pieces are a little odd: "Blue" uses a 32-bar form with two 12-bar sections and one of 8 bars, but none of the familiar blues chord progressions, while "Ground" is a twisted look at boogie featuring an omnipresent ostinato. Yet, taken together, the music on "Infinity" reveals the breadth of Harrell's composing talent, creating music with unique characteristics, but retaining a consistency of style and sound.
SKIP WILKINS QUARTET FEATURING DANIEL WILKINS: "CZECH WISHES" (Newport Line 18-20)
Pianist Skip Wilkins splits his time between Pennsylvania and Prague, performing and teaching jazz in both locations. His new album, "Czech Wishes" features a quintet drawn of players from the US and the Czech Republic. Wilkins' son Daniel plays tenor sax on the front line alongside trumpeter Miroslav Hloucal, while Skip leads the rhythm section with bassist Tomáš "Kaštan" Baroš and drummer Marek Urbánek. Skip composed all nine of the pieces, and each is dedicated to a person or event in his recent life. The opening work, "Teacher", is dedicated to his Czech language teacher, and its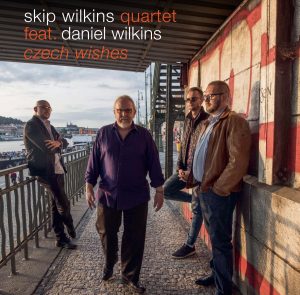 slow introduction and coda frame a melody which is presented in medium tempo in both legato and agitated forms. "Munchkins of Karlovy Vary" paints a portrait of three very active children whom Skip has seen grown up. These works follow a stylistic progression from 1960s Blue Note originals to contemporary jazz, and like those works, Wilkins and his fellow musicians have the freedom to expand the harmonic boundaries through their improvisations. Basically, the available chord tones to the improvisers are not necessarily present within the tunes as we hear them, giving the musicians an opportunity to expand our understanding of the piece's infrastructure. On the waltz "On the Train", each musician finds a way to juxtapose rhythmic units against the basic pulse, which creates a unique heaving quality to the track. "The Box-Checkers" is based on the standard operational procedures of American academia, and the visceral anxiety of this piece comes as a shock after the relative calm of the Czech-inspired works. Skip's mercurial piano takes the tension up to a higher level, and Daniel's throaty tenor is particularly effective as he explores and develops meaty ideas. Hloucal and Urbánek also turn in impressive solos on this track. The title track is a relaxed work, with the rhythm evoking a springtime walk in Prague, inspiring joyous solos from Wilkins père and fils, as well as Baroš—all of whom must know this area well. I do not claim to have personal knowledge of Prague, but I did meet the subject of the next track, Bud Wilkins, who recently died from Alzheimer's. The duet, "Don't Forget Me" is a heartfelt tribute from father and son, based on an unwritten original melody that Skip recorded, memorized and developed over a two-year period. "In Search of Greener Grass" reflects a traveler's wanderlust through a series of shifting key centers, which—significantly—return back to the original home key. "Reptiles" allows the group to stretch out on a blues, with Skip's opening piano solo expanding the form far beyond its basic harmonies, Hloucal exploring with intriguing note choices, and Daniel's soulful ideas enhancing Urbánek's grooving beat. The final track, the up-tempo "Wise One" offers a catchy melody and rhythmically inventive solos from flugelhorn, piano and drums. Highly recommended.