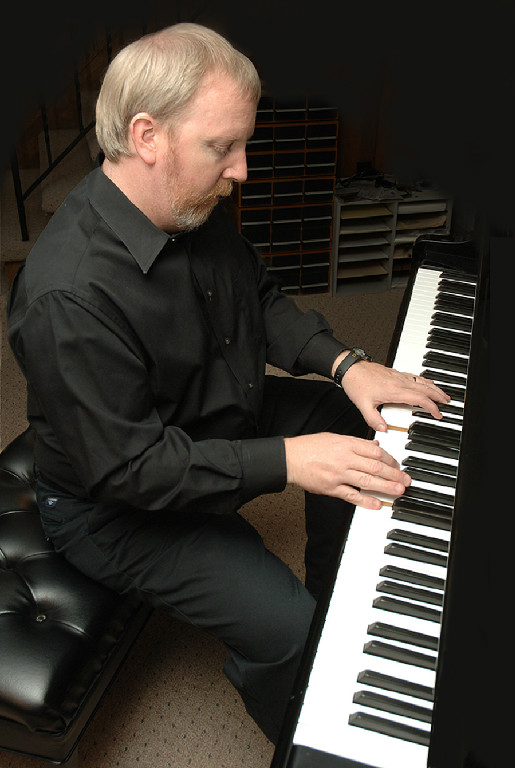 My Romance: Jazz on the Road in the Czech Republic
In Prague, I have close friends who have helped me in every possible way, organizing my living environment and setting up my life, inviting me to cultural events and for dinner and other adventures in and near their homes.  My life is rich and I am blessed.  And so many great musicians live in this city. But as one of my American friends told me long ago (after he had been living in the country for more than a decade), if you want to understand what is really Czech, you will have to hit the road…
Traveling and performing outside of Prague is nothing less than My Romance.  Every day, every gig. In the clubs in Prague, I am actually more likely to interact with international jazz tourists than with Czech people, but on the road, we will play mostly to Czech audiences.  It is difficult to imagine many situations where the exchange with audiences is richer than in these many adventures.  Where to begin?
This is a small country.  Unlike many of my American friends who tour and perform often in Europe, I have seldom had to travel great distances to make it to the next gig.  Over the past five years, I've only had a few occasions where I had to travel five or six hours in one day, and I've played in almost every corner of the country.  With my friends Rost'a Fraš and Josef Fečo, we have arranged our travel days by playing gigs in succession in smaller towns throughout the country, steadily moving in one direction or the other.  And if we stop for coffee or tea, it's an hour-long stop.  In the Czech Republic, you are expected to sit and enjoy your coffee, and they won't serve it to you in a paper cup.  So civilized…
In May 2008, Gary Rissmiller and I came over together for an 18-day tour.  We spent most of the trip with Rost'a and Josef, and finished thetour with a few days in Berlin with our great friend Christoph Riggert.  On that tour, we lived in an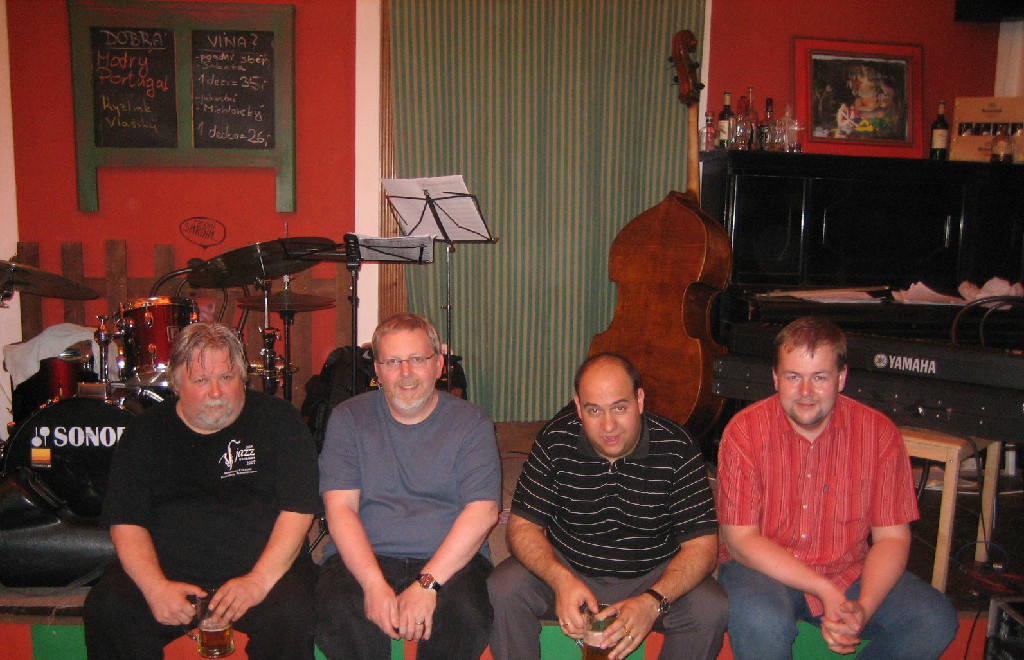 apartment in Pudolí (a Prague neighborhood) for two weeks, when not traveling.  And we traveled a lot, in addition to playing gigs in Prague.  That year, we visited the indescribable 13th century UNESCO town, Český Krumlov, and gave one of the most satisfying performances I can remember in my entire career.  There was an immediate connection: a packed house with people grateful to hear music they hadn't heard before.  They listened and knew it was good.  Two encores, cheering, joy.  They bought a pile of CDs.  What a revelation for me: there really was an audience for this music…
We moved on the next day to Pardubice for a great little club called Jazz Tangens, essentially a private venue run by a guy that loves jazz.  Another great audience.  Also on that tour, I made my first visit to Brno in Morava, playing in the Muzeum romské kultury (essentially, the museum of Gypsy culture).  We performed in the back courtyard, and after we played a few sets, it turned into a jam session and late-night hang.  That night, a beautiful thirteen-year-old girl sang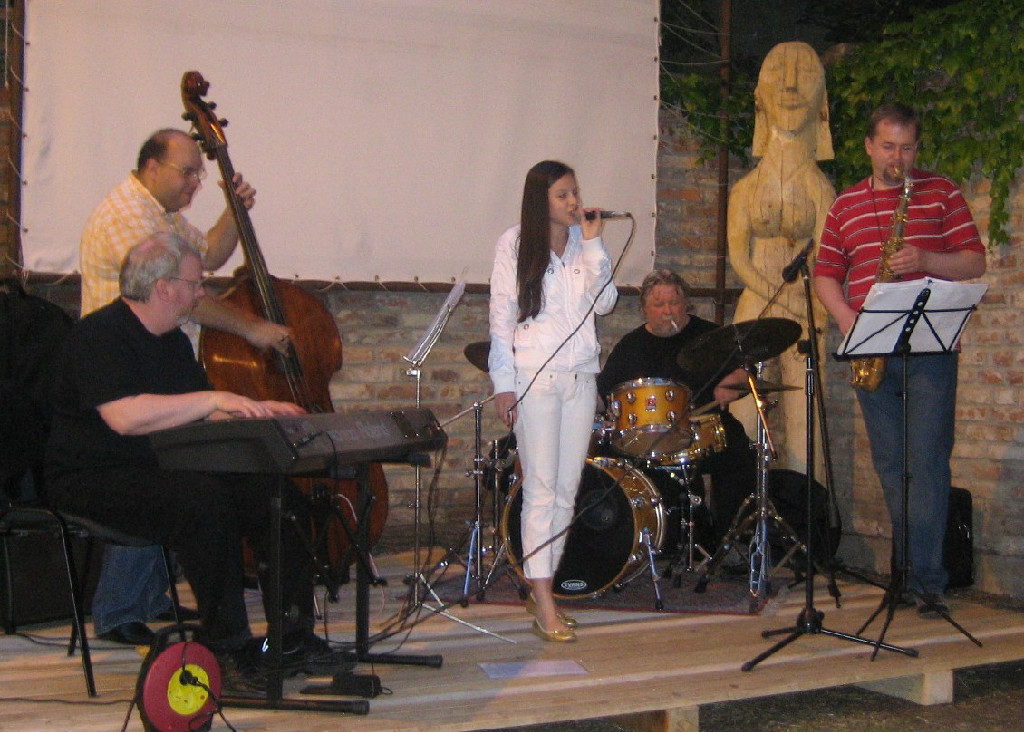 with us.  She did English-language tunes, and sang in Portuguese, Czech and Gypsy language.  She was great, already, at thirteen.  Monika Bagárová is now a well-known singer in her country.  And we knew her when…
We found our way to Vidle's Pub in Třinec in the southeast and ended the Czech part of the tour the next night at Klub Parník in Ostrava.  This is the hometown of Rost'a and the great Czech pianist, Boris Urbánek.  Boris arranged the gig for us. The club had a great Yamaha grand piano. I remember many things from this evening.  First, two professional photographers took many photos of the band that night.  My favorite photo is by Ivo Brož, who has a great eye with the camera.  Second, an older man listened to us for the entire evening and paid me a special compliment, which followed with a toast.  Before we drank, he said, "Drink it first, then I will tell you what it is."  (Note to self: You are likely to regret drinking something when preceded by this sort of comment.)  We drank and then he said, "We call it 'Dead Lover's Breath'."  Evidently!  The drink was Fernet.  But it is his words that I will remember especially.  He told me that I was the most original pianist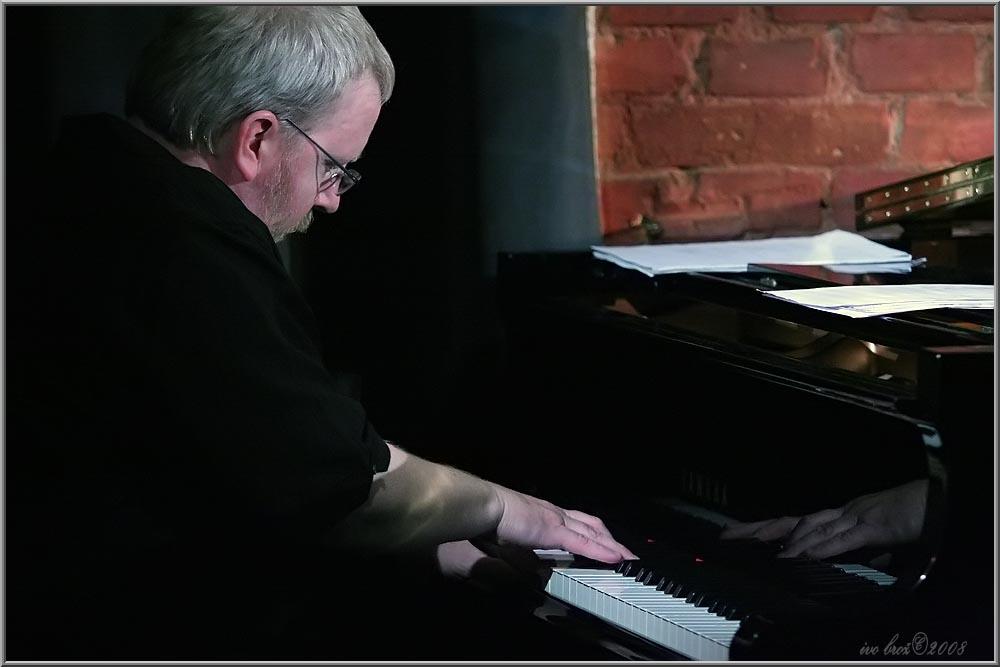 he had heard in years, and not at all derivative in my playing. He listened and he heard.  These people make you feel good, like nowhere else, even when they make you drink Fernet.
Since this first long road tour, I've also played in Plzeň, Pelhřimov, Tišnov, Vsetín, Dubá, and Uherské Hradiště, and multiple times each in Brno, Lomnice u Tišnova, Kyjov, Přerov, Kladno  and Žilina in Slovakia.  Often I do the announcing for the group, in my steadily improving Czech.  Somehow, these touring experiences merge into one big, ever-expanding concert.  So often, the response is the same.  These people listen to what you have to offer and give you the love.
While all of my gigs have been special, I do have some special favorites, including  Pod obrazy ("Under the pictures/museum") in Brno.  I've played there twice, both great nights, and with a different band each time.  Those performances will last forever in my memory.  The first time – October 2010, was the most bittersweet performance.  I couldn't wait to return in March 2011.  So many friends in the house, especially on that first night, and they had come a long way to hear us.  Tears that night.  A night to savor.  I will surely go back there this year.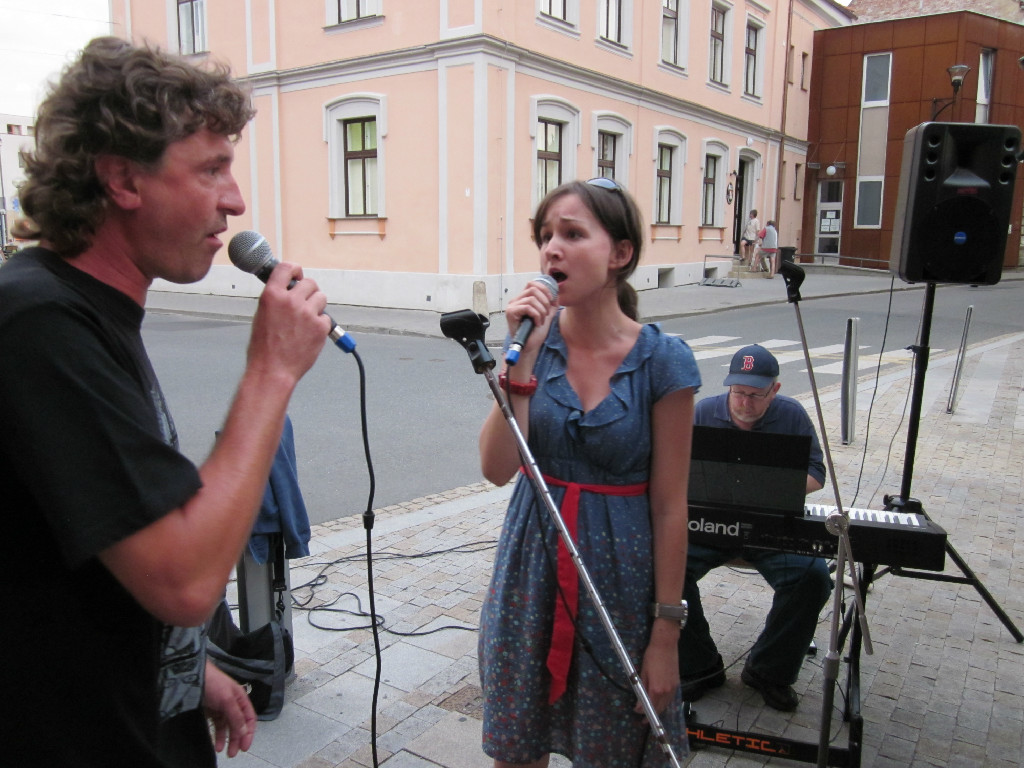 Another favorite series of performances came this summer with my close friend Maruška Puttnerová.  Though still relatively unrecognized in her own country, she is one of the most soulful and subtle singers with whom I have had the pleasure to perform, anywhere.  This past July we played some festivals in South Morava and also performed on the national morning TV show, "Dobré Ráno (Good Morning)," along with our good friends, brothers Vit'a and Pavel Začal.  Maruška deserves wider recognition.
You will really begin to understand the Czech Republic when you make close friends in Morava, the southern province of the country.  At performances in Morava, the audience will often bring their own wine or spirits.  I've now been to wine cellars and been toasted with some pretty fine brandy – slivovice, hruškovice and meruňkovice – in the homes of close friends.  In early fall, the Moravians drink burčák, the early fermenting of their recently harvested grapes.  Burčák was out in full force on a recent performance in Lomnice u Tišnova, as was delicious, unfiltered beer.  Here we performed a concert in the private pub within the home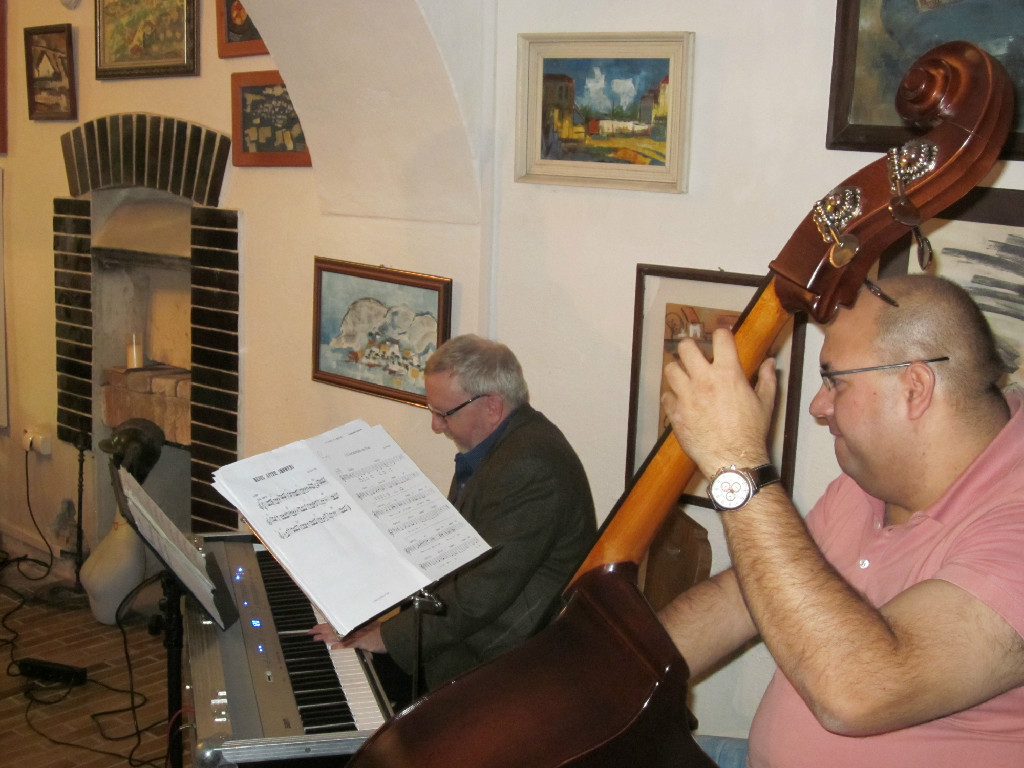 of my close friends Bára Pavlišová and Saša Harvan.  A great bunch of people listening to a trio concert I gave with Rost'a and Josef.  A sublime evening, one for the ages, except by now, there have been so many nights like this.  Morava is my new favorite place on earth.
And speaking of nights for the ages, almost every performance above involved some sort of evolving hang after the gig.  That's one of the great parts of being a jazz musician anywhere.  Sometimes the hang lasts longer than the gig. And there will be great Czech beer, wine and brandy. These people can go!  A lot longer than this old man.  Sometimes I walk off the bandstand and someone hands me a bottle of their own slivovice.  (If you don't know it, this stuff is lethal, and smooth!)  One night in August 2010, in the center square in Přerov, a man hurried after me into the dressing area, waving something in his hand.  I had met him four days earlier and had told him about the concert.  He showed up with his own slivovice, a gift for me!   Incidentally, this dressing area shared a common entrance with the local police station.  And there is a bar, essentially inside the police station in Přerov.  Proč ne?  ("Why not?)  This is the Czech Republic.  My Romance.
Photos courtesy Skip Wilkins. Photo of Skip in Ostrada © Ivo Brož.