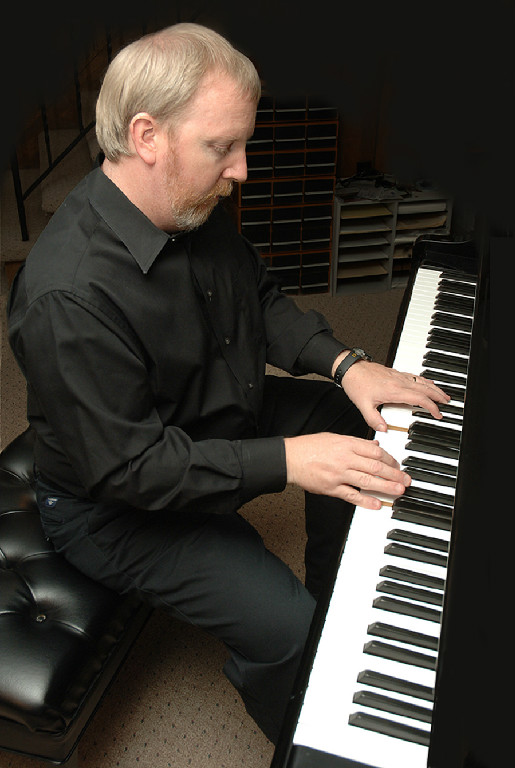 In many ways, my experiences as an American jazz musician performing in Europe reflect those documented by American jazz musicians for nearly a century.  I made my first tour of Europe when I was in my early 40s.  By then, I had an established national performing and teaching career and a strong American network.  I had a durable book of original pieces and two recordings as a co-leader, and was on the brink of releasing many more.  I had already formed my style as a pianist and composer, but I was living in America, in relative anonymity, as is the case for most American jazz musicians. 
My first European experience was in Italy, touring with a high school choir presenting a vocal jazz program.  My daughter Emily was a member, and I arranged many of the pieces, taught all of them, and served as pianist for the tour.  In addition to my pieces, we did material by the New York Voices and The Real Group. Then, as now, we felt the love from audiences, recognition that is often elusive in the U.S.  The applause lasted forever for each piece. Little that had happened in America prepared me for those moments, and I had already played countless big stages back home.  And if the Italian audiences weren't applauding, it was because they were crying.  Imagine!
Three years after I went to Italy, I was invited to serve as vocal jazz lector at the Karel Velebny Summer Jazz Workshop, held in Frydlant (North Bohemia) in the Czech Republic, only a few kilometers from the borders with both Germany and Poland.  My roles were to teach and accompany singers in the morning, direct the choir in the afternoon and perform as pianist in the evening.  Most of the participants for this annual instrumental and vocal workshop are either Czech or Slovak, but a few are from Poland and Germany.  The faculty is mostly Czech, with an occasional Slovak, and four Americans.  I traveled there with two of my closest friends, alto saxophonist Neil Wetzel and drummer Gary Rissmiller.  Neil and Gary had participated the year before me, but even they couldn't really prepare me for what it would really be like. 
Czechs usually just refer to the workshop as "Frydlant."  It is a special place, a typical little Czech town with a central square and a glorious 13th century castle only a few minutes walk from downtown.  Students come to this workshop for a variety of reasons.  Some are looking for instruction and inspiration.  Others want to hear jazz everyday, all day. All enjoy the social atmosphere. There is a heavy concentration of students aged 16 – 24, but many older students attend year after year.  "Frydlant" is a carnival for one week, with every element that "Carnaval" implies.
In my first year, the three Americans formed a quintet with two Czech musicians, tenor saxophonist Rostislav Fraš and bassist Josef Fečo.  We adapted some of my pieces and played compositions by Rost'a and Neil.  We haven't looked back!  There is no question that we Americans bring a unique perspective to Frydlant.  Our lifestyle is much faster and we are used to pushing much harder in our workshops, but there is lightness in our approach, too.  It works for our students, and they come back again and again.  Furthermore, we see them when we tour around the country. Many have our CD, "Frydlant Nights," which we made in Prague for Czech Radio Prague. Josef, Rost'a, Neil and I have each contributed compositions for the CD, and with every visit to Europe, we play new pieces. 
During that first trip, the quintet played in Prague at two well-known jazz clubs – U Malého Glena in the Lesser Town (below Prague Castle) and Agharta Jazz, off Old Town Square.  These were my first experiences performing in European jazz clubs.  Then as now, I discovered that these pan-European audiences really listened, and oh, did they give you the love, just like in Italy.  Another thing I noticed, especially when I played ballads, was that members of the audience made a unique swooning sound that I had heard on Stan Getz's Copenhagen recordings.  Could it be that very same sound?  I knew just what it meant.  And since then, I have heard that sound on every tour, at most performances.  At other times, I hear the audience chanting as I play: "O Skipe, Skipe, Skipe."  (In the vocative case in the Czech language, my name changes to Skipe – "skee-pay.")  Audiences used to make me feel pretty good at the El Chapultepec in Denver, and at Ortlieb's in Philly.  But Europe is something completely different.
Together, in various combinations, we've performed countless times in Prague and Frydlant, and in Brno, Ostrava, Kyjov, Plseň, Pardubice,Pelhřimov,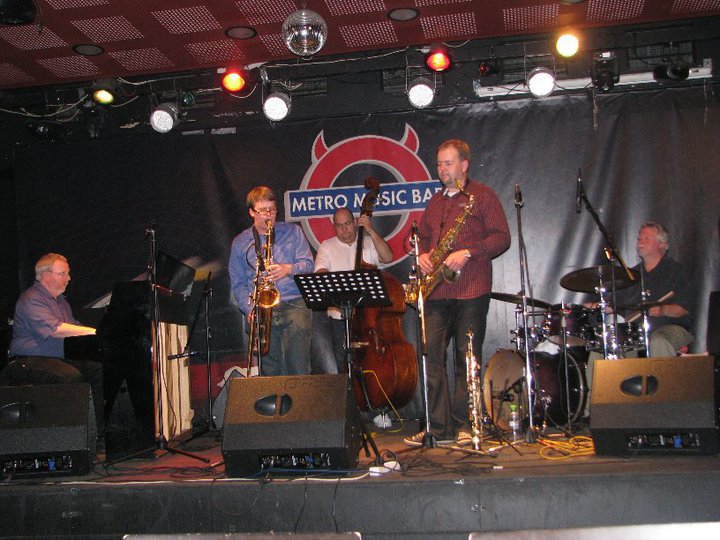 Přerov, Tišnov, Třinec, Vsetín, Duba and Český Krumlov.  We've played jazz clubs, large and small festivals, cultural centers, museums.  On one tour, we were joined by my son Daniel, a budding tenor saxophonist currently working in New York. The photo on the right captures us at one of our gigs in Brno. Daniel is in the blue shirt. We are often broadcast on radio, either live or for re-broadcast.  We've been interviewed for Česká Televize during nearly every tour and together, we've been featured in two documentaries entitled "Jazz Klub." There is also live footage from Frydlant Castle, where the faculty presents a four-and-a-half hour annual concert during the workshop.
Since that first tour, I have returned for seven subsequent tours at all different times in the year, including successive years at the workshop in Frydlant.  One year, Rost'a and Josef visited us for a tour in the U.S.  Furthermore, on my first visit—perhaps during my first day—I vowed that I would one day live in this country.  I am writing today from my flat in Vinohrady in Prague, where I am spending fifteen months while on sabbatical from Lafayette College, where I am Associate Professor of Music.
I have close friends in every corner of this country and one day, I may make it my permanent home.  The Czech people are so close to my heart.