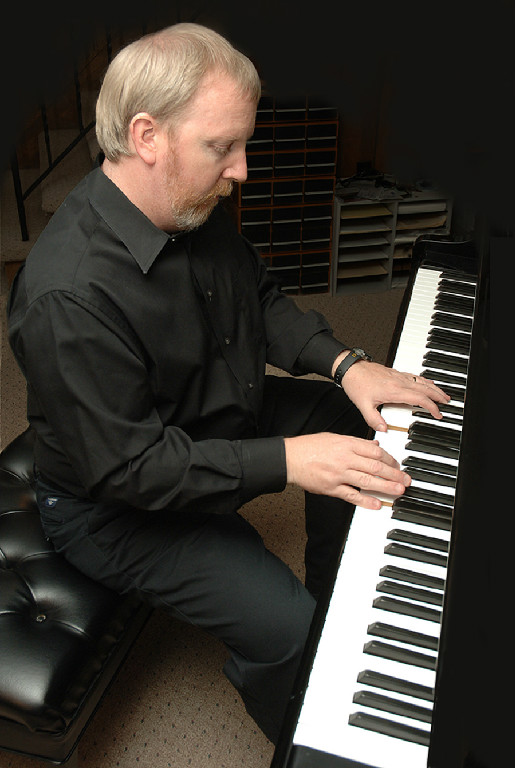 Playing the Jazz Clubs in Prague
It doesn't take much to remind me of what a rare opportunity this is: living and performing in the  grand and mysterious city of Prague.  To paraphrase Czech author Franz Kafka (somewhat) and American lyricist Al Dubin (directly), "It's got me in her clutches and I can't break free…"  It was music that brought me here, and I'd like to tell you about the clubs where I perform and listen to jazz.
My first experience playing in the Czech Republic came on my very first night in Prague. We played at U Malého Glena, a charming little place just below Prague Castle in Malá Strana.    The Czechs call it either Malý Glen or Little Glen's. And it is a little place.  Subterranean like almost all the Prague clubs, Little Glen's is in an historic neighborhood filled with winding cobblestone streets. A narrow winding staircase leads dow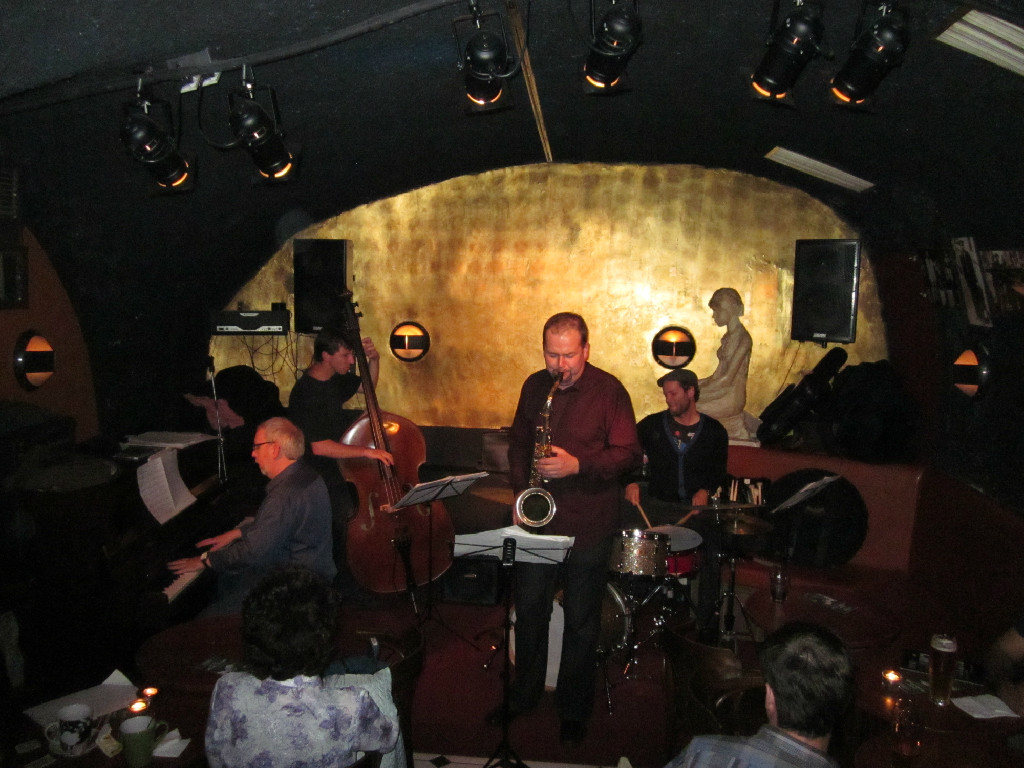 n to a small exotic-looking room with a bar running the length of it.  Passing through this room, the bandstand appears at the end of a second room filled with small round tables. I have performed at Little Glen's most often with my co-leader Rostislav Fraš, a great Czech tenor player.  I've also worked there with other leaders, including another great tenor player, Ondřej Stveraček.
More of my tours have started at this club than at any other venue, and I have always liked being in the room.  Often, it is the venue where my new works are premiered.  For example, on my second trip to Prague, we introduced my waltz, "Waiting For Prague."  The title is surely a metaphor for so many things that awaited me in this city.  I wrote the piece in my home in Pennsylvania on a Monday in May and premiered it the following Saturday at Little Glen's.  I've recorded it twice, including a CD for Czech Radio Prague and another that is playing internationally at present.  Like all Prague clubs, jazz tourists from all parts of the world find their way into the place, mingling with natives.  On any given night, you simply never know whom you will meet.  My favorite thing about playing in jazz clubs anywhere in the world is the proximity to the audience. And at Little Glen's, the audience is inches away. And because the audience is so close, the exchange is immediate and rich.  In this room, particularly, the audience really gives you the love.  There's no place cozier in the world.
The bookend performance for my very first tour came at a wonderful venue known as Agharta Jazz Centrum.  A stone's throw from the magnificent Staroměstské náměstí (Old Town Square), Agharta is located in a large 13th-century stone cellar.  A spiral staircase winds you downwards into a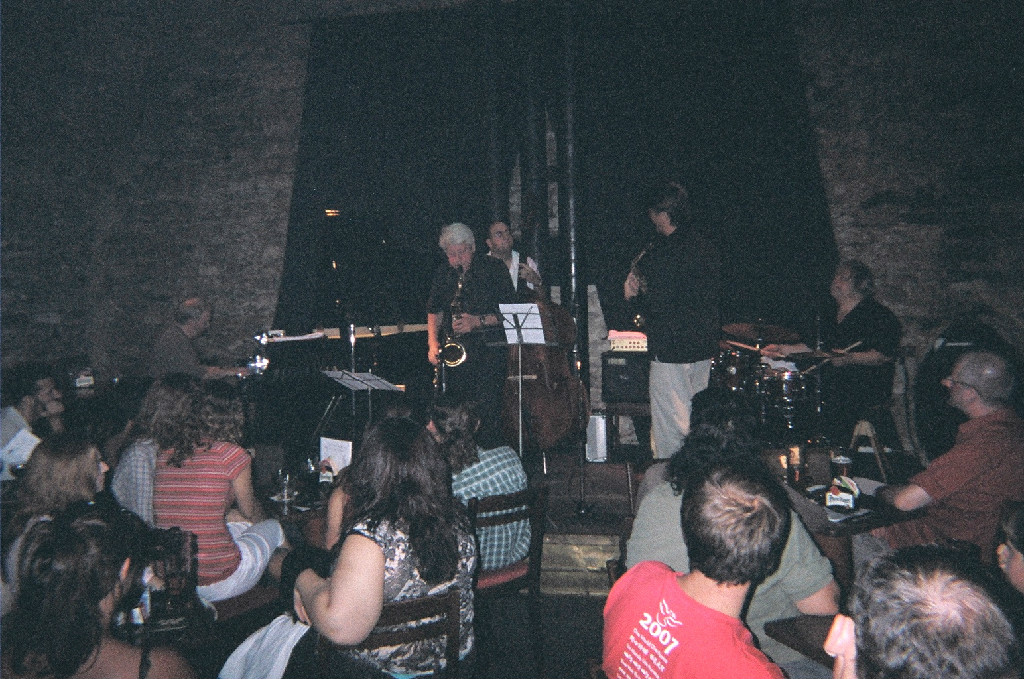 large, dramatic room with a very high ceiling.  The pathways into these places feel a bit like catacombs, adding to the sense of mystery.  I have a special fondness for Agharta because of the experience of my first performance. I started thinking about living in Prague on my first gig at Little Glen's, and I began making plans for living here during the first gig at Agharta.  I'll never forget the audience on that first warm August night, nor the swooning sound I first heard while playing a ballad there.  I've since heard that sound many times there and elsewhere in the country.
While there is a mix of Czechs and foreigners at Little Glen's, the entrance fee at Agharta is higher (a little too high for many Czech citizens) and the audience is comprised of international jazz tourists.  The bandstand is quite large and the sound-system is excellent.  It is also quite easy to communicate visually with the other musicians at Agharta, which is not so possible at Little Glen's where, due to limited space, the piano faces away from the other musicians. On one particularly unforgettable night at Agharta, I performed on tour with my son Daniel.  A budding tenor saxophone star in New York, it was Dan's first performance in Prague.  In the audience that night was my good friend, the famous Czech pianist, Karel Růžička, himself the father of a successful New York tenor saxophonist (Karel, Jr.).  That distinction was not lost on either of us!
Another club near Old Town Square where I have often played is U Staré Paní.  This swanky place below the hotel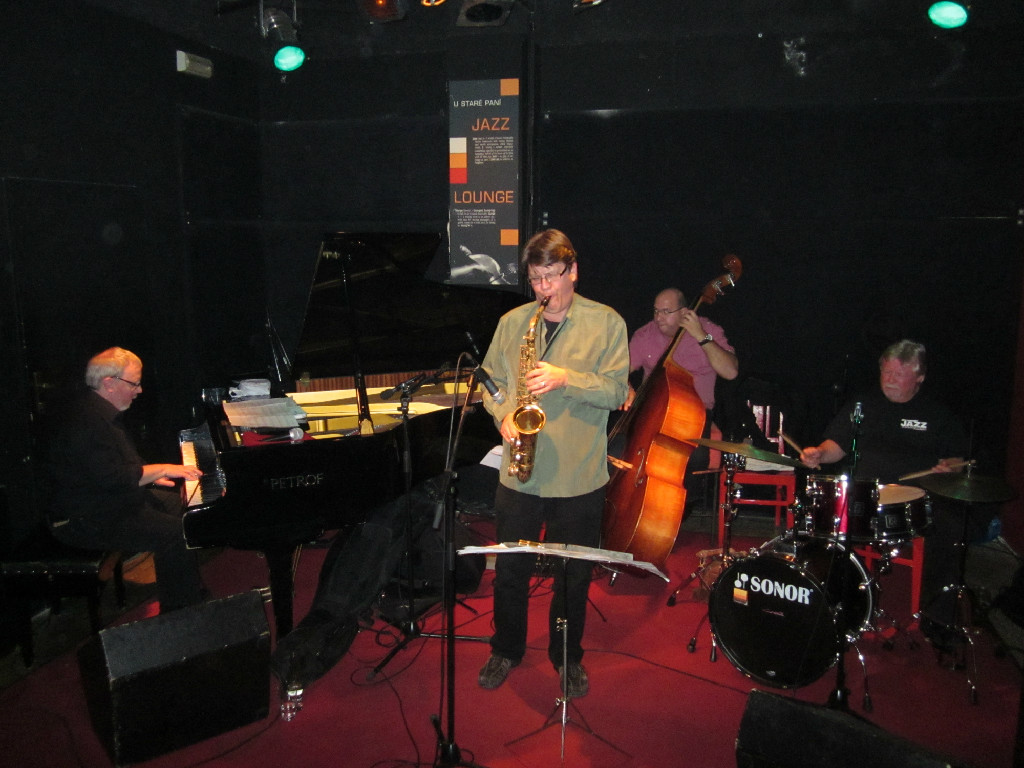 of the same name (which translates to "At the Old Lady") is a long rectangular-shaped venue with an attractive, dimly-lit bandstand at one end.  The sound on stage is also good here, as are the sight-lines for the musicians.  The audience is a little bit farther away as the seating is more luxurious than in the clubs described above.  The club has just reopened after a change in management.  It now has an elevated stage, which will make it easier for the audience to see the band, especially in the deeper areas of the club.  Many American friends who have found there way to Europe at the same times of my tours have heard me performing at U Staré Paní.  I have a special fondness for the place and for those friends that found me there over the years.
Nestled low along the beautiful, scenic Vltava River below Malá Strana is a club called Jazz Dock.  Perched right at the level of the river, this club is also a little bit swanky.  The owners definitely cater to Czech audiences by keeping the admission prices generally lower, though the drinks are expensive.  That is, unless you've just finished playing and the bartender starts pouring Becherovka at 3 in the morning!  (This happened on the night before we recorded for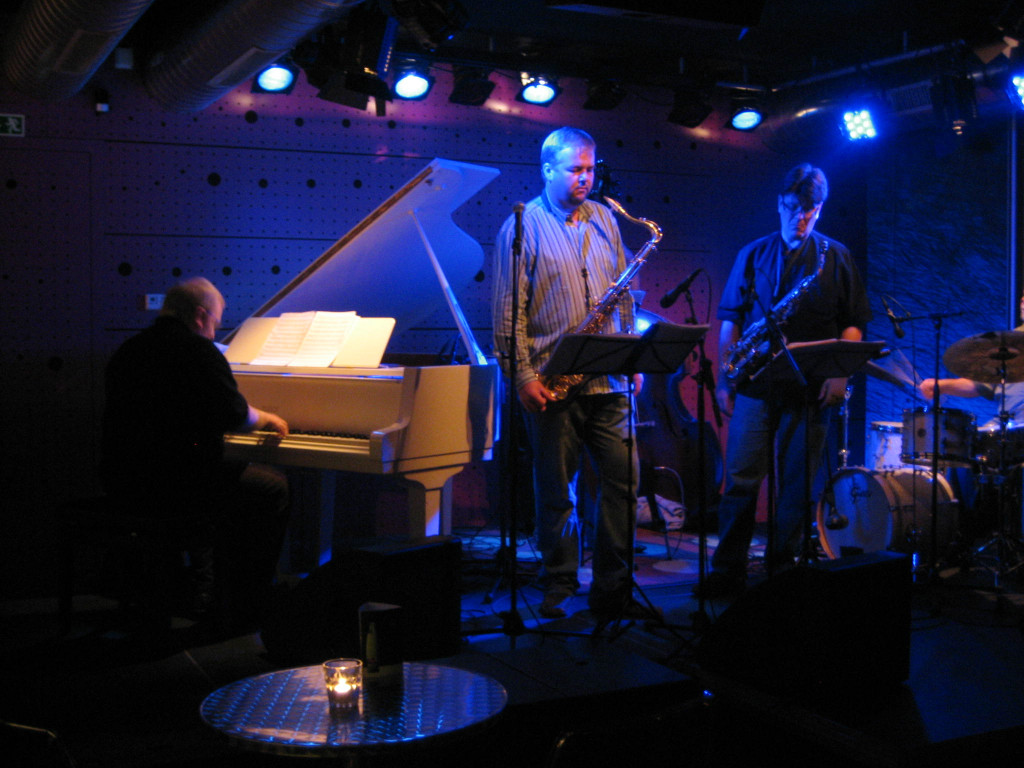 Czech Radio Prague, an experience that a few members of the group would regret the next day—but not this writer!)
Jazz Dock has a good stage with a good sound system, but the ceiling is a little low, and the musicians sometimes have problems hearing each other.  It took me a few gigs there to figure out what I needed in my monitor.  Drums!  Can you believe it?  Sometimes I can't hear the hi-hat or the clarity of the stick on the cymbal unless I ask for a little in the monitor.  Live and learn. Rost'a and I held a recent summer performance there during the United Islands of Prague Jazz Festival.  We closed the festival playing to a jam-packed house.  Our set didn't begin until after midnight.  What a night!  I also played one of the early morning jam sessions at Jazz Dock with Ondřej Stveraček.  We played a live broadcast for Czech Radio in October 2010.  That whole tour was amazing, though we missed Rost'a for most of it, as he was ill at the time.  The tourists that find Jazz Dock really know the music, and there are plenty of them in the club, mixing with Czech nationals.
Recently, I started to play at a large club called Reduta. Reduta is the grande dame of Prague's jazz clubs, and it's been in operation since the late 50s.  Situated only a couple hundred meters from the Národní divadlo (National Theatre) on the famous thoroughfare Národní Třída (National School, Classroom or "Street," if you will), this venue has an important connection to Czech culture.  President Bill Clinton played tenor saxophone there in 1994.  (If you play a little saxophone and you happen to be the sitting American President, Reduta is the place for you.)  During the August 2011 summer tour of the Rostislav Fraš-Skip Wilkins Quintet, my American counterparts Gary Rissmiller and Neil Wetzel commented on how well they could hear on stage.  The club has an unusual seating arrangement, with narrow, funky tables.  Like Agharta and U Staré Paní, Reduta is a little bit too expensive for some local wallets.  These three clubs sometimes compete with each other for jazz tourists as each is in the historic city center.
Jazz Time is located about a block from the historic Václavské náměstí (Wenceslas Square).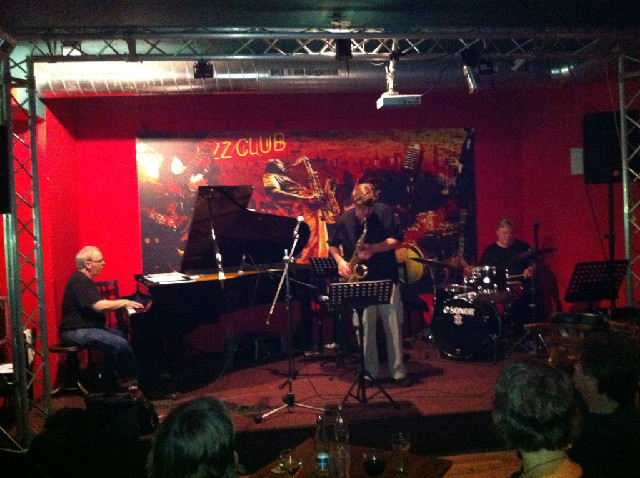 The venue is rather spartan and musicians work for the door (a usual practice in the States, but not as common in Prague).  But the stage is good, the sound system works well and the sight-lines are good for the musicians and the audience.  We wrapped up the Prague portion of our August tour there and had a great night.  A big crowd came in, mainly Czech, including several good friends.  Jazz Time is an inexpensive place to hear music, so it can be a great choice, depending on who is playing.
I have played in every club at some point with the same quintet, as well as with a variety of other players.  The Rostislav Fraš-Skip Wilkins Quintet plays our brand of full-contact post-bop, with a repertoire of mostly original music in different styles by various members of the group.   Practically every club offers a wide variety of jazz styles.  You'll hear straight ahead, post-bop, fusion, trad jazz, blues, Latin jazz, world-influenced jazz and some big band.  And lots of original music by musicians of all ages, mainly Czech.  Musicians are not paid as well in Prague jazz venues as they are when they go on the road within the country, so not everyone likes that situation too much.  And tourist audiences can either be incredible or somewhat uninteresting, so the clubs in Prague are a little unpredictable.  (Two things now qualify me to speak with authority on the Prague jazz scene:  I have learned to complain about the tourists, and I have occasionally enjoyed pilsner before noon, generally while complaining about the tourists.)  In the Prague clubs, it helps when you have the combination of a great bunch of musicians and an audience that is experienced enough to know what they are hearing.  This happens often enough, though not always.  In Prague, it is particularly enjoyable to play for Czech audiences, because those that frequent the clubs know the music.  They are most likely to come to Jazz Dock, U Malého Glena or Jazz Time.
The condition of the pianos depends on the day.  All of the pianos are quite playable.  There are no disastrously unplayable instruments with broken strings or dead notes, which I have found too often in the U.S.  And they are regulated well enough to be quite easy to navigate.  Most could be tuned more often.  Agharta actually replaced theirs with a digital instrument, replete with the fake "grand" box, not exactly what any pianist wanted to see.  But, it is what it is.  I can make music on all of them, even the digital machine in Agharta.
I have some very close friends here in this country, and the clubs in Prague are magnets for these friends to gather. But these same clubs allow me to make new friends with jazz tourists from around the world.  So often, I meet experienced listeners.  Invariably, they tell me about their favorite festivals and venues back home and ask me if I've ever played there.  It's a great place for anyone to make contacts.  And I get to speak Czech, English, French and German.  (Some sentences are filled with words from each language!  It can be confusing and scintillating.)
In June, I met a drummer named David Levey, now living in Texas.  If you know your jazz history, you might be wondering about a drummer named Levey.  Yes, this is one of Stan's kids.  David's parents met at Birdland.  His mother Angela was the cigarette girl there and his father was playing drums for Charlie Parker.  After I return to the States, I plan to invite David to speak to my jazz history class.  He could start by just talking about the people who hung around his house while he was growing up!  David is a great musician and has many of his own international performing credits.  For example, he was an original member of Toto.  He also played a reunion tour for the Monkees, before he finished college and eventually medical school.  I played with him at Jazz Dock while he was gigging here in June, and touring Europe with his brethren from Toto.  David can play the drums!
You never know whom you are going to meet in Prague Jazz Clubs.