Every month, the JHO mailbox is stuffed with more CDs that we can possibly review. In what has become as much of a holiday tradition, here are capsule reviews of worthy vocal and instrumental discs that we couldn't bear to leave on the review shelf.
JACKIE ALLEN: "ROSE FINGERED DAWN" (Avant Bass 2017)
I first heard Jackie Allen in Chicago, where she sang a delightful set of duets with pianist Judy Roberts. The Allen/Roberts duo albums explored straight-ahead jazz, but Allen's subsequent solo recordings have challenged the parameters of vocal jazz. Her latest album, "Rose Fingered Dawn" features the compo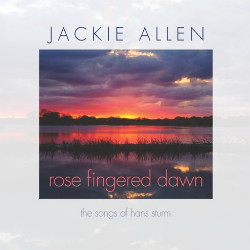 sitions of her husband, bassist Hans Sturm, and the various songs reveal a wide range of styles and genres. For example, the title track is a fascinating mixture of Moroccan rhythms and ominous spoken word tracks (which were inspired by a passage from Homer's "Odyssey"). The next track, "NOLA Love Song", offers a complete contrast, with a deeply funky portrait of the Crescent City. Allen's evocative vocal allows us to taste the gumbo and feel the humid air. Through the course of the album, Allen displays many shades of vocal timbre, but to my ears, she is best with the burnished tone she employs when singing against Sturm's rich bass throughout the seductive "Dark Butterflies", or with John Moulder's acoustic guitar on "Sweet Dreams". The slow bossa backdrops of these tracks allow Allen to gently manipulate the time and emphasize the tender lyrics. For straight-ahead jazz fans, there is a joyful swinger called "The Laugh that is You", and a great bop line tucked into the slow funk "Bel Air BBQ". The album's closer is "Steal the Night", a stunning elegy based on Dylan Thomas' "Do Not Go Gentle into that Good Night", and its powerful combination of poetry and music acts as a potent memorial to all who have transitioned. The backup group, which includes Tom Larsen (keyboards), Moulder (guitar), Sturm (bass), Dane Richeson (drums), Victor Garcia (trumpet), Andy Baker (trombone) and Geof Bradfield (saxophones and bass clarinet) embraces the different grooves and styles with aplomb. However, the biggest attractions are Allen, as interpreter and Sturm, as composer. While many of these songs may appear to have received their definitive performances on this stunning album, other singers should examine this music as vehicles for their own creativity.
SINNE EEG: "DREAMS" (ArtistShare 153)
"Dreams" is Danish vocalist Sinne Eeg's first album to be produced in the United States. I sense a sharper edge to her sound here than on her previous discs, but that only accentuates her absolute mastery of contemporary vocal jazz style. She has so completely absorbed jazz's musical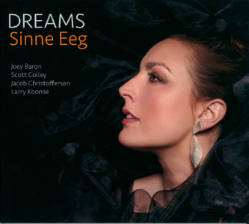 language that her original compositions carry the same sophistication as the Great American Songwriters. In fact, her updated lyrics to Cole Porter's "Anything Goes" contain the same kind of biting satire as the original words! Six of Eeg's originals appear on this disc—more than on any other Eeg CD I've encountered previously—and like the Hans Sturm originals on Jackie Allen's disc above, they reveal an impressive breadth of styles. "The Bitter End" benefits from Joey Baron's foundation-shaking gospel rock groove, and from Eeg's soulful delivery. "Head Over High Heels" is a swinging jazz waltz which features an elegant scat solo with long flowing lines which soar over the ground beat. On this track, Eeg's longtime pianist Jacob Christoffersen offers a delicate countermelody to Eeg's melody as well as a sparkling solo. Eeg wrote "Love Song" for her husband just days before the session, but its delicate sentiments and simple construction makes it sound like a standard. The title track is a wordless original which Eeg sings in unison with Larry Koonse's electric guitar. The Northern Europe classical and folk influences give the song an ECM feel, but the groove opens up enough to allow for solos by bassist Scott Colley and Christoffersen (Baron's quiet but precise cymbals are a joy on this track). "Aleppo" is a stark reminder of the refugee crisis in Syria, while "Time to Go" is a new arrangement of a Eeg ballad about the end of a long-distance relationship. The standards which fill out the album include a version of "I Remember April" set over a rippling background, an intimate "Falling in Love with Love" featuring another stunning scat solo, and a brilliant take on "What is this Thing Called Love" which opens with one and a-half choruses of voice and drums in duet. If you have not yet heard Sinne Eeg, "Dreams" makes a wonderful introduction.
MARK GUILIANA QUARTET: "JERSEY" (Motéma 233)
"Jersey" is drummer Mark Guiliana's tribute to his home state, and like its subject, Guiliana's quartet has a tough exterior, but contains many surprises just below the surface. The album is all acoustic—a departure from his electronic-based album "Family First"—but the sounds that this quartet creates are far from traditional. On the tightly-wound opener, "Inter-Are", the solo section starts with an odd sound arrangement as Jason Rigby's tenor is wed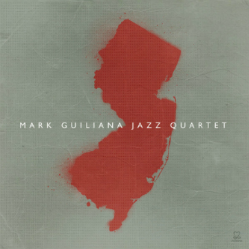 ged below Fabian Almazan's strummed piano strings and Chris Morrissey's bass. Meanwhile, Guiliana maintains the tension with a rhythmically shifting time pattern. The title track is sparse ballad, starting with an obtuse bass ostinato which reveals itself as the main melodic idea. With Guiliana's rolling pattern, the piece settles into a rock groove, but soon after, the rhythm stops in dramatic fashion, and the bass ostinato returns. Rigby plays a turbulent solo over an increasingly complex background, but never loses the thread that holds the solo and the composition together. Guiliana wrote five of the album's nine tracks, with Morrissey contributing two others, with single pieces by Rich Hinman and David Bowie rounding out the set. l like the diversity of the set, but my favorite compositions are Guiliana's, simply because the quartet seems eager to find new sounds within those works. His "September" is an eerie and mysterious tone poem which benefits from Almazan's active piano part juxtaposed against the basically static sounds of Rigby, Morrissey and Guiliana. "Big Rig Jones" starts as an amiable swinger, but as on "September", a solo passage in a different tempo presents a dramatic change-of-pace, before the original mood gradually returns. However, "Big Rig" contains a few more tempo adjustments as it evolves, and it ends in way that is completely unexpected. In a way, the last comment also speaks to the final track, Bowie's "Where Are We Now". Unlike the other pieces on the disc, it flows along in straight 4/4 time (although Guiliana does a great job of covering that up!). Although it is less complex that its predecessors, the arrangement still contains several mood changes. However, it saves its biggest surprise for the last minute with the entrance of a chorus featuring Guiliana's wife, Gretchen Parlato, bringing yet another color to this fine recording. "Jersey" is a brilliant kaleidoscope of an album which should bring continuous joy to listeners on repeated hearings.
SARAH JERROM: "THE YEATS PROJECT" (self-released)
With its confluence of classical instrumentation, jazz language, and superb poetry, Sarah Jerrom's "The Yeats Project" c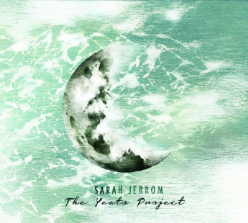 aptures all of the best elements of the Third Stream movement. The Canadian vocalist composed, orchestrated and sings the primary vocal parts on this ambitious 72-minute suite centered around the verse of William Butler Yeats. True to Gunther Schuller's guidelines, the composition has elements of classical and jazz styles, but does not belong completely to any single genre. Jerrom has a pure, but not commanding voice. She sings her angular lines with grace and accuracy, and she adds improvised passages to several of the movements. Like Jacqui Dankworth on New Perspective's recording of A.E. Housman settings, Jerrom becomes the voice of these poems, bringing Yeats' words to life with the sheer humanity of her sound and interpretive skills. The work is scored for voice, flugelhorn (played here by Tara Kannangara), clarinets (Johnny Griffith), violin (Linnea Thacker), viola (Aleksandar Gajic), cello (Andrew Downing), piano (Carissa Neufeld), bass (Rob McBride) and drums (Ernesto Cervini). The ensemble (conducted by Tom Richards)—recorded live in concert—is exceptionally well-rehearsed, performing flawlessly as a group and as improvising soloists. In scoring the suite, Jerrom has discovered timbres which work well against the sound of her own voice: Griffith's sonorous bass clarinet and Kannangara's mellow flugelhorn are particularly good matches, but the strings also provide fine backgrounds throughout the work. Overall, "The Yeats Project" is an impressive composition, expertly realized by Jerrom and her outstanding instrumentalists. It was nearly a decade from when Jerrom first read Yeats' "The Lake Isle of Innisfree" to when she released this recording of the full suite. Clearly, the years she put towards the realization of this fine composition was time well-spent.
LAUREN KINHAN: "A SLEEPIN' BEE" (Dotted i 2017)
Anyone who knows Nancy Wilson's albums with Cannonball Adderley and George Shearing will recognize the theme of Lauren Kinhan's new CD, "A Sleepin' Bee". However, those expecting a typical homage to Wilson will not find it on this disc. Kinhan has made these songs her own, just as Wilson did back in the earl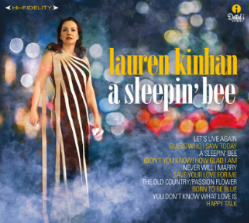 y 1960s. In ballads like "Guess Who I Saw Today", Kinhan retains the overwhelming emotional power of Wilson's versions without mimicking the earlier recordings. Indeed, some of Kinhan's elaborate variations might seem out of character on "Guess", but the subject matter of the lyric is quite outdated (stay-at-home wife doting—and inadvertently spying—on her husband) and Kinhan succeeds in bringing the piece out of the past. Likewise, her soulful take on the title track strips the lyric of its homespun nature, while keeping the charm of the original melody. Kinhan gets closer to Wilson's original gospel-influenced style on "How Glad I Am", as she lets the lyric dictate her interpretation. And when the arrangements carry some resemblance to Wilson's original charts (as on "Never Will I Marry", "The Old Country" and "Save Your Love For Me") we can hear the places where the styles of Wilson and Kinhan converge. However, Ingrid Jensen's blazing trumpet improvisation on "Marry" moves the song into present times, as do Kinhan's heartfelt melodic variations on "Save Your Love". And lest anyone think that Kinhan is wrong to take such liberties with "Save", compare Wilson's transformation with the instrumental version by Eddie "Lockjaw" Davis and Johnny Griffin. To be sure, Kinhan takes plenty of chances, adding a vocalese chorus to "Let's Live Again" and combining "Passion Flower" with "The Old Country", yet she is a progressive artist who has built most of her exalted reputation by experimenting and stretching boundaries. Kinhan, with the help of her instrumentalists, Andy Ezrin (piano/arrangements), Matt Penman (bass) and Jared Schonig (drums) have created a unique tribute which follows Nancy Wilson's lead by finding new pathways through established repertoire.
DAVE LIEBMAN & MARTIAL SOLAL: "MASTERS IN BORDEAUX" (Sunnyside 1489)
Sixty years after his acclaimed album with New Orleans reedman Sidney Bechet, French pianist Martial Solal has made "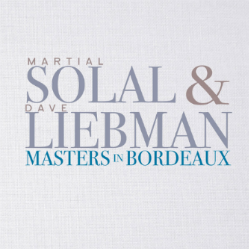 Masters in Bordeaux", a stunning recital with the modern saxophonist Dave Liebman. The results are some of the best duets captured in years. Now 90 years old, Solal is more fascinating than ever, displaying an inquisitive approach to the keyboard that keeps listeners in constant anticipation of his next move. By the time they recorded this CD at a vineyard in France, Liebman and Solal had been toured together as a duo, so each of them knew the other's style intimately. Obviously, this allowed the two men to express themselves freely without worry that the two voices would clash and splinter. As they work their way through a program of jazz classics and standards, Liebman and Solal find ways to let their unique collaboration breathe, allowing each man the opportunity to take the lead before seamlessly handing off to the other. At times, these switches can happen very quickly, as on "Solar" where the give-and-take shifts almost every measure. "What is This Thing Called Love" is a thrilling ride, opening with Liebman's unaccompanied tenor (sounding more like Sonny Rollins than I've ever heard him do). When Solal enters, he commences with a brilliant running line in counterpoint. In his solo, the pianist finally enters the song's harmonies, and when Liebman comes back, Solal mixes punchy chords and complex lines to activate the musical dialogue. Liebman clearly enjoys the challenge of Solal's unusual accompaniment, and it's great to hear him navigate these choppy waters with his own incisive saxophone lines. I've rarely heard either man to such splendid advantage, and we can all be grateful that they met and collaborated. This is a recording to cherish. 

CHUCK OWEN & THE JAZZ SURGE: "WHISPERS ON THE WIND" (MAMA 1054)
In the Great Plains, which extends from Chicago to Denver, the residents know all about the wind: an invisible force that can tear up crops, destroy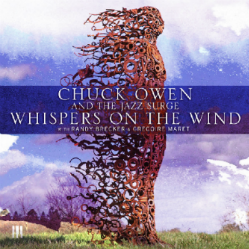 homes and scatter personal effects. Composer Chuck Owen grew up in Omaha, where, as he states in the liner notes to his new album "Whispers on the Wind", the wind had about 500 miles of nothing but grasslands, the occasional one-pump Conoco station, weathered bars and sentinel windmills to restrict it. As descriptive as his words are, they are no match for his brilliantly-orchestrated suite depicting scenes of the old and new American West. From the opening bars of the opening movement, "Warped Cowboy", the listener is propelled to the scene, as the instruments of his expanded big band emulate the cold chill of a windy day on the plains. The mournful tones of Sara Caswell's violin act like a gust pushing us back, while Tamara Danielsson's insistent soprano sax pushes in the opposite direction. Owen is particularly gifted in creating musical vignettes that stay with the listener long after they're played: a saxophone ensemble figure instantly transformed into a solo guitar riff, or a stunning chord which seems to hang in mid-air. He uses many of the traditional elements of big band scoring, but they always seem to lead into an unexpected direction, and he clearly enjoys setting unusual instrument groups against more standard settings (for example, Grégoire Maret's harmonica, Clay Jenkins' trumpet and Caswell's violin against a bed of brass and reeds during "A Phares of the Heart"). Owen's band, dubbed The Jazz Surge, plays with outstanding precision and emotion, and the soloists—including guests Randy Brecker, Maret and Caswell—are all in top form (Caswell's haunting solo on "Can't Remember Why" is up for a Grammy this year). Guitarists Corey Christiansen and LaRue Nickelson deserve special mention for their atmospheric solos and support. 2017 has been a good year for big band recordings, and it's rewarding to hear the music of composers like Chuck Owen who have found ways to keep this venerable genre alive and well.
ROSWELL RUDD & FAY VICTOR: "EMBRACE" (Rare Noise 85)
In what may have been his final recordings, trombonist Roswell Rudd collaborated with vocalist Fay Victor, pianist Lafayette Harris and bassist Ken Filiano for "Embrace", a lovely, understated collection of standards and jazz classics. Pairing Victor's bright, acerbic sound with Rudd's gruff trombone was an inspired move, as both of them know the jazz repertoire, but are not afraid to take audacious ris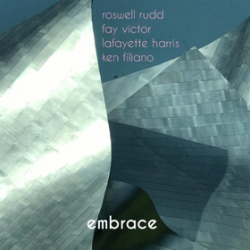 ks while performing well-known pieces. While the band rehearsed "Goodbye, Pork Pie Hat," the groove moved from a funeral dirge to a funky gospel. Over this background, Rudd lets loose his outrageous sense of humor while Victor scats across her wide vocal range. Rudd is a more traditional mode on the  bouncy "Can't We Be Friends", where he turns in a jolly muted solo, filled with great wah-wah and growl effects. Harris, who has already shown his fine skills as an accompanist on the opening "Something to Live For", offers a glistening solo before Rudd and Victor play a spirited set of exchanges. In the promotional materials, Rudd noted that he liked to work without drums, especially when working with singers, so he could hear the full range of overtones. This instrumentation puts a lot of pressure on Filiano, who must maintain the pulse, contribute to the ensemble swing and play his part accurately. He does all of this with unmatched grace, and displays a fine melodic sense during his solos. The trombone/vocal duet on "I Hadn't Anyone Till You" is a hoot, sounding like something recorded at a saloon shortly before closing time. Things turn a little more traditional when Harris and Filano enter, but Rudd maintains the light-hearted mood with a gruff obbligato. The quartet takes 11 1/2 minutes to go through the ballad "Too Late Now", but a wonderful exploration, starting with Filiano's virtuosic arco introduction, through sensitive solos by Harris and Rudd, and concluding with Victor's elastic but heartfelt variation of the melody. If you only know the mid-1960s rock version of "House of the Rising Sun", Victor's eerie rendition of the lyrics and her terrifying scat solo will be a revelation, along with Rudd's expressive sermon delivered through his muted horn. The album closes with a bittersweet original by Rudd's longtime partner, Verna Gillis, called "I Look in the Mirror", and a touching rendition of Thelonious Monk's "Pannonica". If this album was indeed Rudd's swan song, he couldn't have picked a better closing chapter.