At the end of my Jazz History Online profile of the Swingle Singers, I noted that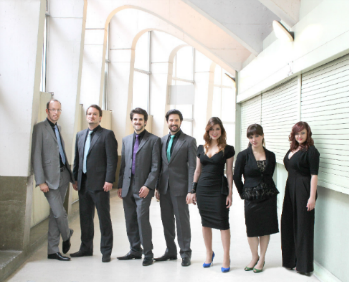 the group faced a new challenge with the imminent departure of its longtime bass, Tobias Hug. Hug had also been the group's artistic director, and he helped strengthened the group's jazz roots and steered them into the beatbox style. Hug's last gigs were in March 2012, and after a short hiatus, Edward Randell took over Hug's spot. While Randell has only been with the Swingle Singers for a few months, he has already started to make his mark with the group. In the middle of an outstanding Swingle Singers performance at Denver's King Center, Randell and fellow bass Kevin Fox did a brilliant scat blues that alternated melodic improvisation with swinging bass and drum lines. In addition to his superb improvising skills,  Randell is a gifted composer, and the Swingles' program included his original, "Piccadilly". The song tells of how London loses its charm when one's lover is out of town, and it included a lovely re-harmonization of "London Bridge Is Falling Down" with lead vocals by Fox.
The Swingles' program was called "Vocal Fusions" and it included several pieces of British pop music and a generous collection of Swingle favorites. I saw this program in Santa Fe last March during Hug's final tour. As in the earlier performance, the Denver program opened with a haunting Turkish melody, "Gemiler Girejune", followed by a spirited fugue from Corelli's "Christmas Concerto" and an understated 5/4 arrangement of Nick Drake's "River Man". After that, there were several shifts in the program order. Clare Wheeler's "Fugue for Autumn" no longer segued into Joanna Goldsmith-Eteson's "Hiding Your Smile" (as it does on the Swingles' latest CD, "Yule Songs"). Instead, Wheeler's brief fugue led into Chick Corea's "Spain", which featured Wheeler on an extended scat solo. Goldsmith-Eteson's piece was part of a set that included "Piccadilly" and a pair of contemporary British pop numbers. Oliver Griffiths' high clear tenor solo was a highlight of the Mumford and Sons piece, "After the Storm" and Wheeler—in a completely different mood—sang the emotional solo on Florence and the Machine's "Shake It Out". The first half ended with Sara Brimer's hilarious sendup of the mad scene from "Lucia di Lammermoor". Brimer sang Donizetti's music beautifully, but she played up the diva role with outlandish facial expressions and exaggerated body movements. It seems to get funnier every time I see it.
Early in the second half, the Swingles showed their mastery of the beatbox style with Wheeler's arrangement of Elbow's "Weather to Fly". The vocal percussion effects opened with Christopher Jay's convincing imitation of a shaker, and as the arrangement progressed, the percussion sounds were effortlessly passed from singer to singer with consistent style and unchanging intensity. The biggest audience reaction of the night came with a version of Beyoncé's "Single Ladies", here renamed "Swingle Ladies". Transformed into a sizzling shuffle, it featured sassy lyric readings and short scat solos by all three female vocalists. Finally, there was a set of Swingle classics, opening with Goldsmith-Eteson's beautiful arrangement of De Falla's "Nana", and followed by her flawless rendition of Bach's "Badinerie". A pristine version of Debussy's "Clair de Lune" preceded two newer favorites, "Poor Wayfaring Stranger" and Piazzolla's "Libertango". "Wayfaring" featured heart-rending solos by Jay and Griffiths, with a powerful closing spot by Brimer, "Libertango" was an effective closer with surging rhythms by Fox and Randell, and the dramatic climax peaked by the crystalline sopranos of Brimer and Goldsmith-Eteson.
When the Swingle Singers reduced its forces from eight voices to seven, the old arrangements had to be re-written to fit the new group. Many of those arrangements are still waiting to be adapted, so Swingle Singers favorites like "Country Dances" and "Flight of the Bumblebee"  are presently absent from the group's repertoire. However, one of the highlights of the later Swingle repertoire, Joanna Forbes' arrangement of "Amazing Grace", appeared as one of the encores at the Denver performance. Originally written for the four women of the Swingle Singers, it now features Griffiths on one of the alto parts. This was an arrangement too good to lose, and all four singers performed spiritually uplifting solos on the classic verses.
2013 marks the 50th anniversary of the Swingle Singers, and the group plans several celebratory tours over the next year. The current group is unquestionably the finest a cappella ensemble singing today. Their shows combine exuberant performances with unmatched musical excellence. Be sure to hear them when they're in your area.