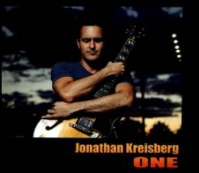 JONATHAN KREISBERG: "ONE" (New For Now 3)
Guitarist Jonathan Kreisberg has performed and recorded with some of the most renowned jazz musicians on the scene today including Aaron Goldberg, Dr. Lonnie Smith, Joe Locke, and Ari Hoenig. After spending much of his time performing in a trio setting, Kreisberg wanted to record as a solo guitarist. "This album is about falling back in love with the guitar," Kreisberg says "It's really rewarding when you can find new ways to do things within what a supposedly limiting instrument can do. So I wanted to address different aspects of the guitar and apply that to different styles of music. The album, "One" is an eclectic collection that shows his musical depth. Throughout the recording, Kreisberg uses different guitars as well as some effects. "Escape From Lower Formant  Shift," was envisioned as the soundtrack to a science fiction movie and was completely improvised. Here, Kreisberg gets his guitar to sound at times like a old theatre organ before launching into an overdrive effected single line rant. The guitarist tackles typical up-tempo tunes like "E.S.P." and "Caravan" with a Latin treatment that stems from a rhythmic bass ostinato. He also doubles acoustic guitar on these tracks. On the George Gershwin standard "Summertime" Kreisberg grooves in 5/4 time. "Without Shadow" is another free composed tune, and here Kreisberg dials up an effected sound that recalls a church pipe organ. On this short piece, Kriesberg's concept is of a techno-infused dream cycling out of control. I've always known Kreisberg as an amazing technician. While his prodigious technique is present here, it doesn't steal the show. There is a maturity in the guitarist's playing that possibly foreshadows his next music endeavor.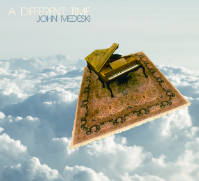 JOHN MEDESKI: "A DIFFERENT TIME" (Okeh 88765444462)
John Medeski is best known as the organist in the groove-driven trio Medeski, Martin, and Wood (MMW). In recent years, Medeski's concert schedule has included several solo piano performances. "I grew up playing piano my whole life," he says, "so it feels like home to me." "A Different Time" documents this chapter in his musical journey. The album was recorded in a 19th century church in the Hudson Valley. At the urging of producer Henry Hirsch, the pianist recorded the entire album using a 1924 Gaveau piano, which was a pre-modern French piano made similar to the style of Fredrick Chopin's preferred model, the Pleyel. Says Medeski of this recording, "I know it's not what anybody's expecting, but it's a side of me that exists. It's really raw and open, tripped of all hipness. But it's made me a little less afraid to just drop into the moment and play what's coming to me as opposed to something I know will work, something that I know is cool, something that I know will have a certain effect. The whole point is to get lost in the music." The title track is a free improvisation that is unadorned and simplistic. Yet, there is an honesty that resonates on a profound level. "Ran" is a Medeski original that resembles classical piano literature from the 20th Century. The pianist conjures dissonant harmonies that paint a ghostly picture. The final track "Otis" was first recorded by MMW in 1992. Medeski's acoustic version is a blend of impressionism and lyrical melody. John Medeski has delivered the unexpected with this effort, and in the process, he has opened another window into his musical world.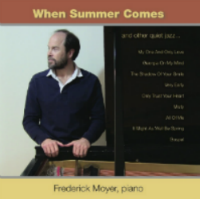 FREDERICK MOYER: "WHEN SUMMER COMES" (JRI 139)
Frederick Moyer is best known as a concert pianist. In the jazz world, he plays with the Jazz Arts Trio performing note-for-note transcriptions of the great jazz pianists. Moyer's latest effort "When Summer Comes and Other Quiet Jazz" introduces  Moyer as improvising soloist.  The highlight of this record is the beautiful sound Moyer lures from the piano. He achieves clarity and brilliance in each note. Moyer explores many colors and textures within a subtle dynamic.  After a brief introduction on "Misty" the pianist finds his way into a relaxed stride. He seasons lyrical single note lines with block chord passages that recall shades of the song's composer, Erroll Garner. "Only Trust Your Heart" distinguishes itself from the ballad treatments of most of the other tracks. Through much of the tune, Moyer's left hand imitates the guitar part in a typical samba feel. His right subtly explores the harmonies of the tune. This is the first time in the album the listener gets to hear the pianist improvise single note lines at length. The subtle aesthetic Moyer crafts in "Very Early" is gorgeous, but lacks direction. There are two lesser known Oscar Peterson tunes both titled "When Summer Comes". The first was written by Peterson in 1995 and was performed by him frequently until his death. It's a melancholy ballad with lush harmonies. The other Peterson tune that shares the same name was written in 1981 for "The Royal Wedding Suite" and is starkly different in comparison. While there is still an expressive melody, the tune is pulsated by subtle bass ostinato that gently drives the piece. Whether jazz aficionado or novice, the listener can appreciate Moyer's accessible renditions of tunes combined with the sheer beauty and tranquil mood he creates.