HOLLY COLE: "HOLLY" (Shanachie 5468)
Mention the word "standards" to a contemporary jazz listener and the songs mentioned will look something like the playlist of Holly Cole's new album, "Holly". There's a couple of Gershwin standards, a Rodgers and Hart evergreen, and several pieces from the waning days of the Great American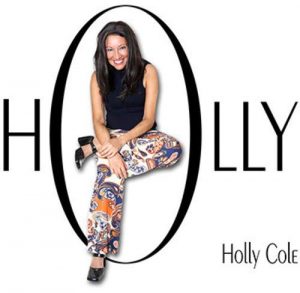 Songbook, all durable songs written by composers who expected jazz musicians to perform and improvise over them. It's a successful formula, and significantly, one which still inspires musicians. Cole conceived this album, her first in several years, as a tribute to her late mother. The album shows that she has not forgotten how to bring a classic song to life. Not only do the rough edges in Cole's voice bring a sense of worldliness to Duke Ellington's "I'm Beginning to See the Light", but her vocal timbre also matches the growling trombone of Wycliffe Gordon. Gordon returns on two more tracks, and on both, he sings duets with Cole. The trombonist's warm personality comes through in his Louis Armstrong-inspired voice, and he has the innate ability to make his vocal partners feel comfortable and sing better. I've seen Gordon do this on many occasions, and it certainly happens here on "I Was Doing All Right" and "I Could Write a Book".  Cole has no shortage of fine accompanists on this album, including pianist Larry Goldings, who provides a sensitive solo background to Cole's emotive reading of "It Could Happen to You", and later switches to Hammond B-3 for tasty renditions of "Teach Me Tonight" and "Lazy Afternoon". Scott Robinson plays tenor sax on several cuts and doubles cornet on "We've Got a World That Swings". The redoubtable guitarist Ed Cherry is a welcome presence in the rhythm section, but curiously, only solos on "Lazy Afternoon". Through her well-developed vocal personality and sensitive manipulation of the words and music, Holly Cole makes these songs her own. Hopefully, she won't drop off the scene again, and she'll have more recording opportunities in the near future.
NANCY KELLY: "REMEMBERING MARK MURPHY" (Subcat 1)
The playlist for Nancy Kelly's newest album also includes several songs from classic pop songwriters, but the repertoire also includes several tunes composed by jazz musicians. One of the reasons is that Kelly uses this music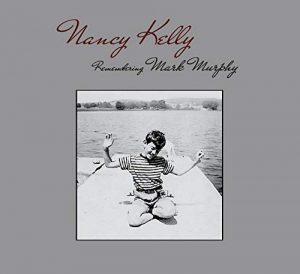 to pay tribute to one of the greatest of all jazz singers. "Remembering Mark Murphy" has had a long gestation period, but the album was well worth the wait. Kelly credits Murphy as a primary reason she became a jazz singer, and on her first entrance, Kelly uses the long, slowly morphing vowels that were a characteristic of Murphy's sound. Like Murphy, Kelly is a risk-taker when it comes to scat singing, and I love her spirited exchanges with trumpeter Randy Brecker near the end of "Vera Cruz". Kelly has certainly researched her songs well, including the title track of the unfairly-maligned late album "Song of the Geese" and the inexplicably obscure song "Again" (taken from a wonderful old Ida Lupino film called "Road House"—one of Murphy's favorites). On the former, Kelly brings her great sensitivity to the delicate lyrics, and she transforms the latter into a gently rocking anthem. "I'm Glad There is You" was one of Murphy's greatest ballads, and Kelly's slow-burning performance (with Bobby Militello's alto sax offering sympathetic obbligatos) honors both the song and Murphy. It would be hard to imagine a Mark Murphy tribute without "Red Clay" and "Stolen Moments", and Kelly performs both classics here, complete with Murphy's lyrics and arrangements close to Murphy's original conceptions. (In fact, the only notable part of Murphy's career that's missing here is the material centered around Jack Kerouac. It would have been interesting to hear Kelly's interpretation of that music.) This superb tribute also features a fine band, including John DiMartino (piano/arrangements), Ed Howard (bass) and Carmen Intorre, Jr. (drums) with guest appearances by guitarists Paul Bollenback, Paul Meyers and Steve Brown (the latter doubling congas), and bassist Peter Mack. While Mark Murphy was a unique artist, he was not without followers. Nancy Kelly carries the torch with great pride and class.
JENNA McLEAN: "BRIGHTER DAY" (Moddl 19A2)
Of all the singers discussed in these reviews, Jenna McLean is the youngest in age, but she is admirably mature in her song selections. "Brighter Day" showcases this recent graduate from the University of Northern Colorado with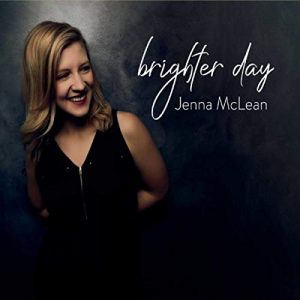 an impressive recital filled with classic pop and jazz standards. McLean's breakneck-tempoed version of Jerome Kern's "Long Ago and Far Away" centers around her fearless scatting, while her original vocalese lyrics and immaculate diction enhance Stan Getz's solo on "Lover Man". Pianist Tom Amend also stands out on "Lover Man", as his up-tempo improvisation segues into a beautifully-paced rubato coda. McLean offers a sparkling rendition of the all-too-rarely heard "Gentleman Friend" and adds a highly melodic scat solo as a bonus. The music of Joni Mitchell has been covered by many jazz singers in recent years, but McLean's version of "Strong and Wrong" seems particularly well-suited as a jazz ballad. Wayne Shorter's "Fee Fi Fo Fum" becomes a hip fable with McLean's original lyrics. The accompaniment of just Steve Kovalcheck's guitar and Seth Lewis' bass is very effective, as is the intricate shout chorus performed by McLean and Kovalcheck. The title track is a dreamy waltz composed by McLean, expertly realized by her gentle delivery, Amend's crystalline piano, Lewis' flexible bass and Brian Claxton's impeccable brushwork. Jimmy Dorsey's "I'm Glad There is You" is treated to a lovely guitar/vocal duet, and in this highly exposed setting, McLean displays a supreme confidence not usually found in young singers. The closer is a medium swing walk through the old chestnut, "Sunday" with additional solo opportunities for Kovalcheck and Lewis, and a wailing finale from McLean. When I went to UNC between 1984-1992, young jazz vocalists did not get the chance to record their own albums (in fact, several promising singers were not allowed to sing jazz at all). It's gratifying to see that a singer with such abundant talent as Jenna McLean has this unique opportunity to jump-start her career. With a beginning like this, her potential could be limitless.
ANÖNA TRIO: "ONE JANUARY MORNING" (BeeBoss—no catalog #)
A cooperative ensemble, the Anöna Trio features three superb jazz musicians from the United Kingdom. Vocalist Imogen Ryall studied at the Guildhall School of Music where she learned and worked with the three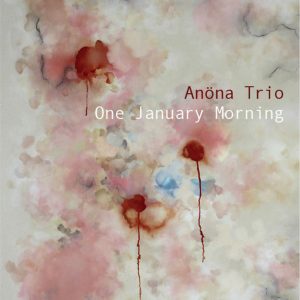 members of the classic group, Azimuth: Kenny Wheeler, Norma Winstone and John Taylor. In addition to pursuing her own singing career, she has contributed lyrics for albums by Liane Carroll and Claire Martin. Tenor saxophonist Julian Nicholas teaches music at Chichester College and has worked in and around London for the past three decades. Pianist Mark Edwards is another busy London musician who, in addition to gigs with many top UK groups, leads the band Cloggz, which has featured both Ryall and Nicholas among its members. The Anöna Trio's EP, "One January Morning" opens with a Nicholas original called "Food of Love", which contains no words, no improvisation and a simple flowing melody. Ryall's richly expressive voice and Nicholas' strained high-register tenor are showcased on Carla Bley's "Lawns", a song also recently lyricized by Kurt Elling (Ryall's very different lyrics were penned before Elling's). Wayne Shorter's "Ana Maria" elicits passionate statements from all three musicians, and the hypnotic piano obbligato on Brad Mehldau's "When it Rains" acts as a sturdy foundation for majestic performances by Ryall and Nicholas. While the repertoire of the Anöna Trio is clearly focused on contemporary jazz composers, they consider Great American Songbook entries to be essential elements of their music. "If I Should Lose You" finds Ryall singing the Leo Robin/Ralph Rainger classic with great rhythmic freedom before engaging the group in a fine medium-tempo collective improvisation. When Ryall scats on her own in the next chorus, she astounds with a superbly executed solo that balances fertile ideas with well-placed silence. Nicholas' tenor reminds me of Lee Konitz' recordings on the larger horn, and the interplay he creates with Ryall in the final chorus is thrilling.  The album's title track commences with a long unison passage for voice and soprano sax, and then leads directly into Ryall's breathless lyric. While the group maintains a fine medium groove, a slower tempo might have made it easier to sing, and—in the case of the lyric—a little easier to comprehend. Duke Ellington's "In a Sentimental Mood" gets a very spacey arrangement, with a radically different harmonization and quite a bit of post-production effects. Unfortunately, the tune gets lost in the midst of the setting, and the listener may well question the point of this experiment. The album ends with a warm and uplifting performance of another Mehldau composition, "Ode". At present, this album is only available as a download. The promotional package included a very informative set of liner notes and artist bios which were very helpful in understanding the group's ideals and mission. It might be helpful if this information could be found online, either on one of the artist's websites, the group's Soundcloud page or as a document attached to the download.
TIERNEY SUTTON BAND: "SCREENPLAY" (BFM Jazz 34674)
Originally issued as a series of thematically-related downloads, The Tierney Sutton Band's album of movie music, "Screenplay", has now been collected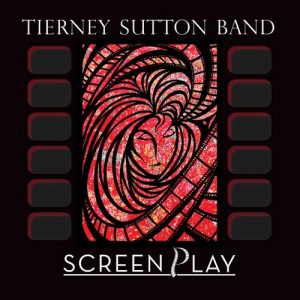 onto a single CD. The disc could not hold all 19 of the original tracks, so four are now solely available on YouTube and streaming music platforms (see below for links to these bonus tracks). Music from the movies is another album concept that has been done several times in the past, but the TSB's album stretches the boundaries, mainly focusing on films of the past half-century and including a selection from their own soundtrack, "Sully" as a final selection. As usual with the TSB, the arrangements are part of the overall statement. For example, the opening track, "The Windmills of Your Mind" starts with a nearly inaudible eighth-note pattern by drummer Ray Brinker appearing before Sutton's initial entrance. Every chorus adds to the intensity, with Brinker's incessant tapping contributing to the song's hypnotic trance. Exceptionally paced over five and a half minutes, the setting and its realization create an impression not easily forgotten.  Next is an intriguing medley which finds common themes of longing and loneliness in songs written decades apart: "Moon River" ("Breakfast at Tiffany's") and "Calling You" ("Baghdad Café"). "On a Clear Day" gets an up-tempo treatment interrupted with several episodes in waltz time (which actually enhance rather than detract from the fast swing). The initial set of downloads were a collection of five songs with lyrics by Alan and Marilyn Bergman. All five of those tracks are on the CD, including a duet with Sutton and Alan on "How Do You Keep the Music Playing". Obviously, Sutton holds great affection for their songs, and her duet with pianist Christian Jacob on the evergreen "What are You Doing the Rest of Your Life" may stand as one of the most poignant readings of the song ever recorded. Guitarist Serge Merlaud makes the first of three guest appearances on a dreamy setting of "I've Got No Strings" (from "Pinocchio") while a funky cover of "If I Only Had a Brain" features the TSB's two bassists, Kevin Axt (electric) and Trey Henry (acoustic). Sutton provides further proof that Stephen Sondheim's music is adaptable to other genres with a touching version of "Goodbye for Now" (from "Reds"). The TSB's earlier CD, "The Sting Variations" showed that the group was unafraid to transform pop and rock material into jazz. So, regardless of whether songs like "The Sound of Silence", "It Might Be You" and "You're the One That I Want" qualify as standards, the settings by the TSB are so compelling that they could change minds. The TSB has just entered its second quarter-century, and "Screenplay" demonstrates their ability to find fresh and exciting approaches to the standard repertoire.
Links to the bonus "Screenplay" tracks:
The Trolley Song
It Might as Well Be Spring
Two for the Road
Flying Home (from "Sully")