Ryan Keberle's outstanding group Catharsis has won wide acclaim in recent years for its superb ensemble work, commitment to collective improvisation and strong political stance. Originally a quartet with trumpeter Mike Rodriguez, trombonist Keberle, bassist Jorge Roeder and drummer Eric Doob, the group has morphed over the years, first with the addition of Camila Meza on vocals and guitar, then with Keberle including his own keyboards as an occasional addition to the rhythm section. In the group's latest incarnation, saxophonist Scott Robinson has replaced Rodriguez in the front line and Keberle now sings with the ensemble. Neither Meza or Robinson are new to Catharsis: Robinson was a guest on the group's first two albums, and Meza appeared as vocalist on the second and third releases.  Of course, none of these musicians make their living solely with Catharsis; even Keberle co-leads a second group, Reverso. New releases by Robinson and Meza have happily coincided with Catharsis' new album. Here are capsule reviews of all three discs.
Scott Robinson's "Tenormore" (Arbors 19462) appears to be a mainstream quartet album, but the CD's first notes show Robinson's penchant for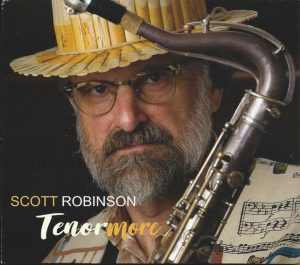 stretching musical boundaries. The track in question is an unaccompanied version of the Beatles' "And I Love Her". Robinson plays the introduction in the strident high-register of his tenor, before playing the main melody in the lower-mid register of the horn. In the midst of the melody, Robinson inserts a wild Albert Ayler-like phrase which jolts the listener from complacency. "Tenor Eleven", an 11-bar blues—there will be sequels to follow—introduces Robinson's sterling rhythm section: Helen Sung (piano), Martin Wind (bass) and Dennis Mackrel (drums). Robinson's solo swings mightily, even when the rhythm drops out in his first solo chorus. When they return, Robinson rides the rhythmic wave with an improvisation which combines unique note choices with a strong sense of jazz tradition. In his brief liner note, Robinson writes lovingly of his tenor, a 1927 silver Conn that he has owned since 1975. And what a gorgeous sound comes from that horn on "Put on a Happy Face", which Robinson has transformed into a wistful ballad. Sung enhances the beauty of the performance with a sensitive improvisation primarily comprised of heart-rending single lines. When Robinson returns for the final half-chorus, he makes the tenor sigh, cry, and tremble without resorting to obvious extra-musical tricks. Wind provides the main accompaniment for the first half of Robinson's solo on "Morning Star", offering a flexible middle-ground between walking lines and musical dialogue. Robinson's use of sequential material is particularly impressive in this solo, as is Sung's exquisite use of contrary motion in her spot. Finally, the interplay of Wind's bass with Mackrel's brushes brings a delightful touch to the track. The melody of Sacha Distel's "The Good Life" emerges from a free improvisation, and the saxophonist's previously recorded "Tenor Twelve"—the first sequel (or really a prequel?)—appears here with a revised melody, and inquisitive solos by all four musicians. I've never heard Helen Sung play organ before, but her soulful introduction and accompaniment on Wind's "Rainy River" makes me believe she would fit right in at a revivalist church. Set in a deeply grooving slow four, the tune elicits powerfully spiritual statements from both the composer and the leader. "The Weaver" opens with an original poem read by Robinson's father for the saxophonist's wedding to flautist Sharon Robinson, who appears as the second member of the front line on this track. The album's one misfire is the slow funk arrangement of "The Nearness of You", which does not do any favors to Hoagy Carmichael's lovely melody. The title track (yes, another sequel) is much better overall, with an intriguing formal structure that is partially determined during performance. Mackrel plays a deciding role in setting the lengths of the undetermined passages, and it's great fun to hear a piece that can evolve within one performance. It is an exhilarating conclusion to the album, and proof that explorative music is just as wonderful as the old tried and true.
Camila Meza's new album, "Ámbar" (Sony Masterworks 87757) is an ambitious project combining Meza's voice and guitar with a string quartet and rhythm section. The group, named the Nectar Orchestra, embraces a wide range of stylistic territory, including jazz, classical, Brazilian, and world music, but also explores new sounds which are not as easy to categorize. The opening track "Kallfu" starts with a quiet chord on electric keyboard, adds a string quartet obbligato before Meza's passionate vocal takes center stage. The main melody is sung in Spanish over a tricky mixed meter, but nothing stays stationary for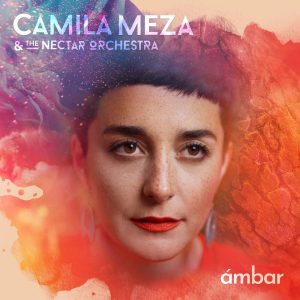 long with quiet interludes interrupting the turbulent rhythmic episodes. The piece has elements of many styles, but it refuses to be pigeon-holed. Even when approaching a romantic ballad, such as Elliott Smith's "Waltz # 1", the expansive arrangements—mostly by Meza—seem to stretch the boundaries to their breaking points. Yet, if the listener approaches this music with open heart and mind, it takes no effort to be swept away with the overwhelming emotional impact. While this album features vocals on every track, the brilliance of the instrumental settings and the superb solos throughout (especially the thrilling exchanges between Eden Ladin's keyboard and Meza's guitar on "Awaken") should appeal to fans of instrumental jazz. The album is also politically charged, featuring stunning covers of the David Bowie/Pat Metheny/Lyle Mays composition "This is Not America" and Milton Nascimento's "Milagre dos Peixes", written during the 1970s dictatorship in Brazil and containing hidden textual messages which are still relevant today. And even if the listener cannot follow the original Portuguese lyric on the latter track, the multi-layered arrangement entices with its evolving tonal palette and beautifully controlled dynamics (The sheer number of instrumental and vocal combinations on this piece rivals the classic arrangements of Jelly Roll Morton for his Red Hot Peppers!) While most of the album is quite intense, there are welcome moments of respite, as in "All Your Colors" with Meza singing her arching original melody over a delicately scored background of pizzicato strings and tinkling percussion, or on the introspective title track, dedicated to the memory of Meza's late grandfather. As an album "Ámbar" offers great insight into Camila Meza's extraordinary talent. And while the work clearly reflects Meza's conception and artistry, the Nectar Orchestra (listed below) deserves special recognition for they have combined their talents to realize this stunning music: Eden Ladin (piano and keyboards), Noam Wiesenberg (bass), Keita Ogawa (drums), Tomoko Omura and Fung Chern Hwei (violins), Benjamin von Gutzeit (viola) and Brian Sanders (cello). Their contributions to this album extend beyond solo work; they bring fresh meaning to the term ensemble.
Catharsis' latest album "The Hope I Hold" (Greenleaf 1072) aims to bring optimism to a world torn by political divisions. The first half of the album comprises a suite based upon Langston Hughes' "Let America Be America Again", a 1935 poem designed to remind the United States of its core values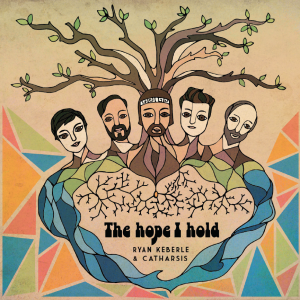 (the correlation to present-day America is rather obvious, and Keberle notes that modern audiences are surprised to hear that Hughes' title is so similar to another current political slogan). "Tangled in the Ancient Endless Chain" opens with a two and a half minute introduction which evokes the dawn, with Robinson's tenor offering the dissonant passages which symbolize the lingering problems. After a powerful drum solo, Meza enters, singing a portion of the Hughes poem. Robinson builds upon the intensity of Meza's passionate vocal within his tenor solo, and when Meza returns for a guitar solo, Robinson's solo obbligato makes the emotional impact even greater. The group segues into "Despite the Dream" which opens with a slow mournful Keberle trombone solo. After a duet between the leader and Meza's wordless vocal, Meza returns to the Hughes poem. This time, Meza's voice is doubled, and there is a considerable amount of post-production with Keberle seemingly playing trombone and singing backup vocals simultaneously. Keberle's ensuing trombone solo is rough and gutsy, with Meza providing strong support in the background. "America Will Be" is a slow dirge. It includes a brilliantly realized ensemble crescendo which builds over a nearly four-minute span, then gradually diminishes under Meza's closing vocal (which uses the astounding lines from Hughes' penultimate stanza, America was never America to me. Yet I swear this oath—America will be!) The suite's final movement "Fooled and Pulled Apart" includes no further references to the Hughes poem—except for the title—and its sunny groove envisions a bright future once the world regains its sanity. Meza scats and plays at the same time in her melody statement, and she and Keberle engage in an amiable simultaneous improvisation free of the tension built into the earlier movements. Keberle's Brazilian-styled original "Campinas" acts as a dystopian epilogue to the suite. He has said  If you've ever wondered what the United States might look like after another 20 years of the kind of deregulation that our current administration is working hard to institute, just travel to Brazil. Keberle's composition captures the current Brazilian scene with joyous music in the foreground but with cold, troubling elements sitting just below the surface. The unique effects which emit from Keberle's vintage Korg Minilogue synthesizer add to the unsettling atmosphere. The next four tracks offer a change of timbre as Catharsis is reduced to a trio (Meza, Keberle, Raeder). I love the intimate sound of this reduced group as it further clarifies the deep communication between the musicians. Two of the four tracks are new settings of songs previously recorded by members of the group, Meza's lovely "Para Volar" was the opening track of her Sunnyside CD, "Traces" and "Become the Water" opened the previous Catharsis disc, "Find the Common, Share a Light". Roeder's "Peering" has a dual melody that transmits the Brazilian mood of soledad, a feeling of happiness mixed with melancholy. The solos by Keberle and Meza also reflect that duality of emotions. "Zamba de Lozano" brings out Meza at her most passionate, and a Keberle trombone solo which rides the somber mood for awhile before breaking out with a triumphant final statement. The album travels full circle with the final track which features the full ensemble and harkens back to the majesty of the Langston Hughes poem. "The Hope I Hold" is a powerful album which documents the continuing evolution of this remarkable band.