It takes a village to raise a jazz musician, and one reason Detroit has produced so many front-rank players is that the villagers are as hip as they come. Mark Stryker uses the above sentence in a profile of bassist Robert Hurst, but the sentiment truly fits his entire book "Jazz from Detroit" (University of Michigan Press). Boasting highly-regarded arts programs—both in and out of the school system—Detroit has nurtured and developed an outstanding legacy of jazz icons. Those from the 1950s are certainly the best known, starting with the Jones brothers (Hank, Thad and Elvin) and including legendary players like Gerald Wilson, Frank Rosolino, Curtis Fuller, Donald Byrd, Tommy Flanagan, Charles McPherson, Yusef Lateef, Paul Chambers, Kenny Burrell, Milt Buckner, Marcus Belgrave, Barry Harris, Betty Carter and Doug Watkins. However, Detroit's jazz community continued to grow after most of the above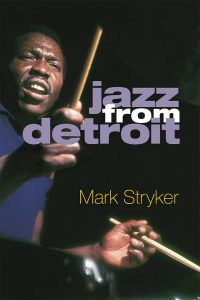 musicians left home to find their fortunes on the Coasts. Stryker documents the developments of Motor City jazz from the bebop era to the present day, celebrating present-day musicians Michael Malis and Marcus Elliot with the same fervor as the Thad Jones-Mel Lewis Jazz Orchestra.
There is no shortage of enthusiasm in Stryker's prose. A long-time staff writer for the Detroit Free Press, he fills each artist's profile with vivid descriptions of the player's music. On occasion, his descriptions can seem over-the-top (one description of a Thad Jones recording is punctuated by a single-word paragraph: "Wow!") but Stryker's love for the subject and its primary creators is evident throughout the book. Many of the profiles were originally written for the Free Press, and they fall into a rather predictable pattern: an initial appreciation of the artist's gifts, interspersed with interview segments, followed by a biographical sketch and a survey of the subject's best recordings. The formula is tried-and-true, but the book editors should have spotted the formal similarity of the adjacent chapters, and asked for appropriate re-writes. On the positive side, these profiles (which make up the majority of the book) offer insights into musicians rarely covered in the jazz press—and hardly ever in the context of their shared home town. To Detroit jazz musicians, the importance of Barry Harris and Marcus Belgrave lie less within their voluminous discographies than as their roles as teachers and mentors. Stryker interviews Harris in the process of a marathon teaching session as he helps a large group of students learn advanced concepts in harmonic and melodic development. Belgrave's profile finds him leading a working band of talented musicians some thirty years his junior. Certainly, the works of these two mentors (and several others enumerated by Stryker in this book) are an important reason for the continuing excellence of Detroit's jazz musicians.
Stryker's book is not the first history of Detroit's jazz scene. In his preface, he defers to another book published by the University of Michigan Press, Lars Bjorn's and Jim Gallert's "Before Motown: A History of Jazz in Detroit, 1920-1960". This becomes a convenient rationale for Stryker to omit all of the history prior to the bebop era (even though Bjorn and Gallert covered the boppers, too). Later, Stryker cites previously published biographies of Betty Carter, Paul Chambers and Frank Rosolino as suitable reasons for their omission from his history. However, in Stryker's profile of Ron Carter, there is a direct reference to Dan Oulette's 2013 biography of the bassist! Of course, I'm not stating that Ron Carter shouldn't be included; it's that Betty Carter, Chambers and Rosolino deserve to be here as well—especially Rosolino, since he is referenced in many of the early chapters, and because the Gene Lees item listed for the trombonist's biography is only an article, and Lees is no longer alive to expand it into a full-length book.
As much as I can fault Stryker for the above omissions, I must praise him for what he did include: a detailed look at Detroit's avant-garde jazz scene from the late 1960s and early 1970s. Stryker meticulously describes the cooperative ventures Strata Corporation, Tribe, the Detroit Creative Musicians Association and the Detroit Artists Workshop, all of which marketed and distributed the recordings of musicians who veered away from the mainstream. We learn of the innovative band, "Bird, Trane, Sco, Now!" which brought the language of bop and free jazz to junior high and high school musicians (saxophonist James Carter was a famous alumni) as well as professional ensembles like Focus Novii (featuring guitarist James Blood Ulmer and drummer Doug Hammond), the Contemporary Jazz Quintet (with trumpeter/composer Charles Moore and pianist Kenn Cox) and the Tribe Collective (including saxophonist Wendell Harrison and trombonist Phil Ranelin). Much of the music recorded by these groups is extremely scarce, and Stryker's exquisite research and outstanding verbal descriptions should make readers hungry to hear and absorb their music.
There is much to applaud in Stryker's book. If we worry that the lingering memory of Kenny Burrell will be of the bizarre tale of a GoFundMe campaign, all it takes is a read-through of Stryker's profile to remind us of his brilliance as a jazz musician. The loss of Geri Allen becomes even more profound as Stryker tells us of her wide-ranging influence. And in the final chapters, we have reason to celebrate as Detroit continues to nurture fine musicians in schools and clubs, despite the city's ongoing urban issues. While "Jazz from Detroit" could be considered an incomplete history, the truth is that Detroit's jazz history is not complete either. There will be more stories to tell as the years go by.