PETER ELDRIDGE: "DISAPPEARING DAY" (Sunnyside 1458)
In addition to his busy schedule as a vocal coach and member of the New York Voices, Peter Eldridge remains active as a composer and solo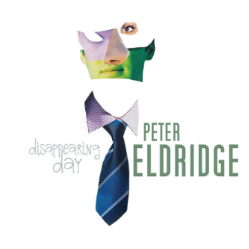 artist. "Disappearing Day" is his fifth solo album, and true to form it is a quirky mix of eclectic styles which reveals a stunning range of influences. The edgy indie-pop of the Magnetic Fields' song "I Wish I Had an Evil Twin" sits alongside Paul McCartney's reflective "Jenny Wren", each featuring Eldridge's emotive voice soaring over the powerful bass lines of Matt Aronoff and the flexible percussion of Ben Wittman. Surrounding these songs are two delightful Eldridge originals, the country-tinged "Looking Forward to Looking Back" and the grooving Brazilian tune "Forever Blue" (the latter has Anat Cohen's clarinet adding both texture to the ensemble and a lyric solo between the vocal choruses). The album boasts a stellar lineup of assisting artists including Alan Hampton, Lauren Kinhan, Jo Lawry, Jesse Lewis, Marc Shulman and Becca Stevens (the latter shining in a lovely duet with Eldridge on "Wish You with Me") but Eldridge is the artistic glue that holds this album together. Consider his original "Driving to Town Late to Mail a Letter", where Eldridge's piano and vocal lead the ensemble in a brilliant performance that opens with a deeply atmospheric extended introduction and then builds to an impressive crescendo. Some of the album's finest vocal moments come near the end, with the Elm City Girls' Choir performing Eldridge's ethereal setting of the James Thurber poem "Around Us", followed by Eldridge's nuanced rendition of Pablo Neruda's "House" (from Luciana Souza's "Neruda" song cycle). The standards which surround these pieces, Cy Coleman's "Witchcraft" and Leonard Bernstein's "Some Other Time", are also quite impressive, as Eldridge delivers unique and highly personal interpretations of these well-known songs. This album is a fine summation of Eldridge's many and varied gifts.
SARA GAZAREK & JOSH NELSON: "DREAM IN THE BLUE" (self-released)
As a follow-up to her 20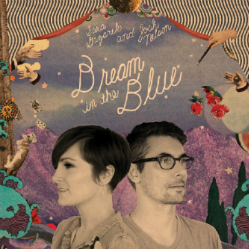 12 album, "Blossom and Bee", LA-based vocalist Sara Gazarek has teamed up with her longtime pianist Josh Nelson on a superb duet CD, "Dream in the Blue". Gazarek and Nelson discover unexpected paths through several familiar musical roads. For example, their understated medley of the Beatles' "Blackbird" and the Twenties standard "Bye Bye, Blackbird" reveals that the songs share more than just a word in common: their lyrics both speak of freedom. As the album progresses, it is clear that Gazarek and Nelson know music history, but they are not awed by it. So while "On the Sunny Side of the Street" features moments of Ella Fitzgerald-styled vocal riffs and pure stride piano, there are also moments of polytonality and a shout chorus that takes a most unexpected turn. On their version of Bonnie Raitt's "I Can't Make You Love Me", the rhythm ebbs and flows with great sensitivity, while Duke Ellington's "Mood Indigo" simmers with a recurring keyboard obbligato and an impassioned vocal. At its outset, "No Moon at All" evokes the feeling of a frightening dark night. Later, when Nelson glides into a steady tempo, Gazarek creates a series of astonishing melodic and rhythmic variations. The rhythmic flexibility that enriches their performances of the standards is surprisingly absent from the duo's originals. While those originals are quite lovely (especially the graceful "Petit Papillon") the performances seem much more tied to the beat. The inherent power of these originals would only be strengthened with a more adventurous approach. Even with this slight caveat, "Dream in the Blue" is an excellent recital by Gazarek and Nelson. It comes highly recommended.
CLARE TEAL & THE HALLÉ ORCHESTRA: "TWELVE O'CLOCK TALES" (Mud 6)
American audiences might be unfamiliar with British vocalist Clare Teal, but her latest disc "Twelve O'Clock Tales"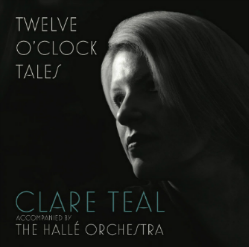 provides a fine introduction. Backed by the symphonic-sized Hallé Orchestra, the album displays Teal's wide range of expression. Her bright and sunny delivery enlivens the opening version of "It Might As Well Be Spring", while she takes a sultry approach on the next track, "Feeling Good". The arrangements are sometimes grandiose, but Teal is never swallowed up by the orchestral largesse; rather, she finds effective ways to ride over the instruments on "Spring" and uses understatement as an effective juxtaposition on "Good". Through all of this, she shows great creativity with her finely-crafted melodic and rhythmic variations. Her liquid approach to rhythm allows her to float above the strings on "Wild is the Wind", and she effortlessly shifts between free time and strict rhythm on the absurdly pseudo-Latin song, "Sans Souci". Teal and her pianist Jason Rebello perform a charming vocal duet on Sting's "La Belle Dame Sans Regret", although the sudden change to a Latin feeling near the end is almost as unsettling as Guy Barker's overblown film noir interludes on "I'll Never Stop Loving You". The album's best track is "Spring Can Really Hang You Up the Most", where Teal creates a stunning performance on this well-traveled song without making significant changes to the melody. Rather, it is the speech-like rhythms of Teal's delivery that makes the words sound like an intimate confession. Towards the end of the program, Teal adds two of her original songs. On "Whole", co-composer Grant Windsor wrote the orchestral arrangement, and his score provides understated support to Teal's beautifully sung melody. Barker redeems himself with his sensitive accompaniment on Teal's haunting ballad "Paradisi Carousel". As a UK import, this CD may take a little longer to arrive stateside, but Teal's superb performances make it worth the wait.