ROSE ELLIS: "LIKE SONGS, LIKE MOONS" (Zennes—no catalog #)
Originally from the Netherlands, but now settled in New York, Rose Ellis is a young vocalist with a flexible instrument and an imagination to match. Unlike many singers making their first CDs, Ellis exudes confidence in her abilities. She opens her CD "Like Songs, Like Moons" with a challenging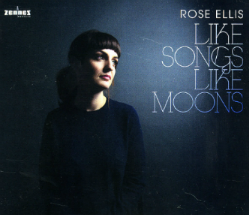 original, "Satellite" that features an angular melodic line and an unorthodox chord sequence. Yet on this and the subsequent tunes on the album, Ellis slides around the pitches—always knowing her landing spot, but not feeling the need to prove it by landing squarely on every note. Instead, she focuses on expressing the story with absolute clarity. When she bursts into a scat solo, as on "You Light Up My Life" (no, not the old Debby Boone tune), she connects the mood of the improvisation with everything that has come before. Near the middle of the album, she tackles a pair of near-standards, Arthur Hamilton's "He Needs Me" and Bob Haymes' "That's All". On each of these songs, Ellis takes great harmonic liberties, changing the melodies without losing the thread of the originals. And as if that wasn't enough, Ellis is also brilliant at vocalese. Her version of "Like Never Before" is an adaption of Clifford Brown's 1953 solo on "All the Things You Are", outfitted with her own lyrics, and performed as a bass/vocal duet. She uses a slow bluesy introduction based on Richard M. Jones' "Trouble in Mind" to launch a tricky up-tempo original called "Let Go". The album closes with a heretofore unknown song written by Billie Holiday, "Preacher Boy". Although I would love to hear more scat solos (and a few less overdubbed background vocals), Ellis is wise enough to share the spotlight with her fine accompanists, pianist Glenn Zaleski, bassist Pablo Menares and drummer Ross Pederson. It has been quite a while since I've been this impressed with a vocalist's debut album. Get this disc, and you're sure to agree.
ALLEGRA LEVY: "CITIES BETWEEN US" (Steeplechase 31827)
Unlike the angst-ridden song cycle found on her outstanding debut effort, "Lonely City", Allegra Levy's sophomore disc, "Cities Be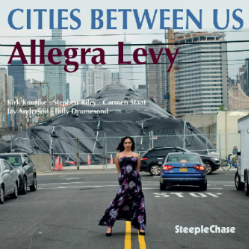 tween Us" offers a lighter approach to its repertoire. While Levy's lyrics on the new album deal with some of the same relationship issues as before, the settings are less intense than before, and that allows her humor come to the surface. Levy has expanded her repertoire to include standards ("Yesterdays" which features an astoundingly inventive scat solo) and vocalese (Duke Jordan's understated "Lullaby of the Orient" and Dexter Gordon's "Soy Califa"). She has also brought in a new band—save for her pianist, Carmen Staaf—including Kirk Knuffke on cornet, Stephen Riley on tenor, Jay Anderson on bass, and Billy Drummond on drums. Their contribution sounds like it was lifted from a classic Blue Note session with well-rehearsed horn ensembles and visceral rhythm penetrating the texture. Levy fits right in with this group, offering lovely horn-like improvisations, and hip material that is based in tradition, but subtly expands those borders. As Neil Tesser writes in the liner notes, her original "Sleepwalk with Me" uses a shrunken-globe perspective to update the torch ballads of old. She humorously laments the lack of inspiration in "Music Makes the Misery" because she is in a good relationship with little drama. And when she sings about "Leaving Today", the defiant backbeat and soulful swagger describes a heroine who has already bounced back from a tortured romance. If Allegra Levy is not yet on every jazz listener's radar, this new album should rectify the situation.
ROZINA PÁTKAI: "PARAÍSO NA TERRA" (Tom Tom 249)
Hungarian jazz singer Rozina Pátkai displayed natural feeling for Brazilian music on her self-released debut CD, "Você E Eu", but her new CD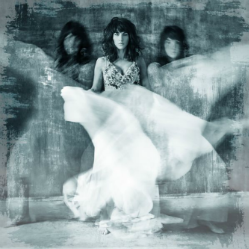 "Paraíso Na Terra" goes beyond that initial fascination, as it explores and challenges many conventions associated with international music. She has created an entire album of original songs, mostly in the Brazilian style, that are filled with unusual touches. For example, the title track is immersed in bossa nova. It features a warm rhythmic vocal duet by Pátkai and guitarist Márton Fenyvesi, and the Stan Getz-like tenor sax of János Áved, but prominently featured in the background is a cimbalom (or hammered dulcimer) played by Miklós Lukács. At one and the same time, the added instrument seems foreign and native to the music. I'm amazed at the imagination it took to add the cimbalom, and the creativity to make it work within the ensemble. The same can be said about Zoltán Orosz' effortless accordion accompaniment on "Vie Diluvienne" (which sounds like a samba despite its French text) On the album's sole Brazilian standard, the João Donato–Caetano Veloso collaboration, "A Rá", Pátkai adds a rap-like recitation of the lyric.  Lukács returns for a haunting setting of Federico Garcia Lorca's "Llagas de Amor" where Pátkai, Mátyás Toth (on acoustic guitar) and Lukács interact in free tempo. Unfortunately, the booklet does not include an English translation of Lorca's poem, but the one I found online tells of a dark foreboding love, and that is a perfect match to the setting. Actually, it's too bad that a full English translation is not available for this disc. From her delivery of the Lorca poem, I could tell that Pátkai is a superb storyteller, and knowing the meaning of the remaining lyrics could only help listeners appreciate her interpretive gifts. Rozina Pátkai is a very talented musician whose understated, but exploratory nature could lead to some remarkable discoveries. The world needs to discover her.