One of the reasons that jazz remains a lively art is that its traditions are both strong and flexible. Young artists can reinterpret the tried-and-true formulas in their own ways without sacrificing either their own integrity or the spirit of the originals. In fact, the re-imagining of the status quo was one of the driving elements in jazz's evolution. A cursory glance at the tracklists for the three albums reviewed here is hardly revelatory: a mix of original compositions, jazz standards and Tin Pan Alley songs, with a recent pop tune added for variety. Yet the artists have found unique ways to approach this material which both acknowledges the original concepts and explores new directions.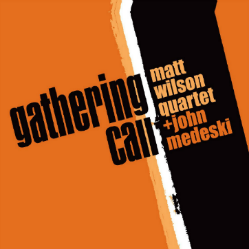 A superb example is "Main Stem", the opening track of drummer Matt Wilson's new CD, "Gathering Call" (Palmetto). The original theme and a key interlude are retained from the original Duke Ellington recording, but the solos press the edges of the harmony. There is a series of solo chorus exchanges between tenor saxophonist Jeff Lederer and cornetist Kirk Knuffke. Lederer starts by channeling Paul Gonsalves' sound, but the notes are clearly beyond anything Gonsalves would have played. Knuffke sounds a little closer to Freddie Hubbard than any of the Ellingtonians, and when he and Lederer start to improvise together, the stylistic gap seems to close between them. Guest pianist John Medeski shows that he can swing as elegantly as the old guard, but he still offers a few surprises in his solo. The next track, Wilson's "Some Assembly Required" is an aggressive free-bop piece, but it is more compact than the free jams of the 1960s with short solos and a great deal of frenetic interplay between the instruments. The entire album could be called a sampler of genres: the styles include Blue Note-styled funk ("Get Over, Get Off and Get On"), cool ("Barack Obama"), straight-ahead ("You Dirty Dog"), and hard bop ("Pumpkin's Delight"). A collection of short pieces of different styles could make the album seem disjointed, but the strong solo voices of Wilson, bassist Chris Lightcap, Medeski, Lederer and Knuffke unite this music in a unique and delightful way. Wilson is particularly gifted at holding the music together through his highly interactive drumming, and while he seems to let the players improvise as they wish, the feeling of ensemble performance never disappears.
Ellington also provides the catalyst for change on Helen Sung's album, "Anthem for a New Day" (Concord). Midway through the album, there is a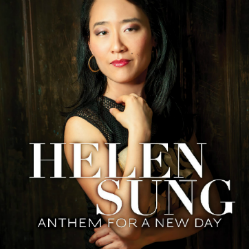 fascinating trio arrangement of "It Don't Mean a Thing" which completely transforms Ellington's original. Sung's opening solo piano passage only hints at the main melody. After a brief bass solo by Reuben Rogers, Sung launches into a fast swinging reading of the last half of the tune, but the groove suddenly disintegrates in the last bars, and a new solo section is based on vamp culled from the final two bars. She takes a similar approach on Thelonious Monk's "Epistrophy", where she extracts six bars from the bridge and repeats it over Obed Calvaire's hip-hop beat. The title track shows just how far mixed and odd meter playing has evolved since Dave Brubeck's "Take Five". The opening chorale section is in a slow 10/4 meter, with caesuras marking the phrase endings. The fast section is in a mixed meter that I still cannot fully decipher (even after multiple listening) but more important than the meter is that all of the musicians are so comfortable with this volatile background that they can easily improvise and interact with each other. While tenor saxophonist Seamus Blake and trumpeter Ingrid Jensen are impressive throughout the album, they are especially stunning on this track (although it is not listed in the personnel, Jensen uses live electronics including wah-wah pedal, on several of the tracks). The violin of Regina Carter is a welcome addition to the ensemble, blending especially well with Sung's Rhodes keyboard on "Hidden". Another highlight is Sung's romping (and literally, stomping) duet with clarinetist Paquito D'Rivera on Chick Corea's "Armando's Rhumba". After recording the basic tracks, Sung, Calvaire and percussionist Samuel Torres overdubbed an energetic track of handclaps and footstomps. As on several of the other pieces, Sung includes small pauses within the arrangements to separate contrasting sections. There's a rather long one near the end of "Armando" and I wonder how many disc jockeys will be tricked by it.
It's not so easy to isolate tracks from "Moment to Moment" (NPM), an album co-led by trumpeter Nick Phillips and pianist Cava Menzies. More than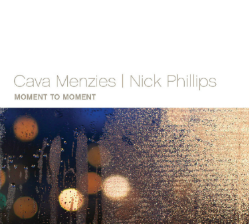 the CDs above, this recording seems to have been conceived as a full album, rather than as individual pieces. In ways, it resembles a classic ECM album: an extremely well-recorded collection of pieces designed to sustain a mood. Menzies' and Phillips' program of ballads is not as overtly experimental as the ECM model, but all of the tracks are in about the same tempo, and they all carry a deeply reflective aura. In the press release, Menzies states the album is moody: "it's the type of album where you sit and reflect on life". But it never sounds like Phillips, Menzies, bassist Jeff Chambers or drummer Jaz Sawyer are holding back. Each musician has plenty of room to express themselves within the framework, and the arrangements include episodes and interludes that vary the pulse and style. For example, Phillips' original "You" moves deftly between tango and Latin  throughout its theme and solo sections, and Sawyer provides a wide variety of percussion sounds including dancing cymbal patterns and dramatic accents on tom-tom. Philips and Chambers have a lovely duet at the opening of "You Don't Know What Love Is" and the bassist supplies a wonderful counter-melody to both the tune and the solos. Menzies' delicate touch is especially noteworthy on her original "Mal's Mood" and her solos have a wide range of emotional content. Phillips gets a very warm sound from his horn, and while his solos are filled with unusual note choices, he maintains a highly lyric approach. Like the other albums in this survey, "Moment to Moment" may not change the face of jazz as we know it, but it is a testament to the spirit of discovery.