CAT CONNER: "CAT HOUSE" (Cat Tales 1011)
An old bromide warns us against judging a book by its cover. Today, the same advice applies to CDs. I was not familiar with LA-based vocalist Cat Conner before receiving her new disc, "Cat House" in the mail. The gaudy cover led me to believe that I was about to be subjected to bawdy songs sung in the style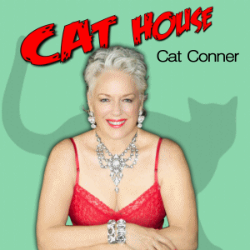 of Frances Faye, i.e., shouted more than sung. When I put the disc in the player, I was surprised (and relieved) to find that Conner is a very sensitive vocalist who adroitly balances the needs of the music and the lyrics. Conner's liner notes make it clear that the album is autobiographical, and judging from the playlist, she's had a pretty hip life. She opens with Cole Porter's "Everything I Love" and incorporates an original vocalese line that is expertly sung, as well as a stunning reflection on Porter's song. Next, she sings an adaptation of Billy Strayhorn's lyrics to "Pretty Girl" (aka "The Star-Crossed Lovers"), and her understated vocal is cushioned with a lush woodwind ensemble arranged by David Angel. Most of the other settings are by the album's guitarist and co-producer, John Ciodini, including a lounge-style version of Peggy Lee's "Sans Souci" (with Gene Cipriano on bass oboe) and a sassy take on "Baltimore Oriole" (with Ron Stout on muted trumpet). On these two tracks, Conner shows her skill at emphasizing important lyrics while simultaneously creating stunning variations on the melody. While her voice shows signs of age and wear, her range is quite impressive, and apart from a few near-misses on intricate passages, she can make her voice communicate any idea she wants to convey. Conner is also a talented song detective, uncovering a dynamite Sammy Cahn/Jimmy Van Heusen rarity, "Come On Strong", and a gifted songwriter, closing the set with a soulful duet with Ciodini on her tune "People Say". Backed by a fine group of LA musicians including Cipriano, Stout, trombonist Dick Nash, pianist Tom Ranier, bassist Chuck Berghofer and drummer Joe LaBarbera, "Cat House" overcomes its ill-advised title and distracting cover art to be a superb showcase for a talented vocalist.
NANCY KELLY: "B THAT WAY" (Blue Bay self-released)
Since the mid-1950s, combos centered around Hammond B3 organists were an important part of the soul jazz movement. The intense, funky sound of an organ combo seemed to be in a different sphere than the one inhabited by vocalists.  Yet, during a four-year stint as the house singer at Jewel's in Philadelphia, Nancy Kelly sang nightly with local B3 players. Years later (after Kelly's move to upstate New York) her pianist Dino Losito used the organ patch on his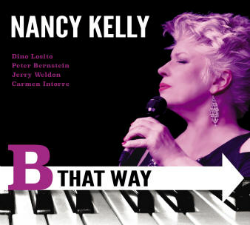 keyboard, and Kelly and Losito decided to further explore the sounds of the B3 trio. The results cam be heard in Kelly's splendid new album, "B That Way".  Kelly's edgy voice and no-nonsense attitude brings out the anger and frustration in the lyrics of Lerner and Lane's "Come Back to Me". The band swings from the ground up and Kelly swings like mad on the closing choruses, as she delivers one rhythmically enticing variation after another. She doesn't limit her rhythmic experimentation to just the up-tempo numbers, either: her double-time phrases on the ballad "Don't Explain" are stunningly executed and well-suited to this setting. Neither the energy nor the inspiration flag anywhere in this set, and there is plenty of evidence showing that Kelly and her band mates Jerry Weldon (tenor sax), Losito (organ), Peter Bernstein (guitar) and Carmen Intorre (drums) intimately know the organ, bop and soul repertoires. Weldon is in particularly good form, playing just the right mix of support and fire to Kelly on "Here's Looking at You", and employing a historically authentic phrasing formula on "Billie's Bounce". For the most part, Losito avoids extremes in his organ registrations, but on "The Great City", he brightens them up in a brilliant solo reminiscent of Jimmy Smith. Bernstein plays fine solos throughout, but I especially enjoyed his obbligato on the tough-and-tender "Don't Go to Strangers" (Kelly's rich melodic imagination is also on display on this track, not only in her marvelous variations, but also in the unexpected place where she ends the first chorus). Intorre does not solo anywhere on the disc, but he is particularly inspired on "Please Don't Talk about Me When I'm Gone", where he boots along an ensemble passage with big band styled drum kicks. Like many independently released discs today, "B That Way" was funded in part by crowd sourcing. I'm confident that Kelly's donors are quite happy with their investment, as will be those who purchase a copy of this superb album.

MELISSA STYLIANOU: "NO REGRETS" (Anzic 46)
When multi-track tape recorders were introduced in the late 1960s, studio recording became an entirely different experience. Each member of the rhythm section laid down their tracks separately, followed by the horn sections. Finally, the vocalist would go into an empty studio, enter an isolation booth, don a pair of headphones and dub the vocal over the other tracks. Many classic period vocalists had a very difficult time making the adjustment, rightl
y complaining that there was no way to interact with the band. In an age where LPs are making a resurgence, it's not altogether surprising to find more musicians embracing the traditional style of recording. Melissa Stylianou's latest CD, "No Regrets" was recorded direct to 2-track tape in an extended one-day session. In her liner notes, Stylianou admits that it's different than the way she's recorded in the past, but that with a familiar repertoire and a stellar backup band, it was worth the risks. From the rubato verse of the Gershwin's "Nice Work If You Can Get It", we can hear the benefits: Stylianou, pianist Bruce Barth and drummer Matt Wilson have the freedom to stretch phrases as they wish, and when bassist Linda Oh joins in, the rhythm section locks in the time behind Stylianou.  Virtually every song in this set was written before Stylianou was born, but the way she wraps her warm voice around standards like "Remind Me", "I'll Never Be the Same" and "I Got It Bad and That Ain't Good" reveals the great love she has for these classic songs. Unlike the other singers in this survey, Stylianou is not a dramatic singer; she makes her points through understatement. However, her melodic variations is just as remarkable (her second chorus on "I Wish I Knew" is particularly accomplished), and her light scat on "Humming to Myself" is delightful. The album sequencing is quite impressive, with more familiar standards as the bookends, surrounding the less known (but equally worthy) songs in the middle. At the center point of the album, there are two fine pieces which use smaller contingents from the group: Billie Holiday's "Someone's on my Mind" (a trio with Stylianou, Oh and guest clarinetist Anat Cohen), and a folk setting of "Sally Gardens" with Wilson offering sole support.  The album closes with a sprightly duet with Barth on "I Mean You". This album is easily Stylianou's best to date, and she should consider further recordings using the same recording method with these outstanding accompanists and this timeless repertoire.