THEO BLECKMANN: "ELEGY" (ECM 2512)
"Elegy" is Theo Bleckmann's album-length  meditation on death and transcendence. Over the years, Bleckmann has defied audience expectations with unusual adaptations of music by Charles Ives and Kate Bush. On this album (his ECM debut as a leader), the first words we he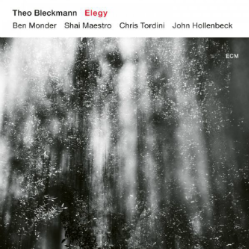 ar are from Stephen Sondheim's "Comedy Tonight", here sung in a slow tempo with Bleckmann affecting a distant tone and making surprising note choices. The publicity material explains that the song was performed as a tribute to Bleckmann's recently-deceased mother, who retained her sense of humor through her 91 years on Earth. As the album progresses, Bleckmann sings several atmospheric pieces—most of them wordless—displaying his understanding of contemporary classical music, world music and contemporary jazz. On "The Mission", Bleckmann utilizes non-traditional vocal techniques which sometimes merge into the sounds from Ben Monder's guitar. These ethereal sounds occur over an active background provided by Shai Maestro (piano), Chris Tordini (bass) and John Hollenbeck (drums). The interaction between Maestro's adventurous treble lines and Hollenbeck's mallets on tom-toms is particularly exciting on this track and on the following instrumental cameo ""Littlefields". The title track further explores the combination of Bleckmann's vocalise and Monder's fuzz-enabled guitar, with Tordini's arco bass added to the mix. As the track reaches the halfway point, Maestro and Hollenbeck add to the complex soundscape, and in the last two minutes, the group performs a stunning group improvisation with Bleckmann using electronics to distort the sound of his voice. "To Be Shown to Monks at a Certain Temple" is set to an ancient text by Chiao Jan that encourages the mourner to "keep on moving" as "it's silly to be sad". After a pair of intriguing miniatures comes a strange up-tempo piece called "Take My Life" in which the singer's body parts stop working one by one. Bleckmann says it was inspired by Bach's "Ich Habe Genug" which is about joyful anticipation of the afterlife, but this will doubtlessly be a piece that will trigger many philosophical discussions among listeners. "Elegy" is not an easy album to experience (especially for those who have suffered personal loss) but it is music that can soothe and heal wounded souls.
"DOUBLE BASS, DOUBLE VOICE" (self-released)
In 2011, vocalist Nancy Harms landed a gig with an unique requirement: there could be no more than three musicians on the stage. Most singers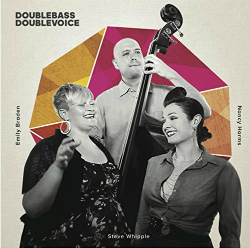 would have opted for an instrumental duo, but Harms decided to flip the model on its head, hiring vocalist Emily Braden and bassist Steve Whipple. The result was the trio "Double Bass, Double Voice" which has just released its first (eponymous) album. Over the past few years, the trio has developed an eclectic repertoire drawing from rock, pop, jazz, soul and gospel styles. The CD opens with a joyous Braden feature on Stevie Wonder's "Ribbon in the Sky". Braden's soulful alto digs deep into Whipple's supple groove, and the pairing of Harms and Braden yields a delightful transparent blend. They sing in flawless unison through most of Walter Hawkins' "Going Up Yonder", splitting apart for occasional solo lines and harmony parts. Harms' touching solo on "Skylark" recalls the delicate approach she used on Jeremy Siskind's "Housewarming" and her own "Ellington at Night". Braden gets a little less space on this track, but her pure tone and impeccable phrasing make a great impression. Meanwhile, Whipple fills up the room with his full, rich bass tone. Without losing their vocal identities, Harms and Braden add some uptown sass for Sam Cooke's "Bring It On Home to Me", and engage in lovely parallel harmony on Duke Ellington's "Just Squeeze Me". On the latter track, Braden whistles a series of four-bar phrases which Whipple answers instrumentally. The Beatles' "Dear Prudence" gets a dramatic reading from Harms and a stunning interlude with the two voices in harmony over Whipple's strongly bowed bass. Whether the material is hand-clapping gospel tunes, edgy rock classics, harrowing spirituals, or Tin Pan Alley standards, Double Bass, Double Voice offers simple, effective arrangements that challenge and delight the listener.

DUCHESS: "LAUGHING AT LIFE" (Anzic 56)
For their sophomore album "Laughing at Life", the vocal trio Duchess displays a wider range of vocal colors than on their debut CD. On both the title track and a splendid version of "Ev'ry Time We Say Goodbye", arranger Oded Lev-Ari manipulates the voicings to create fresh sounds, and in a finely-crafted section of "On the Sunny Side of the Street", the individual voices of Amy Cervini, Hilary Gardner and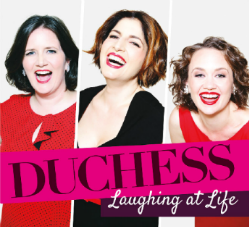 Melissa Stylianou shatter the song's phrases into overlapping pieces. Even when recreating a classic Boswell Sisters arrangement on "Everybody Loves My Baby", Duchess finds a way to make their version unique, substituting a new rapid-fire lyric in place of the Boswell's "double dog Latin", and adding a straight-ahead blowing section for guest clarinetist Anat Cohen. The album's other guest artist, trombonist Wycliffe Gordon provides a creamy muted solo and background for the trio's silky rendition of "Stars Fell on Alabama". Later in the album, the group performs Gordon's evocative arrangement of Duke Ellington's "Creole Love Call" including a (new?) set of lyrics, a fine variation chorus for the women, and a wonderful scat duet between Gordon and Cervini. As on their earlier disc, each member of Duchess gets a solo feature. Cervini digs into the Blossom Dearie songbook for an understated take on "Give Them the Oo-La-La", Stylianou adds zest to a swinging version of the neglected Anthony Newley/Leslie Bricusse gem, "Where Would You Be Without Me?" and Gardner offers a simmering reading of "Hallelujah, I Love Him So" (with Cervini and Stylianou acting as a reduced version of the Raelettes). The arrangement of Johnny Mercer's "Strip Polka" starts with slow grinding tenor (Jeff Lederer) and rhythm (pianist Michael Cabe, guitarist Jesse Lewis, bassist Matt Aronoff, and drummer Jared Schonig) but soon switches to the peppy two-beat of the original tune. "Here's to the Losers" retains its Rat Pack swagger (which is subsequently destroyed with Lederer's powerful saxophone) and Cohen's chalumeau clarinet enriches a sweetly swinging version of "We'll Meet Again". The final track brings the group back to the Boswells, but with an intriguing twist: the song, "Dawn", is a previously unrecorded original by Vet Boswell Jones (youngest of the Boswells). It's a sentimental little curio that gives this delightful album an understated coda. As wonderful as Duchess' debut CD was, "Laughing at Life" is an even better showcase for the talents of these three remarkable women and their equally-talented collaborators.