CATINA DE LUNA: "LADO B: BRAZILIAN PROJECT" (self-released)
Brazilian music is a road that has been well-traveled, but pianist/vocalist Catina DeLuna and pianist/arranger Otmaro Ruiz have re-examined the repertoire for their latest recording "Lado B: Brazilian Project". To take the most familiar example first, "The Girl from Ipanema" gets a welcome makeover with mixed meters, revised harmonies, an unexpected modulation and a slower, more reflective te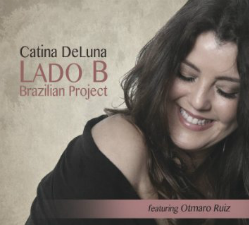 mpo. It's like a new song, and I suspect that a listener jumping into the middle of this track would have trouble recognizing the chord sequence. The opening track overlays Lenine's "Lavadeira do Rio" over an instrumental version of Egberto Gismonti's "Maracatu", thus bringing the worlds of MPB, alternative rock and contemporary jazz together. DeLuna's smooth, flowing voice is a striking contrast to the biting mercurial single piano lines she plays in her solo later in the track. The surging percussion of Mike Serfaty, Clarice Cast and Greg Beyer bring this arrangement to a stunning conclusion. There are no translations of the Portuguese texts, but DeLuna's rich voice is so well-matched to the ensemble (basically flute, marimba and rhythm section) that her contributions can be appreciated on a purely musical level. On "Contrato de Separação", her wordless phrasing is particularly elegant against the flute of guest artist Bob Sheppard and the guitar of Larry Koonse. The sound of water—which opened the album—reappears at the beginning of "Chovendo Na Roseira" ("Double Rainbow") juxtaposed with the voices of a 10-piece mixed choir. The choir reappears throughout the track, with Ruiz's superb vocal scoring and long meter rhythms offering a fresh approach to this fine Jobim composition. One of the album's highlights is a new song "Estrela Azul", which contrasts a liquid DeLuna vocal with a menacing ostinato part for bass (Edwin Livingston) and piano (Ruiz). The coda features overlapping vocal lines over a delicate guitar improvisation. The influence of Bobby McFerrin appears on the baião, "O Canto da Ema" which moves from solo voice with body percussion to a well-developed episode with DeLuna's overdubbed voices. Despite the language barrier, DeLuna breaks your heart with her passionate readings of the ballads "Encontros e Despedidas" and "Fotografia" (ably supported by Ruiz's accordion). The band's name "Lado B" is Portuguese for "Side B", noting the best tracks of an LP could be found there. Look no further than this album for a superb recasting of Brazilian music.
NANCY HARMS: "ELLINGTON AT NIGHT" (Gazelle 3)
We first introduced you to vocalist Nancy Harms through her appearances on Jeremy Siskind's album, "Homecoming". Siskind serves as pianist and arranger for Harms' newest disc, "Ellington at Night" (Gazelle 3), an album which draws on the compositions of Ellington and Strayhorn, as well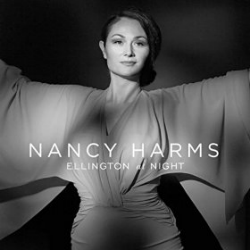 as one by Sam Coslow and Arthur Johnston whose works were occasionally played by the Ellington band. Harms plays the role of a disillusioned lover to perfection on the opening version of "Lush Life". She doesn't take a lot of liberties with the melody, but she characterizes the lyrics with carefully modulated vocal shadings. She makes us believe this story that we've all heard many times before. "Rocks in my Bed" makes a perfect segue, with the same sense of intimate drama paired with a stinging vocal delivery. The slow intro to "Do Nothing Till You Hear From Me" by string quartet might make the listener think that the album is entirely blues and ballads, but a sudden jump into a medium walk reveals the opposite, and Harms seems equally comfortable swinging with the band as she was at the slow tempos. Harms and Siskind have delved into the Ellington repertoire to find some less-familiar gems, such as "Lost in Meditation", where Harms' husky voice is spotlighted against a steady pedal point from bassist Danton Boller, or the Coslow/Johnston opus "Troubled Waters", which opens with a dramatic voice/piano duet (with Harms doing wonders with dynamics) before exploding into a fiercely swinging escapade peaked with crisp exchanges between Siskind and drummer Willie Jones III. Harms' breathy and ethereal "Prelude to a Kiss" is effectively contrasted with the deeply swinging and sexually provocative reading of "Long, Strong and Consecutive" that follows. Strayhorn's "Strange Feeling" (from "The Perfume Suite") gets an unsettling arrangement that morphs from a funeral march to a waltz and back again, while "Reflections" finds Harms singing Milt Raskin's rarely-heard lyrics accompanied by the string quartet's close approximation of late Romantic classical music. "I Got it Bad" brings us back to straight-ahead swing and another deeply-felt Harms vocal, and "I'm Beginning to See the Light" showcases Harms' skill at melodic variation. "I Like the Sunrise" (originally sung by Al Hibbler as the opening movement of the "Liberian Suite") closes the album with a majestic performance that builds steadily to the end. Over the years, there have been many fine Ellington tribute albums, but this one is truly special and worth seeking out.