Bulee "Slim" Gaillard was a man of many gifts. He was a successful songwriter,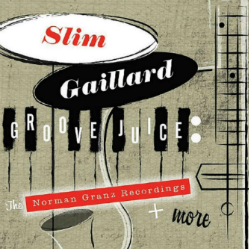 a multi-instrumentalist and a remarkable vocalist. He was best known as a novelty performer and a comedian, usually in a pair groups that punned on his chosen nickname; Slim and Slam (with Slam Stewart), Slim and Bam (with Bam Brown). To my ears, Gaillard's greatest gift was as a linguist—of both real and imagined languages. Consider his early hit, "Flat Foot Floogie (with the Floy Floy)". Although the former's original title was supposedly "Flat Foot Floozie", making the subject a prostitute, the term "floy floy" was never defined. Because of the original title, "floy floy" was assumed to be a kind of venereal disease. Yet other writers claim that "floy floy" was fancy jewelry—what we now call "bling". And when Burt Lancaster's character in the 1980 film "Atlantic City" says that in the old days, "Atlantic City had floy floy coming out its ears", the absence of a definition is a big part of the joke. On "Groove Juice", Verve's new double-disc collection of Gaillard's tracks for Jazz at the Philharmonic, Clef, Mercury and MGM, Gaillard performs a surreal cover of the Xavier Cugat/Desi Arnaz classic "Babaloo". Gaillard starts the song proper by singing in Spanish, but after eight bars, things get really weird. He inserts words from his invented "vout" language, such as "orooney" and "o-vouty". By the time he quotes "Jingle Bells"(!) he is in another universe, as languages both real and imagined hit the listener from every angle.
Gaillard was as talented at languages (he was fluent in at least five) as he was in creating his life story. His verbal autobiography states that he was born in Cuba, and that he was stranded in Greece for four years as a teenager (the story—related on his alternately entertaining and confusing Wikipedia page—sounds like the origin for the "Home Alone" movies). Scholarly research seems to indicate that he was born in Alabama. He may have lived in Cuba for awhile, but we can't be entirely sure. His actual birthdate has been questioned but never verified. We might assume that Gaillard was self-taught on languages and musical instruments, but if the latter is true, we must stand in awe of his 1951 recording "Genius", on which he overdubs himself on trumpet, trombone, tenor sax, vibes, piano, guitar, bass, drums, tap and multiple vocal lines!
I will not offer a track-by-track analysis of this reissue. In many ways, it is a comedy record, and there is simply no need to reveal or catalog the jokes. Ricky Riccardi's liner notes give the necessary background information, so I will limit my comments to relating a few high and low points. The JATP "Opera in Vout" from April 1946 starts the set, and while Gaillard announces all four movements as "The Groove Juice Special", astute listeners will recognize Nat Cole's "Hit That Jive, Jack", Duke Ellington's "C Jam Blues", Gaillard's "Flat Foot Floogie", Bob Crosby's "Big Noise from Winnetka", and Albert Ammons' "Bass Gone Crazy" as the source material. All of the material on this collection was recorded after Gaillard and Slam Stewart parted ways, but Gaillard's partnership with Bam Brown was just as artistically successful as the one with Stewart (listen to the vocal duet at the end of "Hit That Jive"!) Both Gaillard and Brown take turns at the piano, and over the course of the 12-minute track, Gaillard also plays piano, guitar and drums.
The 16 MGM tracks from 1946-1949 were the primary justification for this collection, as the JATP and most of the Mercury/Clef sides werepreviously issued on a 1994 single CD called "Laughing in Rhythm" (Verve 314 521 651).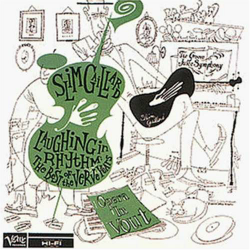 "Arabian Boogie" sounds gleefully politically incorrect, but according to Riccardi, the words are actually from the Armenian language, translating to a general greeting and a genial putdown. "Boip! Boip!", co-written by Sammy Davis, Jr., is an amiable slow groove novelty, "Down by the Station" is the debut recording of the children's song, while "The Hogan Song" takes the favorite word of Hollywood DJ Jim Hawthorne and beats it to death through sheer repetition. "Puerto-Vootie" is an interesting precursor to "Babaloo (o-roonie)" with a very funny spoken interlude by Gaillard, and "Ghost of a Chance" sounds like a mix of straight ballad singing and a satire of the Ink Spots' high tenor Bill Kenny. I could live a happy life without ever hearing "Serenade to a Poodle" again, but I love the manic energy of "Organ-Oreenee", a carefree jam with Gaillard playing a pair of wild organ choruses. Overall, the MGM sides are a mixed bag, enjoyed best if you don't put a lot of thought into them.
The Mercury/Clef material spans the years 1951-1953, and producer Norman Granz did his best to channel Gaillard's insane humor into artistic and commercial triumphs. There is a rich mix of sheer lunacy on "Soony Roony (Song of Yxabat)", Gaillard's brilliant send-up of Peruvian vocalist Yma Sumac; a  light-hearted "Federation Blues", with words directed towards the musician's union president, James C. Petrillo; and new versions of Gaillard's past hits "Laughing in Rhythm" and "Oh, Lady Be Good" (is that Slim overdubbing all of the vocal parts again on the latter?) By 1951, Billy Eckstine was recording for Gaillard's old label, MGM, and Slim's version of the old ballad "For You" exploits all of Mr. B's favorite mannerisms. To make the parody complete, Benny Green plays a trombone solo (Eckstine doubled valve trombone on his famous big band recordings a few years earlier). Granz had several fine musicians on his roster at the time, including Green, Dick Hyman, Buddy Tate and Ben Webster, and as Gaillard reworks his comic material into different genres, the best moments come from the straight jazz instrumental solos. The over-wrought Eckstine mannerisms keep popping up on the two ballad sides from 1952 with string orchestra and choir, so it's hard to tell if Gaillard is trying to play it straight or offer a biting satire.
Also from January 1952 is a session which attempts to tap into the sound and energy of rhythm-and-blues. While the band is unidentified, they seem to be a rough-and-ready bunch willing to take on the style head-on. I disagree with Riccardi about the honking baritone saxophonist (I would stake my reputation on the assertion that it is NOT Cecil Payne), but I find this session much more compelling than Gaillard's ballad tracks. The July 1952 session is basically a jazz session, with isolated moments of raucous R&B. With the exception of Riccardi's educated guess of Budd Johnsonon tenor—I agree this time—we don't know the names of the musicians. While on the subject of personnel, I must express my disappointment that Verve did not include any personnel or recording dates, except where Riccardi mentions them in his liner notes. True, there are many unknown musicians listed for these sessions, but I'd rather see standard discographical listings rather than having to search through a long essay for the information. The fault for that falls with Norman Granz: I don't understand why he didn't have someone write down the personnel and dates at the original sessions. If nothing else, he needed the information for payroll records with the union.
One further caveat: there is a LOT of racial humor on this set. At the time, it was accepted, but it has not aged well, and many listeners may be insulted by the inferences in the midst of Gaillard's improvisations.There is a school of thought that says that reissues should include such pieces to offer a warts-and-all presentation of history, but why can't these offensive tracks just remain in the vault, perhaps to be issued in a collection of potentially sensitive tracks (like Archeophone's excellent historical disc "Actionable Offenses" where the audience is forewarned about the content)? At the very least, the content should be marked with a warning, so that it doesn't take the listener by surprise. These tracks can cause more pain than hilarity, and while any worthwhile comedy comes with the capability to offend, the inclusion of these tracks dims the gleam of an otherwise notable reissue.