The Great American Songbook has been—and will likely remain—a prime source of material for jazz singers. Even though classics like "Body and Soul", "The Man I Love", "Blue Skies", "All the Things You Are", "My Funny Valentine" and "Stardust" have been around for decades, vocalists still find new ways to express themselves through these exceptional songs. Still, many vocalists through the years (primarily encouraged by their record producers) have tried to expand their repertoires, especially in covering current pop hits. This practice turned disastrous during the 1960s and 1970s, when established singers tried to make sense out of rock songs like  "Sunshine Superman", "Light My Fire" and "Dixie Chicken". There are have been plenty of attempts to turn the music of the Beatles, James Taylor, Carole King and Joni Mitchell into jazz—some more successfully than others—but today's singers seem better equipped to find songs from a wide variety of genres. Below are three current examples.
In her stunning debut CD, "The Great City" (Anzic 49), Hilary Gardner upends most of our expectations regarding album-length tributes to New York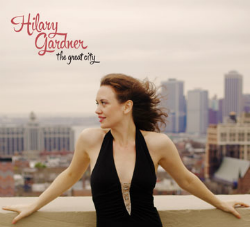 City. There are no brassy arrangements and only one cover of a Broadway song. Instead, Gardner pairs her lithe, flexible voice with a fine quartet (featuring pianist Ehud Asherie, guitarist Randy Napoleon, bassist Elias Bailey and drummer Jerome Jennings) and a few guest artists (trumpeter Tatum Greenblatt, tenor saxophonist Jason Marshall, and Hammond organist Jon Cowherd). Alternating between lean settings by Napoleon and head arrangements by the ensemble, Gardner explores a diverse repertoire including the wistful Leonard Cohen/Anjani Thomas collaboration, "No One After You", Sammy Cahn's delightful "Brooklyn Bridge", Tom Waits' surreal "Drunk on the Moon", Milton Schwartz' inexplicably rare "This Little Town is Paris" and Nellie McKay's atmospheric "Manhattan Avenue". Gardner is an exceptional storyteller, and her superb diction and light, easy swing transforms this repertoire into straight-ahead jazz. When veering to GAS classics, Gardner includes the verses for "You Came a Long Way from St. Louis", "When the World Was Young" and "Autumn in New York" (and on the last, she includes two full choruses of lyrics!). Gardner does not scat on the album, and her melodic variations are subtle and understated. As it is, Gardner's reedy vocal timbre will appeal to fans of Norah Jones, Madeleine Peyroux and Melody Gardot. But I suspect that we've only heard a small portion of Gardner's talents, and she may become even more impressive as she spreads her wings and takes a few more risks.
While Hilary Gardner is a relatively new presence on the New York scene, Julie Kelly has sung in Los Angeles for several years.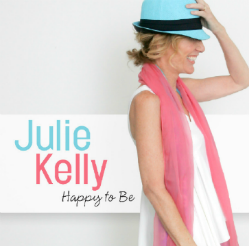 However, Kelly is still not as well-known outside of California as her talent deserves. That situation may change with her newest release, "Happy to Be" (JazzedMedia 1067), an exquisite recital featuring music by a broad cross-section of composers. Opening with Phoebe Snow's charmingly naïve "Harpo's Blues" and segueing into the title track (Inga Swearingen's homage to Bobby McFerrin), Kelly evokes the spirits of the iconic figures with understated changes in vocal color and intensity. Throughout the album, Kelly uses Carmen McRae's concept of dragging the rhythm to emphasize important lyrics. That technique is especially effective on  ballads like "I Have the Feeling I've Been Here Before", where where it reveals the inner meaning of the Marilyn and Alan Bergman lyric. I am especially happy that Kelly decided to include one of the wonderful collaborations between saxophonist Jim Tomlinson and novelist Kazuo Ishiguro. "I Wish I Could Go Traveling Again" is one of several songs originally written for Tomlinson's wife, Stacey Kent. Kelly's version is a vocal duet with John Proulx, and their interplay adds a new dimension to the story. Kelly is a superb lyricist in her own right, and her witty take on classic mythology "The Blues According to Orpheus" is one of the album's highlights. Kelly is accompanied by a top-flight group of LA musicians, including pianist Bill Cunliffe, guitarist Anthony Wilson, bassist Tom Warrington, drummer Joe LaBarbera, trumpeters Clay Jenkins and Ron Stout, trombonist Bob McChesney, saxophonists Bob Sheppard and Kim Richmond, and vibraphonist Nick Mancini.
Júlia Karosi's brilliant album "Hidden Roots" (Dot Time 9028) offers compelling evidence that jazz has truly become a global music. Here, Budapest-based vocalist Karosi and her extraordinary quartet effortlessly combine modern jazz with classic Hungari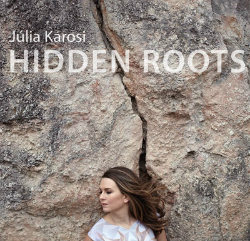 an folk songs. Karosi has a dramatic voice, and when singing the traditional lyrics, she incorporates the little vocal catches that give this music its unique character. When she scats, she prefers stark dramatic ideas offset by silence, instead of the usual concept of just "running the changes". Her improvisations contrast well with the searing tenor saxophone of Tobias Meinhart, and both are heard to great advantage on "Szóla A Kakas Mar" which moves from a tender rubato opening into a buoyant 5/4 swing. The album also includes several of Karosi's intricate (and primarily wordless) original compositions.  The rhythm section of Áron Talas (piano), Ádam Bögöthy (bass) and Bendegúz Varga (drums) effortlessly maneuvers through Karosi's complex forms and rhythms, and the unison lines with Karosi and the band on Karosi's "The Miraculous Deer" and Talas' "Floating Island" are just stunning. The final track of the album, "Hymn to Love" has a captivating scat duet between Karosi and Linda Kóvacs, which illustrates their complementary yet strikingly original styles. This album is the first of Karosi's CDs to be distributed in the United States, and Karosi has included one song with original English lyrics, "Seed" (a collaboration with Varga). Although her English is fairly good, Karosi could use a little sharper diction to get the message across. And on the subject of lyrics, it's rather surprising that the package does not include translations of the Hungarian lyrics. However, even without the words, Karosi's abundant musical talent comes through on every track of this album.