The two CDs under review this month are both led by pianists; however, they both qualify as vocal albums since the majority of the tracks on each disc feature singers. There's been a trend in recent jazz releases to load up albums with guest artists to boost the commercial appeal of the record. I suppose both of these albums could be accused of continuing the practice, but in each case, the track list includes several original songs, and using different vocal colors to highlight the music and lyrics is certainly a valid artistic reason for bringing in the guest singers. There is also a casual atmosphere to these albums which invites the feeling that the vocalists are simply sitting in with the band instead of being part of a huge marketing plan.
Jeremy Siskind's "Housewarming" (Brooklyn Jazz Underground 53) features a trio which has built its reputation through a series of house concerts. The group offers a wide-open sound and a highly accessible style. Vocalist Nancy Harms has a welcoming vocal tone, exceptional pitch and fine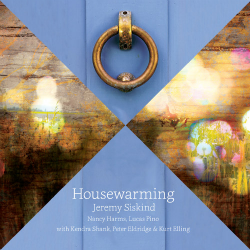 diction. On the more adventurous tracks, she lets her voice get breathy, and the combination of the soft vocal sound and her remarkable flexibility reminds me of Gretchen Parlato and Sara Serpa.  Lucas Pino doubles on clarinet, bass clarinet, and tenor sax, and he produces a unique timbre on each horn, which keeps the backgrounds fresh and varied.  Siskind's full rich piano fills all of the roles of the rhythm section, and provides rich accompaniments for Pino, Harms, and guest artists Kurt Elling, Peter Eldridge and Kendra Shank. The trio's instrumentation was inspired by the group led by British vocalist Norma Winstone on the albums "Somewhere Called Home" and "Dance Without Answer", and Siskind reveals that influence on his original "When He Loved You" by setting the lyric in the third person (a favorite device of Winstone's) and in the eerily-distant sounding chord progressions of "Moonlight in Vermont" (which echoes the work of Winstone's pianist Glauco Venier and reedman Klaus Gesing). Shank's sole feature on the album, "Ghost Dance" makes a further connection, as the song's jagged wide intervals and Shank's vocal timbre evoke Winstone. Elling's deep baritone caresses each syllable of Siskind's original, "Light" and his sound is matched by Pino's intense, passionate tenor sax. Eldridge's lush romantic baritone enriches the title tune and he joins with Harms on the pastoral "New Old West Theme." Siskind's lyrics (which can be read on his website) reflect his love of poets Jorge Luis Borges, Seamus Heaney and Derek Walcott; the music sets the words in a way that their basic meaning can be understood on first hearing, and appreciated on repeated listening. This thoughtful and enveloping collection of songs (many of which tell of the joys of home life) makes for a memorable album and—for those who attend or host house concerts—a perfect match of music and venue.
Harold Mabern has always enjoyed the challenge of working with singers. He recorded with Betty Carter, Bill Henderson and Johnny Hartman, and on his new album, "Afro Blue" (Smoke Sessions 1503), he adds collaborations with five current vocalists. Gregory Porter effectively mixes his mercurial scat chops with the well-known vocalese lyrics on the title track, and adroitly handles the tricky words of Mabern's "Man from Hyde Park" (a tribute to Herbie Ha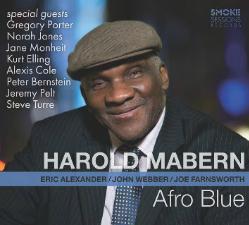 ncock). Norah Jones' voice effortlessly glides over the "Poinciana"-inspired groove on "Fools Rush In", and here, as well as on the stunning duet with Mabern on "Don't Misunderstand", she shows great rhythmic freedom and a deep understanding of the lyrics (Isn't it about time Ms. Jones recorded a jazz album under her own name?). While Porter's scat and Jones' rhythmic flexibility might come as a surprise to casual fans, there aren't many unexpected moments in Jane Monheit's two songs—but she is in fine form on both "I'll Take Romance" and "My One and Only Love". Kurt Elling jams with the band (Jeremy Pelt, Eric Alexander, John Webber and Joe Farnsworth) on a wordless and deeply swinging "Billie's Bounce". His version of "Portrait of Jennie" is masterful, showing exquisite control and a delicate reading of the lyric. Elling was only scheduled to sing two tunes on the album, but as he was getting ready to leave the studio, Mabern and the band started to rehearse "You Needed Me". Elling started singing the lyric casually, and Mabern asked him to record it for the album. While it's not one of his specialties, Elling adapts his style to the song and acquits himself quite well. The final vocal track is by Alexis Cole, perhaps best known for her album of Pepper Adams songs. She sings Mabern's original "Such is Life" with great conviction, and I wish she would have had an additional feature to further display her talent. The remaining instrumental tracks are well-played, but their short running times restrict the musician's solo space. The album might have been better if it focused strictly on the vocalists, shuffled the appearances of the singers, and perhaps encouraged a duet or two. As it is, "Afro-Blue" is a highly enjoyable sampler of five superb vocalists and an exceptional instrumental group led by a legendary accompanist.