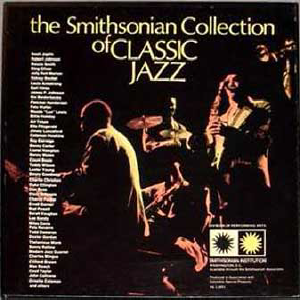 First released in 1973, "The Smithsonian Collection of Classic Jazz" was in many ways, the best recorded jazz anthology ever issued. Selected and annotated by Martin T. Williams, the collection reflected his belief in the great recordings by the great masters. He had written about many of these recordings in his books and columns, and "Classic Jazz" allowed him to put several of them into one package. Here were Louis Armstrong's "Struttin' With Some Barbecue", Jelly Roll Morton's "Dead Man Blues", the Benny Goodman Trio's "Body and Soul", Count Basie's "Taxi War Dance", Duke Ellington's "Concerto For Cootie", Charlie Parker's "KoKo", Thelonious Monk's "Evidence", Sonny Rollins' "Blue Seven" and Ornette Coleman's "Lonely Woman", and you could have them all—and more!—on 6 LPs with personnel and annotation for 35 bucks! Is it any wonder that the set became a best-seller?
It may not have seemed a sure-fire hit in 1973. At that time, no one was sure if jazz would survive, let alone continue to evolve. There weren't a lot of places for jazz musicians to play, and historic recordings were nearly impossible to find. Even under the Smithsonian banner, I suspect Williams had a difficult time convincing the major record labels to license their recordings. When he received the recordings, he had to take what he got. Overall, the quality of the original Smithsonian LPs were quite good, but many of the recordings were bathed in echo from old LP transfers, and worse yet, some were in god-awful "electronically reprocessed" stereo. A few years later, bolstered by the critical and financial success of "Classic Jazz", those same record labels began reissuing jazz recordings. Smithsonian also expanded their reissue program, issuing single and double-LP sets of Armstrong, Henderson, Ellington, Tatum and Gillespie, and creating new boxed sets on big band jazz, swing era soloists, jazz piano and American popular song.
Anyone who has ever created a compilation—whether a simple collection of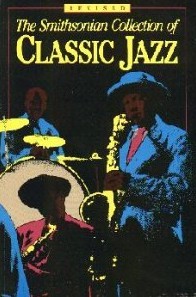 personal favorites or a full-blown anthology—has been greeted with the inevitable criticisms, "How could they leave out such-and-such?" or "Why did they include such-and-such, instead of such-and-such?" I suppose every person who bought "Classic Jazz" had their own opinions about Williams' choices, but Williams took responsibility for his selections and defended them eloquently in his extensive liner notes. Taken as a personal overview of jazz history, the set holds up rather well. Nonetheless, in the mid-80s, Williams decided to update "Classic Jazz". He took out a handful of selections and added a few others, both to expand the artist roster and to focus the set. He enlisted engineer Jack Towers to re-master the collection, instructing him to go back to original 78s wherever possible so that the earlier recordings would be in their original mono and not in phony stereo. While Williams' instructions were not carried out to the letter (the original pressings erroneously included an alternate take of Roy Eldridge's "Rockin' Chair" from a 1980s LP), the sound was much improved, and Williams' revised picks offered a better-rounded history of jazz.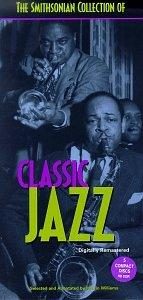 Williams died in 1992, and five years later, the Smithsonian decided to give "Classic Jazz" another makeover. The CD era brought re-mastered recordings from original tape and disc sources, and, as a result, the old classics sounded better than their ancient LP editions. Smithsonian got fresh re-masters of the recordings, and wisely retained all of Williams' revised selections. Reissue producer Bruce Talbot's one major change was to restore several of the recordings to their full length (Williams was notorious for creating excerpts, sometimes to focus on a particular solo, and/or to remove portions of the discs that he judged to be unworthy of repeated listening).
A few years later, all of the Smithsonian titles went out of print, and the only places you could find them were on eBay or in libraries. That's still the case, but now Smithsonian has released "Jazz: A Smithsonian Anthology", and just like its title, the new set bears similarities to Martin Williams' original, but the results are quite different. For one thing, the new version was compiled not by one person, but by committee. Also, someone decided to include more artists by limiting each musician to one or two selections. The end result is a Frankenstein monster somehow intended to replace Williams' expertly conceived collection.
I will admit from the outset that I admire the work of many of the committee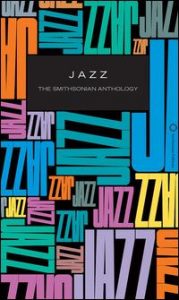 members. In fact, any of the historians represented here could have created a new anthology on their own that would have stood up to Williams' original collection.  As it stands, I find that every good thing I can say is tempered by something negative. For example, I'm thrilled to see artists such as the Boswell Sisters, Chick Webb, Mary Lou Williams, Artie Shaw, Machito, George Shearing, the original Gerry Mulligan Quartet, Shorty Rogers, Chico Hamilton and Sun Ra included. However, the inclusion of these artists does not override the absence of several essential recordings (go back to the first paragraph and look at that list again. None of those recordings appear in the new set!). The new set's book is attractive, and while it is bound like a traditional volume, the open pages lay flat so it can be set down on a table as one listens to the recordings. But some of the things that are written on those pages are poorly conceived, and they were written by people who should know better. John Edward Hasse's notes on Ellington's "Ko-Ko" never mentions the polytonal harmonic structure that made that piece a classic, and Robin D.G. Kelly's note for Monk's "Misterioso" concludes with a biographical note about Monk's loss of his cabaret card in 1951. Since there are no more Monk recordings on the set(!), that's where we leave him, with no mention of his later resurgence or world tours. Several essays have virtually no discussion of the music, there are duplications (at least two references to Coltrane's famous quote on Stan Getz's sound), and several surprising lapses in historical judgment (Gunther Schuller's jaw-dropping assertion that Monk "left no ongoing living tradition" was debunked thirty years ago by none other than Martin Williams! Further, Monk's legacy has grown substantially in the years since Willams' essay.)
There are much bigger problems with the new set. One of the biggest was putting all of the selections in strict chronological order. This makes absolutely no sense in a history of jazz! Many jazz styles co-existed and developed simultaneously, and putting the cuts in chronological order just mixes them all together and confuses the listener. Williams put his selections in historical order, detailing each style and musician before moving to the next. The current set ruins all sense of historical continuity. For example, disc 1, track 4 is King Oliver's "Dippermouth Blues", recorded in 1923, and part of Louis Armstrong's first recording session. Armstrong plays lead during one chorus of this track but does not solo.  Track 5 is Fletcher Henderson's 1926 "The Stampede" which shows Henderson's soloists displaying the influence of Armstrong, who by that time, had played in Henderson's band for a year, then left to work and record under his own name. Because of the chronology rule, we don't hear an example of mature Armstrong until track 11 (1928's "West End Blues"), by which time we've already heard a track with Bubber Miley and two cuts by Bix Beiderbecke!
Worse yet, because of the committee approach, there's little room for comparison between tracks. Williams opened his collection with Scott Joplin's piano roll of "Maple Leaf Rag" followed directly by Jelly Roll Morton's transformation of the same piece. Not only did this comparison show the differences and similarities between two great composer/pianists, it also showed how jazz is created with melodic/rhythmic paraphrase and full-blown improvisation. There are instances where the writers in the new set comment on other recordings in the anthology, but the dramatic juxtapositions of related recordings is lost in this set.
One goal of the new set was to bring the collection up to date by including recordings by young artists. There's no question this should be done, but why mess up Williams' work in the process? Although most of the last 2 CDs of the new version includes styles and artists not covered by Williams (and a lot of it was recorded after Williams' death), there's still plenty of important recent music that is overlooked. I can't understand why Smithsonian did not restore "Classic Jazz" to their catalog and then create a new multi-disc collection of contemporary jazz, which might start at "Kind of Blue" and move forward from there. Given the overwhelmingly poor reviews of the new set, Smithsonian might consider doing a "New Coke"/"Classic Coke" turnaround and give us back the "Classic Jazz" that we love.
Full disclosure dept: My first published work was a revised discography for the Smithsonian Collection of Classic Jazz. I compiled it in 1983, ten years after the release of the original set. I was not hired by Smithsonian to do this work.  I collected the data on my own and submitted it to Martin Williams, who included it in the 1987 revision of Classic Jazz. While I had several telephone conversations with Mr. Williams, I had no input whatsoever as to the content of the collection. I received no payment for my work, except for complimentary copies of the revised sets on CD and LP. I did not request, nor was I provided with, a promotional copy of the new anthology.