BENN CLATWORTHY & CECILIA COLEMAN: "2" (BCM 111)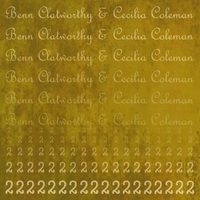 Tenor saxophonist Benn Clatworthy and pianist Cecilia Coleman met in the mid-1980s, when they were both students of LA vibraphonist Charlie Shoemake. They played on each other's debut albums, and toured on occasion, but their new CD "2" is their first recording as a duet. They are particularly well-matched: Clatworthy's impassioned lines and hoarse high register implies an emotional frailty, and Coleman's subtle and varied touch offers strongly marked solo lines over velvety chords. The interaction between the two musicians is truly remarkable.  On "Lush Life", Coleman deftly fills the gaps in Clatworthy's complex, yet accessible improvisation, and creates a dialogue where the lines complement, but do not compete with each other. "I Hear a Rhapsody" takes the same approach at a quick tempo, and the result is a romping give-and-take between the two voices. Coleman is a fine accompanist, too, and on the opening "Here, There and Everywhere", her piano keeps the performance buoyant and moving forward, while supporting Clatworthy's expertly sculpted lines.  This is an album that soothes more that it shouts, and it is a fine showcase for two gifted musicians that deserve wider recognition.

RAVI COLTRANE: "SPIRIT FICTION" (Blue Note 18937)
There's a definite musical influence at play on Ravi Coltrane's Blue Note album, "Spirit Fiction", but it's probably not who you think. I suspect that somewhere in Ravi's musical education, he was inspired by Charles Ives. Like Ives, Coltrane enjoys juxtaposing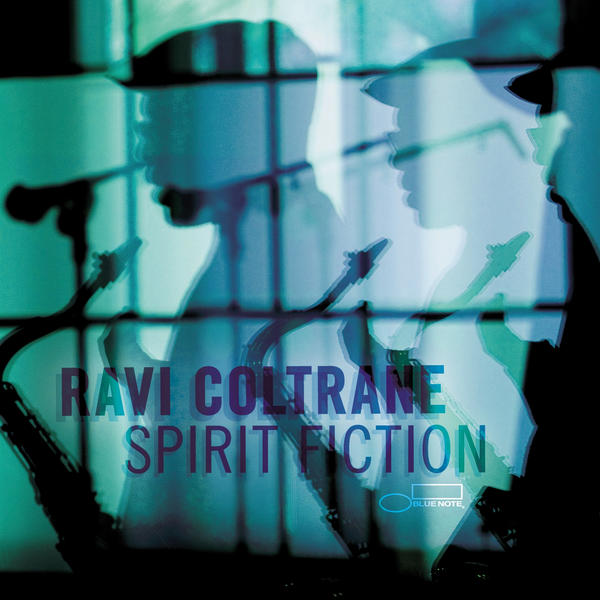 disparate sounds and letting them clash and meld as the music develops. The opening track "Roads Cross" and its companion track "Cross Roads" finds his quartet improvising in opposing styles and only settling into a common groove for a few bars at the center of the performance. On the title track, Coltrane took the concept a step further, splitting his quartet into two, and having each pair record separately with their own musical direction. The two recordings were then combined in the editing room. The contrasts also happen on a grander scale: Half of the tracks feature Coltrane's quintet featuring trumpeter Ralph Alessi and pianist Geri Allen, and not only does the quintet's style differ from the quartet, there are also several fine duo improvisations between Coltrane and Alessi that are fueled by the disparity of the two lines. One of those duets happens on Alessi's melancholy tune, "Yellow Cat", and later in that same track, Allen plays an agitated solo over the somber melody repeated by the horns. Coltrane plays a duet with drummer E.J. Strickland on "Spring and Hudson", but I'm even more fascinated by the interplay between Coltrane and his quintet drummer Eric Harland on Ornette Coleman's "Check Out Time". That track and the following one, Paul Motian's "Fantasm" also includes Ravi's mentor and co-producer Joe Lovano. While there is a similarity between the two tenors, there's enough difference to prove that Ravi Coltrane has his own identity on saxophone, and a unique approach to the music.
BRANDON WRIGHT: "JOURNEYMAN" (Posi-Tone 8095)
There's a great urgency to the music of Brandon Wright. He seems intent on making every note count and every solo memorable. That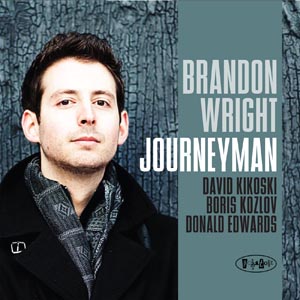 spirit permeates throughout his sophomore album, "Journeyman", whether he is tearing through the changes of "What Is This Thing Called Love" (via his original line "Shapeshifter"), reinterpreting a rock classic like "Better Man", or playing an impassioned tribute to his late grandmother ("Choices"). His sound blends several great and intense tenor players including Sonny Rollins, John Coltrane and Michael Brecker, but those sounds are so well-integrated that the influences only come out on isolated passages. Wright has been a member of the Mingus Big Band for the last five years, and for this album, he recruited the rhythm section of that remarkable ensemble: pianist David Kikoski, bassist Boris Kozlov and drummer Donald Edwards. The combination of Wright's dynamic tenor with the high-power rhythm section makes the music jump with kinetic energy (just try to sit still while listening to the funky "Wall of Shame" or the sharply rhythmic "Wonderwall"). And yet, these same musicians can give Hoagy Carmichael's "The Nearness of You" all of the tenderness it needs. The press release says that Wright has taken up improv comedy at the same training center that services Upright Citizens Brigade. That makes sense to me, for Brandon Wright is clearly a man who lives to improvise. His album may be called "Journeyman", but he's ready to join the masters.