DAVID BERKMAN: "OLD FRIENDS AND NEW FRIENDS" (Palmetto 2177)
Pianist David Berkman's album "Old Friends and New Friends" showcases three talented saxophonists from the New York jazz scene: Dayna Stephens on soprano and tenor, Billy Drewes on soprano and alto, and Adam Kolker on soprano, alto and tenor. (Kolker also overdubs clarinet and bass clarinet in the ensembles on the final track, "Psalm") On the achingly melodic opener, "Tribute", the unison line played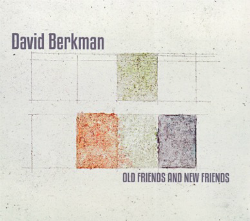 by Kolker and Stephens gradually breaks into gently weaving counterpoint. Kolker's soprano solo juxtaposes cross rhythms against Brian Blade's drums. After Berkman's lyric piano solo, Stephens sculpts a flowing statement with long elegant lines which contain finely-wrought rhythmic motives. All three saxophonists appear on the rhythmically challenging "No Blues, No Really No Blues". Drewes' alto solo is filled with odd-length melodic chunks, before Kolker takes over on soprano with a solo that seems to float over the time. Bassist Linda Oh is the next soloist, and her rich-toned, highly melodic statement is backed with softly played countermelodies from Stephens' tenor. The solo sequence finishes with simultaneous improvisation by the three saxophonists, who all carefully steer out of each other's way. The saxophonists work as an ensemble on the well-scored passages of "Past Progressive", an intriguing composition which opens as a ballad, and then jumps into an intense up-tempo episode. Here, the saxophonists play a series of exchanges that infuse the track with much-needed vitality. "Deep High Wide Sky" features Stephens' tenor as the only horn, and his solo, which includes simultaneous interactions with each member of the rhythm section, is one of the highlights of the album. The Drewes and Kolker soprano duet that caps "Strange Attractions Then Birds" is less successful. It comes out of a restless piano solo, and as Berkman continues to improvise, the two saxes play a background figure which morphs into a dual improvisation. The soprano doesn't offer the wide range of tonal colors that the lower saxes afford, and the overlapping lines are dense and piercing. After a brief trio reprise of "No Blues", the horns return for the melody statement of "West 180th Street". As on the trio version of "No Blues", Berkman is the only soloist, and while I admire his ensemble playing throughout the CD, his solos—which generally stick to rhythmically intensive single line melodies—lack enough variety to sustain interest. The combination of the stellar horns and the exquisite rhythm section is what makes this album a success.
JERRY GRANELLI: "WHAT I HEAR NOW" (Addo 30)
Master percussionist Jerry Granelli is a well-known iconoclast. He also employs three saxophonists on his new CD "What I Hear Now",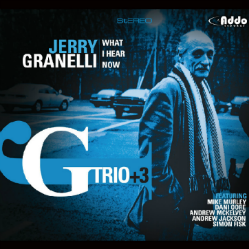 but his approach to the horns is highly unusual. Granelli deliberately blurs the lines between the tenor saxophones of Mike Murley and Dani Oore. On the opening two tracks, "Prologue" and "Run Danny Run", they improvise and play theme statements together, revealing their similar tones and approaches. On the moody "Walter White", Murley reveals a rich, moaning tone reminiscent of Dewey Redman's work with the original Liberation Music Orchestra. Yet it's clear that Oore has listened to and learned much from Murley's examples and on "Mystery", the two men appear to make seamless transitions as they frequently switch roles between soloist and accompanist. On my inquiry, Granelli wrote that Murley was the primary soloist on "Mystery", but I found that I had to listen very carefully to hear the two saxes changing lead lines. Granelli also uses two young musicians from Nova Scotia, alto saxophonist Andrew McKelvey and trombonist Andrew Jackson. Each makes the most of their solo opportunities on "Dance for Me" and "The Swamp", but their primary contributions are to "Another Place", a piece for the four horns alone. Here, the horns are voiced in a range where any of the notes could be played by any of the instruments. As the lines interweave, it becomes very difficult—even on repeated listening—to discern exactly what instrument is playing at any given time. Granelli also told me that his concept was "to sound like one amazing horn" and I think he has succeeded admirably. The ensemble work is superb, and Granelli's moody compositions maintain a consistent presence, even with the appearance of the two up-tempo numbers. The spare accompaniment of Simon Fisk's three string bassetto and Granelli's subtle percussion (primarily on brushes) also adds to the lonely mood of this album.