At a college jazz concert many years ago, the leader of a combo told the audience that one of the horn men was playing "saxophones of the E-flat variety". The musicians in the room all knew what he meant—someone who doubled on alto and baritone saxes—but the laymen probably shook their collective heads in confusion. For the uninitiated: instruments are pitched in different keys so that the majority of their range can be notated within the staff. This makes individual parts easier to read, but it also requires that those parts are transposed from concert pitch (the musical home of pianos, organs, flutes, oboes, bassoons and all string instruments). While copyists and music students occasionally whine about transposing parts, it has had minimal effect on the popularity of the alto and baritone saxophones. Some of jazz's most important saxophonists have specialized on one of the E-flat horns, and all of the CDs reviewed here this month feature an alto or baritone player as leader or sideman.
Steve Slagle may be best known as the lead alto saxophonist in Carla Bley's band. For several years, he has co-led a group with guitarist Dave Stryker, but on his new CD, "Alto Manhattan" (Panorama 6), he features an entirely new band with pianist Lawrence Fields, bassist Gerald Cannon, drummer Bill Stewart and conga player Roman Diaz. On three tracks, Slagle shares the front line with a favorite collaborator, Joe Lovano. The album's title is the Spanish name for Slagle's New York City neighborhood, and the boppish title track appears twice, first in a quartet version, then later (in a track labele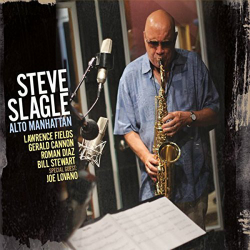 d "A.M.") with Lovano added to the group. The second take is not significantly longer than the first, but Slagle, Fields, Lovano and the remarkable Stewart all make the best of their limited solo time. The opening track, "Family", has a turbulent rhythmic feel that mixes jazz, African and Cuban traditions. Slagle's alto and Lovano's tenor make a formidable front line and each man contributes powerful solos which overflow with raw emotion. Fields' solo line showcases his clear tone, and rhythmic imagination as he darts around the complex beats of the rhythm section.  "I Know That You Know" is not the old standard, but an original slow blues written by Slagle, and it is fueled with an irresistible loose groove created by Cannon and Stewart. Slagle's unaccompanied rendition of "Body and Soul" is an instant classic that stands alongside the great solo versions by Art Pepper and Sonny Rollins. Keeping in the tradition of those legendary players, Slagle navigates the changes with great skill, but never loses the thread or mood of the original song. McCoy Tyner's "Inception" is loaded with driving intensity with Stewart egging on Slagle and Fields via jabbing accents from his snare and crash cymbals. Slagle's arrangement of "Guess I'll Hang My Tears Out to Dry" follows the pattern of Dexter Gordon's famous recording, opening with the verse and continuing with two saxophone improvisations surrounding the piano solo. I'm not sure that this recording was intended as a tribute to Gordon, but it's always good to hear this neglected ballad. The closing two tracks feature Slagle on flute, and like the opening cut, they celebrate musical diversity. On "Holiday" (dedicated to the late Toots Thielemans) Lovano's G mezzo soprano saxophone adds a vocal quality to the ensemble, while Diaz and Stewart present a unified percussion section with elements of American and Hispanic musical traditions. The final track is an eminently danceable Latin improvisation called "Viva la Famalia" that shows again how these fine musicians break down all of their differences to unite in fine music-making.
Miguel Zenón's latest CD, "Típico" (Upcal/Miel Music—no catalog #) is also a personal tribute, specifically to his band, family, students and mentors. Outwardly, Zenón is a less emotional player than Slagle, and his compositions are packed with complex rhythmic and harmonic patterns. However, the deep coherence of this quartet (which has been together in its present form for a dozen years) allows them to maneuver through these treacherous paths. The album opens with "Academia", a jaw-dropping piece which switches time signatures with surprising frequency. Zenón and pianist Luis Perdomo solo over this rhythmic obstacle course with astounding precision. If "Academia" is missing a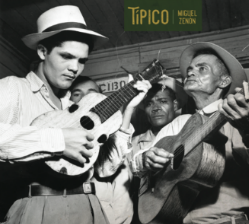 crucial element, it is raw emotion, but that quality comes quickly enough with Zenón's passionate solo in "Cantor", a piece dedicated to Zenon's frequent collaborator Guillermo Klein. "Ciclo" lets bassist Hans Glawischnig and drummer Henry Cole concoct a complex but accessible groove in 7/4 time. Zenón improvises a stunning solo over the aforementioned rhythmic pattern. The title track is an intriguing mix of old and new styles: the tune contains classic melodic and harmonic Latin tropes, but it is set over a constantly shifting rhythmic base. While all of the soloists play well over this difficult rhythmic piece, Cole does the best job of creating a sensible musical statement over the background. Overall, I'm much more impressed with Zenón's simpler pieces like "Sangre di Mi Sangre", a triple-time piece dedicated to Zenón's four-year daughter, Elena. Here, Zenón plays from his soul, letting his lines expand and grow naturally, and the rhythm section creates an easily-flowing foundation. Zenón's final three pieces are dedicated to the members of his band, and each uses bits of solos and patterns previously recorded by the musicians on earlier recordings. For example, the melody of "Corteza" derives from a Glawischnig bass solo recorded on Zenón's 2009 disc "Esta Plena". Oddly enough, there is no bass solo on this track, but the alto and piano solos resound with virtuosity and emotion. The thorny "Entre Las Raíces" was based on a Perdomo solo from his album "Awareness" and the pianist channels Cecil Taylor in his remarkable opening solo. Later, Zenón impresses with a wild free improvisation which benefits from Cole's polyrhythmic drums. "Las Ramas", based on a turbulent drum pattern developed by Cole, opens with plaintive whistling (uncredited—possibly Zenón?) before moving into a rhythmic feel that never seems to gather momentum. When the pattern changes, the band immediately finds a groove. I truly admire this quartet's mastery of mixed meter, but I think the music is almost too dense for its own good. At times, it sounds like the rhythm is fighting against the melody instead of letting it breathe and flow. It's obvious that this group has great abilities, but technical skills should never outweigh the emotional qualities of the music.
Emotion is not lacking on baritone saxophonist Gary Smulyan's live outing, "Royalty at Le Duc" (Groovin' High/Sunnyside 4751). Recorded on a single night at the Paris club Le Duc des Lombards, the album features Smulyan with an energetic rhythm section of Olivier Hutman (piano), Michel Rosciglione (bass) and Bernd Reiter (drums). The repertoire includes lesser-known pieces by Thad Jones, Pepper Adams, Billy Strayhorn and Joe Henderson and the group relishes the opportunity to perform these works. That quality is easily gleaned in their opening performance of Jones' medium-tempo swinger "Thedia", but can also be heard within the sensitive accompaniment to Strayhorn's "Star-Crossed Lovers". Smulyan shows remarkable agility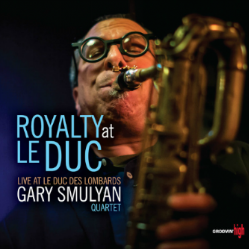 on the large horn, executing complex passages that run the gamut of the baritone's range, but also projecting heartfelt lines that communicate directly with the listener. Hutman shines during Adams' "Cindy's Tune" with a solo punctuated with sharply accented block chords (which are answered by Reiter near the end of the solo). Those piano chords return later to encourage Smulyan's blistering solo. The recording balance on this album is not optimal: all of the instruments are placed far forward in the mix and that both accentuates the group's intensity and diminishes the room acoustics. So while I love the group's relaxed take on Henderson's "Serenity", I can't help but think that it would have sounded better with a little more distance between the microphones and the instruments. Jones' "Elusive" offers another taste of the quartet's explosive nature before Smulyan and Hutman play a beautiful duet version of "Laura". Again, the recording balance is a problem: I can't believe that Hutman was really playing this loudly; a good accompanist—which I believe Hutman is—would play below the featured soloist. The ideas that move between the saxophone and piano are quite touching, so it's just the matter of mentally adjusting to the recorded sound. The final track features a stunning version of "Body and Soul", rendered up-tempo with advanced harmonies and a propulsive 6/8 beat. The roots for this arrangement doubtlessly stem from John Coltrane's 1960 recording, but Smulyan's performance packs even greater intensity than Trane's version! [According to the notes, all of the music recorded that night can be downloaded from the Groovin' High website, but at press time (three weeks after the CD release) there were no mention of this album on that site. Sunnyside (which distributes this label) has download and CD purchase options, but the only bonus track I could find was on iTunes. If I hear that this material becomes available, I will revise this review and offer a link to the corresponding website.]
Over the past several years, more and more women musicians have appeared on the jazz scene. And in at least a couple of instances—the Caswells of Indiana and the Jensens of British Columbia—two equally talented sisters have emerged from the same family. I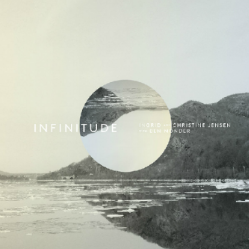 've praised the work of all four women in these pages, and "Infinitude" (Whirlwind 4694) the newest CD from trumpeter Ingrid and alto saxophonist Christine Jensen presents another opportunity to extol their superb musicality. Both sisters are frequently spotlighted within big bands—Ingrid with the Maria Schneider and Darcy James Argue orchestras, and Christine with her own Montreal-based ensemble—but it is refreshing to hear them in an intimate quintet setting. Christine produces a rich singing tone on the alto, which is perfectly matched with the mellow sound of Ingrid's modified trumpet. It is no accident that Ingrid gets the same type of veiled sound as the late Art Farmer: the bell of her horn uses a version of Farmer's "flumpet" design, and she uses a flugelhorn-styled mouthpiece. On occasion, Ingrid adds live electronics for solo and ensemble passages. Years ago, electronics were considered a gimmick (or worse, commercialism), but the two main proponents of live electronics—Jane Ira Bloom and Ingrid Jensen—have shown that these loops, delays and sound shifters can be used with great artistic integrity. On this recording, Ingrid utilizes the electronics with supreme taste, and the extra sounds always seem entirely appropriate to the musical setting. Christine's economic and motivically-driven solo style is brilliantly displayed on her original "Octofolk" as she engages in a series of improvised exchanges with guitarist Ben Monder. Even when Christine and Monder improvise simultaneously, there is great clarity in their individual lines. The quintet is completed with two "extended family members" (per the liner notes) bassist Fraser Hollins and drummer Jon Wikan, who support the group with a wide range of styles from atmospheric ECM free sounds through the funky background on Kenny Wheeler's "Old Time" to the relaxed waltz feel on Christine's "Margareta". This exquisite, understated album may stand as one of the best albums of the year.
I've been a fan of Hush Point since their debut album came out in 2013. On their current release "Hush Point III" (Sunnyside 1457) they adapt several genres into the language of cool jazz. Trumpeter John McNeil composed most of the tunes, which includes a tribute to legendary flugelhornist Wilbur Harden, a rock-styled ballad and two free pieces. Saxophonist Jeremy Udden (who doubles on straight alto and C-melody sax) stretches the group's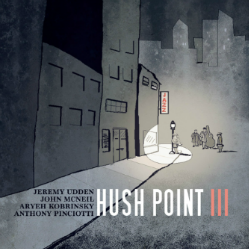 boundaries with an intriguing composition called "Azmari Bar" which is based on music he heard while touring with the big band Either/Orchestra in Ethiopia. Considering that Hush Point's original inspiration was Jimmy Giuffre's middle-east flavored piece, "Iranic", it seems natural that the group would explore some aspect of world music; however, the second half of "Azmari Bar" takes the quartet into very different territory, as it pushes the dynamic and emotional boundaries further than on any of their previous recordings. Hush Point is particularly skilled at balancing their programs, and on this album they offset the emotions of "Azmari Bar" with bassist Aryeh Kobrinsky's light-hearted hoedown(!) "It's a Pocketbook" and McNeil's sprightly "PG-13", which opens with a duet between Udden's alto and Anthony Pinciotti's brushes on snare and tom-toms, before moving to a simultaneous group improvisation which is as notable for its lightness as its melodicism. The three-part suite that follows includes a bit of connecting material that bridges McNeil's free piece "Cautiously Pessimistic" and Vincent Youmans' ballad "More Than You Know".  However, once that segue is completed, the mood of the ballad takes a sudden turn, and from that point on, the ballad seems stranded between two differing approaches. The final section of the suite, McNeil's up-tempo Latin opus "Snappy", doesn't seem to fit with either of the other pieces, but stands on its own quite well. The straight-eighth feel of the album's closing track, "Journey's End", also seems at odds with the rest of the program, but Udden's duet with Kobrinsky is quite effective and McNeil's melodic trumpet near the end is beautifully played. While I don't find "Hush Point III" to be as artistically successful as their previous albums, I'm encouraged to hear them incorporate vastly different musical styles into their established format.