CAROLINE DAVIS: "DOORS: CHICAGO STORYLINES" (Eyes & Ears 15-039)
In the late 1960s, the classical pianist Glenn Gould created a series of radio programs for the Canadian Broadcasting Corporation. While Gould called these shows "documentaries", they were actually elaborate sound collages consisting of overlapping spoken word recordings. The effect was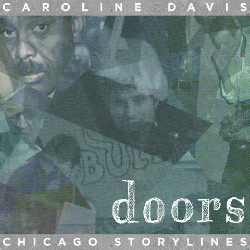 a unique form of musique concrète where the music came from the pitch and rhythm of the voices. In her new album, "Doors: Chicago Storylines", alto saxophonist Caroline Davis uses a similar technique to tell the story of Chicago jazz from 1980 to 2000. Most of the album's tracks open with interviews before merging into Davis' original compositions. Those familiar with the Windy City's jazz scene will recognize the names of clubs and musicians, but all listeners should appreciate the way Davis' music compliments and amplifies the spoken commentary (especially on the last two tracks where the musical entrances are synched with the speech patterns of the interviewees). The album's first three tracks set the stage for the mix of spoken words and progressive jazz, but from the fourth track, "Lincoln Land", we get to hear Davis' group play at length. However, Davis leaves most of the solo room on that track to the other members of the band, trumpeter Russ Johnson, guitarist Mike Allemana, bassist Matt Ferguson and drummer Jeremy Cunningham. It is on the next track, "Lin", a ballad for the late tenor man Lin Halliday, where Davis shines with a floating, heartfelt solo accompanied by pianist Ron Perrillo. A piece dedicated to Von Freeman, "Rounds: For the Horses", includes a segment of Freeman's voice before Davis' band comes in with a composition that contains equal amounts of bop, funk and free styles. Davis' impressive solo builds on the tension between the ground beat and her rhythmically complex solo line. Allemana, who worked with Freeman, adds a passionate solo before the tune's abrupt end. On "Golden Era of Elders", the music frames the spoken sections, making the voices a substitute for the improvised solos. The album's most straight-ahead track is "Delighted", where Davis shows her Lee Konitz roots both in her solo and her closing dual improvisation with Allemana. Since making this album, Davis has moved from Chicago to New York, but this superb album is an important testament to the power and quality of Chicago jazz.
MATT PARKER: "PRESENT TIME" (BYNK 2)
The sounds and styles of the great tenor masters are echoed within the music of saxophonist Matt Parker. On "Noah's Arc", the opening track of his new album "Present Time", he evokes the loose swing of early-1960s Sonny Rollins, but just as the listener gets comfortable, Parker morphs into a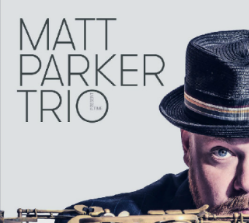 raunchy tenor style reminiscent of both Jr. Parker and Albert Ayler. And while the influences of John Coltrane, Roland Kirk, Don Byas, Ornette Coleman, Charlie Parker and Lester Young all appear through this album, Parker maintains his own identity through gradations of tone and his personal improvisational style. He has learned well from the masters: his compositions are concisely written and offer plenty of flexibility for solos; his improvisations embrace complexity without alienating the listener; and he knows how to play behind a singer—in this case the supremely talented Emily Braden, who guests on three tracks. Parker's band mates, bassist Alan Hampton and drummer Reggie Quinerly display the same broad knowledge of jazz history as the leader, providing a funky down-home feeling for Braden's feature on "I'm Confessin' That I Love You", a Coltrane-inspired free groove on "New Horizons", as well as the necessary mixture of straight-ahead and free required for the previously unrecorded Charles Mingus composition "Song to Keki". The most unusual track is "The Gong", a solo piece that Parker created on the spot after finding a large gong hanging in the recording studio. Parker plays both tenor and soprano (separately and together) between deep hits on the gong. The album concludes with a romping Second Line strut, "Sixteen", a piece that Parker wrote shortly after a summer gig he played as a teenager with a New Orleans café band. The infectious joy that comes through every beat of this track makes it a perfect ending for the album, which amply showcases its abundantly talented musicians without taking itself too seriously.
KEN PEPLOWSKI: "ENRAPTURE" (Capri 74141)
While clarinetist and tenor saxophonist Ken Peplowski is best-known as a "keeper of the flame", he is wise enough to realize that he need not limit himself to music from the Great American Songbook and big band chestnuts. On his new disc, "Enrapture", he takes up a 12-tone piece by Peter Erskine, an unrecorded w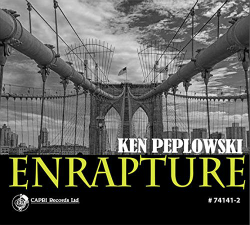 ork by Herbie Nichols, pop songs by Barry Manilow, Noel Coward, and John Lennon, film music from Bernard Herrmann, Harry Warren and Anthony Newley, as well as jazz chestnuts by Fats Waller and Duke Ellington. Remarkably, he makes it all work within the confines of a standard jazz quartet. From their spirited performances, it's clear that Peplowski and his fellow musicians Ehud Asherie (piano), Martin Wind (bass) and Matt Wilson (drums) relish the challenge of transforming this broad repertoire into engaging straight-ahead jazz. The album opens with Ellington's conga "The Flaming Sword", and while the opening choruses seem a little polite, the intensity picks up through Asherie's incisive single-note solo, and is further fueled with Wilson's energetic backing of Peplowski's clarinet solo. By the time Wilson finishes his melodic yet powerful drum solo, the band is at full roar, bringing the piece to a spectacular conclusion. Lennon's "Oh My Love" gets a brief and tender rendition by clarinet, bass and finger cymbals, while "An Affair to Remember" and "Cheer Up, Charlie" features Peplowski's warm and comfortable tenor. The glow of Peplowski's clarinet tone has rarely been captured as well as it is on "I'll Follow My Secret Heart", and I love how he starts his improvisation with a whispered subtone. The solo section on Nichols' "Enrapture" is an extended set of exchanges with Wilson, and the group improvises collectively throughout Erskine's "Twelve" (based on "Easy to Love"); these concepts are very interesting, but I wish that there had been room for Peplowski to stretch out on these pieces. This recording proves that Peplowski has the harmonic knowledge to play on these changes, and I believe he would receive greater recognition from the jazz public if he were afforded such an opportunity. Overall, the best track is Herrmann's love theme from "Vertigo", where the group handles the music with great delicacy, and Wind plays an emotional solo that enhances the spirit of the original. The album closes with a wistful tenor version of Manilow's "When October Goes" and a jaunty take on Waller's "Willow Tree".