According to a famous saying, if you want to know the future, discover the past". The quote has been credited to everyone from Buddha to Albert Einstein, but regardless of who said it, the truth of the statement has been proven many times over. While time is essentially a linear phenomenon, human nature gives time a cyclical quality: the successes or failures of our history will inevitably repeat themselves unless we learn the lessons and reverse the outcome. We can call this historical precedent or karma—depending on the situation—but it can all be summarized in another famous saying, "What goes around comes around". Progressive jazz musicians have always borrowed from the past to create innovative new sounds, whether it was Thelonious Monk and Hall Overton adapting Monk's music into a big band setting, or Ornette Coleman using the basic sound of West Coast jazz combos as a launch pad for free improvisation. The instrumental discs reviewed this month use the models of Monk/Overton and Mulligan/Giuffre/Coleman as the gateway to new and exciting music. In both cases, the review covers the first two releases by the contemporary groups.
"JOHN BEASLEY PRESENTS MONK'ESTRA" Volume 1 (Mack Avenue 1113)/Volume 2 (MA 1125)
When Hall Overton scored Thelonious Monk's music for big band, he worked closely with Monk to ensure that the melody lines would emerge from the harmony. Overton's solution was to write lots of complex unison lines voiced for multiple instruments. John Beasley's approach is almost the diametrical opposite of Overton's (but closer to Bill Holman's): he considers Monk's music as the compositional groundwork for his own interpretations. For example, the theme statement of "Epistrophy" retains the layered opening of the pianist's many recorded versions, but the use of multiple clarinets was completely foreign to Monk's world; yet, Beasley's exotic setting brings out qualities of the work that Monk never explored. With this piece, which opens the first volume of "Monk'estra", Beasley wants to audience to forget most of their preconceptions about Monk and his music (much of which has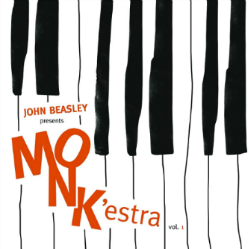 been misunderstood over the years) and consider Monk as a unique and creative composer. While Beasley certainly reveres Monk's music, he is willing to take audacious chances with it, as in Dontae Winslow's rap within "Brake's Sake", the first track of Volume 2. Would Thelonious approve of the hand-clapping, the raucous backgrounds, or the band's dramatic ritards and accelerandi in Beasley's arrangement of "Skippy"? We will never know, but the chart is very effective, and the band—which contains some of LA's finest jazz musicians—performs this music with the highest level of precision and emotion. ("Skippy" and all of the tracks mentioned in the next paragraph are on Volume 1).
When we separate Beasley's interpretations from our expectations, we not only discover a fresh approach to Monk's music, but also a refreshing attitude towards big band music. The sheer number of instrumental combinations in the opening choruses of "Oska T." is mind-boggling. None of the episodes last more than a few bars, and it might look pretentious on paper; yet, it works seamlessly when realized by the musicians. Most big band arrangers wouldn't dream of using so many combinations in the span of one or two choruses, but Beasley trusts his muse and his musicians to create this vast array of sounds. Of course, Beasley has not turned his back on the big band tradition. His laid-back version of "Ask Me Now" contains all of the elegance we associate with Count Basie's New Testament band, or the Thad Jones/Mel Lewis/Vanguard Jazz Orchestra. However, the long melodic line that graces this track is one of Beasley's own invention; Monk's melody is left to guest soloist Grégoire Maret's harmonica. It is a stunning combination of new and old—and one that might go un-noticed by an un-attentive listener. And speaking of Thad Jones, Beasley's humorous soft-shoe treatment of "Gallop's Gallop" sounds like as much of an homage to Jones' chart "Tiptoe" as it is to Monk. While Overton's chart on "Little Rootie Tootie" contained a brilliant orchestration of Monk's piano solo, Beasley's Latin funk version features an atmospheric recreation of an express train, with Monk's original three-note piano motive used to signify the engine's bell.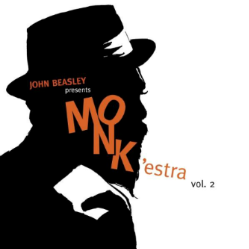 Although the rap on "Brake's Sake" might alienate some listeners from Volume 2, much of that volume features astounding presentations of Monk's tunes. "Played Twice" splits the melody amongst several instrumental sections to create the equivalent of a musical waterfall; "Crespuscule with Nellie" retains the delicate contour of the original with guest violinist Regina Carter adding to the ensemble, as well as providing a thoughtful solo. "Evidence" becomes a theme-and-variations piece with different approaches taken to the staccato theme upon each reiteration. Guests Kamasi Washington (tenor sax) and Conrad Herwig (trombone) bridge the variations with their highly varied solo perspectives. While Beasley has brought in a plethora of guest soloists for these albums (including Gary Burton, and Maret on Volume 1; Dianne Reeves and Pedrito Martinez in addition to those mentioned above for Volume 2), he has several superb soloists within the band's ranks, including Bob Sheppard (alto and soprano sax), Francisco Torres (trombone), Brian Swartz and Bijon Watson (trumpets). Swartz is also an accomplished arranger, and his ebullient setting of "I Mean You" offers an approach unique enough to denote a different orchestrator, but similar enough to blend in with the rest of Beasley's charts. With no shortage of Monk compositions left to tackle, we should expect a few more albums by this band before they have to expand to other composers. I'm looking forward to hearing Beasley's concepts of Monk classics like "Misterioso", "Well, You Needn't", "Thelonious", "Brilliant Corners" and "Reflections"!
"RIVERSIDE" (Greenleaf 1036)/RIVERSIDE: "THE NEW NATIONAL ANTHEM" (Greenleaf 1056)
Jimmy Giuffre was a tireless experimenter. He wrote his first major success, "Four Brothers", to introduce Woody Herman's then-revolutionary saxophone section of three tenors and baritone. He collaborated with Shorty Rogers and Shelly Manne on the remarkable 1954 LP "The Three", which featured extensive collaborative improvisation between the instruments, and re-considered established concepts of ensemble and texture. The next year, he followed up with "Tangents in Jazz", a quartet album where the ground beat was never explicitly stated. His subsequent trio, the Jimmy Giuffre 3, changed personnel and instrumentation over its eight years, but it never used a drummer. The final edition of the 3 included pianist Paul Bley and bassist Steve Swallow, and Giuffre was an eager participant in explorations of free jazz. Giuffre enjoyed some popularity in the 1950s, but as his music moved further towards the avant-garde, he lost most of his audience. There were several fine tributes written on the occasion of his death in 2008, but the emergence of groups like John McNeil's Hush Point, Ryan Keberle's Catharsis and Dave Douglas' Riverside have resurrected Giuffre's quiet, collective and still-contemporary sounds and have created new music in the master's style.
Riverside's eponymous debut CD was recorded in August 2012, but not released until after Hush Point's debut appeared on Sunnyside. However, Douglas' original "Thrush", the opening track on Riverside's album, showed that the quartet had already mastered many of the elements from the Giuffre 3. Here were the strong propulsive rhythms, a deep commitment to simultaneous improvisation, and the "down-home" spiritual feeling that infused many of Giuffre's compositions. Riverside has a direct connection to Giuffre in the presence of Steve Swallow, and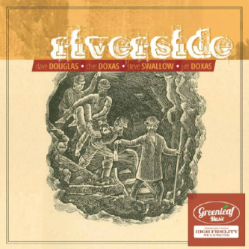 while the music Swallow played with Giuffre was quite different than the pieces Riverside explored on this disc, he obviously knew the repertoire along with first-hand knowledge of Giuffre's preferred style. Riverside's version of the Giuffre 3 staple, "The Train and the River" maintains the intensity of the original, but adds daring note choices and half-valve trumpet effects from Douglas, and a churning groove from Swallow and drummer Jim Doxas. Doxas' younger brother, Chet, is Riverside's clarinetist, saxophonist and co-leader. His yearning original "Old Church, New Paint" sounds like one of the old hymns which inspired Giuffre. Douglas' cup-muted trumpet joins with Doxas' tenor for an intricate dialogue where the two parts seem to encourage each other along. It is on Douglas' powerful "Handwritten Letter" and Chet Doxas' "Big Shorty", where Riverside shows that they are more than a Giuffre tribute band. The style, powered by Jim Doxas' exuberant drums, moves toward the free style pioneered by Ornette Coleman. Of course, Coleman fits within the same historic continuum as the Giuffre 3—and for that matter, the Gerry Mulligan Quartet: a group born in California, omitting piano to allow for greater freedom between the soloists. If the connection between Giuffre and Coleman is not obvious, the twin Douglas compositions "Front Yard" and "Backyard" illustrate the influence clearly, with the first tune performed in Giuffre's style and the second in Ornette's. The group's lightest moments come in Douglas' "No Good Without You", which as the title implies, is a romp on the changes of "All of Me". Some of the note choices in the solos seem to indicate that the harmonies had been altered, but Swallow's bass lines sounded fairly straight-forward! After a slow and sassy rendition of a favorite Giuffre standard, "Trav'lin' Light", the album closes with a connected pair of Chet Doxas compositions, "Sing on the Mountain High" and "Northern Miner". The opening section is deeply mournful with tight interaction between the two horns. It leads into stunning solos by Douglas and Chet Doxas, each of which is enhanced by Swallow's spare bass lines.
On Riverside's sophomore release, "The New National Anthem" the ties to Giuffre are more personal than musical. The album features three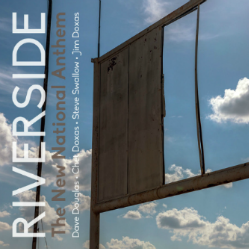 compositions of Carla Bley, who was married to Paul Bley during the late 1950s, and who has been Swallow's artistic and life partner for several decades. While the Carla Bley pieces on "The New National Anthem" were not recorded by Giuffre—the title track was written for Gary Burton's "Genuine Tong Funeral", "Enormous Tots" for her mid-sized band, and "King Korn" for small combo—the Riverside arrangements make them sound completely idiomatic for their quartet. However, it should be noted that Riverside sounds much edgier here than on their first album. While they have not lost their dedication to collective improvisation, they seem determined to push the limits of this style through harmonic, melodic and rhythmic freedom. Yet, the quartet keeps the connections clear through their selection of repertoire. Douglas' tune "King Conlon" is an abstraction of ideas developed from Bley's "King Korn", and the pairing of these two pieces as adjacent tracks offer another example of the group's ability to transform material—just as the "Front Yard"/"Backyard" tracks displayed similar material in two related styles. Even when the group veers toward the avant-garde, as on Chet Doxas' 'View from a Bird", the music can be easily understood by anyone with basic knowledge of the earliest free jazz pioneers. The same can be said for the darkly humorous "Enormous Tots", which sounds like an off-kilter circus march (and a spiritual cousin to the soundpiece "Circus '68 '69" from Charlie Haden's "Liberation Music Orchestra", also orchestrated by Bley). For listeners who want something that sounds like the tracks from Riverside's first album, the best example may be "Il Sentiero", which retains the hymn-like qualities of "Old Church, New Paint". But Riverside is a band that embraces change, and it's highly possible that the group's next album will display a further break from the Giuffre model where it started.
As I have written in these pages, I suspect that Riverside, Hush Point and Catharsis may be on the vanguard of a new movement in jazz; one which re-explores and expands on the ideas of Mulligan, Giuffre, and Coleman. Yet, the directions taken on recent recordings by Riverside and Catharsis may indicate that their confluence may have been a momentary encounter on the path to greater diversity. The linear concept of time dictates that we must continue to move forward. We may not get that new movement in jazz, but we will certainly hear a lot of great new music from these remarkable ensembles.