Since Karrin Allyson parted ways with Concord Jazz, she has broken her long string of concept albums and created self-released albums focused on her own compositions. On her new disc, "Some of That Sunshine" (KAS 2) all of the songs were written by Allyson (with occasional assists from long-time associates Chris Caswell and Todd Strait) and they display a wide range of genres. The opening "Wish You Were Mine" is a groovy boogaloo, and like the lead tracks of countless Blue Note LPs, the beat swings and stomps at the same time. "Home" has a spacious, welcoming eighth-note pulse, whil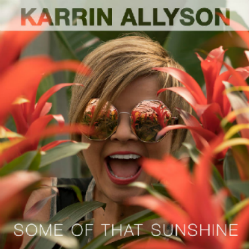 e the secular "As Long as I Know You Love Me" carries the atmosphere of a passionate gospel hymn (credit Caswell's rich organ tones, and Allyson's heartfelt vocals and piano for communicating that special feel). The title tune starts with a verse(!) and moves into a swinging medium bounce. Guest soloist Regina Carter plays her first chorus pizzicato before channeling the gritty sounds of Stuff Smith as she picks up her bow. The coda features sexy improvisations between vocals and violin. "Shake It Up" is a rare political statement from Allyson, written in the aftermath of the 2016 elections. The lyric features a line quoted from Barack Obama, and the tune is set to an irresistible groove, with a chanting chorus. Allyson follows with a gorgeous ballad called "Just as Well", and she completes the romantic mood with the lush-toned tenor of Houston Person (I wouldn't be surprised if Person obtained a copy of the lead sheet—he loves playing songs like this on his own gigs!) Allyson's rhythm section is outstanding throughout, but I love their delicate approach to "Time is a Funny Thing". Jerome Jennings barely plays a pulse here, as if the touch of brush on snare might disturb the moment. Jeff Johnson provides a sympathetic bass counterpoint and solo, while Miro Sprague plays just the right piano voicings behind Allyson's tender vocal. On the following track, "One of These Days", guitarist Rod Fleeman, electric bassist Lee Sklar and Chris Caswell's organ enrich the deeply funky mood. "Nobody Said That Love Was Easy" finds Allyson in a street-smart confessional mode, and Person unleashes the moaning sound that served him well in his days with organ combos. It will be interesting to see if other vocalists cover some of these originals: "Happy Now" could be convincingly sung by any number of current R&B singers, "You Don't Care" would appeal to a traditional country singer like Dolly Parton, and I'd love to hear Roseanna Vitro's approach to the strongly political "Big Discount". Allyson has created a great new book of originals, and she should follow the suggestion of her friends: "Keep Writing!"
While Allyson notes that her album was years in the making, Rachel Caswell's new disc "We're All in the Dance" (Turtle Ridge 3) moved from conception to realization in just under two months. Yet the quick gestation of this album resulted in Caswell's most-focused recording to date. The tunes are diverse and thoughtful, and the arrangements by Dave Stryker and Caswell, offer compelling approaches to sometimes less-than-familiar material. Sting's "Fragil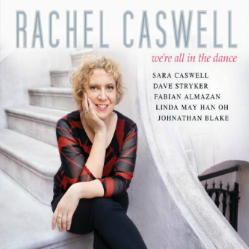 e" becomes a convincing jazz vehicle with superb extended solos by Rachel and her sister Sara Caswell (on violin), with shorter spots for Stryker's guitar and Fabian Almazan's piano. Bassist Linda May Han Oh and Johnathan Blake's snappy brushes offer a cushiony backdrop for Rachel's creamy reading of "A Lovely Way to Spend an Evening", which also features a particularly well-crafted scat solo, a tightly-written shout chorus and outstanding melodic variation in the out-chorus. The title track is a genuine rarity, a song from the 2006 film "Paris Je T'aime" which reunites the Caswell Sisters. The gorgeous mixture of violin and voice illustrates Rachel's comment that Sara's violin is "the sound in the other half of my brain". Rachel creates a unique interpretation of Bob Dorough's "Devil May Care" by singing the rapid-fire lyrics and scatting over a constantly shifting rhythmic and harmonic background.  A loose Latin beat backs Rachel's expansive reading of Henry Mancini's "Two for the Road". Sara's violin soars in both solo and obbligato, and Stryker offers a fine contrast with his strongly-constructed solo. On Ray Charles' "Drown in My Own Tears", Rachel cools the fire of the original down to a slow simmer without diminishing the power of the lyrics. Stryker's chart on "I Didn't Know What Time it Was" puns on the song title, offering a shifting meter throughout the melody statements. Rachel credits the late David Baker with deepening her skills at vocal improvisation, and her scat solo on this track could stand alongside those of any instrumentalist. She easily navigates the wide melodic range of Herbie Hancock's "Tell Me a Bedtime Story" and the bebop intricacies of Charlie Parker's "Dexterity" before closing the album with a tender reading of Thelonious Monk's "Reflections". Rachel presently lives in Bloomington, Indiana where she teaches at her alma mater, Indiana University. However, this album demonstrates that she has the necessary skills and flexibility to make it as a professional jazz singer on the national scene. She is more than ready to break into the big time.
Imagine discovering as an adult that you are not the person you thought you were; that your ancestry was completely different than what you had been told. At the age of 28, British-born vocalist Tessa Souter met her birth father, a black tenor from Trinidad. With further investigation, Souter found an entirely new heritage for herself. These discoveries even changed her outlook on music, as she heard familiar songs in a different light. Her self-produced album "Picture in Black and White" (NOA—no #) transfers that unique experience from the vocalist to the listener. Souter's overdubbed vocal chorus brings a haunting mood to the Kenyan song, "Kothbiro". She bridges to jazz with McCoy Tyner's "Anc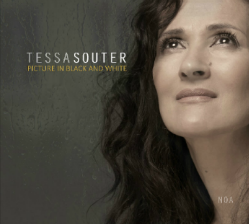 estors," powered by Billy Drummond's African-inspired drums and her anguished vocal cries. Dana Leong's alternating pizzicato and bowed cello enhances a unique arrangement of "A Taste of Honey", and like many great jazz vocalists of the past, Souter brings the lyrics into sharp focus so we can truly understand their meaning. "Honey" also opens an interesting narrative arc, with that song's tale of courtship moving into a thoughtful medley of "Dancing Girl" and "Where the Streets Have No Name" which blends the worlds of dreams and wishes. The story continues with Souter's new lyrics to Wayne Shorter's "Ana Maria" and Jon Lucien's "Child of Love" focusing, respectively, on an infant and a growing child (here inferred to be raised by a single mother). The title track is directed towards the absent father, and Souter's original lyrics strengthen the overall story with references to words from the earlier songs. On  the exotic original "You Don't Have to Believe", Souter's biting text is accented by Yotam Silberstein's overdubbed oud and guitar lines, as well as Keita Ogawa's invigorating percussion. The English folksong "Reynardine" is another inspired repertoire choice, with the narrator finding that her lover is actually a mix of werewolf and fox. Souter sings the first chorus a cappella and then is gradually surrounded by a menacing accompaniment. The soaring chant Souter performs as a prelude to Vicki Burns' "Siren Song" maintains the mysterious mood, even though the introduction of a Brazilian beat eventually provides a few moments of relaxation. Ornette Coleman's "Lonely Woman" raises the intensity again with a stunning performance that displays the pain inherent in the original composition. The disc closes with an upbeat version of Milton Nascimento's "Nothing Will Be As It Was," which finds the narrator moving forward despite the past heartbreak. This album could not have been an easy one to make, and Souter and her accompanists (Adam Platt, piano; Yotam Silberstein, guitar; Yasushi Nakamura, bass; Billy Drummond, drums; Dana Leong, cello; Keita Ogawa, percussion) deserve high praise for creating a unified artistic statement from an intensely personal experience.
Luciana Souza's astounding versatility emerges regardless of her surroundings. Singing in front of a symphony orchestra, or working with only a guitarist, she can communicate deep emotions through her expressive voice and profound artistry. Her latest album, "The Book of Longing" (Sunnyside 1518) puts her in an ideal setting: singing her own settings of poetry backed with bass, guitar and a little of her own overdubbed percussion. Four of the ten poems were written by a longtime favorite, Leonard Cohen, while three from Souza's ow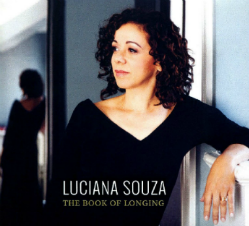 n pen surround verses by Edna St. Vincent Millay, Emily Dickinson and Christina Rossetti. "These Things" introduces the album's concept of exposed feelings and vulnerability. While the dynamic range of this music is necessarily restricted—due to both mood and instrumentation—there is plenty of room for expression, as evidenced by a trio improvisation which organically grows out of the arrangement's central section. "Daybreak" features a Souza poem consisting only of single isolated words. Souza's phrasing links these words into a coherent pattern, while guitarist Chico Pinheiro and bassist Scott Colley provide an unobtrusive bossa nova rhythm. Millay's "Alms" captures the onset of winter, but the warmth of Souza's delivery adds a subtext saying that despite the narrator's depressed tone, a new season and new loves will appear soon. Cohen's "Night Song" continues the themes of nature and love, with Souza's legato interpretation placed over a rhythmically active backdrop. The track closes with a tantalizingly short taste of Souza's well-conceived scat. Pinheiro adds an octave doubler to his setup on "Paris" which adds a welcome change of tonal color without destroying the somber mood. I find Cohen's "The Book" to be a fascinating text. He seems to indicate that a woman would bring new meaning to his words after his death. Was he predicting Souza's present dedication to his poems? Without doubt, Souza's melodic lines are the perfect match for Cohen's verse—both here and elsewhere—using uncomplicated melodies and sensitive harmonies to define the meaning of each phrase. Even when Souza defies expectations, as with the menacing rock feel on Dickinson's "We Grow Accustomed to the Dark", the choices are justified by the themes of the poetry. What becomes clear over the course of this album is that Souza has contemplated these poems so that her musical settings enhance the words. It is a talent usually reserved to classical composers, but Souza has adapted it to fit within her own musical universe of Brazilian and jazz styles.  This is an album which will bring listeners new insights every time it is played.
Roseanna Vitro's new project, "Tell Me the Truth" (Skyline—no #) is her most political release to date. She makes stinging references to several well-known institutions, but stops short of criticizing certain well-known government figures. For those unnamed individuals, she wisely lets her listeners draw their own conclusions. For the music, Vitro draws from a deep collection of Americana, juxtaposing Allen Toussaint with Patsy Cline, Fats Waller with Boz Scaggs, and John Fogerty with Mose Allison. That's hardly surprising considering Vitro's expansive discography, which includes tributes to Bill Evans,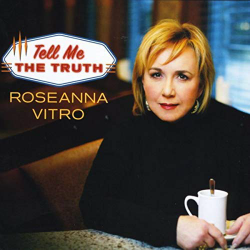 Randy Newman, Clare Fischer and Ray Charles, but it is always a revelation to hear how Vitro adapts her expressive voice into this wide variety of musical genres. She knows when add a little grit to her voice, and when to treat a lyric with ultimate tenderness. The backing ensemble, dubbed "the Southern Roots Band", proves to be Vitro's equal in conquering varied musical landscapes. Mark Soskin anchors the band through his invigorating piano and brilliant arrangements, bassist Dean Johnson and drummer Rudy Royston provide unceasing support, with guitarist Mitch Stein, trumpeter Nathan Eklund and saxophonist Tim Ries offering strong solos and punchy ensemble lines. Al Chestnut proves to be a great vocal partner to Vitro on the extra-soulful "Respect Yourself", while violinist Sara Caswell and background vocalists Kate McGarry and Cindy Scott provide ethereal backdrops on "I'll Fly Away". The album is loaded with highlights, including Vitro's understated rendition of "Walkin' After Midnight", her heavily sarcastic take on "Your Mind is on Vacation", Eklund's gorgeous flugelhorn solo on the soaring "I'll Be Long Gone",  Ries' burning tenor on "Respect Yourself", Soskin's lovely harmonic and rhythmic transformation of the old Billie Holiday standard, "Fooling Myself" (with outstanding solos by Ries on soprano and Vitro on scat), and Vitro's earnest reading of Jon Hendricks' "Tell Me the Truth"—a song as potent now as when it was written 40 years ago. At the present time, we don't know how, if or when the current political malaise will work itself out, and we also don't know how albums like "Tell Me the Truth" will be perceived by future generations. However, Vitro has supported her political views with music that is vibrant, strong and honest. Like the best political jazz recordings of previous generations (specifically Charlie Haden's Liberation Music Orchestra albums) this music has a solid foundation that has an excellent chance of surviving the present political situation.