CYRILLE AIMÉE: "IT'S A GOOD DAY" (Mack Avenue 1087)
In the past few years, Cyrille Aimée has established herself as an impressive jazz vocalist. She's recorded several CDs,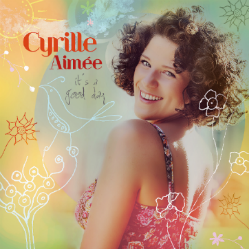 but "It's A Good Day" is billed as her major label debut. The selling point may be arguable (is Mack Avenue truly a major label?) but the album works in that context, displaying the many facets of Cyrille's talent and experience. For example, she was born in Django Reinhardt's hometown, and she grew up hearing gypsy jazz groups inspired by the Hot Club of France. Her accompaniment of "It's A Good Day" consists of three guitars, bass and drums, and there are plenty of moments which recall classic Reinhardt groups. Yet Cyrille and her band are not satisfied to just make a gypsy jazz album: each of the guitar players plays a different variant of the instrument (Michael Valeanu plays electric, Adrien Moignard performs on a steel-stringed acoustic, and Guilherme Monteiro opts for a nylon-stringed acoustic). Further, the repertoire demands a wider range of accompaniment than the typical gypsy jazz group could provide. There is a stunning adaptation of Michael Jackson's "Off The Wall" that uses a broken time feeling in the opening section, with a few touches of swing added as the song progresses. Cyrille's original "One-Way Ticket" was inspired by a trip to India, and the arrangement alternates between atmospheric sections and insistent pop riffs (Drummer Rajiv Jayaweera plays well throughout the album, but I especially enjoyed his multi-faceted work on this track). While Cyrille is a fine scat singer but she only scats on three tracks (including the delightful closer, "Tricoticism", a duet with bassist Sam Anning). Elsewhere, she displays her winning way with a lyric, and her refined skill at melodic variation (as on an exquisitely crafted version of "Young at Heart"). Whether you are a newcomer to Cyrille Aimée's music, or an established fan, there's plenty of musical gold in this brief but satisfying album.
CLAIRE MARTIN: "TIME AND PLACE" (Linn 423)
On her new CD "Time and Place", Claire Martin salutes the memory of her friend and duet partner Richard Rodney Bennett. The opening track, a lush setting of "My Ship", was the last arrangement Bennett write for Martin, and one he never heard performed. The accompaniment of the Montpellier Cello Quartet bri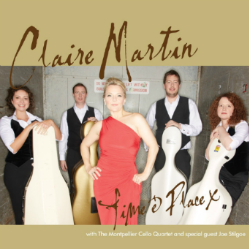 ngs out the rich tone of Martin's voice, and the emotion she draws from the sweeping melody and poignant lyrics makes this a particularly fine tribute to Bennett. Martin also includes two Bennett originals about aging and death: "Early to Bed" is about a person no longer willing to embrace the thrills of nightlife, and "Goodbye for Now"  is a musical version of a last will and testament. While there are other pieces which could be interpreted as homages to Bennett (including a wondrously expressive "My Man's Gone Now") Martin is clearly ready to move forward with her life and career. That becomes apparent with the quick mood shift between the luxurious "My Ship" and the sprightly light-hearted "Catch Me If You Can" which follows. The backup is by Martin's rhythm section (pianist Gareth Williams, bassist Jeremy Brown and drummer Ben Reynolds) and Martin effortlessly takes on the part of an ultra-cool world traveler. Martin features her new duet partner, Joe Stilgoe, as pianist, arranger and background vocalist on the Beatles' tender "She's Leaving Home", and she imbues Stilgoe's original "Lost for Words" with supreme tenderness. Martin's longtime musical associate, Laurence Cottle, is featured on a remarkable arrangement of "Round Midnight", where the background alternates between the cellos and Cottle's electric bass. Martin's soulful reading of the Monk classic includes one chorus each of the Bernie Hanighen and Jon Hendricks lyrics. As with all of Martin's recordings, the audio quality is exceptional (the label Martin records for, Linn, is also a manufacturer of high-end stereo equipment). Since the disc is a hybrid SACD (which will play on all CD players) and an import, it may be a little more expensive than others, but as always with Claire Martin, it's worth the extra cost to hear this music.
TIERNEY SUTTON: "PARIS SESSIONS" (BFM 302 062 427)
For the past two decades, Tierney Sutton has recorded almost exclusively with her own quartet. The group's repertoire includes hundreds of arrangements which tightly combine Sutton's voice with the interplay of the rhythm section. However, Sutton's last two discs, the Joni Mitchell tribute, "After Blue" and her current release "Paris Sessions" find her branching out with other musicians. Her backup on this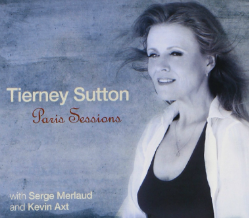 album consists of just two musicians, Parisian guitarist Serge Merlaud and one of her band's two bassists, Kevin Axt (here playing an acoustic bass guitar). The music on this album was recorded in December 2012, while Sutton was preparing "After Blue", and it looks like Sutton decided to reissue the two tracks from the earlier release on this album. At any rate, it's wonderful to find ten more songs from these sessions.  On most of the tracks, Sutton and Merlaud perform as a duet, and they let these songs breathe, adjusting (or abandoning) strict tempos whenever the music demands it. When Axt is added to the group, the job of maintaining the pulse goes to him, and Merlaud plays finely crafted countermelodies to Sutton's sotto voce interpretations (and lest one think that Axt is merely a timekeeper, just listen to his inventive bass lines which also act as countermelodies). The album's playlist is primarily composed of standards, with three wordless Merlaud originals and a pair of international favorites added in. Sutton performs songs like "You're Nearer", "Don't Worry 'Bout Me" and "Body and Soul" with tenderness and deep understanding of their lyric and musical riches. She takes advantage of the informal settings to stretch important words and to mold fresh variations on the melodies. Her only full scat solos are on "Beija-Flor" and "Answer Me, My Love", but she also effectively uses scat in the coda of "Estate". The albums of the Tierney Sutton Band have been rightly praised for their high level of musicality, and I certainly hope that more albums by that ensemble will be forthcoming; however, I also hope that Sutton will also explore her intimate singing style on future recordings. It's a side of her art that should be heard more often.
ROSEANNA VITRO: "CLARITY: MUSIC OF CLARE FISCHER" (Random Act 1016)
Despite his many recordings and prolific output, Clare Fischer is still tragically under-rated. Roseanna Vitro's new album, "Clarity" may help to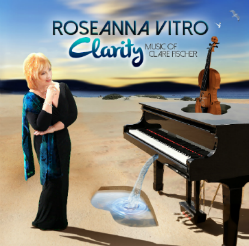 rectify that problem, as it offers the first vocal collection of Fischer's music, including a half dozen songs that have never been sung on records before. For this splendid tribute, Vitro has brought back the remarkable ensemble from her "Music of Randy Newman" CD: violinist Sara Caswell (whose soulful tone in the lower register is a perfect match for Vitro's rich alto), pianist Mark Soskin (who co-arranged the tracks with Vitro), bassist Dean Johnson (whose buoyant feel enlivens the entire album) and drummer Tim Horner (who knows how to make more with less). Fischer's son, Brent, is a guest on vibes on one tune, and Mino Cinelu adds percussion on several tracks. As Bill Milkowski notes, most of this music reflects Fischer's fascination with Brazilian music. Yet the Vitro/Soskin arrangements move beyond the typical Latin genres, utilizing strongly pulsating swing grooves and sensuous ballad settings to add variety to the mix. Three of the songs feature Fischer's original lyrics, but the remaining tunes have newly-commissioned words, and the varied approaches of these lyricists add new dimensions to the program. The lyrics of Fischer and  Roger Schore are quite poetic, while Paul Wickliffe's words for "Love's Path" includes an intricate vocalese section, and Cheryl Pyle drops plenty of Ellington references into "Swingin' with the Duke". Vitro is the perfect vocalist for this music, deftly handling the many twists and turns of Fischer's melodies (especially "Swingin' with the Duke"), and bringing out the inner warmth of ballads like the gloriously sung "Pensativa" and the overwhelmingly expressive "Sleep My Child". Her harmonically astute scat singing enlivens several of the tracks, and the strength of her musical personality unifies this music like few others could. Vitro's Randy Newman album netted her a well-deserved Grammy nomination; hopefully, this salute to Clare Fischer will garner Vitro that coveted award.