Resonance Records, a non-profit label run by George Klabin and Zev Feldman, has been on the scene for a few years and in that time it has become a commanding presence in historical jazz releases. Starting with Klabin's live recordings made in New York venues during the mid-sixties, and gradually adding rarely-heard studio and live recordings held by collectors across the globe, Resonance has added significant additions to the discographies of artists such as John Coltrane, Bill Evans, Charles Lloyd and Wes Montgomery. Along with the music, Resonance includes extensive notes with essays about the recordings and interviews with surviving musicians and entrepreneurs (Feldman's other label, Elemental, which he runs with Jordi Soley, also issues historical jazz releases with the same commitment to quality as Resonance). Usually, Resonance's historical albums trickle out at the rate of one set per quarter-year, but they have shocked the music industry with the release of five new albums within about 6 weeks. As all of this music is worthy of your attention, we are temporarily adopting the capsule style review style for this Retro Review.
Probably the most important historical find is the debut performances by the Thad Jones/Mel Lewis Jazz Orchestra included on the double-CD set "All My Yesterdays" (Resonance 2023). Klabin, then a sophomore at Columbia University and a host on the college radio station WKCR, was at the Village Vanguard on February 6, 1966, when the Jones/Lewis orchestra—then known as "The Jazz Band"—played its first sets before a packed house. Working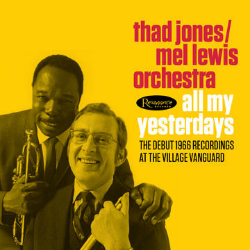 without a sound check and a limited number of microphones, Klabin mixed the results as they happened, and asked the musicians to move mikes into place for solos. As the live tapes were being made as demos for a recording contract, the musicians were very cooperative and Klabin successfully captured about 50 minutes of exciting music. We can hear Jones clapping and encouraging Jerry Dodgion's unaccompanied alto solo at the start of "Back Bone", but little can prepare the listener for the explosive entrance of the full band. The piece, a medium fast blues feature for Dodgion, Hank Jones, Bob Brookmeyer and Garnett Brown, has uncharacteristically rough moments in the ensemble passages, but the energy and joie de vivre leaps from the speakers. The band, filled with some of New York's finest studio musicians, finds its focus quickly with a polished and emotional rendition of the title track, and their unique combination of precision and power carries them through Jones' complex (and soon-to-be-classic) charts on "Big Dipper" and "Mornin' Reverend". It should be noted that Jones' compositional style was much more sophisticated than any other big band of the time—Count Basie famously rejected some of Jones' pieces as being wrong for his band—but the audience enthusiastically accepts it all, even when it veers into free jazz, as during Jerome Richardson's solo on 'Little Pixie". "Pixie" is also notable for its extremely loose structure: on the second half of the track, most of the background riffs were improvised on the spot; it's not even certain that this piece had an "official" ending at the time, as the recording slowly fades out over the final bars of the theme. According to Tom Lord's "Jazz Discography", recordings from this first night appeared on a CD issued in New Zealand; Resonance states that their issue is the first legitimate issue of this material.
Six weeks later, Klabin was back at the Vanguard to record the band again. Armed with more microphones and a secondary mixer, Klabin obtained a splendid sound mix on the band, while capturing enough ambiance to maintain the live feel of the recording. While there is less fire on this March 21 date than on the debut performance, the ensemble sound shows greater finesse. The expanded repertoire includes more features for soloists like Joe Farrell (a stunning "Lover Man"), Tom McIntosh (an extended turn on Hank Jones' "Ah, That's Freedom"), Danny Stiles (on Thad's bright "Don't Ever Leave Me", which also includes Farrell on flute) Eddie Daniels (a wailing tenor episode on "Mean What You Say") Bill Berry (playing over Lewis' sizzling brushes on "Once Around") and Pepper Adams (also on "Once Around", where the communication between soloist and rhythm is truly extraordinary). We also hear a splendid early version of Brookmeyer's atmospheric setting of "Willow Weep for Me", an arrangement originally penned for the Gerry Mulligan Concert Jazz Band, but first performed in public by the Jones/Lewis orchestra. Even with the high caliber of musicians in the Jones/Lewis band, it is astonishing to witness the depth of expression that they pull from Brookmeyer's score. Another pleasant surprise is a trio version of "Polka Dots and Moonbeams" with Hank Jones, Richard Davis and Lewis. Undoubtedly added to the set list to offer a little rest to the brass, the inclusion of this track also gives the listener a welcome change of pace. The set closes with alternate versions of "Mornin' Reverend", "All My Yesterdays" and "Back Bone", offering further evidence of the band's quick development—especially on "Back Bone", where the chart has been extensively re-structured, omitting the initial blast by the brass, extending the solos by Dodgion and Lewis, transforming the trombone duet into an open conversation for McIntosh, Richardson, Adams and Thad Jones, and reworking the troublesome ensemble chorus (this time played with much more precision).
Two single CDs by Stan Getz, "Moments in Time" (Resonance 2020) and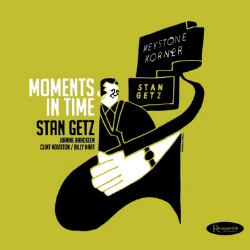 "Getz/Gilberto '76" (Resonance 2021) were both recorded during the same week in May 1976 at the Keystone Korner in San Francisco. Except for a rare broadcast from Yugoslavia recorded the following month, these Resonance albums offer the only recordings of Getz with the rhythm section of Joanne Brackeen, Clint Houston and Billy Hart. On "Moments in Time", we hear Getz tackling challenging pieces by Wayne Shorter, Kenny Wheeler and Jimmy Rowles alongside standard fare by Duke Ellington, Dizzy Gillespie, Horace Silver, Tom Jobim and Harry Warren. From the outset, it's clear that Getz loved the challenge of working with this young and adventurous trio. Even when playing familiar standards, the trio finds ingenious ways to push him to the edges of his comfort zone. And while Getz plays with considerable abandon, he never loses his core sound. His breathtaking version of Shorter's "Infant Eyes" may be the only tenor rendition to rival the composer's own recording. Brackeen is in remarkable form, playing stunning improvisations that add new depth to the compositions without sacrificing their essence. Hart brightens the entire date with his bright, sunny drumming (and on Wheeler's "Cry of the Wild Goose", the lightest-footed funk beat you'll ever hear) while Houston impresses through his full rich tone, exquisite note choices and his astute interactions with the rest of the band.
On the original gig, the Getz quartet played the first set, and was joined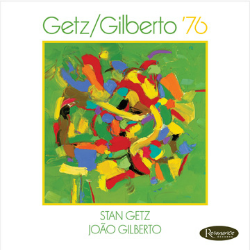 by João Gilberto on the second set. Going from the "Moments in Time" to"Getz/Gilberto '76" shows how the band changed his basic style to accompany this most-sensitive Brazilian singer and guitarist. Naturally, the repertoire—which includes songs by Jobim, Dori Caymmi, Ary Barroso, Gilberto Gil and João Gilberto—is played much softer to accommodate Gilberto's understated vocals, but more importantly, the rhythm section uses the same sense of interaction to stay with Gilberto as he switches from singing on top of, ahead of, and behind the beat—heard to great advantage in the disc's remarkable version of "Aguas de Marco". Gilberto was staying at Getz's house around the time of this engagement, and over games of ping pong, Gilberto taught Hart his unique conception of rhythm. In an interview printed in the CD booklet, Hart says that Gilberto instructed him to "play like the rain"; it's an apt description of what Hart plays on this disc. As he had done on his previous recordings with Gilberto, Getz uses long phrases and greater dynamic contrasts to provide a stark reflection of Gilberto's short, quiet phrases. One of the downsides of Gilberto's pianissimo vocals is that the engineer was forced to raise the vocal microphone input to an unnaturally high level. The effect is that Gilberto seems to singing right in your ear, and Getz's solos are nearly overpowering in their volume. If you want to hear the rhythm section, it's necessary to play the recording at a moderate level. As a result, the delicate intimacy of this music is nearly lost on the CD. Since these recordings were probably recorded in 2-track directly from the soundboard, there was little that could be done to correct this problem. However, it is a fairly minor inconvenience considering the obvious value of this musical document.
In his liner essay for the double-CD "Larry Young in Paris: The ORTF Recordings" (Resonance 2022), the son of trumpeter Woody Shaw—who proudly gives his full name Woody Louis Armstrong Shaw III—states that the recordings in the new set are the precursor to Young's Blue Note masterpiece, "Unity". It's hard to argue with that point: recorded approximately a year earlier for French radio, the Resonance recordings include two of the tracks from the Blue Note album, and display the already deep chemistry between Shaw's progressive trumpet and Young's lean organ. On five tracks featuring the Nathan Davis Quartet, Shaw and Young work alongside two other Americans: the saxophonist leader and drummer Billy Brooks. If Davis and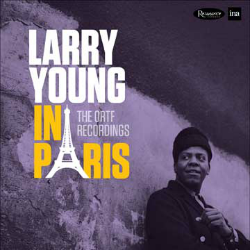 Brooks were not as adventurous as their eventual replacements on "Unity"—Joe Henderson and Elvin Jones—their styles are still progressive enough to keep up with Shaw and Young. While the shadow of John Coltrane looms over this music, much of it retains the melodicism that marked "Unity".  Davis shows a clear Coltrane influence, but more reflective of the late Fifties Trane than of the master's mid-Sixties explorations. Still, he is a superb soloist, both melodically and harmonically interesting, with a well-honed talent for sustaining interest during extended solos. Young incorporates the quartal harmony made famous by Coltrane's pianist, McCoy Tyner, and on the live versions of "Black Nile" and "Zoltan", the interaction between Young and Brooks generates the same kind of sparks as the Coltrane recordings featuring Tyner and Jones. Shaw, still a teenager when these recordings were made, shows remarkable poise and impressive technical prowess while playing over this turbulent rhythm section.  While Tyner would aggressively comp to build tension in his solos, Young takes the opposite approach, filling his solos with jagged right hand motives which land in different places in the measure upon repetition. Brooks' lighter sound gives him less heft than Jones, but the polyrhythms, so essential to Jones' style, are a welcome and necessary component to this music (his transitions between the march and swing sections of "Zoltan" are particularly fine).  Unfortunately, the tempo rushes considerably on both of the live tracks, which ultimately reduces their overall effectiveness (the length of the performances—"Nile" at 14 minutes and "Zoltan" nearly 21—were certainly contributing factors). The set also includes three trio recordings featuring Young, the most enlightening of which is the closer, "Larry's Blues", where Young, now on piano, plays a stunning solo which starts with stark Monkish figures and moves closer to the avant-garde as it progresses. On "Luny Tune", the dialogue between Young's organ and Franco Manzecchi's drums presages the organ/drums duet on "Monk's Dream" that was a highlight of "Unity". The octet sides that fill most of the first disc were recorded for a radio show called "Musique aux Champs Élysées" hosted by pianist Jack Diéval. In addition to Diéval, the group adds Jamaican trumpeter Sonny Grey, French tenor saxophonist Jean-Claude Fohrenbach, Guadeloupian percussionist Jacky Bamboo to the Davis quartet, with Manzecchi subbing for Brooks. Compared to the fiery quartet performances, these tracks seem lackluster and uninspired. Truly, the essential parts of this set are the Davis Quartet and Young Trio sides.
The 1970s represented an artistic highpoint for Sarah Vaughan. Her remarkable voice, which had grown in range and depth despite years of smoking and drinking, was matched only by her phenomenal ability to manipulate it. Her voice showed incredible flexibility as she scatted daredevil lines, morphed vowels, and restructured melodies to suit her abundant imagination. Unfortunately, her recording activity at the time was sporadic, and the albums were notoriously hard to find. Although she had recorded five studio albums between 1968 and 1976, the single best representation of her style was the 1973 double-LP, "Live in Japan". By the time she took the stage at Rosy's, a nightclub in New Orleans, in May 1978, her recording situation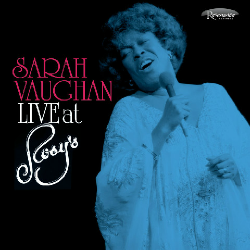 was on the cusp of vast improvement: a new collaboration with Oscar Peterson, Joe Pass, Ray Brown and Louis Bellson, "How Long Has This Been Going On?" was being prepared for release on Norman Granz' Pablo label (Upon its release, it would be acclaimed as one of Vaughan's finest recordings). Resonance adds to the wealth with "Live at Rosy's" (Resonance 2017), a double-CD set originally recorded for National Public Radio. Using two-thirds of the trio that backed her on the Tokyo recordings, pianist Carl Schroeder and drummer Jimmy Cobb with the fine bassist Walter Booker as anchor, Vaughan takes astounding chances throughout the set, knowing that the band will follow her anywhere she leads them. And Vaughan is definitely in charge: during a set of improvised exchanges on "The Man I Love", Schroeder plays a few ideas that are outside the key; Vaughan refuses to take the bait and resolutely stays within the changes! On a duet version of "Time After Time", she sings rubato, stretching phrases way beyond their composed length and compressing others to stay within the song's 32-bar structure. Schroeder is with her step-for-step, always playing the precise chord and voicing that Vaughan expects. "East of the Sun" is another duet, this time with Booker, and the two generate a juggernaut of uncompromised swing, while Vaughan creates a stunning wordless improvisation. Cobb's contributions are a little more subtle: he doesn't have a duet with Vaughan, but he plays fine breaks on "A Lot of Livin' to Do" and "Fascinating Rhythm", and he creates a rich and varied background on "I Remember You". Vaughan's rendition of "I Got it Bad" ranks alongside her studio recording made for Pablo the following year, and this live rendition has a low-register coda that must be heard to be believed. While her versions of "Send in the Clowns" and "My Funny Valentine" were basically set-pieces, there are several minor changes that make these new live versions stand out from the others, most notably Vaughan's breathtaking variation on the second chorus of "Valentine". With "Live in Japan" only available as an import, "Live at Rosy's" may be the easiest way to hear Vaughan at her very best.
All of the above albums are presented in CD digipacks (the Jones/Lewis and Young packages are one inch taller than jewel cases to accommodate the oversized books). "Getz/Gilberto '76" and the Young set are also available on vinyl. The Resonance avalanche is not over: new sets by Bill Evans and Shirley Horn are promised in the coming months.