Most jazz instrumentalists begin their careers as sidemen, using a developing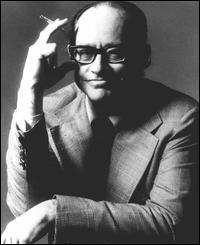 solo and ensemble voice to help realize the artistic visions of the leader. As he grows musically, the sideman will usually lead his own group on a recording, and after a suitable apprentice period, he will leave to become a leader in his own right. Paul Desmond's career didn't quite fit that mold. When the Dave Brubeck Quartet disbanded in December 1967, Desmond had a unique musical voice, several albums under his own name, and was one of the biggest stars in jazz. He also hadn't led his own group in a concert or nightclub for 17 years. Desmond was no hurry to lead, even after a long tenure with Brubeck. He settled in New York and continued to record as a leader, which saved him the hassles of maintaining performing engagements and running a payroll. For several years Desmond seemed to drift, not sure if he wanted to become a writer, a jazz musician, or a little of both. He hung out at Elaine's, the Manhattan restaurant known for its clientele of artists and authors, and played occasional gigs as a guest soloist with Brubeck, Gerry Mulligan and the Modern Jazz Quartet.
In 1973, the British humor magazine Punch published Desmond's first stand-alone article, a hilarious essay about the Brubeck Quartet's experiences at a county fair. It was supposed to be a preview of Desmond's memoirs, to be named after a stewardesses' question, "How Many of You Are There in the Quartet?" No further chapters came forth from Desmond's typewriter, but the experience of being published must have raised his confidence. On the musical front, he finally accepted an engagement at the new Half Note club, which was located a few blocks from his apartment. Desmond brought in a quartet with Jim Hall, Ron Carter and Ben Riley for a two-week engagement in 1974. It was a huge success, and soon after that, Desmond received an offer to play at a new club in Toronto called Bourbon Street. He tried to get Hall to do the gig with him, but Hall refused, recommending Toronto guitarist Ed Bickert for the job. Desmond next asked advice from critic Gene Lees, who also recommended Bickert as well as bassist Don Thompson, and drummers Terry Clarke and Jerry Fuller. Clarke got the nod for the initial engagement which took place in June, but Desmond found Clarke's style too busy, and hired Fuller from then on. The trio had played together in Rob McConnell's Boss Brass, and as the backing group for visiting artists like Milt Jackson and Frank Rosolino. They had their own understated sound, a quiet groove, and they knew hundreds of tunes. For a reluctant leader like Desmond, this was the perfect ensemble. He was not out to forge new paths, but to play relaxed, medium-tempo versions of the standards he loved.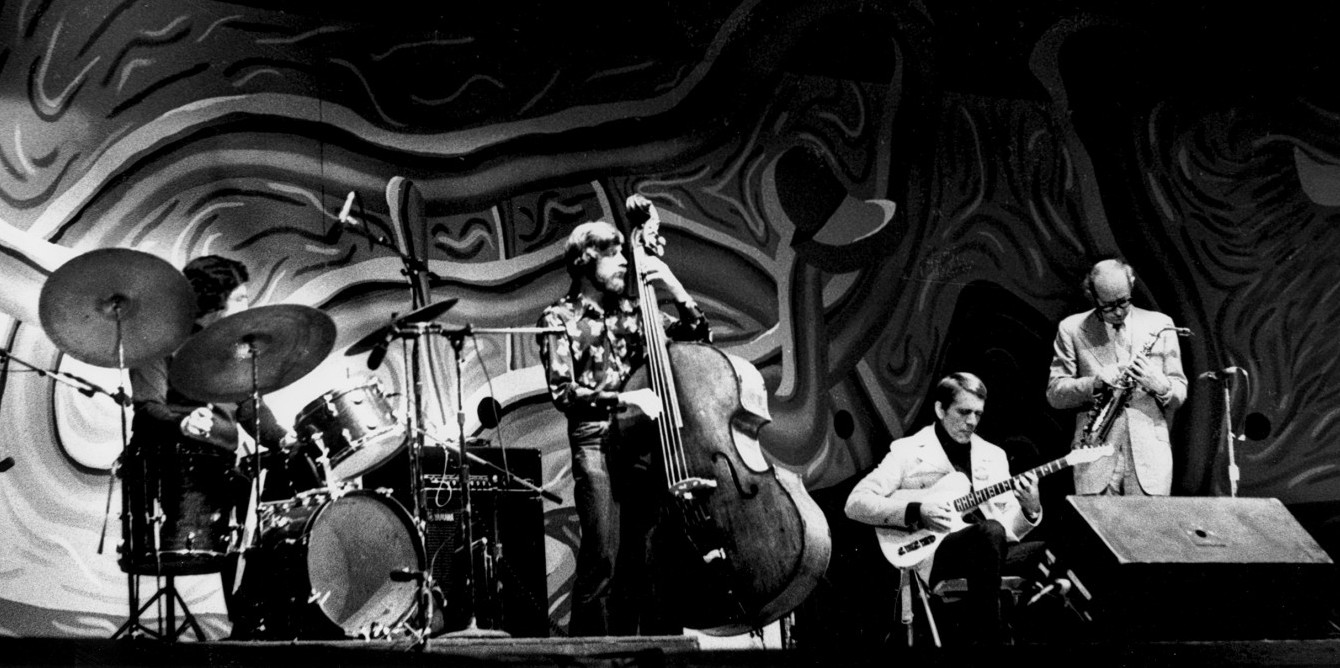 There are no issued recordings of the first Bourbon Street engagement, but Desmond had tapes of the gig, and upon his return to New York, he played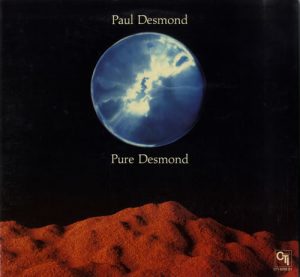 them for several friends. At the time, Desmond was recording for Creed Taylor's CTI label, and Desmond convinced Taylor to fly Bickert to New York for a recording session. Desmond and Bickert were joined by Ron Carter and Connie Kay for the relaxed quartet album issued as "Pure Desmond". Bickert gets nearly as much solo space as Desmond, and it's easy to hear why Desmond loved his playing. In a subtle and unobtrusive way, Bickert superimposed chords on top of one another and then implied both chords with three to four part voicings. Thus, Desmond could get the polytonal background he loved with Brubeck, while maintaining a low-key group sound. Desmond is inspired throughout, playing impeccably-constructed solos which develop an evolving string of thematic sequences. While Desmond inserts fewer song quotes than on earlier albums, the ones that do turn up are tightly woven into the chord structure, as in the ingenious quote of "Would You like to Take a Walk" which concludes his solo on "Why Shouldn't I". "Pure Desmond" isn't a "pure" example of the Canadian group, but the recording clearly echoes the style that Desmond and the Toronto musicians had worked out at Bourbon Street, featuring moderate tempos, melodic solos and low volume. Yet, the album nearly wasn't released: Taylor was unhappy with Kay's drumming and brought in Mel Lewis to dub in a more aggressive part. However, there was signal leakage between the two drum tracks, and Taylor's production assistant, John Snyder, helped Desmond convince Taylor to issue the album as originally recorded. Soon after the recording, Snyder went out on his own, producing several of Desmond's subsequent albums.
Desmond played two extended runs at Bourbon Street in 1975, the first from March 25-29 and the second from October 25-31. Don Thompson recorded all of the sets of these two engagements from his place on the bandstand. After years of legal negotiations, the releasable music from these live sessions are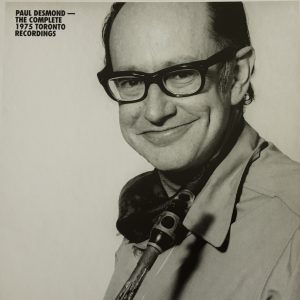 now available on a 7-CD limited edition set from Mosaic, "The Complete 1975 Toronto Recordings". The first five CDs in the Mosaic box feature a mix of unissued titles (pulled from both engagements) with all of the group's previously issued tracks from albums released on A&M/Horizon, Artists' House and Telarc.
The unissued recordings on the Mosaic set significantly expand our knowledge of the Desmond Quartet repertoire. Indeed, the tracks from March 25, 26 and 28 includes several tunes which appear only once in the entire collection. We don't know if Desmond was calling the tunes, or if the other members were making suggestions, but either way, these isolated performances offer a welcome contrast to the tunes which appear on nearly every disc ("Line for Lyons", "Wave" and "Just Squeeze Me"). One particularly fine example is "I've Got You Under My Skin". The rhythm section sets up a swinging groove from the outset. Desmond takes his time to get comfortable with the form and changes, but once he does, he takes charge with punchy ideas and rhythmic vigor. Bickert matches the leader with a solo overflowing with brilliant ideas. The closing theme is marked by a well-modulated coda. "I Wish I Knew", which Desmond never recorded before or after this March 25 version, finds the saxophonist weaving out endless streams of ideas, followed by Bickert's reflective chordal solo accompanied by Fuller's imaginative brush background and Thompson's melodic interplay. The March 26 tape includes a sprightly rendition of "All the Things You Are", (with daring rhythmic ideas during the alto solo, powerful swing in the guitar spot and astonishing technical execution on bass) and an intriguing version of "Autumn Leaves" where the rhythm section alternates between straight-ahead swing and  free rhythmic interplay. By March 28, the group was playing one brilliant performance after another, including a joyous romp through "East of the Sun" and an exquisite reading of "I Should Care". While all of this unreleased music is most welcome, the issue of these two tracks are worth the total price of the set.
The recordings from March 29 were originally issued in 1992 on the Telarc CD, "Like Someone in Love".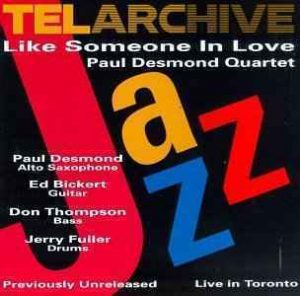 The title track is probably the most exuberantly swinging performance in the group's discography. The tempo is medium-fast and almost on the verge of rushing, but Fuller and Thompson hold the pulse steady. Desmond was in superb form that night and he is so inspired by the swinging background that he blows a little harder into his saxophone, which takes a little of the polish off his pristine tone. Near the end of his solo, he backs off a little to preserve his famous sound. The Ellington classic "Things Ain't What They Used to Be" is taken at a relatively bright tempo. Fuller sets it up as a shuffle, and again the rhythm inspires the group, with Desmond taking a long risk-taking solo, and Bickert digging into the enticing groove. Thompson solos on all of the tracks, and the interplay between the bassist's horn-like solos and Fuller's brushes (no pun intended) is quite remarkable. Django Reinhardt's "Nuages" was recorded on the "Pure Desmond" album, but the live version is simply exquisite. Desmond spins out beautiful long improvised lines as only he could, and Bickert gets the mellowest sound ever emitted from a Fender solid-body Telecaster. One of Desmond's favorite solo vehicles was the Johnny Mercer/Victor Schertzinger standard "Tangerine". He had played one of his greatest improvisations on this piece at a 1958 Brubeck Quartet concert in Copenhagen. The Toronto version refers to the earlier recording with a reprise of the stop-time chorus, and longtime Desmond fans will recognize a sequence that the saxophonist had played on "I Get A Kick Out Of You" from his 1959 Warner Brothers "First Place Again" LP (later reissued as "East of the Sun" on Discovery).
Most of the previously issued recordings of Desmond and the Canadian group come from the October Bourbon Street engagement. Two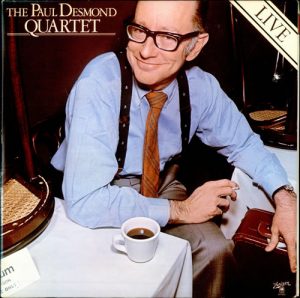 superb albums were released from these performances, including A&M/Horizon's double LP, "The Paul Desmond Quartet Live", the only recordings of this group to be released during Desmond's lifetime. A single LP, simply titled "Paul Desmond" was originally issued on John Snyder's Artists House label in 1978 (An inferior-sounding—and apparently unauthorized—CD version of the Artists House LP, titled "Audrey", is available on the Spanish Domino label. It has points of distortion on Bickert's guitar and a very strange edit in the middle of the guitarist's solo on "Darn That Dream". Neither of these problems appear on the LP, making the original vinyl the preferred edition).
The Horizon album is marked by great consistency between the tracks. In the notes to the CD reissue, musicologist Carl Woideck pointed out that five of the eight tunes on the original album were in E-flat concert (which translated to C on the alto saxophone). At least half of the tracks are ballads, played in the medium tempo the saxophonist preferred. Desmond's solos are supremely lyrical throughout the album with plenty of extended lines and thematic sequences, but except for veiled allusions to "Never-Never Land" and "Summertime" in "Mañha de Carnival", his solos are surprisingly free of quotes. Bickert and Thompson insert a few quotes in their solos, but the emphasis is on quiet, concentrated, original playing. Fuller is extremely subdued on the Horizon album. That was not always the case, even on other recordings from this engagement. The CD version of the Horizon album includes a bonus track, "Line for Lyons", which was lifted from the Artists House LP. Here, Desmond includes a deft quote from "I Got a Gal in Kalamazoo" and Fuller subtly drives the band from the drums. Taken as a whole, the Horizon album maintains a quiet, after-hours ambiance, while the Artists House album is a representative sample of a typical set by Desmond and the Canadians.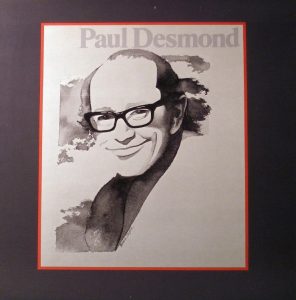 There are several musical highlights, including the Horizon album's opening track, "Wendy". Based on the changes of "For All We Know", it is the only original piece that Desmond recorded during this period. The melody sounds like a Desmond solo, as it sequences a simple three-note motive at different pitch levels. It went through a dizzying stream of titles, each supposedly dedicated to one of Desmond's girlfriends. It started out as "Pittsburgh" (which may have also been a pseudonym for Wendy), but it also was known for awhile as "Jenna", who was Desmond's steadiest companion at the time. Desmond's prowess with women was well-known, but the one woman he idolized and never met was Audrey Hepburn. In 1954, Desmond and Brubeck recorded a minor blues improvisation which Desmond called "Audrey". Although Desmond never knew it, Hepburn owned a copy of the recording and knew that the song was dedicated to her. Except for an incomplete live recording of the piece from 1958, Desmond didn't record the piece again until the Bourbon Street gig. With its simple heartfelt lines, the Toronto performance (originally issued on the Artists' House LP) is one of Desmond's most tender blues improvisations.
The sole blues on the Horizon album is "Things Ain't What They Used to Be" which is in straight-ahead swing instead of the shuffle on the Telarc disc. Here, Desmond's wry solo opens with an inversion of the melody. "Here's That Rainy Day" changes the order of soloists for once, with Bickert playing the theme and the closing solo, with Desmond and Thompson in between. And the quartet's understated version of "My Funny Valentine" remains one of the finest versions of this classic standard. The final track on the Horizon LP was the inevitable "Take Five". Desmond made lots of money from royalties on his best-known original, but he didn't play it very often in his own concerts and recordings. The stunning version on the Horizon album takes the song into a completely new direction. According to Thompson, Bickert didn't want to play a solo, and so the piece became a bass feature. One night, the group improvised their way into a Middle Eastern mode. Desmond leaned over to Thompson and said "I can smell the camels from here". From that point on, Desmond referred to the piece as "Camels" when calling it onstage. On the Horizon album, Desmond improvises on a single scale with great abandon before yielding the spotlight to Thompson.
Mosaic has included just over an hour of unissued material from the October tapes. In contrast to the March dates, most of the unissued tracks are alternative versions of tunes issued on the Horizon or Artists' House LPs. That is not to say that the previously unissued versions are inferior. The version of "Line for Lyons" sounds better overall to my ears than the take originally on Artists' House and later added as a bonus track when the Horizon album was reissued on a Verve CD. Johnny Mandel's "Emily" takes on a light-hearted quality with skipping improvised motives by Desmond, while "Just Squeeze Me" finds Desmond playing several unorthodox phrases in the early parts of his solo, which evolves into a parade of quotes later on. The same unhinged approach (possibly fueled by alcohol?) enlivens an edgy rendition of "Things Ain't What They Used to Be". The unissued material also includes another pristine version of "Wendy" and–quite possibly–the first version of the "camels" arrangement of "Take Five".
During the autumn engagement, the quartet visited the CBC studios in Toronto, where they were filmed for an appearance on a television program called "Take 30" (the derivation of the show's title was made quite obvious on this episode, where Desmond's performance of "Take Five" backed the credits!). The show aired on January 1, 1976, and one of the show's hosts, Mary Lou Finlay, quipped that while viewers might seek an antidote for their alcoholic consumptions of the previous night, the music of Paul Desmond was an antidote to Lawrence Welk. Co-host Paul Soles waxed rhapsodic about Desmond's sound and concept, and while plugging the "Pure Desmond" album, he noted that the record was nearly impossible to find. The three musical performances  is the only existing video record of this group. Set up in an arc with Fuller on stage right, Desmond directly opposite, with Bickert on a stool next to Desmond, and Thompson next to Fuller's hi-hat, the group performed "Wendy", "Take Five" and "Just Squeeze Me". While these renditions are generally shorter than the album versions, they hew to the original arrangements and styles. As he had on "Pure Desmond," Desmond yields most of the solo space on "Squeeze" to Bickert, and on "Take Five", he plays very little before Thompson revisits the camels. On "Wendy", Desmond's solo is more joyous and less reserved than the one on the Horizon LP, and he takes greater liberties with the original melodic statement.
Near the end of the October engagement, Bickert's father passed away and while the guitarist attended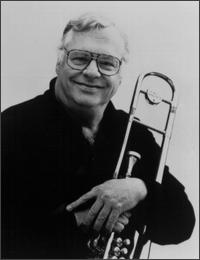 the funeral, Rob McConnell filled in with the quartet on valve trombone. Thompson recorded two nights of the proceedings, including versions of "Things Ain't What They Used To Be", "Wendy", Let's Get Away From It All", "Line For Lyons", "Just Squeeze Me", "My Funny Valentine" and "Mean To Me". The music was lively and quite expansive, with tracks running between 8 and 12 minutes each. As in Gerry Mulligan's quartets, the horns play counterpoint behind the solos, and most of the performances include a chorus of dual improvisation before the closing melody. McConnell's gruff trombone is an effective contrast to Desmond's pure alto sound. McConnell's overwhelming inventiveness and wit highlights "Just Squeeze Me" while Desmond's best quote comes in "Mean" where he effortlessly segues from "Once In Love With Amy" to "Good Bait" (Fuller helps–or perhaps inspires–Desmond's first quote with a delightful soft-shoe pattern).Thompson remembers McConnell saying of these sessions, "that's the best I can play". On two occasions, producer Barry Hatcher attempted to issue these Desmond/McConnell tracks (and a supplementary collection of tracks with the regular Canadian quartet) but legal entanglements prevented both of these projects at the 11th hour. Just one more reason why the release of this Mosaic set is cause for celebration!
The Canadian group had revived Desmond's love of playing, and he tried to find more gigs to spotlight the group. He was never able to land an engagement in New York City, but in 1976, the group played at the Edmonton Jazz Festival in April, the Monterey Jazz Festival in September and San Francisco's El Matador club in the week after Monterey. The Edmonton concert was broadcast in stereo by CBC Radio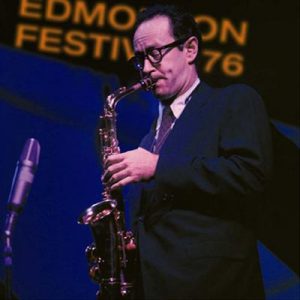 . A bootleg CD edition has disappeared, but the music can be heard on many streaming music sites. In an interview following the concert, Desmond said it was the first time the group had played in a concert hall instead of a nightclub, and that he was pleasantly surprised by the lack of background noise and the audience's rapt attention. In their hour-long set, the quartet played six pieces, most of which they had recorded before. The grooves are relaxed as always, but Desmond's playing seems to take a different turn with every pair of selections. The opening tunes, "Just Squeeze Me" and "Darn That Dream" are fairly sedate, with Desmond playing his usual mixture of thematic sequences and ingeniously placed quotes. But on "Wave" and "Someday My Prince Will Come", there is an agitated quality to his solo lines. His ideas become short and angular, and his note choices are out of the ordinary. Then on "Wendy" and "Take Five", his solos are more restrained than on the Horizon dates. On this version of "Wendy",  he plays the tune considerably behind the beat, and the warmth of his earlier solos is replaced with stark haunting lines. It's easy to read biographical details into improvised solos, but the change in Desmond's approach to this song may have been a reflection of his relationship with Wendy, Pittsburgh or whatever her name was.
Yet Desmond never lost his sense of humor, and he seemed to find ways to lighten the memories of prior disappointments. During one of Desmond's visits to Toronto, Thompson suggested that the quartet play Billy Strayhorn's "Chelsea Bridge". Desmond's only response was to whinny like a horse. After Thompson repeated the suggestion to the same reaction, he asked Desmond to explain. At the 1969 White House tribute concert to Duke Ellington, Desmond was featured on "Chelsea Bridge", accompanied by Jim Hall, Milt Hinton and Louis Bellson. When they came to the B section, the usually reliable Hinton played the wrong changes. Desmond was deeply embarrassed and spent the rest of the night drowning his sorrows at the White House bar. He probably vowed never to play that song again. Five years later, he saw the film "Young Frankenstein", where the very mention of the name Frau Blücher made the horses whinny. Mel Brooks never explained the connection between Cloris Leachman's character and the horses, but Leachman's reaction showed that it recalled a deeply embarrassing incident. Desmond latched on to the whinny in response to his "Chelsea Bridge" experience. While at the 1976 Edmonton Jazz Festival, Thompson told Desmond that he was playing at Bourbon Street with Jim Hall the following week. Desmond decided to return to Toronto with the rhythm section and surprise Hall at the gig. When Desmond walked into the club on opening night, Hall was seated onstage partially facing away from the audience. Thompson was opposite Hall and saw Desmond from the moment he walked in the door. Desmond went around the perimeter of the room and sat down in the front row, all the while staying out of Hall's view. About three songs into the set, Hall called "Chelsea Bridge". As soon as Desmond recognized the melody, he stood up and walked onto the stage—in Thompson's words, "like the cartoon Pink Panther". He came up behind Hall, leaned down to Hall's ear and did the horse whinny! Hall immediately knew the reference and who had made it, and he and Thompson went into fits of laughter as they tried to finish the song. Drummer Terry Clarke and the audience must have wondered why Hall and Thompson were laughing hysterically in the middle of a ballad!
During the CBC interview in Edmonton, Desmond said he wanted to vary the format of the group, including changes to the repertoire, switching the solo order, and giving Fuller more opportunities to play (There are no drum solos on any of the recordings by this group). Unfortunately, there would be few opportunities for Desmond to make these changes. Around the time of the Edmonton concert, Desmond with diagnosed with lung cancer. He had been a heavy smoker for years, but he always expected that his addiction to Scotch whisky would be his downfall. Typical of Desmond, his response to the diagnosis was that his liver was "awash with Dewar's and full of health". By the time of the Monterey and San Francisco engagements, Desmond was losing weight and his hair was falling out from radiation treatments. He was still smoking and seemed to tire easily. When the San Francisco Chronicle's Blake Green pointed this out to him, Desmond replied, "Well, it's been a long time since I've played this much". Still, the El Matador gig was the last performances by Paul Desmond's Canadian Quartet. Desmond's health continued to deteriorate, and he passed away (possibly by his own hand) on May 25, 1977. Jerry Fuller died on July 13, 2002 and was found in his home after missing a gig. Ed Bickert passed away February 28, 2019 after a long illness.  Don Thompson still lives in Toronto, and is still active with gigs on piano and vibes.
The release of the Mosaic collection has greatly enriched the legacy of Paul Desmond's Canadian Quartet. While the Mosaic collection is called "complete", we can't be completely sure that more of this music might be released at a later date (there is, for example, a wonderful version of "Someday, My Prince Will Come" from the McConnell sessions that deserves to be heard). Don Thompson told me that he had over two dozen reels of the Desmond group, all requiring restoration and remixing. That could mean that there are more exquisite moments still waiting in Thompson's private stash–and there are also Desmond's copies of the first Bourbon Street gig in 1974 which remain unissued. Until those tapes surface, we have over 8 hours of wonderful music to enjoy.
While I strongly encouraged Mosaic Records to release this material, and eventually wrote a brief liner note for the booklet (adapted from the above essay), I had no input regarding the music included in the set or its presentation. Based on CD-Rs sent to me by Barry Hatcher, I wrote about the unissued McConnell titles long before the Mosaic set was even considered. I have updated this article to include discussions of music I have heard for the first time in the Mosaic set. 
Most of the biographical information in this essay comes from Doug Ramsey's superb book, "Take Five: The Public and Private Lives of Paul Desmond" (Parkside, 2005). At press time, the book is only available on Kindle. You can order the electronic edition here.
Thanks to Noel Silverman of the Paul Desmond Estate for allowing us to include the Desmond TV broadcast. All rights reserved. 
Thanks to Paul Caufield for his longtime dedication to Desmond's life and music, and for the video embedded in this article.
Thanks to Don Thompson for sharing his memories, and for the very funny Desmond story.
Thanks to Barry Hatcher for clearing up details on the Desmond/McConnell recordings.
Deep appreciation to Chris Hudson, for granting permission for the Monterey photograph, and to Doug Ramsey and Mal Harris for providing a high resolution copy of the  photo.
Additional thanks to Chris Coulter for sharing his preliminary research on this topic.
The video recording embedded in this article is presented for educational and illustrative purposes. Jazz History Online neither owns nor controls the rights to this recordings. All rights belong to the original copyright holders.