Listen: Dave Brubeck has come unstuck in time. At least, that is the case in Philip Clark's informative new biography of the piano master, "A Life in Time" (DaCapo). Clark interviewed Brubeck at length during a 2003 concert tour of the United Kingdom, and he uses that experience as a framework to structure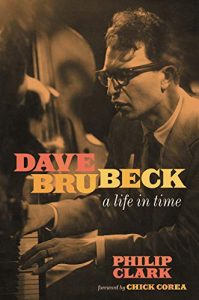 the narrative. He eschews the predictable chronological approach to biography, and uses cues from the interviews to time-shift from one era to another. So instead of starting his first chapter with Brubeck's childhood and development, Clark begins with a rarely-discussed West Coast tour by the quartets of Charlie Parker and Dave Brubeck.
The tour took place in the autumn of 1953. While neither leader realized it at the time, it was to be a pivotal point in each man's career. The Brubeck Quartet was an established working unit, and while it still had a few weak spots (notably the bass and drums), the group was gaining popularity and—more importantly—realizing some of Brubeck's artistic visions. Parker was the acknowledged giant of bebop, and on this concert tour, he was playing astonishing improvisations over the bop standards he had introduced several years before. In March, Brubeck's solo on "These Foolish Things" from the "Jazz at Oberlin" concert LP displayed his remarkable ability to integrate outside musical genres into jazz improvisation. As Clark describes the solo: Brubeck painted the canvas with a giddy assortment of impetuous mood swings, pianistic colors and styles. Multiple key centers built grinding tension. Brubeck's left hand challenged his right with a niggling harmonic question that bubbled into an elegant two-part discussion. Densely compacted brutalist chords, pecked at with stabbing clusters, were answered in the next chorus by cascading Romantic arpeggios. Brubeck's lessons from [Darius] Milhaud and [Arnold] Schoenberg spilled over into the improvisation.
Clark introduces Parker's style of improvisation by discussing the Massey Hall concert of May 15, 1953, where Parker, Dizzy Gillespie, Bud Powell, Charles Mingus and Max Roach performed thrilling versions of bop classics like "Salt Peanuts", "Wee" and "A Night in Tunisia". While the Massey Hall concert is one of the classic jazz live recordings, and is an outstanding example of bebop at its zenith, Clark misses an opportunity by ignoring a studio session from a few days later. On May 25, 1953, Parker went into the Verve studios with Gil Evans, a woodwind quintet, jazz rhythm section and the Dave Lambert Singers in an attempt to fuse Paul Hindemith's "Kammermusik" with modern jazz. To put it bluntly, the mix of styles didn't work.  Parker mulled over this session for several months.  In a January 1954 radio interview with Brubeck's saxophonist Paul Desmond—which Clark does mention—Parker stated his desire to study music with modern composer Edgard Varèse. Unfortunately, Parker's drug and alcohol habits killed him before he had the chance to realize those dreams, but his comments in the radio interview recognize that Brubeck was exploring a path that Parker wanted to investigate for himself.  By isolating these events from 1953 and 1954, we can see that Brubeck was not beholden to any established modern jazz schools; that his concept of improvisation was far more open than the normal method of playing original melodies over the chord changes; and that he was already inspiring giants like Parker in the ways he combined genres.
One of the most valuable benefits of Clark's book is that it gathers well-known information about Brubeck and combines it so we can appreciate him in a different way. For example, Brubeck did not come up through the bebop ranks, nor did his music follow the general rules of West Coast Cool. The 1942 solo recording of "I Found a New Baby" (included at the end of "Jazz at the College of Pacific, Vol. II") offers clear evidence that the young pianist was completely enamored by swing. The recording also proves that Brubeck was not a classical pianist trying to play jazz. Indeed, this recording predates his studies with Darius Milhaud by several years, and to Milhaud's credit, he encouraged Brubeck and other students to write within the jazz style—just as he had done in his influential "La Création du monde" in 1922-1923.
So, if the old beliefs about Brubeck as West Coast jazz icon and as "longhair" musician finding an audience in the jazz medium were always false, exactly where did Brubeck fit in? Much like his Columbia labelmate, Erroll Garner, Brubeck was a sui generis artist whose unique approach appealed to jazz fans who were not drawn to bebop or cool. Like Garner, Brubeck could accompany just about any jazz musician, but he was at his best when he could display his unique approach to the music. Brubeck had the advantage of having a well-developed ear. His open approach to improvisation allowed him to pick up on "wrong notes" and incorporate them into his own solo (For example, an errant E-natural which bassist Gene Wright played on the G major version of "St. Louis Blues" from the 1963 Carnegie Hall concert became a recurring motive for Brubeck through the rest of the concert). Similarly, Brubeck could hear the relationships between various time signatures which allowed him to play in waltz time over the rhythm section's straight swing, and know that the differing meters would line up properly at the end.
Clark leads us through the various stories of Brubeck's life—the experiences of touring the American South with a racially integrated quartet; the legendary 1958 State Department tour which eventually produced Brubeck's compositional masterpiece, "Blue Rondo a la Turk"; the initial hesitation of Columbia Records to record and issue "Time Out", Brubeck's classic album consisting of originals in (mostly) odd meters—but Clark is not always satisfied to leave the legends the way Brubeck related them. Clark researched all of these topics (and many more) and throughout the book, he gently revises Brubeck's anecdotal renditions of these experiences. Clark also performs a valuable service by presenting an in-depth synopsis of Brubeck's stage production "The Real Ambassadors". This latter work is one of the least-appreciated of Brubeck's longer works, primarily because it was never properly documented in the first place. The premiere at the Monterey Jazz Festival was not recorded (presumably because Brubeck forgot to hire the audio and video crew?) the official Columbia studio recording did not include all of the music, and the show never made it to Broadway. Clark uses a vocal score and other existing documentation to bring the libretto and music together in a way which has not been attempted for many years.
The book spans 400 pages and 11 chapters, but at the end it seems like Clark needed a little more room to tell Brubeck's story. The penultimate chapter finds Clark's non-linear approach buckling on itself, as the author tries to simultaneously discuss Brubeck's post-"Time Out" Columbia recordings and all of his albums for Telarc and Concord. "Koto Song", a seminal Brubeck composition from 1964 which went through great transformations in its recording history, is barely mentioned—literally one sentence on the last page of the main text. DaCapo should have allowed Clark the space he required. Dave Brubeck was a giant of American music and one of the great icons of jazz. In this year—Brubeck's centennial—he deserves to be appreciated for all of the right reasons, the reasons we should have known all along.