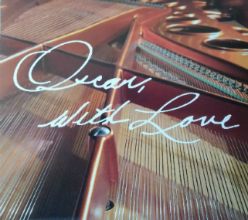 There are few things as forlorn as an abandoned musical instrument. In the hands of a master, these inanimate objects come to life, forming an unbreakable bond with their owners and acting as a conduit for a musical voice. When a musician abandons an instrument, the fate of that instrument usually falls into three categories: it may get tucked away under a bed or in a closet never to be played again; it could be donated to a museum where it is restored and lives under glass, or—in the best case—it can be made available to musicians of a younger generation who are eager to let these instruments sing again. That final, happy scenario is now the fate of Oscar Peterson's Bösendorfer Imperial Grand piano. After Peterson's death, the instrument remained in excellent condition, but it was not played for over five years. Spurred into action by the advice of a Bösendorfer piano technician, Peterson's widow Kelly invited 17 great jazz pianists to come to the Peterson studio to record on the Bösendorfer. She offered each player their choice of a handful of Peterson compositions to perform—some of which were previously unrecorded. The recordings were made between October 2014 and September 2015, and the results have been issued on a new collection titled "Oscar with Love". The music can be purchased as a 3-CD standard collection, a 3-CD "deluxe" set housed in a hardback book with 100 pages of detailed liner notes and a downloadable bonus track, a 5-LP limited edition set (with the deluxe set's notes and bonus track), and an extremely limited vinyl edition which also includes a piece of music written in Oscar's hand, as well as a commercial LP from his personal record collection.
From the opening notes of Makoto Ozone's tender version of "The Contessa", the listener is washed in the rich sound of the Bösendorfer. The high register has a delicate but precise ring, and the exceptional voicing of the instrument brings out a glorious collection of overtones. Robi Botos' deeply swinging rendition of "Blues for Smedley" shows that even with greater use of the sustain pedal and a denser harmonic background, the instrument retains its impeccable clarity. On an unrecorded Peterson original, "Celine's Waltz" (written for Peterson's daughter),  Oliver Jones plays an elegantly swinging duet with bassist Dave Young. Gerald Clayton reveals a prodigious technical facility during his improvisation on "Bossa Beguine", and at times it feels like Peterson's spirit is being channeled through both the pianist and the instrument. Benny Green creates a sassy blues groove on "Cool Walk", while Michel Legrand mixes impressionist and jazz harmonies on the lovely "Dream of Me". The married couple of Bill Charlap and Renee Rosnes each perform solos on the collection, but they make their first appearance together in a delightful four-hand version of "Sushi". Rosnes plays both the opening theme and her improvisation in the treble register, and then halfway through the performance, the two pianists switch sides as Charlap takes the spotlight. Ramsey Lewis displays the instrument's broad dynamic range on a lush rendition of "If I Love Again"—not the standard, but one of several Peterson originals which share the names of better-known songs. The set is exceptionally well-programmed, juxtaposing the contrasting styles of the various pianists. For example, placing the lean, swinging Justin Kauflin track "On Danish Shore" between the reflective performances by Ramsey Lewis and Kenny Barron is extremely effective, not only in demarcating the differences in approach between Lewis and Kauflin, but also in showing Barron's combination of both elements on his masterful version of "Ballad for Benny Carter". Ozone returns with a brilliant rendition of "A Little Jazz Exercise", followed by Monty Alexander (with Young on bass) performing a lush but unsentimental take on "Tranquille". Closing out the first disc is Hiromi's sensitive treatment of "Take Me Home" which starts as a meditative ballad before moving into a joyous second chorus.
The second disc is comprised entirely of Peterson's original ballads. While Peterson was best known for his seemingly unlimited technique and quick tempos, these compositions reveal a deep sensitivity beneath the surface. There are strong influences of classical and romantic music in several of the works, including Charlap's austere "Announcement" and Rosnes' flowing "Love Ballade". The plush harmonies and rubato passages of Peterson's solo ballad style are also here within Kauflin's delicate "Summertime", Green's passionate "If You Only Knew", Clayton's lyric "Morning" and Botos' intense "Wheatland". Alexander and Lewis take differing approaches to jazz waltzes with Alexander's mood matching the title of "The Gentle Waltz" and Lewis scampering all over the keyboard on "Laurentide Waltz". Legrand grabs a little of everything in his impressive version of "Harcourt Nights", and Jones offers a rhapsodic interpretation of "Why Think about Tomorrow". On the final disc, several of the pianists perform original compositions inspired by Peterson, including Chick Corea's crisply played multi-tempo improvisation called "One for Oscar". Ozone's "Dear Oscar" features a catchy melody and an irresistibly sunny performance. Hiromi's hop-scotching "Oscar's New Camera" celebrates Peterson's love of photography, while Lance Anderson's "OP's Boogie" recalls some of Peterson's earliest recordings in the barrelhouse style. Alexander and Young play a strong and soulful Alexander tribute called "Trust", and Botos offers a hymn-like ode to the pianist fittingly titled after Peterson's middle name "Emmanuel". Near the end of the set, pianist and vocalist Audrey Morris performs a touching version of "Look What You've Done to Me", one of Peterson's favorite standards. Young follows this with a bass solo on his original "Goodbye Old Friend". The only tribute that disappoints is Jones" "I Remember OP", which has a melody a little too reminiscent of Jobim's "Someone to Light Up My Life" and harmony that sounds like upscale cocktail piano. The final disc also includes a few more Peterson originals, including "The Smudge", a rocking blues performed to perfection by Barron; "Sir Lancewell", a sly swinger dedicated to, and played by Anderson; "Hymn to Freedom", a Civil Rights anthem powerfully rendered by Clayton; and "When Summer Comes", a succinct and heartfelt ballad played by Botos as the album's closing track.
The sound engineering by Blaise Favre and Danny Greenspoon is state-of-the-art throughout. Both display great sensitivity to the sound of the instrument and the ambiance of the room, while letting the individual personalities of the artists shine through. With its exquisite sound quality, this album may be one of the best test recordings to use when evaluating new stereo equipment. While the price for the deluxe CD set is considerably higher than the standard CD edition, the expanded liner notes and bonus track are worth the additional investment. Let us hope that Peterson's piano is not abandoned again. As the Bösendorfer technician Hans Muff told Kelly Peterson, "this piano needs to be played". She should follow this lead and create further recordings of great pianists playing this magnificent instrument.
The CD release concert, with Robi Botos, Oliver Jones, Kenny Barron, Benny Green, Gerald Clayton, Renee Rosnes, Bill Charlap and others playing Peterson's Bösendorfer at Toronto's Koerner Hall is presently available on streaming video at www.rcmusic.ca/livestream.