Jazz compositions have been around almost as long as jazz improvisers. While improvisation is rightly considered as an essential component of jazz, soloing without some sort of pre-arranged structure would be little more than strings of meaningless notes. The structure can be of any size: Duke Ellington's Sacred Concerts are every bit as viable for improvisation as the minimalistic forms of Miles Davis' "Kind of Blue". Jazz originals also fulfill the need for fresh repertoire, as well as an additional creative outlet for those who write and play. The four albums reviewed here all feature leaders covered on these pages before. Each offers a new perspective on their work, and all but one contrast originals with the music of other composers.
Pianist Lynne Arriale's new CD, "Give Us These Days" (Challenge 73453) opens with an intensely focused version of Joni Mitchell's "Woodstock". The arrangement starts softly and builds dramatically as Arriale constructs a brilliant solo based on tiny motives. A series of five originals follows, with the double-stops of Jasper Somsen and the complex beat patterns of Jasper Van Hulten launching the Spanish-styled triple-time opus,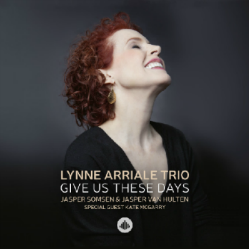 "Appassionata". Here, the improvised melody flows in a rush through Arriale's fingers, as if the power of the combined forces of the trio were unable to contain the music. Somsen displays outstanding technique and melodic sense, and the ever-resourceful Van Hulten shows his amazing creativity as he adapts his rhythmic motives for the piano, bass and (his own) drum solo. "Finding Home" offers a singing folk melody over an expansive rhythmic platform. Arriale's solo sounds like an extension of the melody and casual listeners might miss where the tune ends and the solo starts. The title track was inspired by a Jim Schley poem titled "Devotional". The poem speaks of the wonder of parenthood, and Arriale captures that tone in her flexibly-paced melody. "Slightly Off-Center" is a delightfully odd blues with enough variants from the usual tropes to keep the listener engaged throughout—even when the time feel returns to straight, swinging 4/4. The spacious atmosphere of "Another Sky" lets the three musicians interact with great freedom, with each member enhancing the statements of the other two players. "Let it Be" follows the Arriale originals. Through a simple but effective reharmonization, Arriale maintains the hymn-like quality of the Lennon/McCartney standard while making it work as a vehicle for improvisation. She plays her solo with great passion and commitment, and that quality transforms the piece from a piece of musical nostalgia into a powerful musical statement. "Over and Out" is an exuberant party piece which unleashes Arriale's adventurous melodic, harmonic and rhythmic senses. The epilogue is an understated duet between vocalist Kate McGarry and Arriale on Tom Waits' "Take it with Me". McGarry is a gifted interpreter of post-Great American Songbook material and she is prime form here, drawing the emotions from the lyrics and melody through sensitive gradations in tempo and dynamics. Arriale displays exceptional gifts as an accompanist on this track, allowing McGarry to lead while Arriale subtly provides direction to the performance. This album is a superb introduction to Arriale's many-faceted style.
The title of Leslie Pintchik's new CD, "You Eat My Food! You Drink My Wine! You Steal My Girl!" (Pintch Hard 4) is intentionally humorous, but the album communicates a wide range of emotions. The title track was inspired by an outburst from a resident of Soho in New York, and it is a perfect fit for the tightly grooving melody. The horns, alto saxophonist Steve Wilson and trumpeter Ron Horton, play their written parts like members of Tower of Power, and both Wilson and Pintchik provide outstanding solos over the churning rhythm. The rhythm section (with Pintchik on piano, Scott Hardy on bass and acoustic guitar, Michael Sarin on drums and Satoshi Takeishi on percussion) is featured on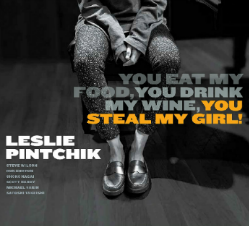 a "Poinciana"-styled arrangement of Jimmy Dorsey's "I'm Glad There is You". Pintchik's masterful playing behind the beat adds to the exotic mood. Next, "Smoke Gets in Your Eyes" is transformed into a samba, and it is so compelling that it's hard to imagine the song in any other context. Near the end of this track, a quote from Randy Weston's "Hi-Fly" inspires Pintchik into a fantastic vamp-based solo that expands and develops Weston's principal motive. The original ballad, "Mortal" may be the highlight of the album. Pintchik weaves the horns around her delicate melody, and then she spins a beautiful improvisation using the same rise-and-fall pattern of the tune. Wilson wraps his rich tone around a passionate statement, and Horton's flugelhorn offers a reserved answer which alludes to Jimmy Rowles' "The Peacocks" at its center point. Hardy plays a beautifully-constructed bass solo and interacts with Pintchik's piano briefly before the theme is reprised. Anyone who hates automated phone systems as much as I do will appreciate the title "Your Call Will Be Answered by the Next Available Representative…" (the title goes on for about 30 words total, but you get the idea!). Like the hold music that inevitably stops, starts and changes without notice, Pintchik's original has a few unexpected changes, but at least this music is fun and challenging! Pintchik adds the accordion of Shoko Nagai on the compositions "Hopperesque" and "Happy Dog". The former track evokes the lonely settings of Edward Hopper's paintings, and the melody seems to breathe with the bellows of the accordion. Pintchik's motive-based improvisation works well over the subtle background rhythms, and Nagai's solo builds on the group's momentum. Sarin lays out on "Happy Dog", leaving Takeishi to provide the aural equivalent of a scampering puppy. The bass and accordion offer brief and varied accompaniments to Pintchik's sharply-accented solo, and Hardy's ensuing bass solo speaks with authority. The album closes with what Pintchik calls "an adult lullaby", "A Simpler Time". Pintchik wrote the piece after visiting a Shaker village in Massachusetts, where large cradles were used to comfort the elderly residents. The composition has more depth than the title implies, combining a rhythmically complex melody and a sedate harmonic base. In the liner notes, Allen Morrison writes that this piece represents the feeling that life is not simple, that we are often overwhelmed with hard choices and missed emotions, and we have a universal need for kindness. Indeed, we do, and this music is a welcome salve for our troubled times.
The energy from Renee Rosnes' all-star quintet virtually leaps from the speakers on "Elephant Dust", the first track on the pianist's latest disc, "Beloved of the Sky" (Smoke Sessions 1801). The combined talents of saxophonist Chris Potter, vibraphonist Steve Nelson, bassist Peter Washington and drummer Lenny White should hardly make that a surprise, but this group came ready to play. Rosnes provided them with an outstanding list of new compositions and less-heard tunes. On the spectacular opener, soloists Potter, Rosnes and Nelson breathe fire over the steaming rhythm section. The title track—its full title being "Scorned as Timber, Beloved of the Sky"—is placed next, and it offers a complete contrast with the opener. It presents a thoughtful musical portrayal of a forest ravaged by lumbering. The piece was inspired by Emily Carr's 1935 painting, which is reproduced on the cover. On this track, Rosnes creates a delicately interwoven piano solo, followed by Potter's inquisitive soprano sax which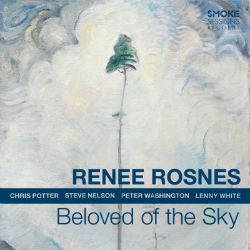 investigates all of the open spaces in Rosnes' accompaniment. The next two tracks are a tribute to the late Bobby Hutcherson, with whom Rosnes worked with for over two decades. "Mirror Image" was composed by Rosnes as a Hutcherson feature, and Nelson pays homage to the master with a passionate solo. Rosnes builds her follow-up solo from a distinctive musical idea, and it builds to a powerful climax with the able assistance of White's drums. Then Potter takes over for an impressive solo filled with audacious melodic shapes and stunning rhythmic ideas. The track closes with a three-way improvisation for tenor sax, piano and drums. "Rosie" was written by Hutcherson in tribute to his wife. While the tune is ostensibly in 3/4, Hutcherson accents different parts of the meter to avoid the typical waltz feel. Rosnes' piano solo sparkles over the gliding rhythm, and Potter includes some unusually accented rhythms of his own during his tenor solo. Washington adds profound countermelodies during Nelson's finely-crafted solo. The propulsive "Black Holes" was first recorded on Rosnes' Blue Note CD "As We Are Now". That version had power and energy to spare, but the new recording makes it sound tame by comparison. Potter was on both dates, and the complexity of his 2017 solo shows his remarkable growth as a musician. Rosnes' development is evident both in the arrangement, adapted here from the original, and in her incisive melodic solo. White's mallets provide the atmosphere for "The Flame and the Lotus", a slow and funky groover with a strongly implied ground beat. Potter switches to flute for the sunny Latin opus, "Rhythm of the River", and he displays technique that is just impressive as on the saxophone. Rosnes' solo sings like the first birds of the morning. "The Winter of My Discontent" continues Rosnes' explorations of rarely-heard songs by Alec Wilder. She plays the first chorus solo, and the sound she gets from the Steinway is breathtaking. Potter, back on tenor, shows great restraint in his statement without losing his unique identity. Washington also gets a half-chorus here, and his exceptional technique and flawless intonation enhance a beautifully crafted improvisation. This outstanding album closes with another fierce swinger, "Let the Wild Rumpus Start", inspired by Maurice Sendak's "Where the Wild Things Are" and featuring solos by each member of the quintet. If you have somehow missed out on the amazing music of Renee Rosnes, this is the album to buy!
Another all-star aggregation graces bassist Martin Wind's new recording, "Light Blue" (Laika 3510357). Split into two "sides" (no, you don't have to turn over the CD) the first half has a front line of Ingrid Jensen (trumpet); Scott Robinson (woodwinds); Gary Versace (piano and organ); Wind (bass); and Matt Wilson (drums). Anat Cohen's clarinet is added on one track, and she and Robinson share the front line on the album's second half, with Bill Cunliffe and Duduka Da Fonseca in for Versace and Wilson, and vocalist Maucha Adnet added to the ensemble for the last four tunes. All of the pieces were written by Wind, starting with "While I'm Still Here", a funky contrafact on "Sweet Georgia Brown" with a supremely melodic solo by the leader. "Rose" is a lovely ballad dedicated to Wind's mother-in-law, and Robinson pulls out a tárogató, a Turkish instrument that sounds something like a soprano sax, but looks like a cousin of the clarinet. Robinson gets a mellow but reedy sound out of the horn, and the instrument sounds like a natural in the ensemble (especially when set against Versace's swelling organ chords). The three horn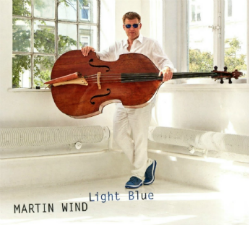 front line—with Robinson on bass sax—appears on "Ten Minute Song". Robinson's agile solo on the big horn brings a few audible giggles, but Robinson makes it sound as flexible as any higher-pitched instrument. After Versace impresses with another light-fingered piano solo, Jensen comes in for an adventurous solo that toys with the outer limits of the harmony. Cohen swings through a chorus, and Wilson's playful drum solo is offset by short figures from the horns. "February" is a touching ballad (and as Wind states in the liner notes, named for his least favorite month!). Jensen's lyric solo is a highlight of the album, and Wind's solo features a striking improvised melody that encompasses a large portion of his instrument's range. "Side A" ends with "Power Chords", a menacing tune powered by Wilson's rock beat. Clearly, this piece is highly satiric: Versace's wild organ voicings sound like the strangest monster movie score never written. At the end of his solo, Robinson emits wild screeches from the bass sax, and Jensen throws on the digital echo for her chorus. Overall, "Side B" is much mellower, opening with a requiem for bassist Bob Bowen called "A Genius and a Saint". Here, the clarinets of Cohen and Robinson interweave with great passion in a dual improvisation. Cunliffe provides a piano solo that caresses like a gentle rain. Meanwhile, the background by Wind and Da Fonseca ebbs and tides like the ocean. Shortly after Adnet's Portuguese chorus on "Seven Steps to Rio", Wind adds her voice to the horn section on the shout chorus, and her flexible voice works well in that context. "A Sad Story" opens with a glorious theme statement by Wind on arco bass. Cohen joins in on clarinet, and Adnet follows a chorus later with the Portuguese lyric. Although she sings two choruses—one in Portuguese and the other a translation in English—she conveys the message quite well in Portuguese, even if you don't understand the language! "De Norte a Sul" is a lyricized version of Wind's best-known composition, "The Cruise Blues". Cohen's solo is a beauty, displaying all of the inventiveness that makes her one of today's finest jazz musicians. "Longing" is one of the accepted synonyms for the Portuguese word saudade, and Adnet's wordless vocal with the horns certainly conveys that unique feeling. That a German-born bassist can so accurately capture the Brazilian feeling speaks well for the international language of music. "Light Blue" is a strong addition to Wind's discography, and a superb introduction to his music.