MICHAEL DEES: "THE DREAM I DREAMED" (Jazzed Media 1071)
In Bob Fosse's semi-autobiographical 1979 film, "All That Jazz", the Fosse character Joe Gideon is mounting a new Broadway musical. He is saddled with "Take Off With Us", a simply awful airplane-themed ditty loaded with innocuous sexual references. The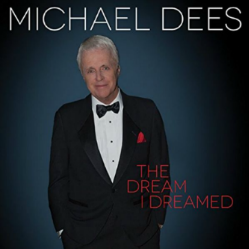 Fosse/Gideon choreography starts as a typical bouncy showstopper, but then the group goes into a fantasy sequence called "Air-Rotica". The now semi-nude dancers are split into three couples: straight, gay and lesbian. The backers are shocked and the composer puts his head in his hands and mutters, "Now Sinatra will never record it". The deliberately bad "Take Off With Us" never had a chance with Ol' Blue Eyes, but Frank Sinatra might well have recorded many of the original songs on Michael Dees' new CD, "The Dream I Dreamed". The opening track, "In a Moment" is loaded with energy, engaging lyrics, and a great set of changes for Doug Webb's tenor sax solo. Dees' vocal delivery is straight out of Sinatra with lots of machismo, and a little touch of lounge-lizard growl. The similarities are even more pronounced on the ballad "Look at Me" where Dees evokes the late-night feel of Sinatra's "Wee Small Hours" album. Dees has superb diction, and for the most part, exceptional pitch control (the exception is "I Miss You", but despite the wobbly delivery, the composition is so good that I'm sure other singers will be eager to cover it). And unlike most singer-composers, Dees is quite willing to depart from his original melodies to create new melodic variations. Dees is backed by a superb band, including Terry Trotter (piano), Chuck Berghofer (bass), Steve Schaeffer (drums), with appearances by saxophonists Doug Webb, Chuck Manning and Bob Sheppard, trumpeters Sal Marquez and Steve Huffsteter, and percussionist Don Williams. Like these instrumentalists, Dees has logged many hours in the Hollywood recording studios. His jazz discography has been rather spotty, with a handful of LPs in the mid-60s, and a 2001 CD for Mack Avenue. But as one of his new songs states "You were a long time comin', but you were worth the wait". Fans of the Sinatra school and those interested in the continuing evolution of the Great American Songbook will enjoy this album.

KURT ELLING: "PASSION WORLD" (Concord Jazz 36841)
In his years on the Concord Jazz label, Kurt Elling has recorded several impressive concept albums, and his latest disc "Passion World" may be his most ambitious project to date. It collects love songs from all over the globe, sung by Elling in six different languages. The music includes songs written or made famous by Björk, U2, Edith Piaf, Dori Caymmi and Pat Metheny, and there are several pieces with new lyrics by Elling. In addition to recordings featuring E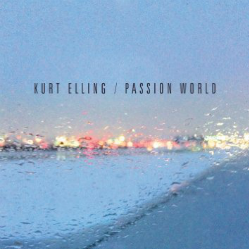 lling and his touring quartet of Gary Versace (piano), John McLean (guitar), Clark Sommers (bass) and Kendrick Scott (drums), there are tracks with trumpeters Arturo Sandoval and Till Brönner, vocalist Sara Gazarek, accordionist Richard Galliano, the WDR Funkhausorchester and Big Band and the Scottish National Jazz Orchestra with tenor saxophonist Tommy Smith. And as the music stems from recordings spanning just over two years, Elling was obviously planning and forming this album for several months. From the first track, "The Verse" (co-written with John Clayton) the album's central concept is spelled out: So I guess it's the road for me and my dream. The search for a new loving home will be my only theme. Elling and the band then segue into Metheny's "Another Life" (here retitled "After the Door") which continues the juxtaposition of the road and home (Elling was not the first to set lyrics to this piece, and one of the album's two iTunes bonus tracks finds Elling singing the song with Polish lyrics by Anna Maria Jopek). I've never heard a lovelier versions of the Scottish "Loch Tay Boat Song" or of Brahms' "Nicht Wandle, Mein Licht" (from the "Liebeslieder Waltzes") and the collaboration with Sandoval, "Bonita Cuba" is simply heartbreaking. There's plenty of contrast between the heart-on-sleeve delivery of "Si Te Contara" and the sophisticated approach to "La Vie en Rose". While there are no Elling scat solos on this album, there is a vocalese on "La Vie" (based on a Wynton Marsalis solo). Another highlight is an inspired pairing of a James Joyce poem to Irish composer Brian Byrne's music on "Where Love Is". Gazarek is heard behind Elling on the U2 and Björk songs, but their charming duet on Caymmi's "Você Já Foi À Bahia?" seems way too short amidst the expansive nature of the other tracks. Still, there's very little to fault and much to enjoy on this remarkable album. As he has many times before, Elling has expanded the parameters of his art without alienating his considerable fan base. Lyrics and translations for most of the songs (including the digital bonus tracks) can be found at kurtelling.com/music/passion_world/.
KU-UMBA FRANK LACY & THE MINGUS BIG BAND: "MINGUS SINGS" (Sunnyside 1407)
The title of this album is a little confusing: "Mingus Sings" is not an archival recording of Charles Mingus vocalizing, but a new recording featuring lyricized versions of Mingus classics sung by Ku-umba Frank Lacy, accompanied by the Mingus Big Band. In an intriguing twist, Lacy is first heard speaking rather than singing, as he intones a Langston Hughes poem—set to a Mingus accompaniment—on "Consider Me". Then it's on to a newly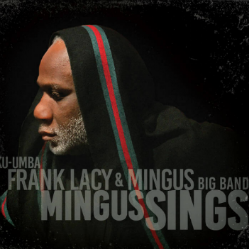 discovered work, "Dizzy Profile" whose lyrics detail the contributions of Mr. Gillespie to modern jazz. Better known to jazz fans as a trombonist, Lacy has a deep baritone voice which evokes the dark sounds of Mingus' bass. He maintains accurate pitch on the unwieldy wide intervals on "Dizzy", but his diction and placement occasionally suffers in the process. On "Weird Nightmare", Lacy captures the dramatic flair of Mingus' lyrics, and the rugged edges of his voice makes us believe the story. However, on "Portrait", Lacy's forceful approach seems much too heavy (especially the emphatic accent he gives to the first note). On the other hand, Lacy's renditions of four songs with lyrics by Joni Mitchell are much better realized than on Mitchell's own recordings. While Lacy's vocals might not be to every listener's taste, the album is also a great showcase for the Mingus Big Band (The band's best feature is on the program's other new piece, "Noonlight", with Lacy singing Sue Mingus' lyrics at the midpoint and end of the track). There are still a few musicians in the band who worked with Mingus, including Jack Walrath, who plays several remarkable trumpet solos on the album, and Sy Johnson, who arranged most of the tracks and wrote the liner notes. This band sounds like a Mingus ensemble, even without the dominating bass of its late leader, and the soloists, including trumpeters Walrath and Alex Norris, trombonists Coleman Hughes and Conrad Herwig, tenor saxophonists Craig Handy and Wayne Escoffery, pianists Helen Sung and David Kikoski (and yes, vocalist Lacy) bring the passion and energy that was a hallmark of the greatest Mingus groups.  Unfortunately, there is one member of the trumpet section who does not solo, and that is Lew Soloff, who passed away between the December 2014 recording sessions and the June 2015 release of the album. While the album is dedicated to Soloff's memory, it is primarily a tribute to Charles Mingus, whose spirit—if not his voice—speaks clearly through this music.