AVISHAI COHEN'S TRIVENTI: "DARK NIGHTS" (Anzic 45)
For many jazz musicians, recordings are an important part of their career, and they take extraordinary care to bring the mu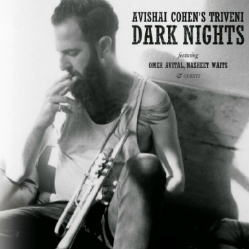 sic as close to perfection as possible. Other musicians, like trumpeter Avishai Cohen, take the opposite approach, letting their reflections capture how their music sounded on one particular day. For "Dark Nights", Cohen's third CD with his trio Triveni, he selected music that the group had never rehearsed or performed before, and the group agreed to not record more than two takes on any given number. Even when overdubbing electronic effects—as he does on the opening track "Dark Nights, Darker Days"—Cohen added the extra parts without listening to the complete playback first. When using the electronics, he creates a virtual duet with himself and it's fascinating to hear ideas bouncing between the acoustic and electronic trumpet tracks. While the electronic effects are well-done, I prefer tracks like "You in All Directions", where the group (with bassist Omer Avital and drummer Nasheet Waits) engages in brilliant three-way acoustic conversations. The playlist features six of Cohen's original pieces, with the standout being "The OC" which, in a mere two-and-a-half minutes evokes the open structures of Ornette Coleman's classic quartet. Cohen also acknowledges the past with mournful takes on "Lush Life" and "Goodbye Pork Pie Hat", along with a swinging version of "Shiny Stockings", complete with the original shout choruses! The album is enhanced by guest appearances by Anat Cohen (Avishai's sister) and Gerald Clayton, both of whom came to the studio from the airport after returning from a gig on the West Coast. Anat's clarinet wails against Waits' explosive drums on "Betray", and both Anat and Gerald add measurably to the funk groove on "Old Soul". Clayton's best moments are on the final track, a heart-rending version of "I Fall in Love Too Easily", featuring the understated vocals of Israeli singer Keren Ann.
HUSH POINT: "BLUES AND REDS" (Sunnyside 1397)
Separated by less than a decade, the cool jazz of Gerry Mulligan and the free jazz of Ornette Coleman were both developed in Los Angeles. Because so many of the cool recordings were either ignored or written off by New York jazz critics, the connection between cool and free has rarely been explored. The coop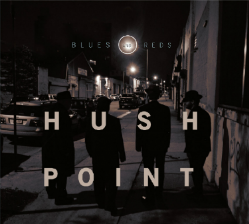 erative quartet Hush Point (ironically, based in Brooklyn) has made this vital connection throughout their two albums. While their debut album used a pair of Jimmy Giuffre pieces to make the point, their follow-up, "Blues and Reds" maintains the concept solely through original compositions. What makes Hush Point's music so compelling is that the individual styles of the players are closely matched to the music. For example, Jeremy Udden's alto has an uncanny resemblance to Lee Konitz, and like the elder statesman, Udden can seamlessly weave in and out of harmonic and free environments. Trumpeter John McNeil stays in the middle register of his horn, where he evokes elements of both Chet Baker and Don Cherry. Beneath it all, bassist Aryeh Kobrinsky and drummer Anthony Pinciotti maintain a buoyant rhythm and flexible harmonic background, ready to change directions at any moment. Hush Point's greatest asset is its unpredictability: even on repeated listening, it is impossible to predict the directions of the improvisations. Hush Point offers myriad surprises such as on Kobrinsky's "Scuffle" which features unexpected tempo changes and a constantly shifting set of instrumental colors, and on "HDMB", which started as a McNeil composition, but was transformed by Udden via a Bob Brookmeyer solo and a striking minor blues chord sequence (the thrilling exchanges by McNeil and Pinciotti later in this piece are one of the many highlights of this recording). I imagine that these pieces evolve considerably in performance, and I would relish the opportunity to hear Hush Point live. An attentive audience tuned in to their unique sound would be rewarded many times over for their careful listening.
RON MILES: "CIRCUIT RIDER" (Enja/Yellowbird 7745)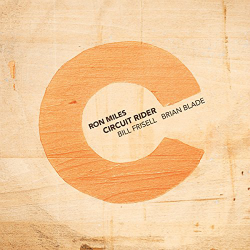 "Circuit Rider" represents the first time that cornetist Ron Miles has recorded two consecutive albums with the same group. He has found a great kinship with guitarist Bill Frisell and drummer Brian Blade, and while these musicians can play very effectively at high volumes, here they achieve a quiet intimacy that makes the music sparkle. A studio photo taken inside the studio shows that the trio recorded together in one room without the usual sound baffles (Avishai Cohen used the same approach on his album). In this context, it is particularly instructive to hear Blade boost the energy of the trio without overwhelming them dynamically. Frisell has gotten much undue critical flak lately for the simple structures of his music, but here he shows that he can maneuver complex musical concepts with ease. And Miles' burnished tone and powerful improvised lines make even his most adventurous ideas accessible. What makes this trio greater than the sum of its parts is the way they listen and react to each other: throughout the album, they are uniquely focused on each musical challenge; whether it is the absence of a bass player on the sexy "Dancing Close and Slow", the unusual forms of the title track and "The Flesh is Weak", or the unique way the melody emerges and develops on Charles Mingus' "Reincarnation of a Lovebird". The closing track is a special treat—a remarkable version of Jimmy Giuffre's "Two Kinds of Blues" with Frisell showing his allegiance to Giuffre's guitarist Jim Hall, Blade playing fascinating broken rhythm patterns all over the kit, and Miles displaying his wide musical horizons as the mood changes from dark sophistication to sunny naiveté, and back again. The Miles/Frisell/Blade combination is one that deserves to be heard again often and soon.