JACKIE ALLEN: "MY FAVORITE COLOR" (Avant Bass 1905)
Just because jazz is created in the moment doesn't mean that it can't offer second chances. A few years ago, Jackie Allen scheduled a live concert recording. The band and the re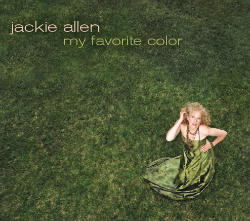 cording engineer arrived, but Allen's voice started to give out. She sang the concert with laryngitis, and the live recordings were useless. Thankfully, she had the foresight to record instrumental-only tracks during the sound checks. Those recordings were recently discovered, and after listening again, Allen decided to record new vocal tracks onto the original tapes. The result is "My Favorite Color", Allen's first album in five years, and a superb introduction to her music. She is a remarkable storyteller, with a soulful delivery, and an eclectic approach to the music. Her wide-ranging repertoire covers everything from Gershwin (a misterioso rendition of "My Man's Gone Now") to Bacharach (a rhythmically-shifting "House Is Not A Home"), and she includes funky takes on "Mercy, Mercy, Mercy" and "Stuck in the Middle with You". The band, which includes trumpeter Tito Carrillo, saxophonist Steve Eisen, keyboardist Ben Lewis, guitarist John Moulder, bassist Hans Sturm (also Allen's husband) and drummer Dane Richeson, has a great ensemble feel and an exceptional rhythmic groove. Allen seamlessly meshes her voice into these recordings, and the listener would hardly know of the years that separated the various elements. Allen also takes advantage of the situation to add a few overdubs, mostly as background vocals, but on a version of Jimi Hendrix' "Manic Depression"(!) she drops spoken and sung segments across the stereo soundscape. The end result is an album that might be better now than it would have been in its original context. It is a worthy addition to her fine discography, and comes highly recommended.
"THE LA TREASURES PROJECT" (Capri 74132)
Los Angeles has long been a haven for swinging big bands and dynamic vocalists. On the aptly-named CD, "The L.A. Treasures Project", the brilliant Clayton-Hamilton Jazz Orchestra collaborates with singers Barbara Morrison and Ernie Andrews in a superb concert recording. The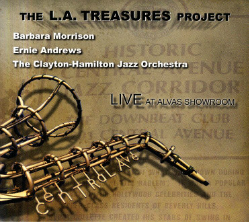 orchestra, co-led by John Clayton, Jeff Clayton and Jeff Hamilton, has five numbers on their own, and backs the vocalists on four tracks each. The ensemble playing is outstanding, especially on "Hat's Dance", where the band effortlessly plays complex rhythmic figures over a relaxed, but rock-solid background by the rhythm section. The band collects some of LA's finest jazz soloists, including tenor saxophonists Rickey Woodard and Charles Owens, who battle on the closing "Jazz Party" (which also includes short but thrilling drum solos by Hamilton), and guitarist Graham Dechter, who offers a rich blues vocabulary on "I Ain't Got Nothin' But The Blues". But the best moments are on "Goodbye Pork Pie Hat", where Jeff Clayton offers a fine opening on alto flute and the basses of John Clayton and Christoph Luty play a gorgeous arco bass passage (There are also fine solos by plunger muted trombone and trumpet, and I wish they were identified in the notes). Both vocalists have been part of the LA jazz scene for many years, but despite their advanced years, they sing in tune and perform with spirit and conviction. Morrison makes subtle shifts in her basic sound as she moves from Percy Mayfield's sexy "River's Invitation" to the playful take on "Exactly Like You", and she throws everything into the mix on a stunning version of "Fever". Andrews brings the same rough-edged tone to Mayfield's blues, "The Jug and I", the medium-tempo swinger "A Beautiful Friendship" and the ballad "Time After Time". Los Angeles jazz fans have long been proud of these fine musicians, and executive producer Tom Burns is to be commended for recording Andrews, Morrison and the Clayton-Hamilton band in optimal circumstances. Treasures, indeed!
EMILIE WEIBEL: "OMOO" (Inner Circle 41)
In complete contrast to the above albums is Emilie Weibel's solo vocal CD, "Omoo". This brief collection of sonic tableaus utilizes sample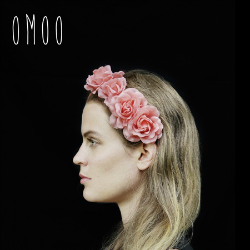 d ambient sounds such as ocean waves, street traffic and bird songs, along with live vocals and effects created with a digital looper, keyboards and a specially made music box. Originally from Switzerland, Weibel has lived in Brooklyn since 2006 and has absorbed a wide range of influences including progressive jazz vocalists Sara Serpa, Gretchen Parlato, Theo Bleckmann and the opera mezzo-soprano Susan Graham. Weibel's lead vocals are sung in a breathy soprano voice, but the backgrounds show that Weibel's range is actually quite wide, and that her voice has considerable flexibility. In several of her pieces, Weibel uses asymmetrical rhythms as backgrounds which keep the listener engaged but off-balanced, and she orchestrates vocal effects and natural sounds to denote the dramatic points of her settings. What is harder to discern is just where she is improvising. Since she creates so much of this music live, some of the elements of this music probably change from performance to performance. However, on "Tu Dis" (dedicated to Weibel's father), we can hear a loose rhythmic approach to the melody, and an extended section that sounds like a scat solo. And while most of the pieces are originals, her approach to Wayne Shorter's "Footprints" and Reynaldo Hahn's "L'Heure Exquise" shows that she can add her own creative touches without distracting from the composer's original intent. It is rare and refreshing to hear a debut CD by an artist with such a clear musical identity. But because Weibel's sound and influences are highly assimilated, it is more of a challenge for the listener to find a connection to established musical conventions. However, with an artist of Weibel's talent, it is well worth the trouble to investigate her unique musical vision.