From the outer packaging, it's not readily apparent that Kellye Gray's new album, "Rendering" (Grr8 10) includes two discs. One disc is easy to spot, nestled in its tray with a booklet set in the side pocket. But on the opposite side, tucked into the liner is "Standards in Gray", the singer's acclaimed 1989 debut, and that disc plays a crucial role in this album. Gray recently regained the rights to the earlier disc. In addition to reissuing the album, Gray wanted to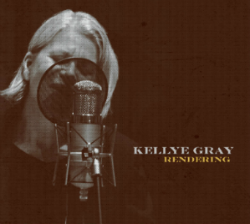 demonstrate her growth as an artist over the past three decades, so she recorded new versions of five tracks from "Standards". Comparing her new and old renditions is an enlightening experience. Gray's earlier take on "Don't Explain" is forceful and dramatic, with Gray pushing her voice to emphasize the lyric. The new version takes a completely different direction, using an understated (and at one point, whispered) delivery, exploring a tender subtext left undeveloped on the earlier recording. It is obvious that Gray mastered many expressive devices  in her youth, but by losing the huskiness of her voice, she now commands the listener's attention through subtle turns of phrase, rather than demanding it through sheer vocal power. Gray continues to let her wild side out today, but it seems more effective than before, due to her wide range of vocal timbres and expert use of dynamics. Gray's 2015 version of "How Insensitive" shows those qualities in stunning fashion, and while the 1989 and 2015 performances follow the same general contour—from simple recognition of a wronged lover through emotional breakdown—the later version seems more realistic because Gray lets the emotions ebb and flow, much like the events of a real love affair. Of the non-duplicated songs on "Standards in Gray", the best is undoubtedly "All Blues", which includes Gray's beautifully-developed scat solo along with fine improvisations from pianist Dave Catney, tenor saxophonist Warren Sneed and guitarist Dwight Sills. The 2015 session—recorded live in the studio—features a sexy take on "I Gotta Right to Sing the Blues" with delightful interplay between Gray, Sneed, and trombonist Andre Hayward. The rhythm section of pianist Pamela York, bassist David Craig and drummer Sebastian Whittaker lays down a supple background on Gray's wistful original "Out Blows Me". While Kellye Gray's debut CD showed much promise, the mark of her artistic maturity can be heard in the 2015 version of "A Time for Love". In this perfectly sculpted rendition of Johnny Mandel's standard, Gray's sensitive interpretation of the lyrics reveal a well-honed finesse that only comes with age and experience.
If—in 2043—Jazzmeia Horn were to do a similar album to Kellye Gray's, I wonder if it would display such dramatic shifts in general approach and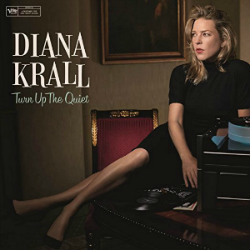 vocal color as "Rendering", or if it would be just a continuation of her basic style, as in Diana Krall's "Turn Up the Quiet" (Verve 26217). There's nothing really wrong with Krall's disc. She sings and plays as well as she did in the early 1990s. She reunites with previous collaborators like Russell Malone, Anthony Wilson, Marc Ribot, Christian McBride, John Clayton, Karriem Riggins and Jeff Hamilton. The finished results are tight, clean, radio-friendly settings of standards performed at a very high musical level. However, I don't hear much difference between the Krall of 1992 and the Krall of 2017. Of course, it is not necessary for every artist to make the shifts that Gray has achieved (and, to be honest, Krall's attempts to break free of standard repertoire have been less than spectacular). Yet, shouldn't we expect some measure of artistic growth over a quarter century of professional musicianship? I'm sure that many of Krall's fans will embrace this new album and rejoice that she has again returned to the Great American Song Book. Taking this album as an isolated listening experience, I feel the same way. But I expect more from Krall, and while I'm glad she's still performing jazz at a very high level, I wish that she would expand her horizons within the jazz genre. Her abilities as a pianist have not been fully explored, and as one of the best known jazz vocalists on the current scene, she could dig deeper into the archives to spotlight rare gems (but please, without the bombast of T-Bone Burnett!). Krall desperately needs a musical makeover that will further her artistry but not alienate her substantial fan base. "Turn Up the Quiet" just gives us more of the same.
On Jazzmeia Horn's debut album, "A Social Call" (Prestige 112) this winner of the Monk Institute's Vocal Competition displays considerable originality in her approach to repertoire (her swinging treatment of "Up Above My Head" uses the adapted lyrics of a classic spiritual, but it doesn't sound preachy). Like many young singers, she is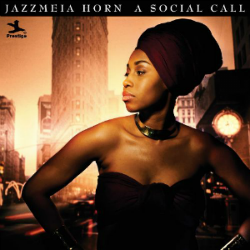 quite adept at improvising, both with and without lyrics ("East of the Sun" and "I Remember You", respectively). There are missteps along the way: the spoken introduction to "People Make the World Go Round" is heavy-handed and intrinsically tied to current world issues, but that same track also shows that Horn can turn an innocuous 70s pop hit into an exciting foray within the free jazz milieu. I find the pairing of "Lift Every Voice and Sing" and "Moanin'" less convincing, but her scat solo on the latter tune is exceptional, with a wealth of ideas and a remarkable variety of vocal sounds. Horn reveals an even deeper arsenal of vocal timbres on an extended scat solo over Jerome Jennings' percussion at the beginning of "Afro Blue". That piece commences another medley featuring more over-the-top spoken commentary and the spiritual "Wade in the Water". Like Gray's more pop-oriented style on "Standards in Grey", the contemporary references here are fine in the present tense, but they are not likely to be relevant to audiences in the upcoming decades. Thankfully, there are timeless performances like Jimmie Rowles' "The Peacocks" to counterbalance the politics. Horn effortlessly scales the melody's wide intervals without losing the thread of Norma Winstone's lyrics. Pianist Victor Gould paints a richly-hued tableau as accompaniment, and Josh Evans' lyrical trumpet solos add just the right atmosphere. While "A Social Call" is uneven at times, it is an impressive debut CD. We can't predict the artistic directions that Jazzmeia Horn's career will take. She may find her niche early and spend years working the same genre (as Krall has), her voice and style might change over the years (like Gray) or—and we hope this is not the case—she could miss valuable opportunities and become another forgotten singer. Let's hope that these answers come sooner rather than later; 2043 is a long time away!